I love pad thai but I am not a huge fan of its typically high fat content. As I've mentioned before in previous posts, I am not afraid of fat! Contrary to popular belief eating fat does not make you fat. Fat is far more satiating than carbohydrates so you're more likely to feel fuller faster and eat less thus preventing overeating. Plus fat improves vegetable digestion and nutrient absorption which I talked about
here
.
However, like any type of food if you overeat enough of it you will put on weight aka don't overdo it. Unfortunately pad thai, despite how delicious it is, tends to overdo it. Fortunately this problem can easily be solved!
Enter my version of lightened-up shrimp pad thai. The first thing I did was up the vegetable content. You're better off filling up on vegetables right? I threw in some shrimp for protein, rice noodles to get your carb portion and then a bit of fat (coconut oil) to keep you fuller for longer!
The trick is to cut fat corners where you can. In this case I used a peanut butter substitute called PB2. I've mentioned PB2 before but here's a brief overview if you missed it. PB2 is made by pressing most of the fat (85%) out of peanuts leaving you with a peanut flavoured powder. When liquid is added to the powder is creates a paste just like the real stuff. PB2 is much lower in fat and calories– about 45 calories per 2 tablespoons, compared with 180 calories for 2 tablespoons of peanut butter.
One downside is that PB2 is slightly lower in protein (5g per serving vs. 8g) and has less fiber (2g vs. 3g per serving) but these differences are not all that significant. I am accustomed to the taste of all-natural peanut butter which is not what PB2 tastes like. PB2 tastes a lot like the typical peanut butter brands out there like Skippy. This is likely because it has a bit of added sugar. If you can get your hands on peanut flour which is essentially the same concept but without the sugar you should go for it! Unfortunately it's pretty hard to come by and mighty expensive. PB2 is what I had on hand so that's what I used.
In the States you can find PB2 at Whole Foods but if you're in Canada you're better off ordering it online or if in Toronto you can buy it here. This recipe is still healthier than what you would find at a typical Thai restaurant so if real peanut butter is all you have then don't hesitate to use it. It will be delicious and nutritious either way 🙂
Print
Lightened-Up Shrimp Pad Thai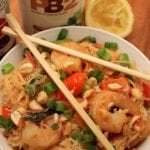 Prep Time:

10 minutes

Total Time:

25 minutes
Ingredients
1/3 package of thin rice noodles
1 T coconut oil
1 large carrot, thinly sliced
½ red bell pepper
1 green onion, sliced (green parts reserved for garnish)
¼ red onion, chopped
1 cup chopped asparagus
½ lb large uncooked shrimp
2 T chopped peanuts (optional)
For the sauce:
Juice 1 fresh lemon
¼ cup water
2 T tamari
3 T pb2
1 tsp coconut palm sugar (brown sugar works too)
1 clove garlic
1 tsp ginger, minced
1/4 tsp red pepper flakes
Instructions
Cook rice noodles according to package instructions. Set aside to strain when finished.
While noodles are cooking, mix together all ingredients for peanut sauce. Let sit.
Melt coconut oil over skillet or wok and add chopped vegetables.
Sautee veggies over medium heat for 5 mins, or until soft.
Add shrimp.
Once shrimp is cooked completely stir in chopped basil.
Reduce heat to low and add noodles and peanut sauce.
Stir until everything is combined and serve immediately garnished with green onion and chopped peanuts (optional)
Have you ever tried PB2? What about Peanut Flour? Any ideas where to get it in Toronto?
JOIN THE THM NEWSLETTER
Join 8000+ members of the THM Community to get access to exclusive recipes, healthy lifestyle tips and behind-the-scenes news from our team!