With cauliflower, chickpeas and drizzles with a tahini and za'atar sauce, this Roasted Cauliflower & Chickpeas with Tahini and Za'atar makes a healthy side dish recipe inspired by the Mediterranean!
I mentioned a few days ago that I redid my recipe index. It's been on my to-do list for I don't knowwwww, 3 months? Well now that the e-book is in full swing, I knew I had to get it done ASAP. So I spent about 2 weeks going through ALL of my posts (over 300) and re-categorizing them. Fortunately my theme has the code to easily put together a recipe page, but you need to make sure all posts are categorized accordingly.
I probably could have done it a lot faster, but I am very easily distracted. It was actually kind of fun going back and looking at old posts. I got to re-live a bunch of my Weekend Recaps (I kind of miss them, I think I may bring them back this summer!) and see my progression in both my writing and photography.
I know I've said this a million times, but it's literally crazy for me to see how much my photography has improved over the last year. The hard work I put in certainly paid off. One of the realities of being a food blogger is coming to the realization that it's your pictures that will make or break you. Okay, maybe that's a bit dramatic but at the end of the day, people eat with their eyes so if you want people to make your recipe you need to make sure your pictures actually get seen using sites like Pinterest or Foodgawker.
There are times when I'm sad that no one will make some of my earlier recipes because the pictures make almond butter look like body scrub, but I hate the idea of re-photographing them. I LOVE that this blog tells my story. I occasionally cringe at some of things I have said or pictures I've posted, but at the time it was 100% authentically me. That is far more important to me than being a perfectionist. Plus I ain't got time fo that!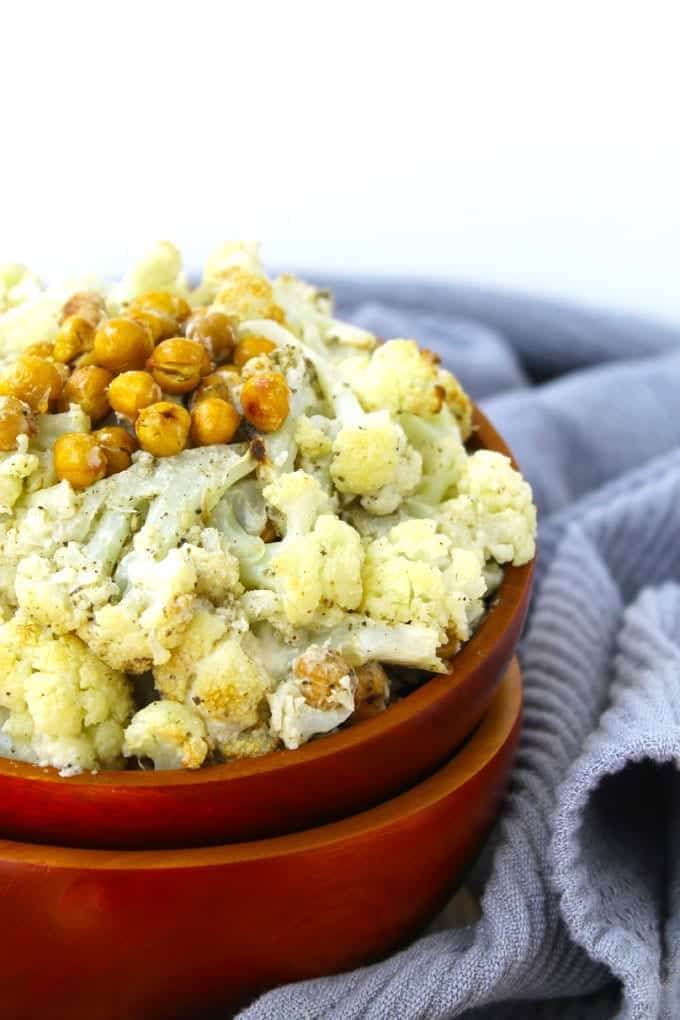 One of the recipes I came across in my Recipe Index building was this one for Roasted Veggies with Tahini Sauce based on my favourite cookbook. I immediately knew what I would be having for dinner that night, but I was far too lazy to go to the grocery store. So instead I adapted it to what I had on hand, and made this Roasted Roasted Cauliflower & Chickpeas with Tahini and Za'atar I think it may have turned out better than the original. Crunchy chickpeas = god's gift to the earth.
Dig in!
SAVE
print
Roasted Cauliflower & Chickpeas w/ Tahini & Za'atar
Ingredients
1

large head of cauliflower

1 1/2

cups cooked chickpeas

1

T + 1 tsp olive oil

sea salt
For the Tahini Sauce
2

T tahini

juice 1/2 lemon

2

T water (or more if it needs more thinning)

2

tsp za'atar

salt & pepper, to taste
Instructions
Preheat oven to 450 degrees F.
Chop up cauliflower into florets and drizzle with 1 T of olive oil. Spread out on a baking sheet and sprinkle with sea salt.
Drain and rinse chickpeas (if using canned) and dry completely. Peel off outer skins.
Drizzle 1 tsp olive oil on the chickpeas and spread out on a baking sheet. Sprinkle with sea salt.
Place chickpeas on middle rack and cauliflower on top rack. Bake chickpeas for 20 mins and cauliflower for 30 mins.
Meanwhile, combine tahini, lemon juice and water. Stir to form a paste. If too thick add a bit more water.
Remove cauliflower and chickpeas from oven and drizzle with tahini sauce.
Top with Za'atar, and salt and pepper.
Serve warm.
Thoughts on recipe re-shoots? What's your favourite cookbook?
JOIN THE THM NEWSLETTER
Join 5000+ members of the THM Community to get access to exclusive recipes, healthy lifestyle tips and behind-the-scenes news from our team!