Houseplants seem to be all the rage these days. And for good reason! Of course, they're pretty and trendy but they also have legitimate health and wellness benefits. They're not just background decor – they're actually good for you!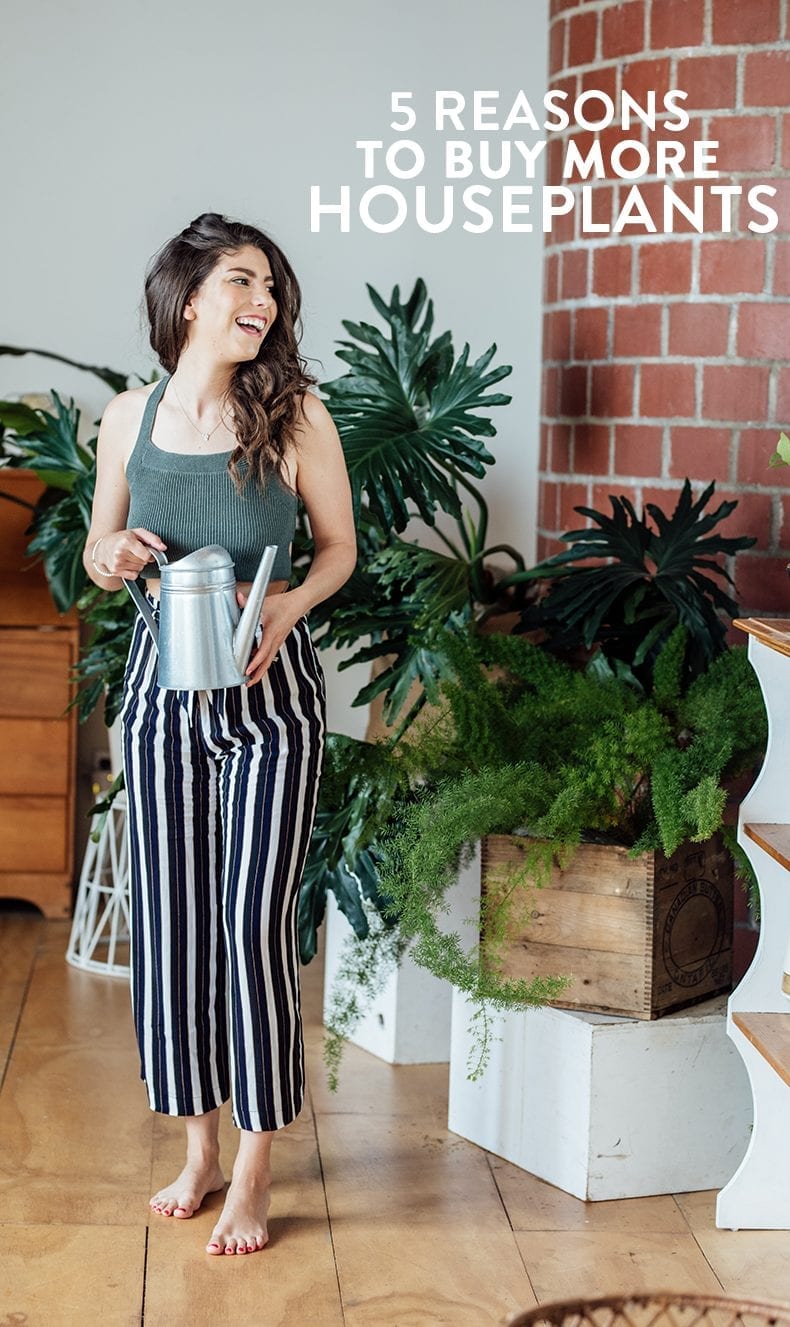 I was chatting with a friend a few weeks ago and she was asking me if all our plants are real. Yes, all 37 (and counting) of them are real. And yes, I have a plant hoarding problem. But for me, if you're gonna buy houseplants you may as well go for the real deal.
Of course, I know there are many of you out there that claim you don't have a green thumb or your environment/lifestyle just won't work for houseplants, but I'm here to argue the opposite. There exists a houseplant for everyone out there. From those that require zero light to those that need to be watered every 3 weeks, I promise there is something for those of you who can barely keep a cactus alive…and this is coming from someone who has killed a cactus in the past! It's all about finding the right fit and match for your lifestyle and understanding the kinds of benefits you're looking for.
I'm going to get into some tips for finding the right plants and some suggestions for keeping them alive, but first I wanted to share 5 reasons to buy more houseplants: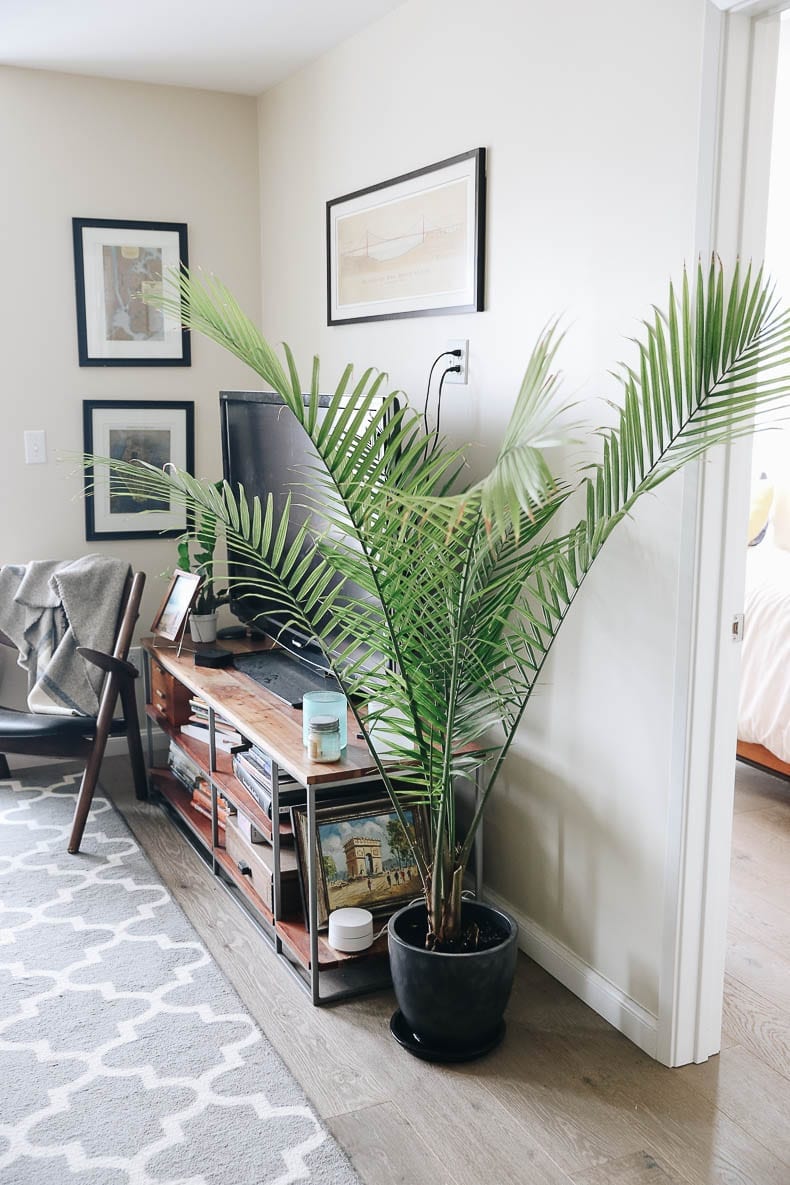 5 Reasons To Buy More Houseplants
1. They help you breathe easier – plants pull the CO2 out of the air and fill it with oxygen. Many of us live in dirty, grimy cities with not nearly enough plant life. Bringing it into your home ensures that you're getting cleaner air and some fresh oxygen.
2. They help cool your home – if you live in a warm environment, plants can actually help cool your home! Plants can keep your house cool because they lose water during transpiration which cools the air around the plants, and thus your home. This doesn't necessarily mean you can turn off the AC if it's 95 degrees outside but it will help you to naturally conserve energy and cool your home.
3. They're grounding – some will say that houseplants actually ground you on a metaphysical level but I'm not sure how much I believe that. What I do believe is that by having plants you're forced to ground yourself in your home, whether you like it or not. In order to keep your plants alive, it actually requires you to be home to water them. Of course, schedules vary but if you feel like you've been all over the place or are lacking a sense of routine, plants offer a built-in one with not much effort.
4. They raise your mood – research has shown that houseplants actually make people happier and heal faster (source). I truly believe that a happy home is a key factor in a happy life. If your home doesn't induce joy, try picking up some houseplants and see how you feel.
5. They clean the air – beyond just adding more oxygen to the air, plants actually pull toxins out of your environments and add humidity which helps to decrease the transmission of bacteria and viruses. Certain plants are better than others but most help to pull things like carbon monoxide, formaldehyde and nitrogen out of the air making a healthier environment.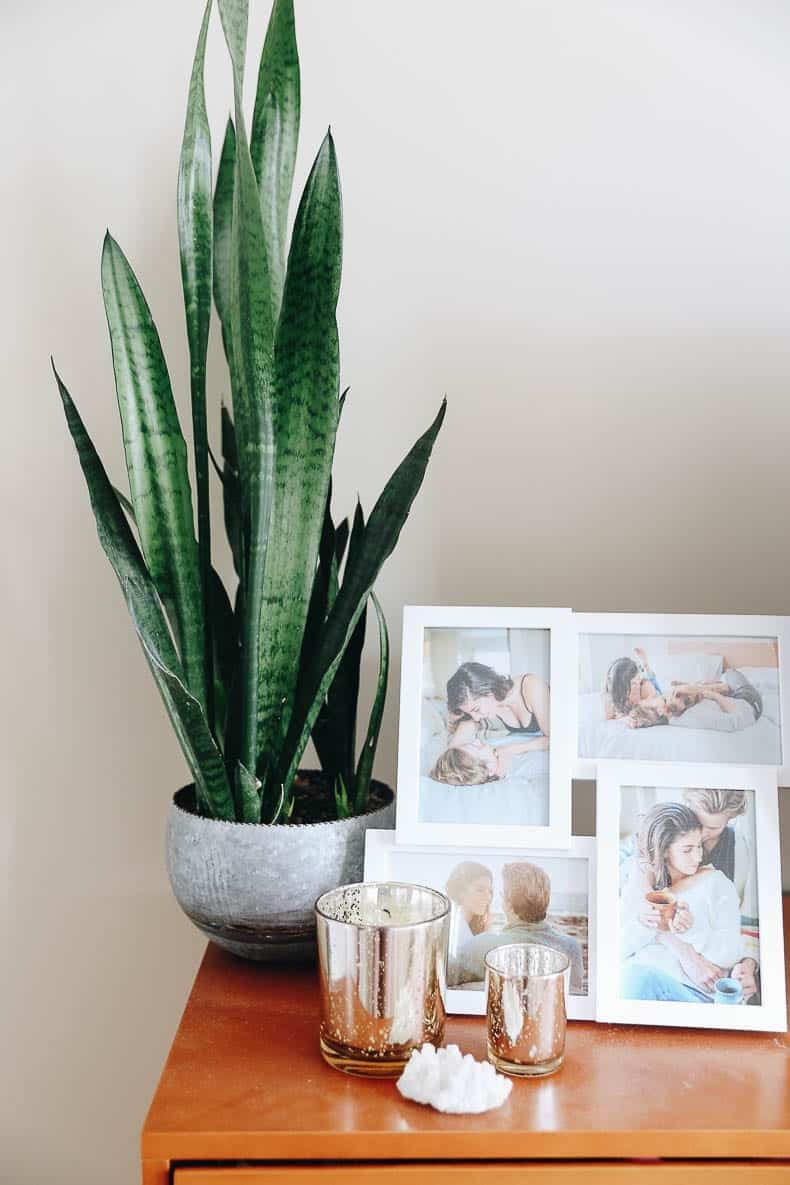 How To Pick Your Plants
1. Start with easier plants like succulents and cacti – succulents require high amounts of light but very little water. Place on your windowsill and water every other week or less as needed.
2. Buy from a reputable source– try to build a relationship with a local nursery so you can ask for help and tips for the specific plant(s) you are buying. Pro Tip: Don't buy from home depot and look out for places like IKEA that often use pesticides like neonicitides to grow their plants. No bueno!
3. Shop with a purpose – If you're looking for plants with a specific purpose, do a little research. Look for things like light, maintenance and effectiveness at cleaning air toxins.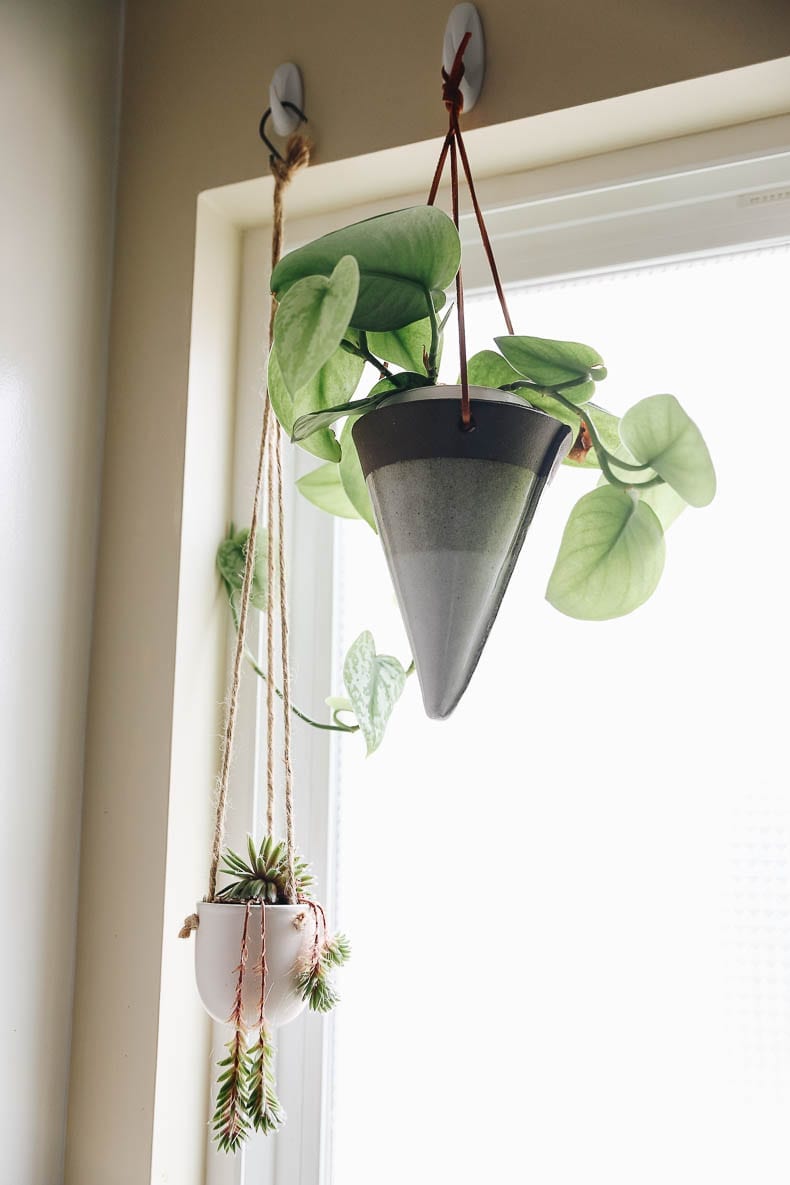 Tips for Keeping Plants Alive
1. Create a schedule! I keep mine on my phone but if you need a visual, draw it out! I pick a day (Mondays for me) where I water my plants. I also indicate on my phone which weeks my succulents need to be watered as they're on a bi-weekly basis. If your plants are on a totally different timeline create a calendar with reminders on when to water each.
2. Use a natural plant feeder/fertilizer – My friend Bettina swears by chicken poop fertilizer though I've yet to try it! There are natural/organic plant feeders you can order off Amazon or chat with your local nursery about what it best to use.
3. If you're travelling create a plan – ask a friend or family member to come over and water your plants or if you only have one or two, give them to someone to keep them alive while you're gone.
4. Buy a plant mister – some plants like more humidity than others so mist them a few times a week to add some moisture to the air.
Do you have houseplants? Did I miss any tips or tricks?
JOIN THE THM NEWSLETTER
Join 20,000+ members of the THM Community to get access to exclusive recipes, healthy lifestyle tips and behind-the-scenes news from our team!