Lately I've been getting a ton of questions about what I've been using for my skin. As many of you know, I've struggled with hormonal acne for the last few years and have been very open about this journey. My last update was a little over 6 months ago and was probably the most optimistic of them yet. I've really been able to tune into my body and understand my triggers…ahem I'm looking at you stress!
I've also been learning how sensitive my skin really is and that it's pretty much the first indication that something is off with my body. Especially when it comes to my facial skin. Besides acne, I've developed eczema on my eyelids in the last year and well…shingles. It's meant expanding beyond just my usual acne-healing remedies.
The quality of our skin is a direct correlation to the quality of our gut. That's not to say I eat perfectly "clean" all the time. My goal in life is not having perfect skin at the expense of living my life, but I do think that making gut health a priority can have awesome benefits. But it also goes beyond what we eat. How we manage our lifestyle outside the kitchen is super important. This of course means the products you're using on your skin, but also ensuring you make time for self-care, stress-management and just simply having fun! I find the less stressed I am and the more I'm enjoying my life the better my skin is. And the opposite is also true. When shingles first appeared I also had a major breakout leading up to it and throughout the healing process. All's to say is that what you eat and put on your skin is important, but this isn't the whole story.
Besides my shingles breakout, my skin has actually been pretty great lately. That's not to say it's perfect. I stopped striving for perfection a long time ago, but I have found certain things to be more effective than others, some of which are new additions to my acne-healing remedies collection. I thought I'd share some of those with you today.
NEW SKINCARE CHANGES
Probiotics – I had to eliminate probiotics and fermented foods when I was diagnosed with SIBO in the fall of last year, but since then have slowly added it back in and now am happily drinking kombucha and taking my daily probiotic from my Care/of pack. Like I mentioned above gut health = skin health and I definitely feel like this is helping!
Laundry Detergent – we swapped out our laundry detergent for a baby version because of my eczema and I've noticed it has helped a ton. It's hard to say how much it's helped my acne but definitely has helped with the eczema.
Caffeine – this is a big one and as I'm sure you guys know I loooooove my coffee. I'm not eliminating coffee by any means but have been trying to decrease my consumption. I've noticed I don't need it every single day and have been trying to only have it when I know I can sit down and enjoy it rather than drink it out of necessity.
Lymphatic Drainage – for the last few months I've been using a facial roller to help encourage lymphatic drainage. Making sure I have some kind of movement every single day also helps with lymph drainage. I am prone to clogged pores and know that this is because my lymphatic system can be slow at times.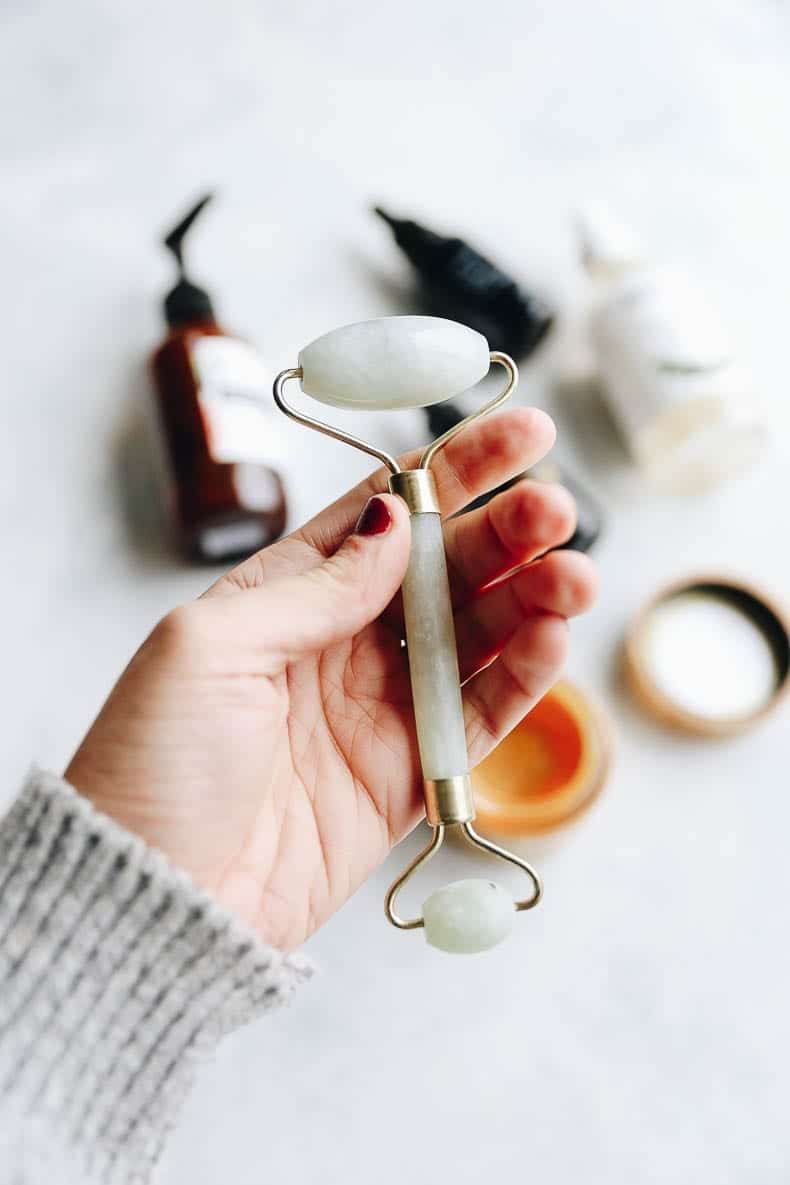 MY CURRENT SKINCARE ROUTINE
I am always experimenting and playing around with products (something that I love!) but also keep in anything that I know works for me. I've made a few changes over the last few months so here's my current skincare routine.
Cleanser – Replenishing Oil Cleanser from Marie Veronique
Toner – Botnia Toner
Serum – Twilight Be Calm Serum from Siam Seas (this stuff is incredible!)
Morning Oil – either Kahina Giving Beauty Argan Oil or Annmarie Herbal Facial Oil
Night Oil – Mahalo Balm
SPF daytime moisturizer – Josh Rosebrook Nutrient Day Cream
For a step-by-step look at my skincare routine, here's my latest skincare video
* * * * *
Not everything has changed around here. A lot of the products I'm using in my skincare routine have remained the same and I still love the usual face mask culprits. I'm also continuing to take the same supplements, mainly zinc and l-lysine from my Care/of pack. I also love my facials at Ritual Skincare and find that going every month or every other month can really help with blackheads and clogged pores. HYDRATION is probably my biggest struggle but I'm still committed to making sure I get in enough water each day to feed hydrated.
And not surprisingly, keeping my stress levels down is still a big part of the game…forever my greatest challenge!
So that's where things are at! Some changes and some things exactly the same. Still on this journey and to be honest I've let go of there being a final destination. Like my hair, I'm learning to be confident wearing it naturally no matter what state it's in while also doing my best to care for it holistically.
Hope this post was helpful to anyone struggling with acne! Know that coming at it from a place of compassion is always most effective. Sending you all lots of love <3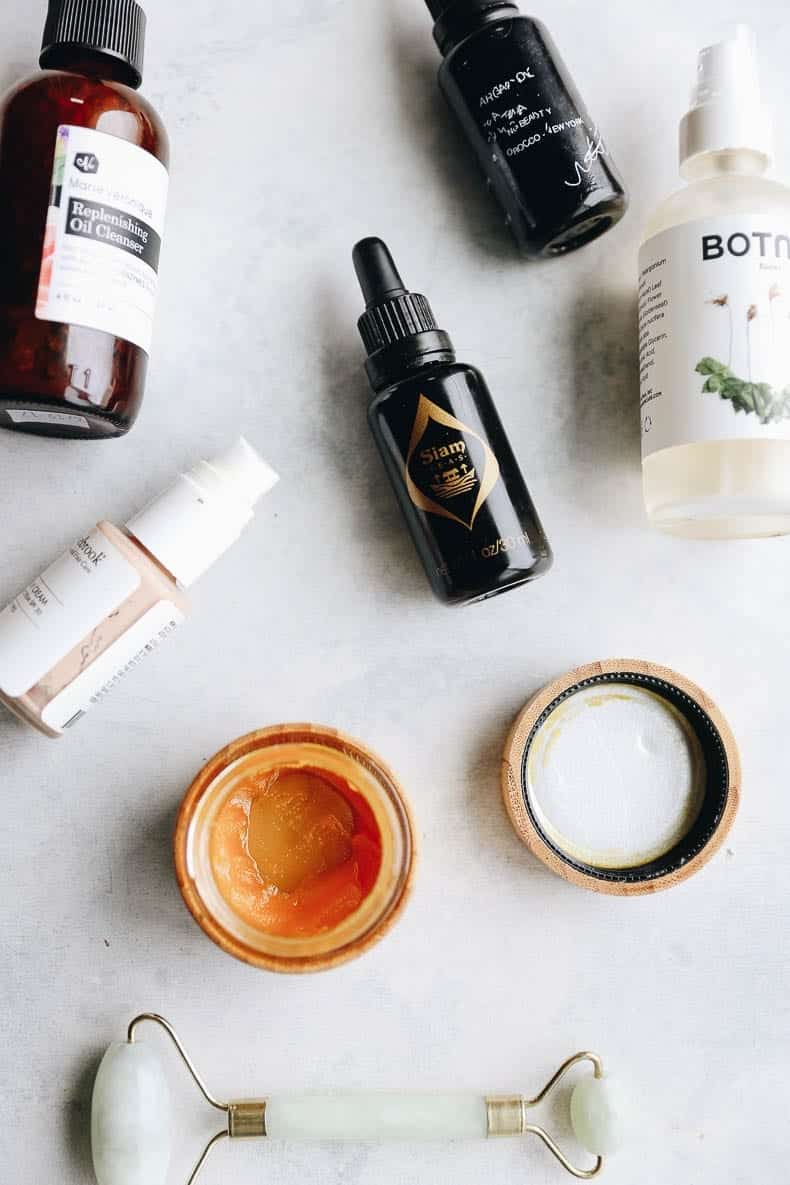 Do you struggle with acne? What are some of your favorite acne-healing remedies?
LOVE THESE NATURAL BEAUTY TIPS? Join the THM Community!
Join 10,000+ members of the THM Community to get access to exclusive info about natural beauty, products I'm loving and how to transition to a more natural lifestyle.