Are you a tea drinker or looking to become one? This post walks you through the benefits of herbal tea, which plants to pick and how to brew properly for optimum benefit.
In my research for this post, I discovered that there is something called a "Tea Master," a.k.a. someone with expert knowledge of tea. Upon further digging, I did find out that there are some certifications out there, but the consensus is that nothing quite compares to downright experience. So from this perspective, I am basically a tea master!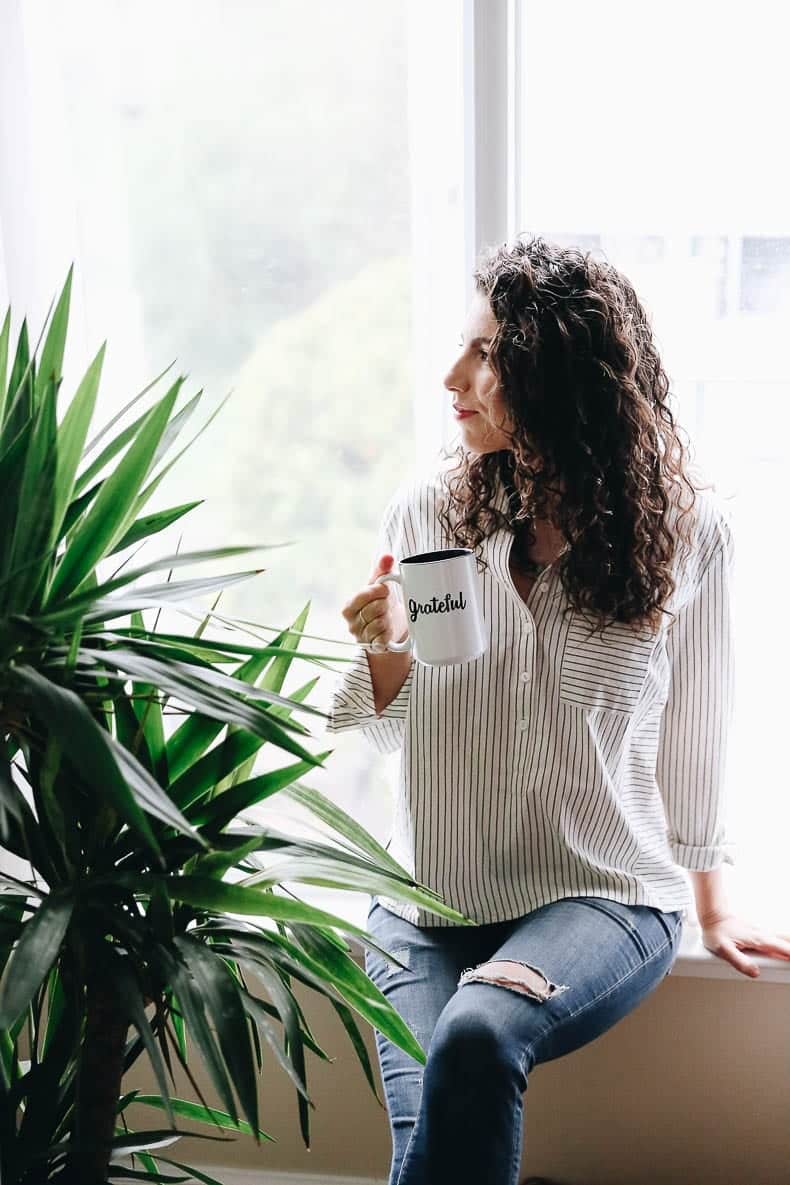 When I started to think about my own tea journey, I came to realize that tea is probably more consistent in my life than coffee. For one, I drink WAY more tea than coffee everyday.
I'll be honest, my tea journey began and still in some ways continues purely out of taste. I enjoy the taste of tea. From peppermint to chamomile to turmeric, I love the ritual, the dimension and the deliciousness that is a mug of tea. It's why I started having a cup before bed in my early teens and continue this tradition today. But, as I got older and more into learning about health and wellness, I actually discovered that herbal tea is more than just a flavored cup of water—it can actually support your overall well-being. From sleep to digestion to stress, herbal tea has properties that just about everyone can benefit from. It's at that point that I moved away from popcorn-flavored artificial teas (you know what I'm talking about!) to quality, organic teas from companies like Traditional Medicinals.
Much like past Intro Guides, in today's post I'm going to walk you through some of the benefits of herbal teas and why you might consider adding them to your routine. I'm also sharing my 3 Teas, 3 Weeks experience and what I took away from it. Let's jump in…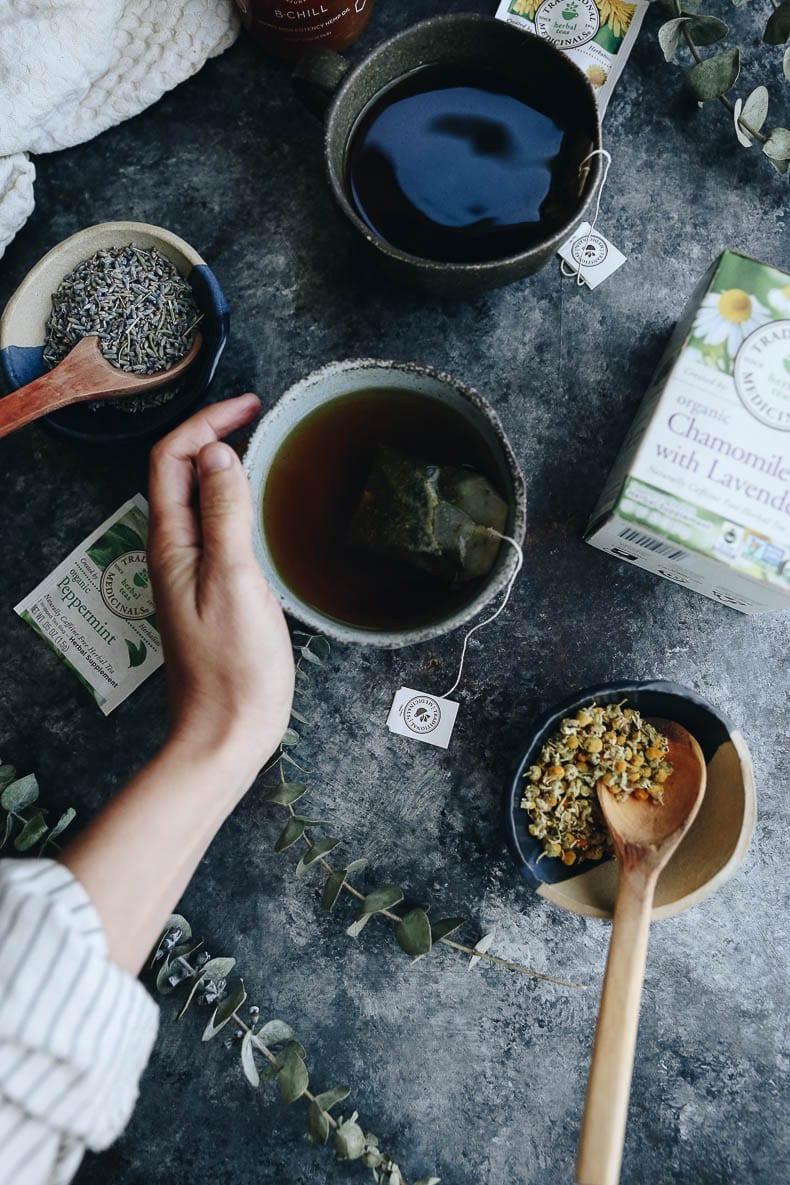 What is Herbal Tea?
Did you know that herbal tea is not technically "tea" because it doesn't originate from the Camellia sinensis plant (the basis for black, green, white and oolong tea)? However, many of us continue to use the word tea for herbal varieties because of the similarities and the common blending of Camellia sinensis and herbal teas. Technically, herbal teas are referred to as "tisanes," and are the leaves, stems, bark, roots or any portion of a plant infused in water to release its benefits. Steeping the herbs in hot water brings out the plants' benefits by releasing the active ingredients, such as essential oils.
One thing I want to stress is quality. The benefits of herbal tea depend entirely on the quality of the ingredients used. First thing to look for is if there are any additives for flavoring. Herbal tea does not need added flavoring to be delicious. Next is reaching for organic tea whenever possible (some herbs are difficult to find or grow organically), I personally love Traditional Medicinals because almost all of their teas are organic and are sourced sustainably. Traditional Medicinals specifically seeks out medicinal-grade plants from ethical trading partnerships for their teas to make the best herbal tea available.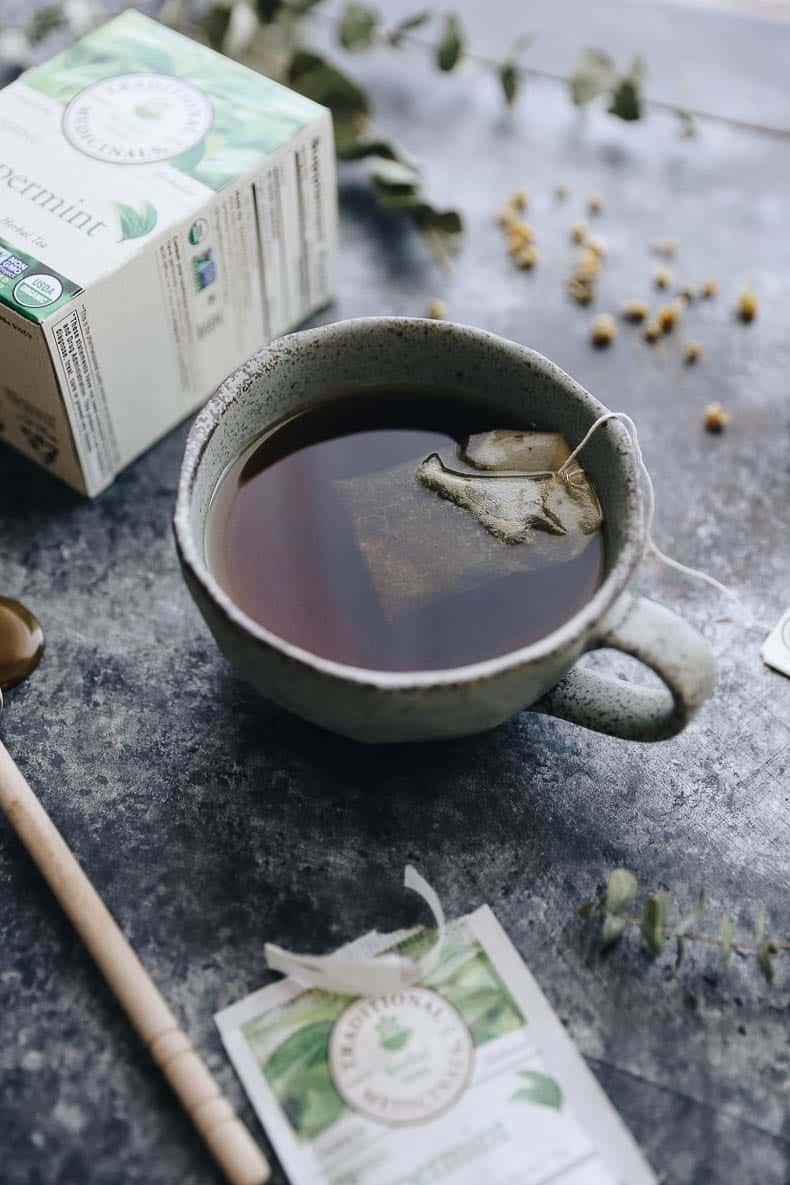 What are the Benefits of Herbal Tea?
Just as each plant has its own benefit(s), so does herbal tea. This is especially true when it comes to blending various herbs for targeted purposes. The list could go on forever in terms of the benefits of different herbal teas, but today I'm going to focus on a couple that are worth researching and trying out for yourself:
Peppermint tea – Soothes your belly and alleviates digestive discomfort.*
Chamomile tea – Calms your nerves and supports healthy digestion.* Try  Chamomile with Lavender for additional stress-relieving herbs.*
Red Clover tea – Traditionally used in herbal medicine for skin health.*
Roasted Dandelion Root tea – Gets the juices flowing (if you know what I mean!) & gently stimulates the liver and supports healthy digestion.* Has a coffee taste to it for those looking for a caffeine-free morning beverage.
Turmeric with Meadowsweet & Ginger tea – Supports a healthy response to inflammation associated with an active lifestyle.*
Lemon Balm tea – Gentle and mildly relaxing, relieves tension and relieves occasional indigestion.*
Nettle Leaf tea – Supports joint health and overall wellness.*
There are hundreds of herbs out there so this is just an intro to a few. I encourage you to do your own research and chat with an herbalist and/or medical practitioner before changing up your routine.
Tips for Steeping Herbal Tea
While there are certainly benefits to drinking herbal tea, knowing how to steep your herbal tea properly will ensure you're getting the most from each cup.
1. Pick quality herbs – organic is ideal when possible but know that you get the best bang for your buck when the quality of the plant is better
2. Steep for longer than you would traditional tea– Oftentimes that means at least 10-15 minutes per cup.
3. Cover your mug – while the tea steeps cover your mug with a top or small plate. This ensures the essential oils (or volatile oils) of the tea don't escape into the air and remain in the mug to be infused into the water.
Disclosure: This post is sponsored by Traditional Medicinals. While I was compensated for my time, all opinions expressed are 100% my own. Thank you for supporting the brands who help make THM possible!
*These statements have not been evaluated by the Food and Drug Administration. These products are not intended to diagnose, treat, cure, or prevent any disease.
Like this post? Here are some others you might enjoy:
DIY Stress-Relief Tea
An Intro Guide to Meditation
Adaptogens 101 + How To Use Them
JOIN THE THM NEWSLETTER
Join 20,000+ members of the THM Community to get access to exclusive recipes, healthy lifestyle tips and behind-the-scenes news from our team!