Celebrate your inner child with these Baked Buffalo Chicken Fingers. Made with almond meal, egg and hot sauce, this is a simple recipe that you can serve for weeknight dinners or for a healthy kids meal.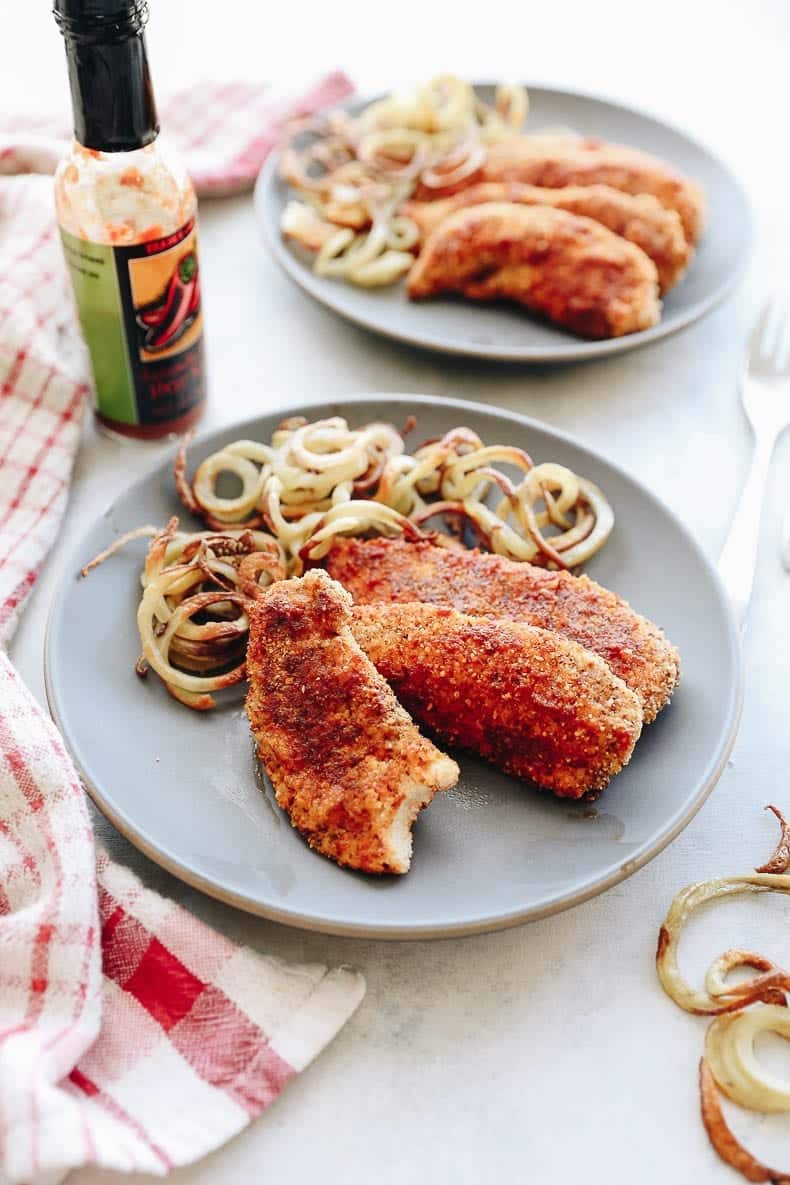 This is the last post on the blog before I GET MARRIED.
Okay let's all just take a second to let that soak in.
Deep breaths.
Somehow it felt fitting to post a recipe for baked buffalo chicken fingers before my wedding. 1) because we are most definitely serving them at our wedding (to be fair it's the kids menu, but still…) and 2) because I feel like a child bride who eats still eats chicken fingers at least once a week and is deeply confused about who gave me permission to get married.
Late 20s are such a weird time. Some people are married and have babies and others are still trying to commit to a relationship with their hairdresser. Your age doesn't seem to match your maturity…in either direction.
I digress…Is marriage brain a thing?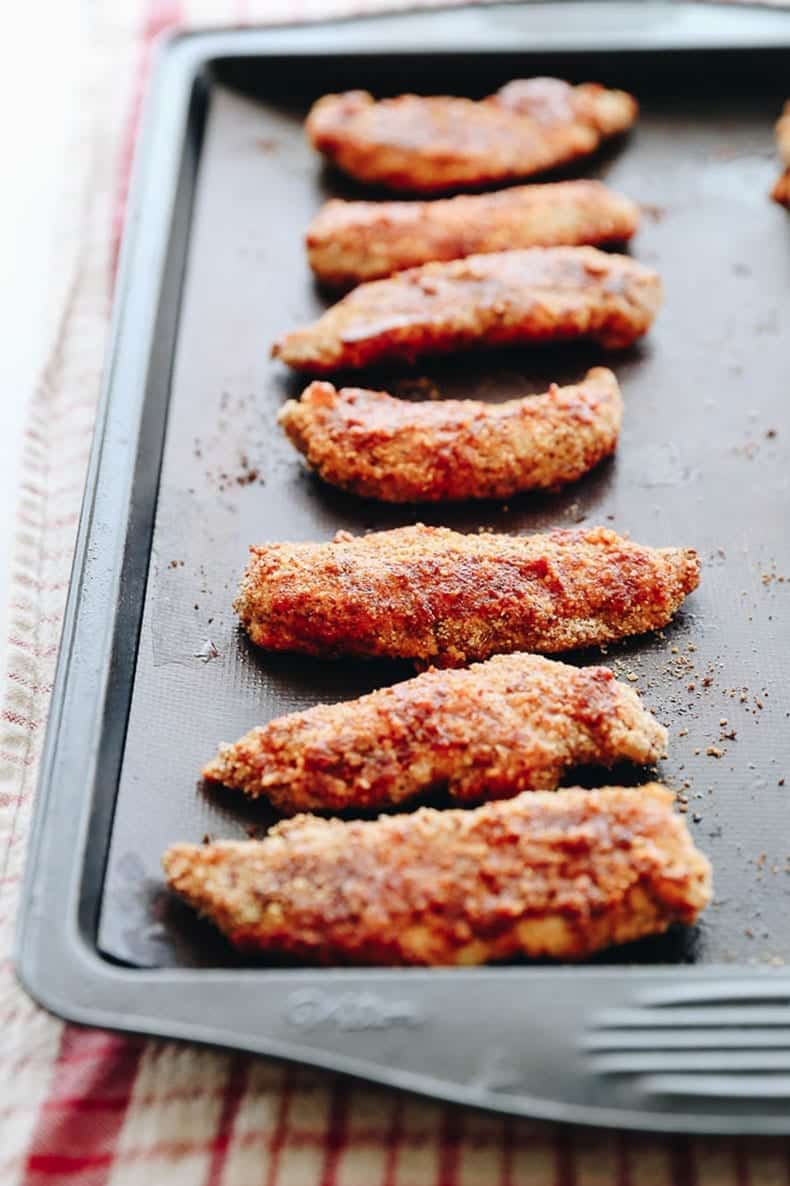 To be honest, the last year of my life (since getting engaged) has been one hell of a season! Some incredible ups and some deeply deep downs. We celebrated our engagement in the most perfect way possible and I'm still so grateful to have had both sets of our parents there. But we also experienced overwhelming loss and some stressful health problems. Note to all brides: try NOT to get shingles, okay?
We celebrated birthdays and travelled to destinations near and far. I become a yoga teacher, C deepened his roots with The Sierra Club and Bodhi perfected the art of the snuggle. I'm not going to lie, I'm looking forward to this time next week when we'll officially be married and moving onto the next chapter of our lives but even though this year has been a challenge, I wouldn't have changed any of it.
I get to marry my best friend, surrounded by our closest family and friends. I've had many moments where I just wanted to give up or shed wayyyy too many tears over invites/flowers/welcome bags/caterers, but it's this piece I'm holding on to. I can only imagine how incredible it will feel to look around and see my family interacting with my high school friends, talking with Curt's camp friends, sitting next to my blogging friends. There are few opportunities in life to bring together all the people you love in one room. I can't believe this opportunity will be my life in a few short days!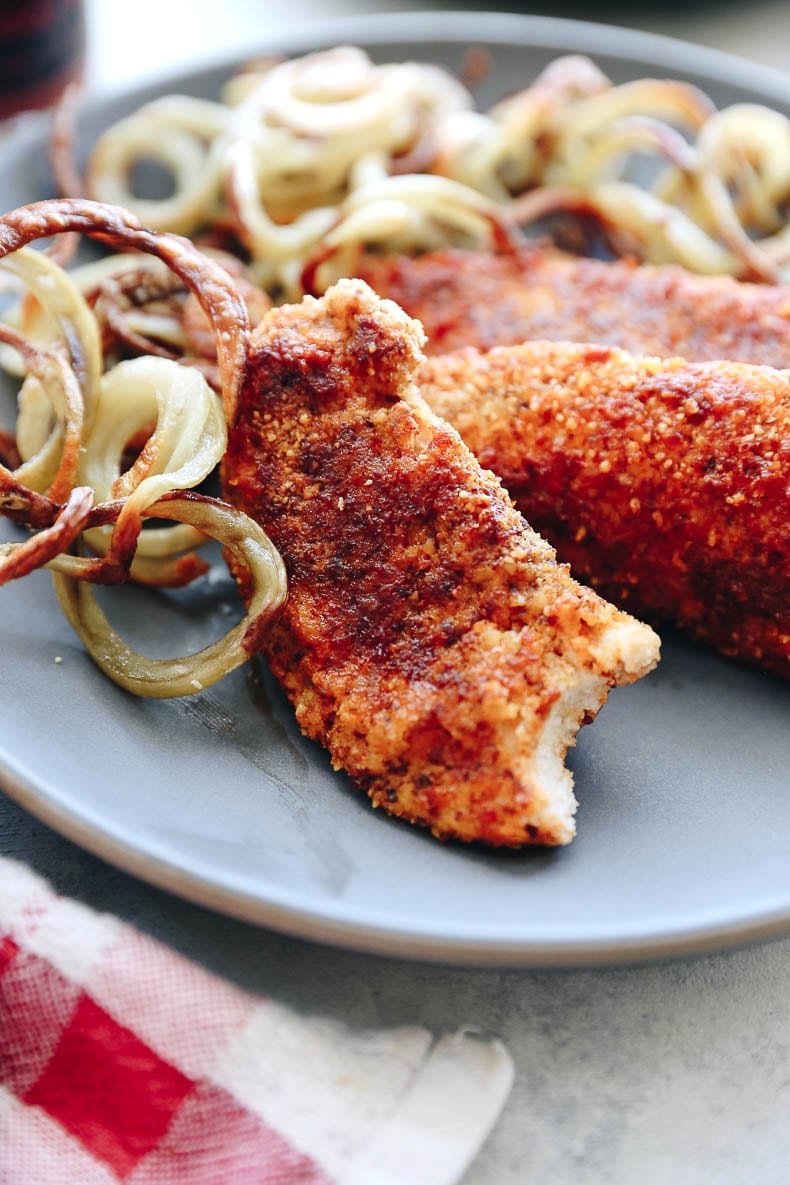 So what's going to be happening around here? As of Wednesday I will be off for 10 days, prepping, getting married and then mooning so hard (#moonsohard <– let's get this trending!). THM will not be shutting down though. I'm taking this little break as an opportunity to introduce you to Team Maven and the incredible women who keep THM afloat. Tanya and Georgia will be introducing themselves next week and then sharing some amazing pieces of wisdom and yummy recipes with you. I will be very sporadic on social media as well. My #1 priority is to be present in this huge life milestone, not worry about whether or not I've posted on Instagram.
I will of course be sharing the details with you after the fact, but I'd like to believe I'm only going through this experience once and I'd like to cherish every minute of it.
So with that, I leave you with this delicious recipe for Baked Buffalo Chicken Fingers (or Baked Buffalo Chicken Tenders #youdoyou) and bid you adieu until I return as DAVIDA LEDERLE. WOAH. See you soon!
Print
Baked Buffalo Chicken Fingers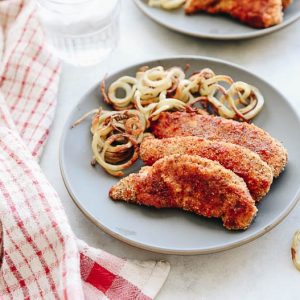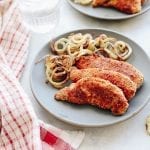 Scale
Ingredients
1 1/2

lbs boneless, skinless chicken breasts

1

large egg

4 1/2 tbsp

hot sauce of choice (reserve

3 tbsp

for sauce)

2/3 cup

almond meal (NOT almond flour)

1 tsp

garlic powder

1/2 tsp

chili powder

1/4 tsp

cumin

1/2 tsp

sea salt

1 1/2 tbsp

ghee (or butter)
Instructions
Preheat oven to 400 degrees F.
Slice chicken breasts into strips.
Beat egg in a large bowl and combine with 1 1/2 tbsp hot sauce
In a separate bowl combine almond meal and spices.
Dip 1 strip into egg mixture with left hand and place into almond-spice mixture and mix to coat with right hand.
Place onto a a parchment or silicone-lined baking sheet.
Repeat with remaining strips.
Bake for 20 minutes.
Let cool on tray for 20 minutes
In a large shallow pan, combine ghee and remained 3 tbsp of hot sauce until melted and combined.
Using tongs or a fork, dip each chicken finger into sauce and flip to coat on both sides.
Place back into tray to let soak in mixture for 10 minutes


Any words of wisdom for our upcoming nuptials? What did you serve at your wedding?
JOIN THE THM NEWSLETTER
Join 10,000+ members of the THM Community to get access to exclusive recipes, healthy lifestyle tips and behind-the-scenes news from our team!