Change up your breakfast game with this Blueberry Coconut Baked Oatmeal. An easy, vegan, breakfast option that you can bake ahead of time for weekday breakfasts or fresh for a fancy weekend brunch.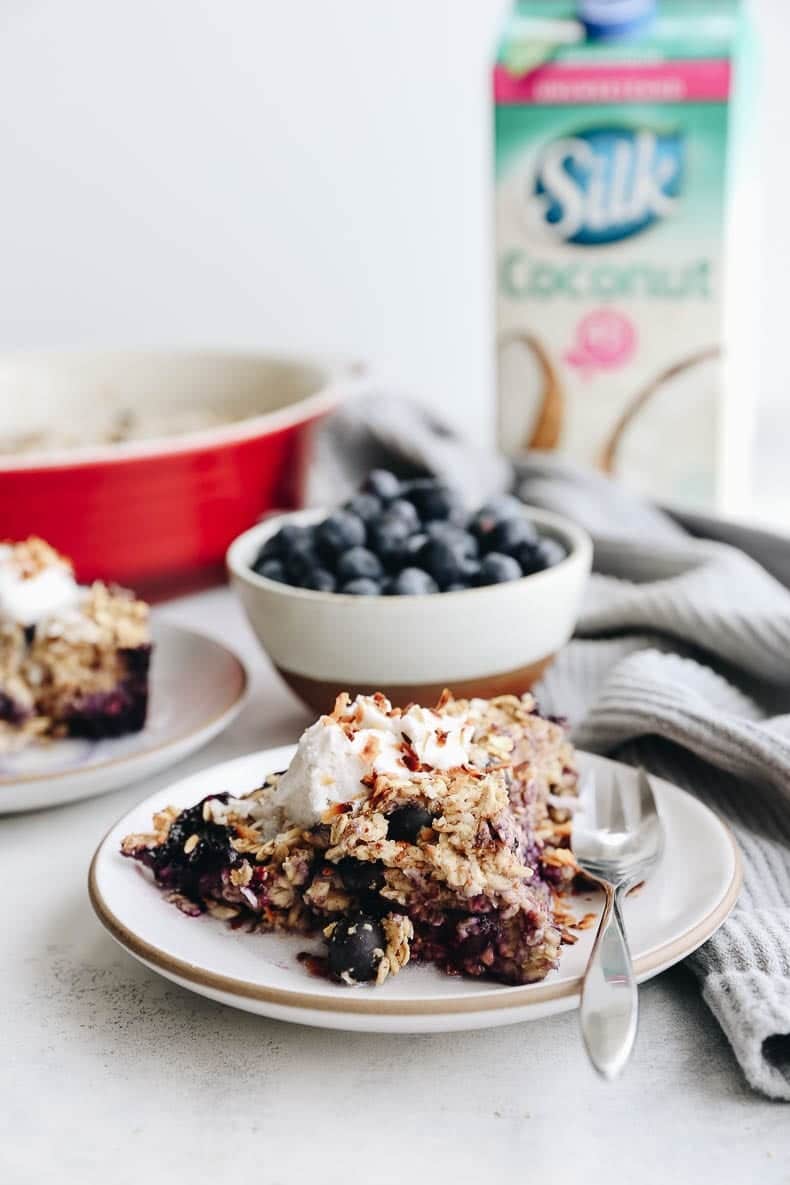 I question I get asked all the time is "what do you eat for breakfast?" I assume I'm asked this because because are always looking for healthy breakfast options and are picking my brain for inspiration. But here's the truth: I am always doing the exact same thing. Endlessly seeking breakfast inspo! I can get stuck in my winter oatmeal and summer smoothie bowl routine. And after I had the exact same smoothie bowl for 6 weeks in a row (it's this Matcha Mint Smoothie FYI) I knew it was time to change it up.
I found myself digging through the breakfast archives on THM and managed to actually inspire myself in the process. I was reminded that life AND breakfast don't have to be so binary. I can eat oatmeal in the summer and a smoothie in the winter. So while I won't be whipping up this pumpkin spice latte overnight oats anytime over the next couple of weeks, I can in fact eat oatmeal in the summer and actually enjoy it!
I know that seems like such a basic idea to some but I've always been guilty of being a black and white thinker. So much so that I don't even realize when I've been doing it. I'll ask C for help making a decision between option A and option B and struggle with it only to be reminded that there's always option C (no not option Curt but that works too!).
RELATED: The Best Ever Bircher Muesli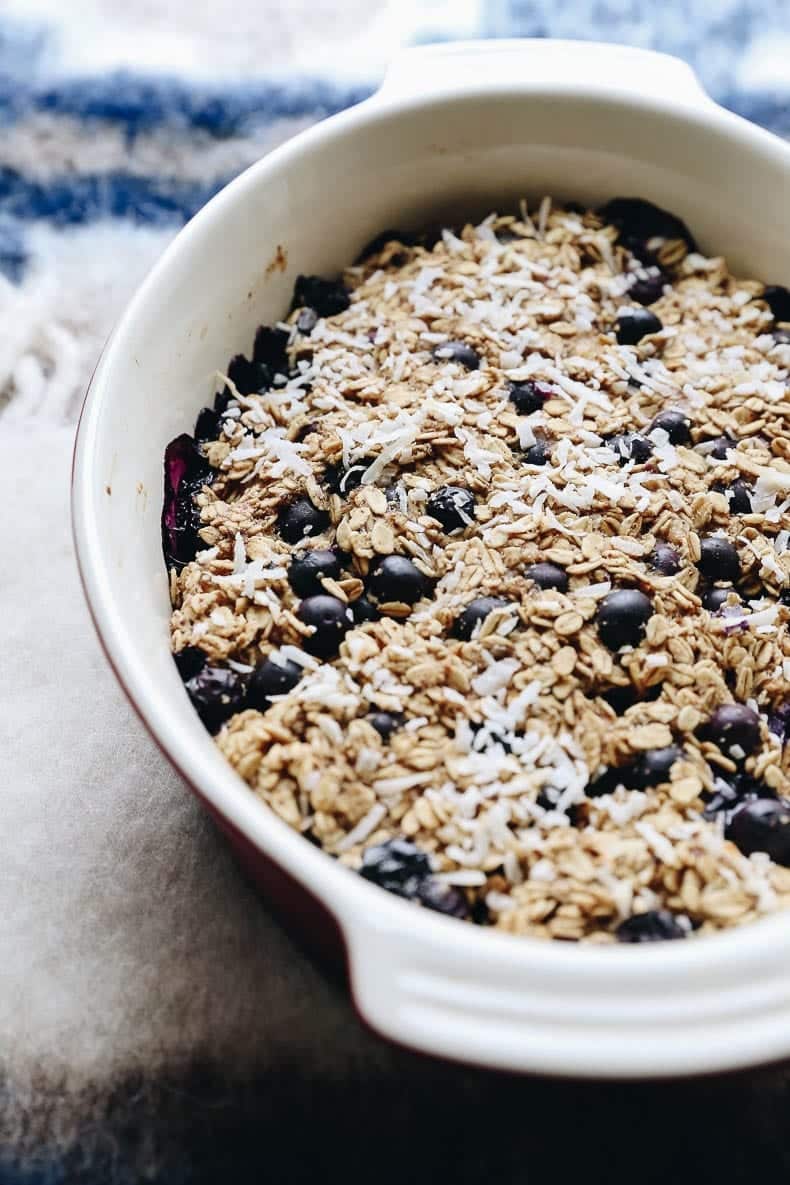 It's a bad habit that I think a lot of us fall into the trap of. Its why for many years of my life I tried to fit into the various labels I put on myself. Life is easier to understand when there's distinct boundaries so I think many of us unknowingly forget about the grey zone that exists between black and white. Now don't get me wrong, there's always a time and place for boundaries (big fan right here!) but breakfast is not one of them.
I've been working on different ways of thinking about my meals. The other day I ate a salad for breakfast and this Blueberry Coconut Baked Oatmeal for dinner. Why? Because WHY NOT?! Why not change up what you eat and when you eat it? Why not experiment, have fun and actually enjoy your food? Why not reach for that new type of food and grab that Silk Coconutmilk instead of Almondmilk? We all get stuck in our ruts and don't realize the habitual thinking patterns we've developed. I encourage you to rethink those "rules" you've set for yourself or others have set for you.
The other day while working out I saw a sign on the wall that said "put your hair up, let your hair down or do whatever you want with your hair." This is me, reminding you to do whatever you want with your hair, or your breakfast or whatever area of your life you need to change up. And well, if this Blueberry Coconut Baked Oatmeal gives you the superpowers you need to take those leaps, feel free to thank me later!
Want to see how easy this Blueberry Coconut Baked Oatmeal is to make? Follow along as I team up with Silk Coconutmilk to share this delicious summer sidekick recipe!
Print
Blueberry Coconut Baked Oatmeal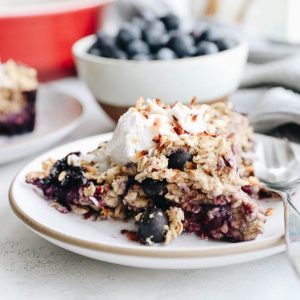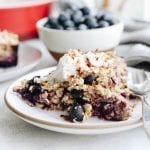 Instructions
Make flax eggs and set aside.
Preheat oven to 350 degrees F.
Grease an 8-9 inch baking pan with coconut oil.
In a large bowl combine rolled oats, oat flour cinnamon and sea salt.
Top with flax eggs, banana, coconutmilk, and maple syrup and stir to combine
Add in blueberries until well mixed in.
Add batter to baking dish and bake, uncovered for 40 minutes (or until cooked all the way through).
Cut into 6 slices and serve immediately.
Top with nut butter, more maple syrup or toppings of choice.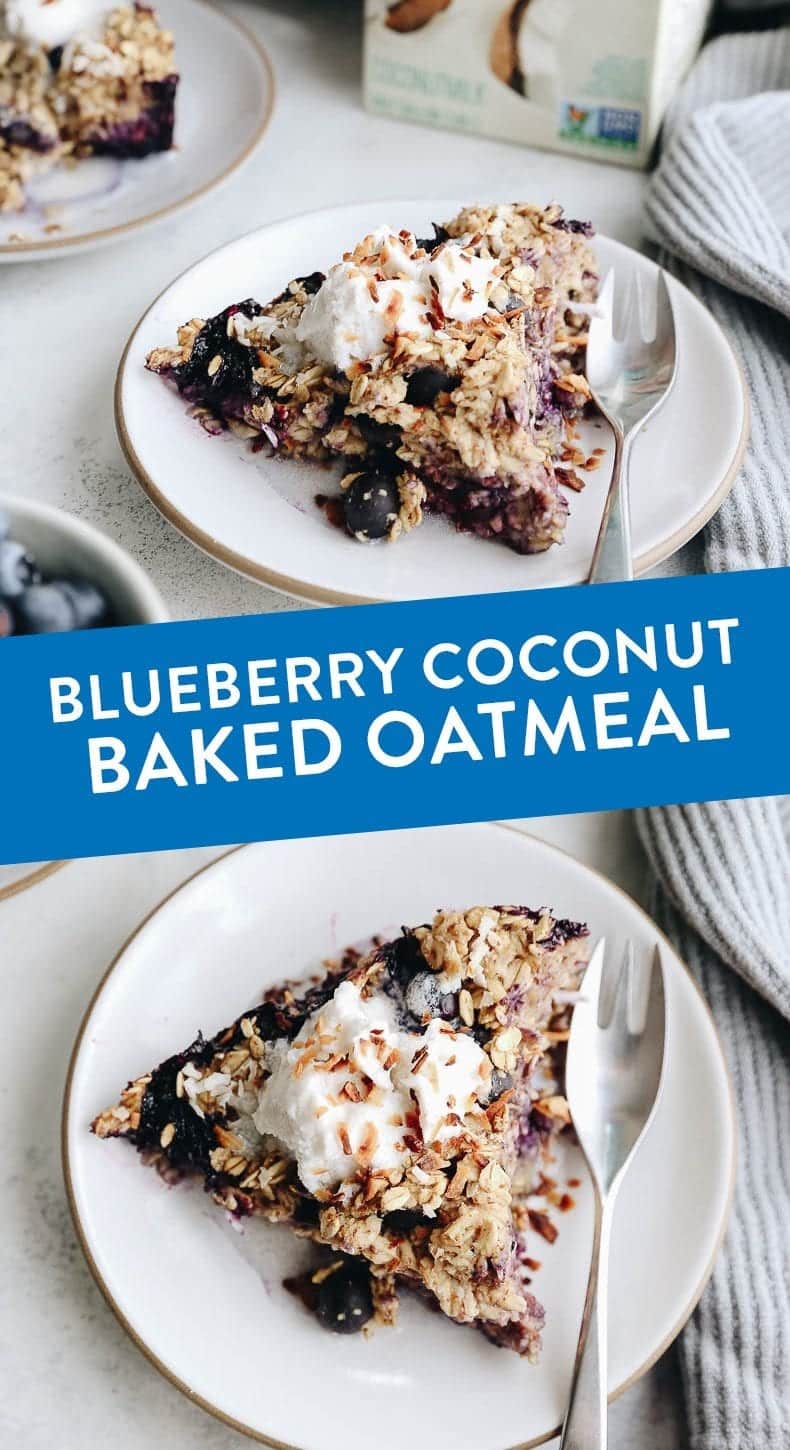 P.S. Silk always has awesome coupons and deals for their subscribers so make sure you sign up for their list so you don't miss out!
Disclaimer: This post is sponsored by Silk. I was compensated for my time, however all opinions expressed are 100% my own. Thank you for supporting the brands that help make THM possible!
What "rules" have you been unknowingly following? How are your going to change them up?
JOIN THE THM NEWSLETTER
Join 10,000+ members of the THM Community to get access to exclusive recipes, healthy lifestyle tips and behind-the-scenes news from our team!