A simple and delicious recipe for Almond Cranberry Granola that will make you wonder why you've never tried this combination before! Make a big batch for yourself or store away in jars as a gift for the holidays!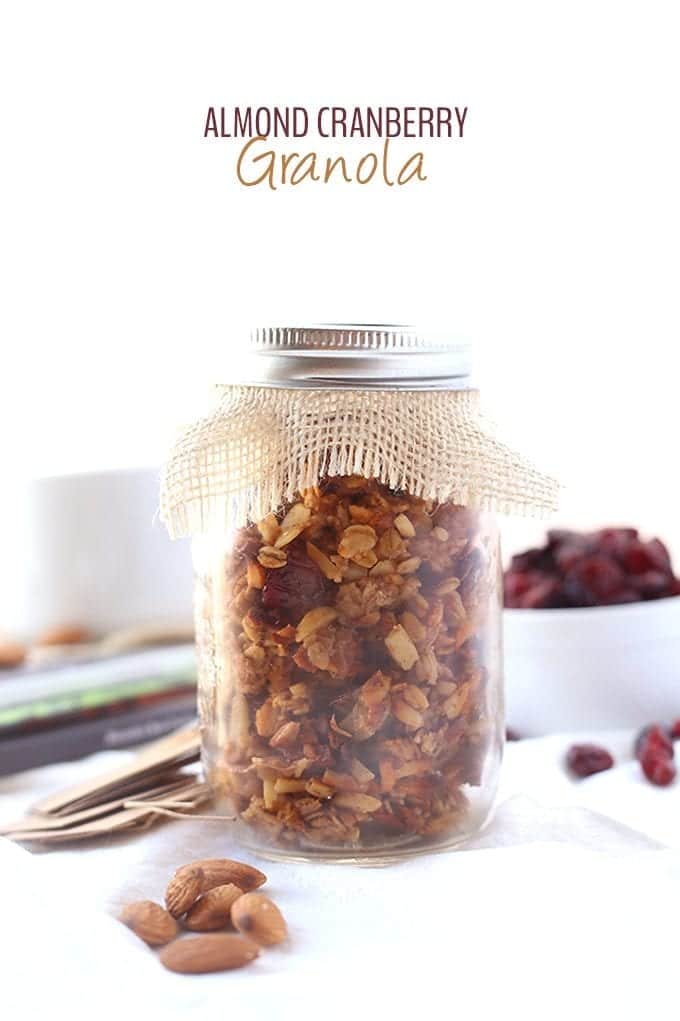 I'm sitting here in the Toronto airport waiting for my flight to surprise none-other than the lady, the myth, the legend, Ms. Fit Foodie Lee.
Actually, technically I should be ON the flight, but the universe had other ideas for me. Namely, half the customs machines went down and I waited in the customs line for 1.5 hours only to miss my flight.
Have you ever watched your flight take off knowing you should be on it? It's not a fun feeling.
Fortunately, I am scheduled to catch the next one and if all else goes to plan then I should get in in time to surprise Lee at Fit Foodie's birthday party. Let's hope by the time this goes live that this plan actually followed-through.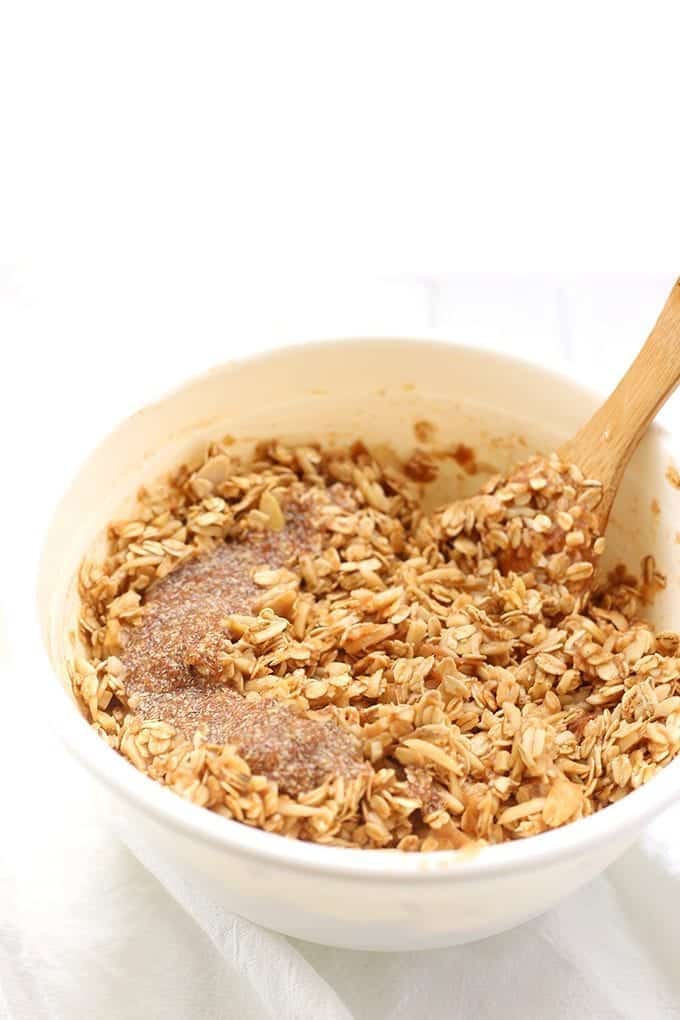 In my minor freakout at the airport I met the most well-dressed guru. He literally calmed me down from losing it on the customs lady and graciously walked me through the entire line and eventually through security, all the way believing I would catch the flight. There was no way in hell that I was catching the flight, but I appreciated his optimism and kindness.
If I had gotten his name I would send him a gigantic jar of this Almond Cranberry Granola.
I'm also blown away by the kindness of mine and Lee's friends. I immediately texted Sab who told me that at least this will make for a good blog post (she knows me well) and Nikky who fully supported me in my mission to get a bloody mary in my face…what we like to call "the red smoothie". Good people.
Then there's Linley and Brooke. If you're an avid Fit Foodie reader than you know they fill out the trifecta that is Team Fit Foodie Finds. Lin masterminded this entire plan to surprise Lee and Brooke has been the ultimate in going with the flow and making sure I was well taken care of from the second I got off the plane in Minn. Also really really good people.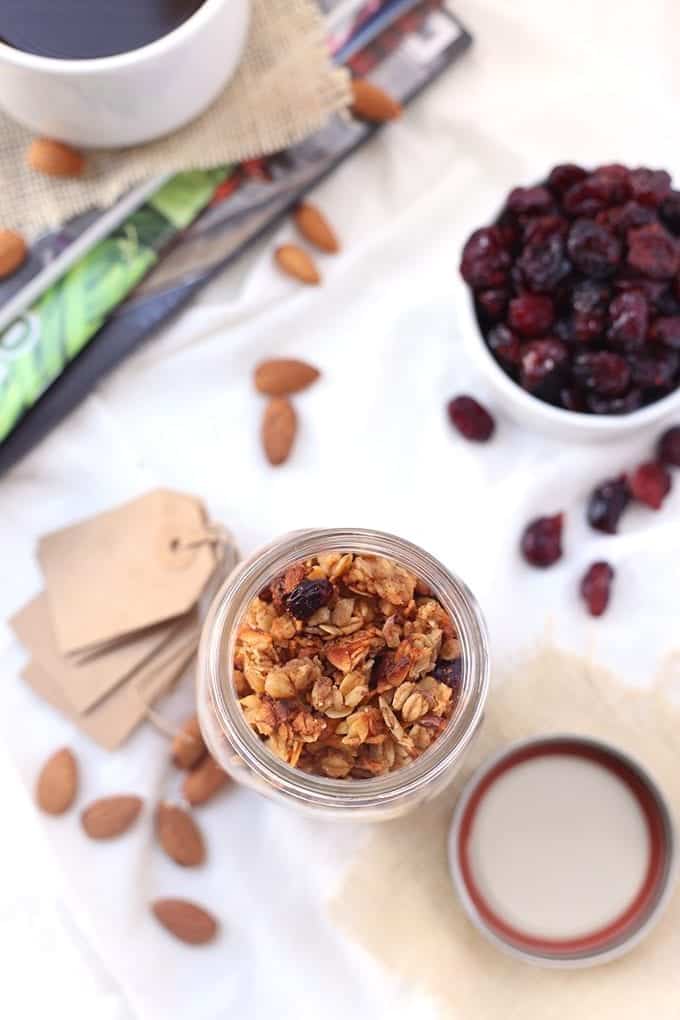 It's all too often that we forget the importance of telling these good people how much we appreciate them. I am so incredibly lucky to have the amazing people in my life that I do. I'm biased but when they say that you are the average of your 5 closest friends, I'm pretty sure that makes me seriously badass.
I have friends who live around the world. From SF to NYC, to Montreal to Boston and those very special people reppin' it in Dublin. And while I wish I could tell them every single day how grateful I am for them, it isn't realistic or feasible. So instead I give gifts. Sometimes it's my presence (Lee you better love me for flying to Minn to surprise you. Kidding!) and sometimes it's a DIY in a Jar.
Big or small, close or distant, don't forget to tell your friends you love and value them. And when all else fails, send them some of this granola 😉
Print
Almond Cranberry Granola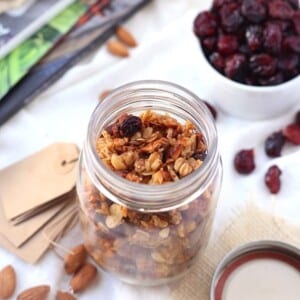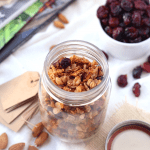 Instructions
Make flax egg, if using and set aside.
Preheat oven to 350 degrees F.
In a large bowl combine oats, almonds, cinnamon and sea salt.
Top with coconut oil, pumpkin, maple syrup, extract, orange zest and combine.
Stir in flax egg if using.
Spread granola onto a parchment or silicone-lined baking sheet.
Bake for 20 minutes.
Flip and make for another 15-20 minutes or until granola is slightly browned and crispy.
Let cool for at least one hour before topping with dried cranberries and storing in jars.
Notes
*I recommend adding the flax egg (or one whipped egg white) to help the granola bind and make clusters.

Don't forget to head over to Fit Foodie Finds to see her latest post for DIY Holidays in a Jar. She made delicious Cherry Pistachio Energy Balls in a your favorite mason jar!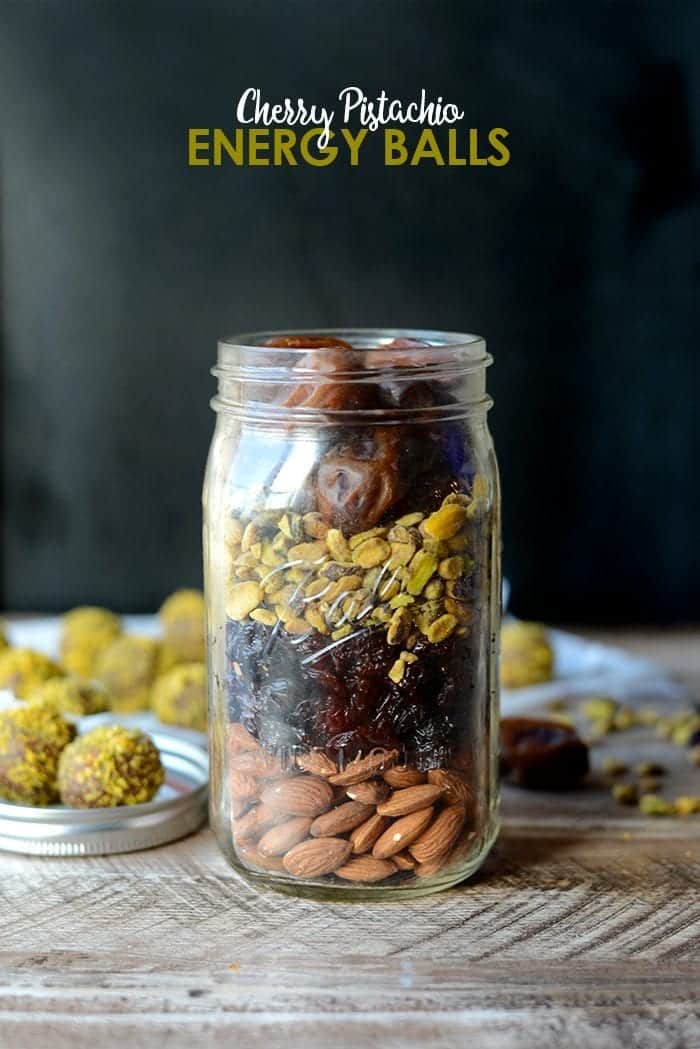 Have you ever surprised someone with a visit? Tell me about your closest friends!
JOIN THE THM NEWSLETTER
Join 10,000+ members of the THM Community to get access to exclusive recipes, healthy lifestyle tips and behind-the-scenes news from our team!