Before you read this check out the last 3 posts:
Part #2: Getting Ready, The First Look + The Ceremony
We're officially on recap #4 of our wedding! I'll be honest, I'm a bit relieved to be wrapping up these recaps. Not because I didn't love our wedding but because I'm feeling ready to close this chapter and open a new one. I don't mean this in a negative way, but after a year of planning I'm SO okay with moving on. That being said, I want to make sure that I a) capture the memories (I like looking back on these posts!) and b) know that I learned a lot along the way and would love to impart some of this knowledge onto you if you're in this season of your life.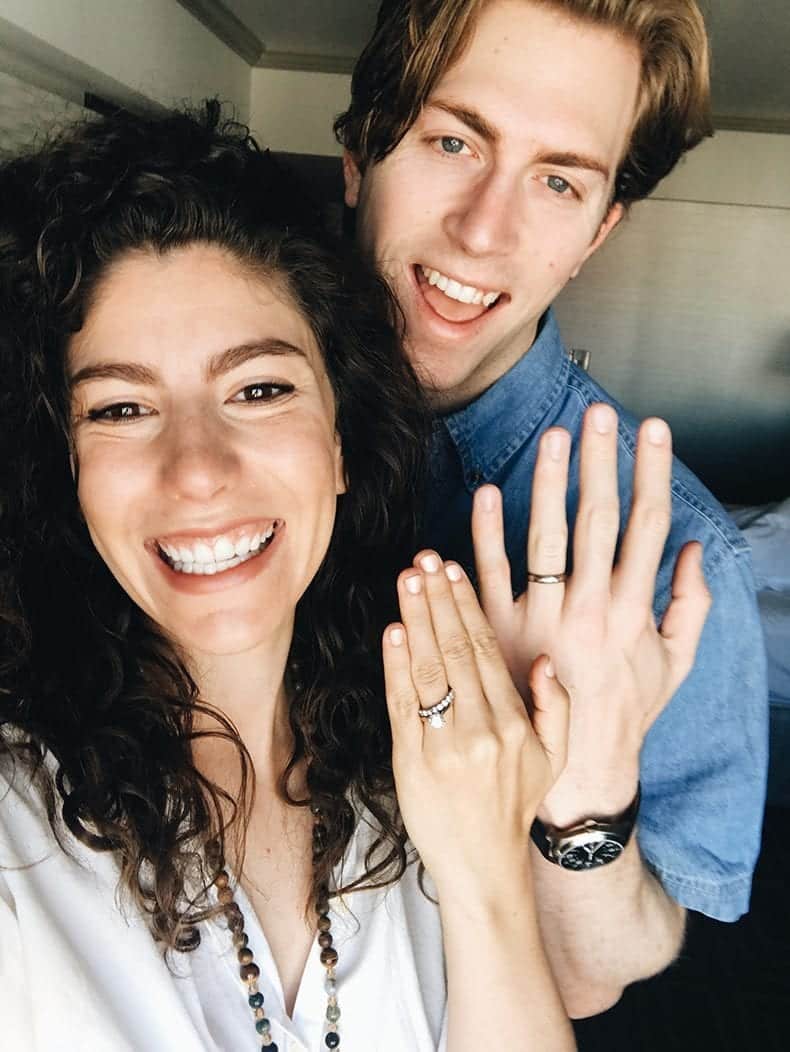 This is especially true as C and I enter our own round of wedding seasons and now have the honor and privilege in supporting our friends as they take this next step. If my excessive list-making and newfound discovery for DIY Wedding Details can be of service to someone else than I've done my job well!
But before we get into the DIY wedding details, let's first recap the brunch. Now, as I mentioned in the welcome dinner post, because 120 of 135 guests were from out of town, our wedding was more than just a one-night affair. We welcomed everyone on Saturday night, the wedding was Sunday and then Monday morning of Memorial Day Weekend we hosted a brunch to say our farewells and thank everyone for coming.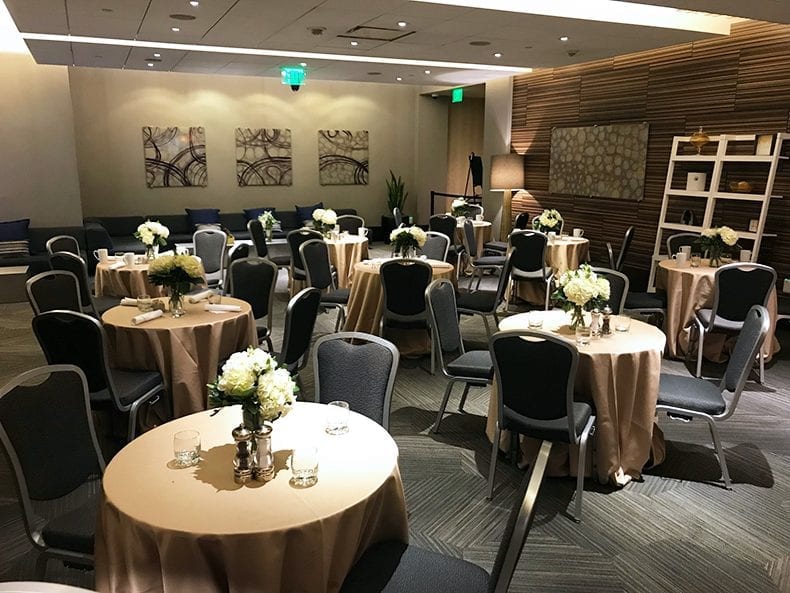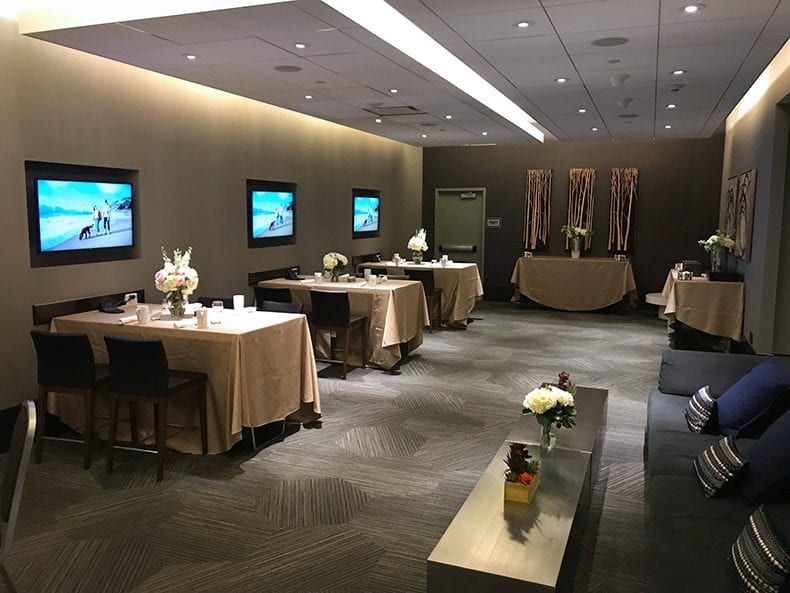 So the morning after the wedding, C and I rallied ourselves to the Marriott Marquis for the Goodbye Brunch. At this point I need to credit Mama Maven for all of her hard work in putting together this event. The brunch was 100% her doing and would not have happened without her. One of the first things Mama Maven did when we confirmed our wedding was book off room blocks at a couple hotels in SF. Not everyone stayed at the hotels, but we wanted to ensure people had the option and Mama Maven being Mama Maven negotiated an insane deal (she's the best!).
Given that most people were staying at the Marriott Marquis, we though hosting the brunch there would be ideal. It's also a pretty central location so it was easy to access for everyone. If anyone has ever been to a Marriott breakfast buffet you know it's really good. So we basically gave access to everyone to the buffet and then the Marriott blocked off the "Chill Lounge" (yes that's the name…) for us. They set up tables and chairs, coffee and orange juice and made sure everyone was accommodated. We also reused the flowers from the wedding that Mama Maven dropped off the night before. #WIN.
Overall it was a perfect way to recap the weekend and say our goodbyes to everyone before they went home and we left on our honeymoon. HUGE thanks to Mama Maven for organizing!
* * * * *
At this point I want to share some DIY wedding details with you guys in the hopes that I can be helpful to some of you as you plan your big day. We didn't have a planner for the wedding and most definitely did not have a big budget so doing things ourselves was key. I like small DIY projects, but this was way bigger than anything I had ever worked on before. Luckily I had a lot of help. To save money, here are the things we DIYed for the wedding:
Signs (welcome signs, seating cards, table sign, guestbook sign, hashtag sign etc…)
Flowers (bouquets, boutonnieres, tables, aisle, brunch)
Table design
Chuppah (wedding arch)
I can't even tell you how much money we saved by doing these things ourselves. Of course, they took a lot of time but saving thousands of dollars was definitely worth it!
Let's start with a few tips before you DIY your wedding.
Pick a theme – even if it's just colors, having a theme will help you reel in ideas. We kept it simple by doing green, white and gold.
Pinterest– pinterest is your best friend through the wedding process. I created a secret board where I pinned all the things that inspired me. I also stayed away from pinning anything inspirational and only included things that were within reason, our budget and our abilities.
Give yourself time– everything takes wayyyyy longer than you think so plan ahead
The Signs
I made all the signs myself using photoshop. Because our theme was green, white, gold and greenery I kept to this theme when creating the signs. Here are the signs I created:
2 welcome signs (displayed at the two entrances)
1 reminder to sign guestbook
3 hashtag reminder signs
1 seating sign
14 table signs
signs we didn't use: menu cards (didn't have time!), gift sign (forgot to make this)
After designing each sign in photoshop, we went to Fedex and had them printed to the correct size ($100 total). We then put all of our signs with the exception of the welcome signs in these 5 x 7 Umbra frames. These frames were actually life-savers. They're beautiful, went with our theme and kept things consistent. Umbra to the rescue for so many things!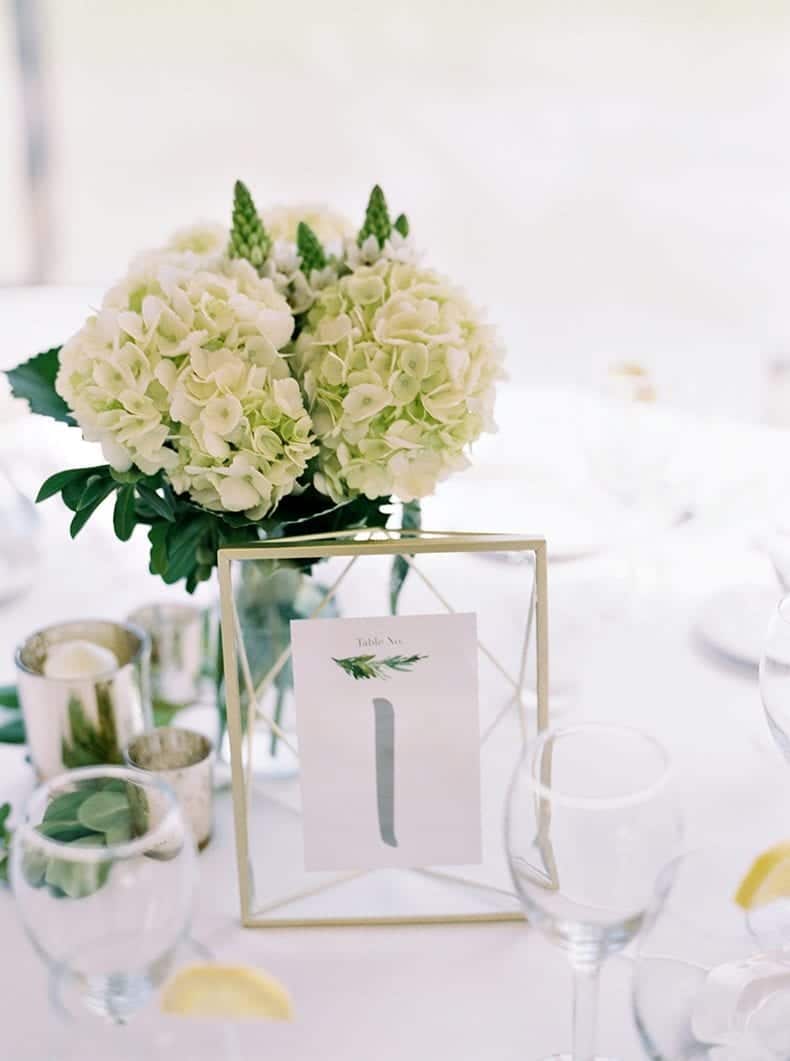 For the welcome signs we also had them printed at Fedex and then pinned them onto two sheets of wood we purchased at home depot and stained. We spent $60 total on them when they were $80 each on Etsy. Felt good about this one!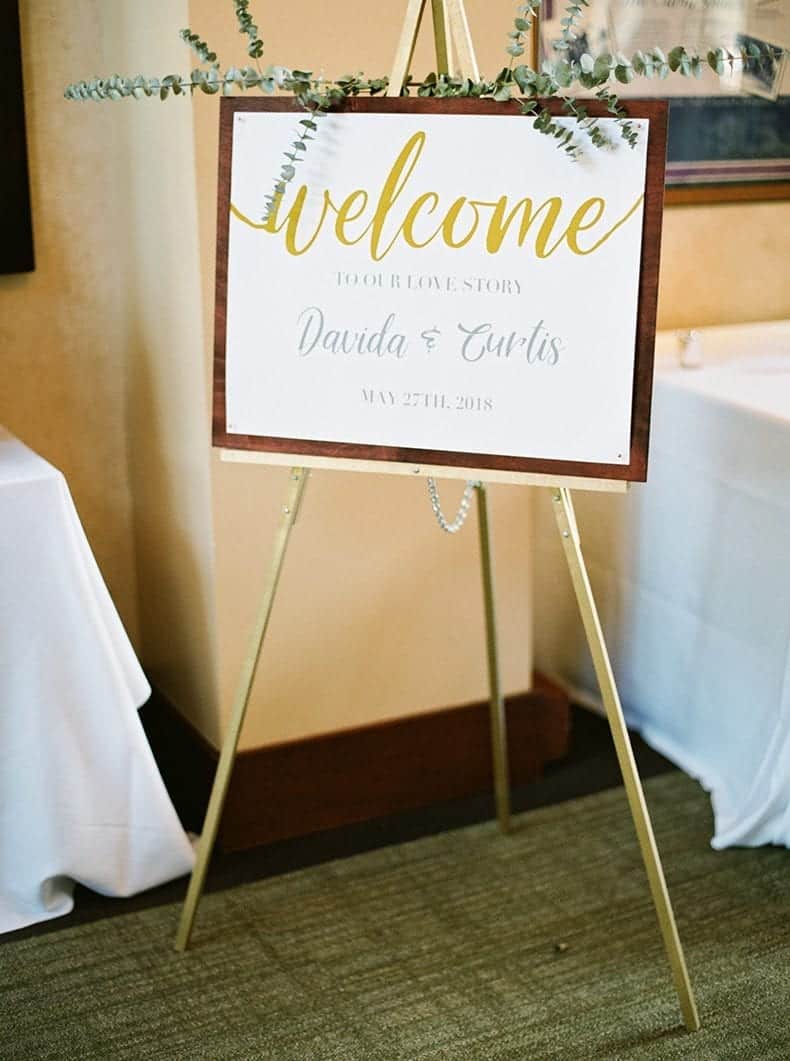 Also the hashtag signs were displayed in these adorable picture holders from Umbra. Like I said, Umbra is a wedding mecca.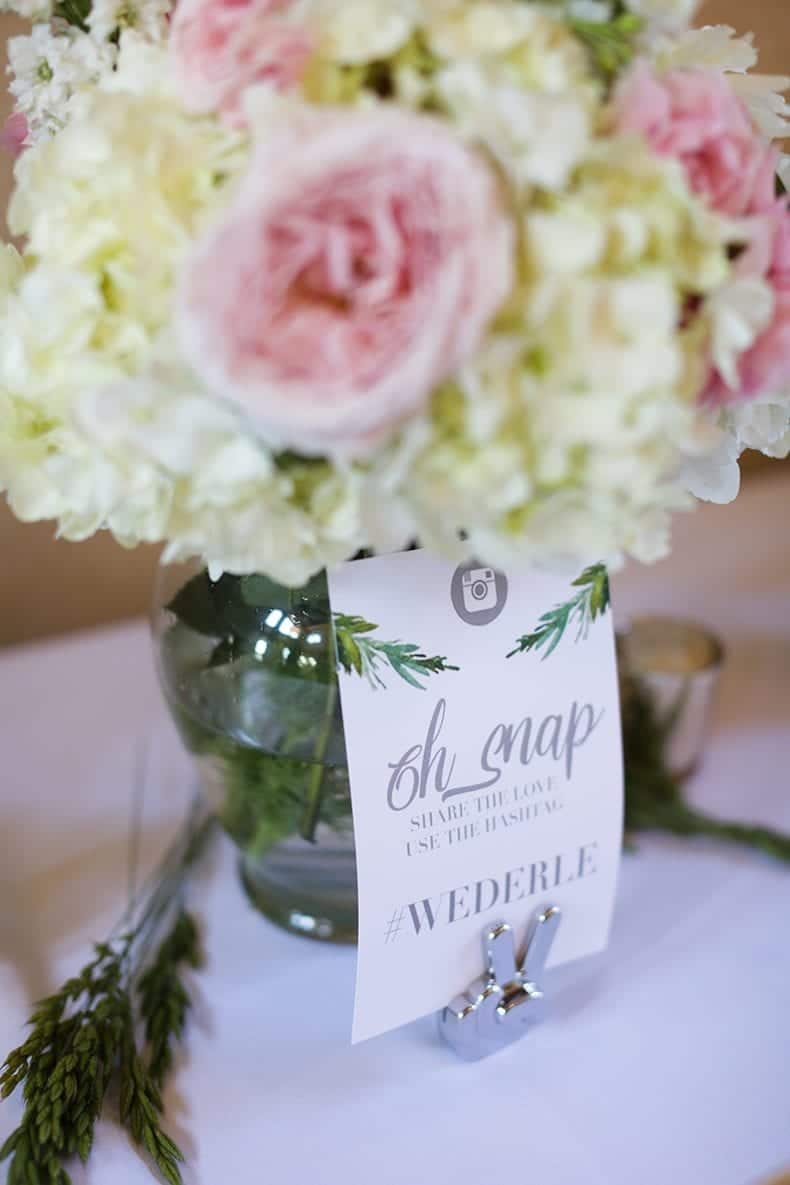 The Flowers
This was definitely the more daring DIY piece we undertook. Especially because it had to be done the day before the wedding. Luckily we were prepared for this and I came equipped with a group of women who had done wedding flowers before. C's sister Lauren got married in Carmel a few years ago and they had done their flowers themselves so I definitely feel like I lucked out having this crew with me, but I also think anyone could do this if they put in enough preparation. So let's talk flowers.
The San Francisco Flower Mart is a huge warehouse in SOMA where most flower vendors in the city come to purchase their flowers. After 10:00 AM they open to the public and you can go in and purchase as many flowers as you want. It has everything! The key is to go in with a plan AND an open mind.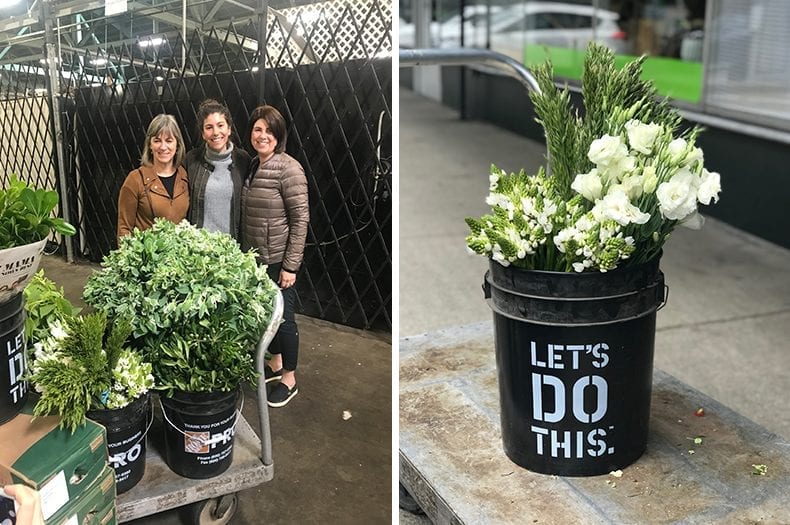 We went in on Friday morning with the plan of putting together the flowers on Saturday morning before dropping them off at the venue on Sunday. We ordered all vases and buckets in advance so we knew exactly how many flowers we needed. That being said, you can't know 100% what kind of flowers they will have in stock so we went in knowing my theme (green and white) but weren't attached to any specific flower. I had pinned some pictures for inspiration but we interpreted them based on what we found at the flower mart. Pro tip! Buy big buckets from home depot to store the flowers in and then have the vendors add water to them so they stay fresh.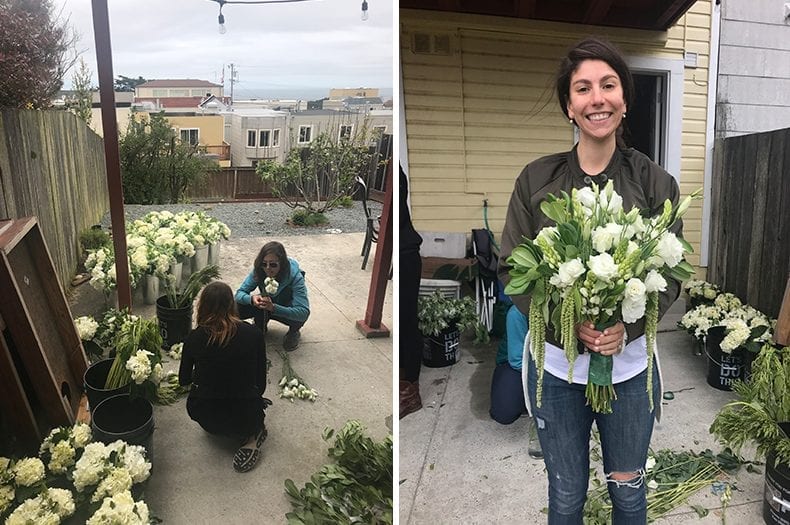 After we had purchased all of our flowers we squished them into the cars and stored them at Lauren's house. The next morning I rallied the troops aka C's cousins and we did an assembly line to put together all the flowers for the tables and the aisle buckets. It was a team effort putting together my bouquet and my niece's and C's mom did an amazing job making the boutonnieres with succulent clippings from Lauren's garden. It definitely requires some courage and faith to do the flowers yourselves but honestly, these are some of my favorite memories of the weekend. Thank you to everyone who helped out <3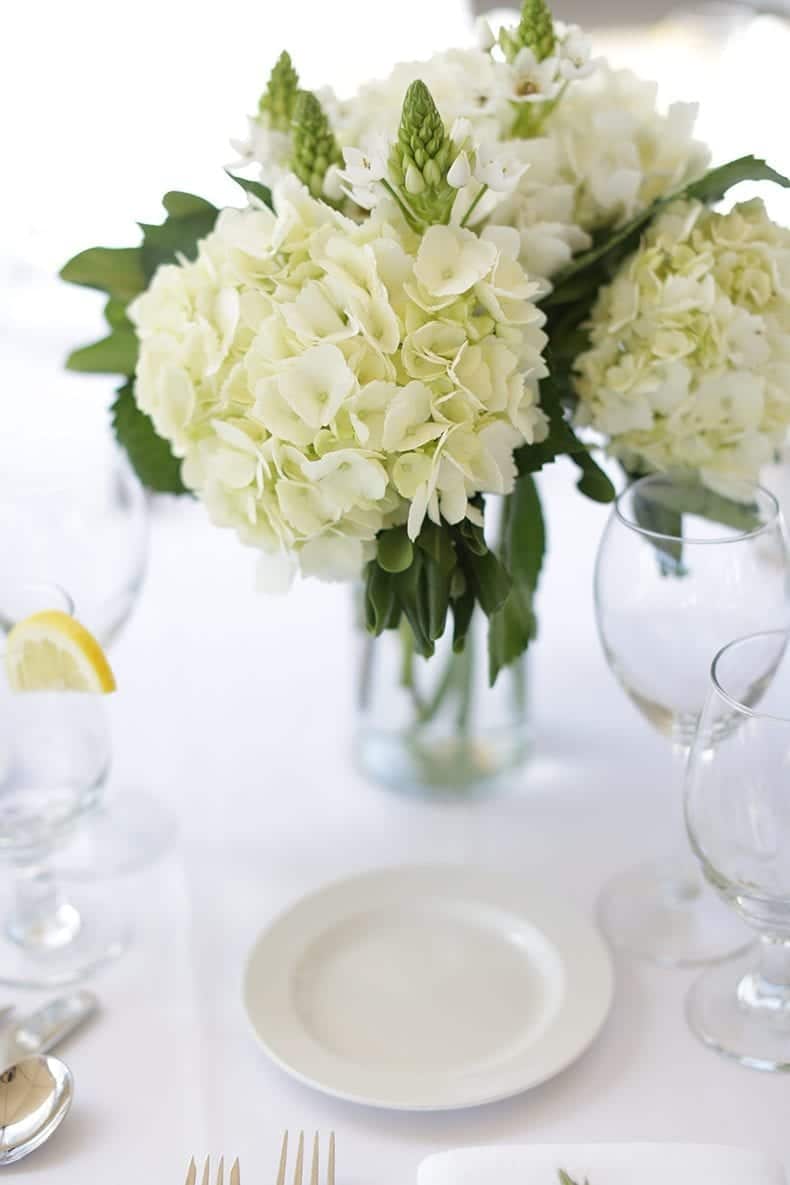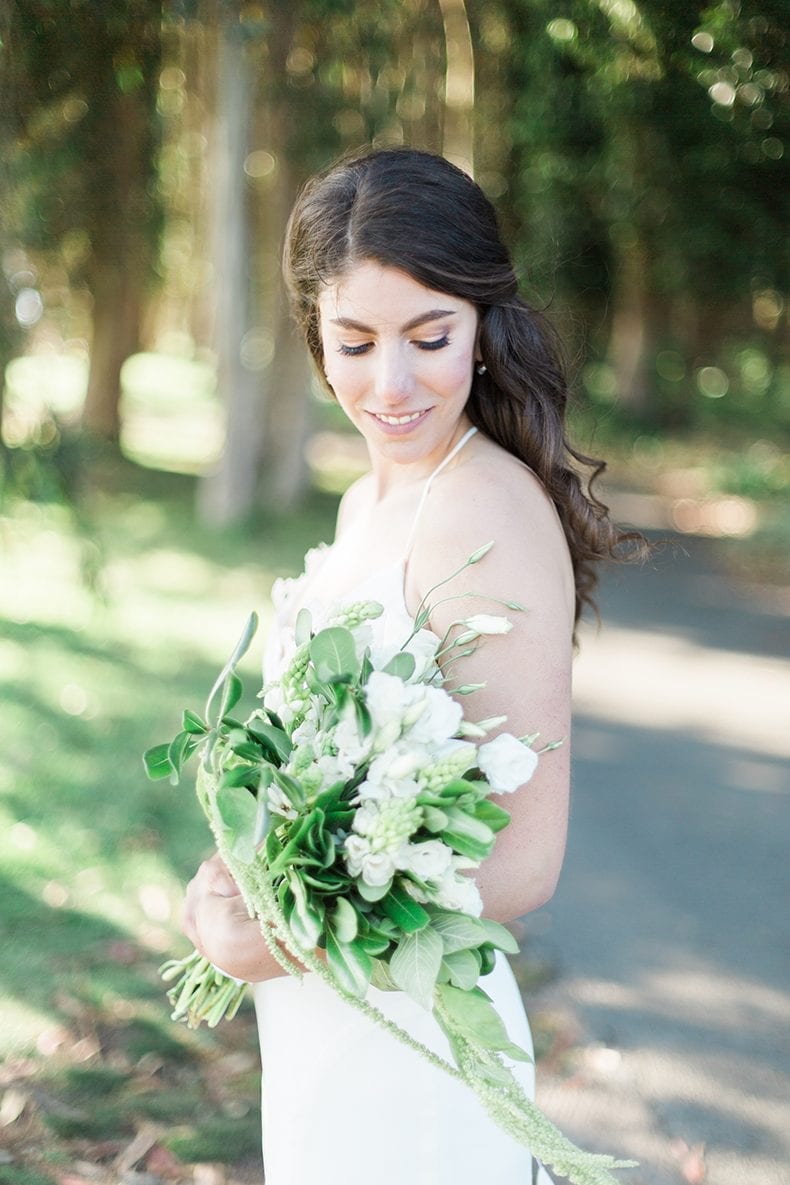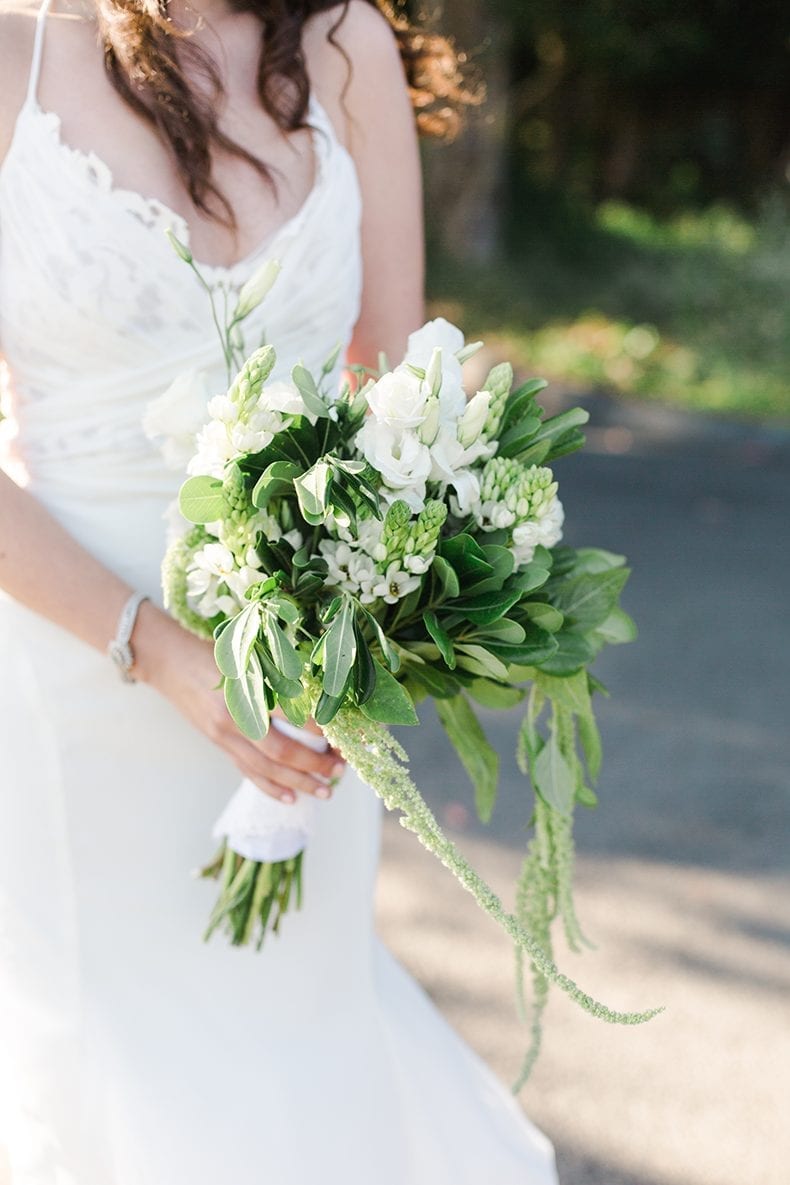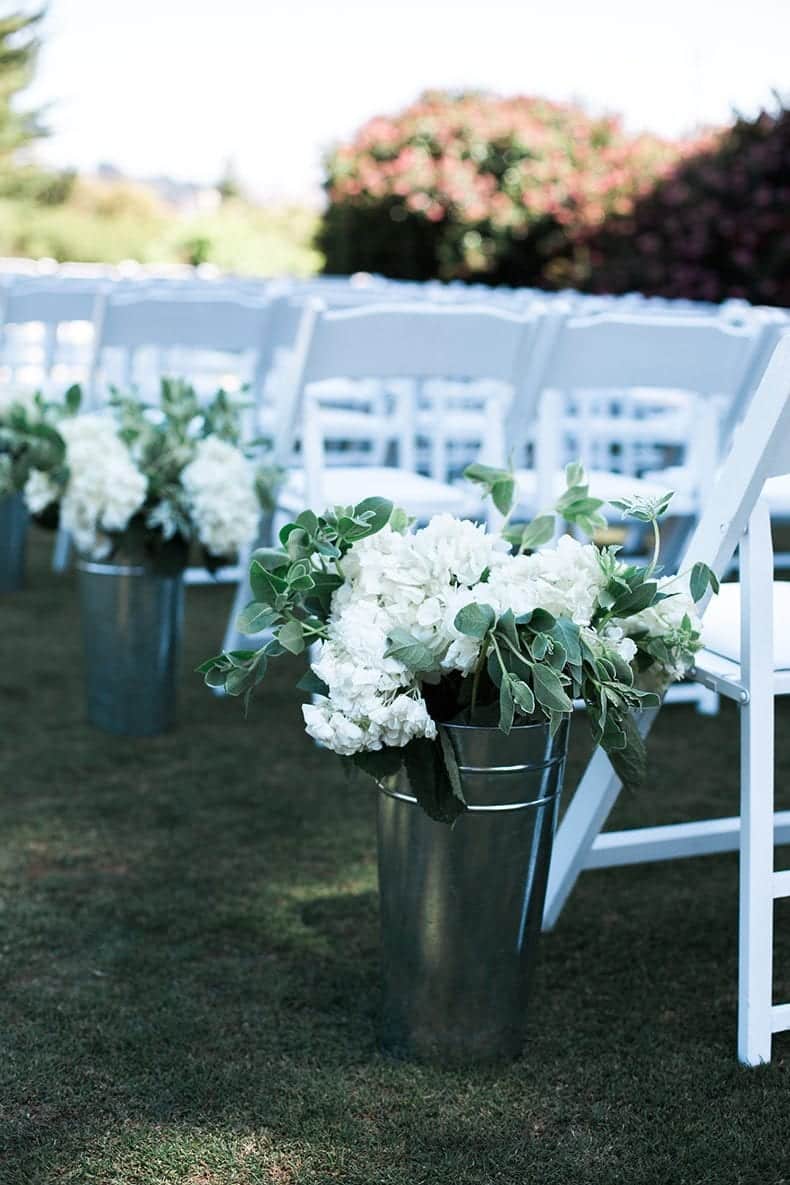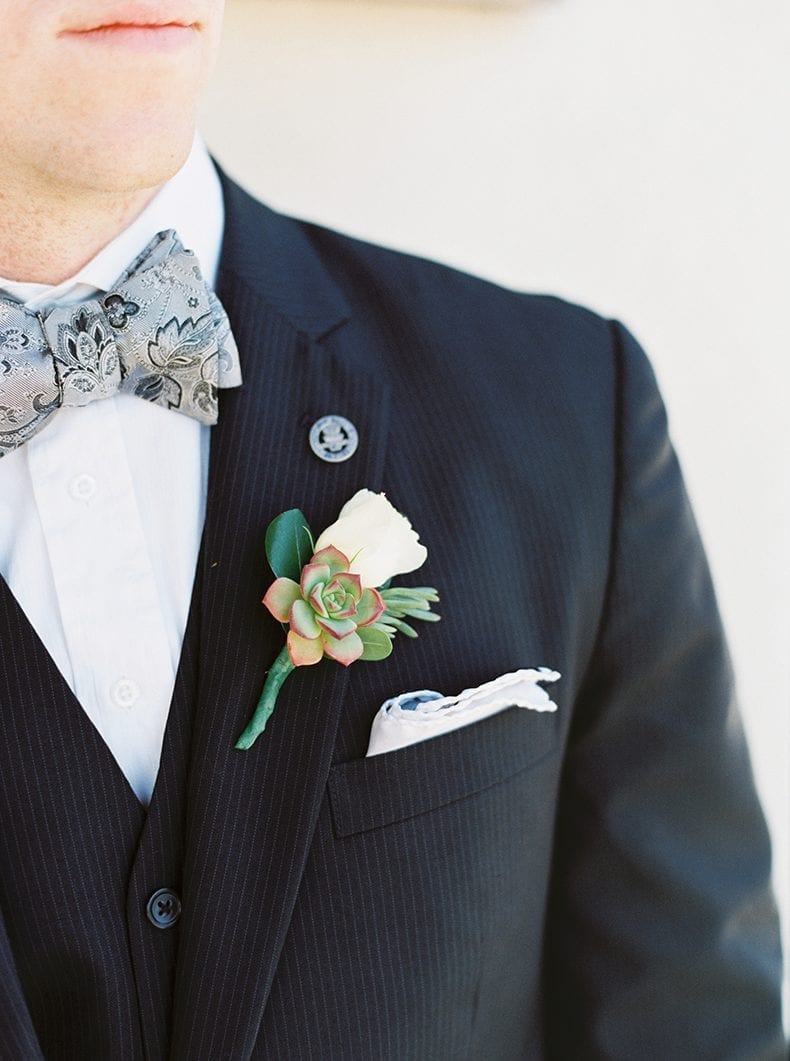 Table Design
Not surprisingly, having a theme makes table design so much easier. A few things we thought about: height of the flowers (we wanted people to be able to talk with people across the table), a feeling of warmth (candles) and pulling the outside, inside (leaves on the table). I also didn't want it to feel cluttered or wind up with a ton of stuff we'd never use again after the wedding.
The flowers were the centerpiece and we worked around those. I actually put together a mock-up of the table on photoshop because I'm such a visual person. The signs are as indicated above where I designed them on photoshop, had them printed at Fedex and then put them in these Umbra frames. We then ordered some candle holders from Amazon and used greenery from the Flower Mart to finish out the rest. It wasn't anything over the top, but neither are we and we're really happy with how it turned out.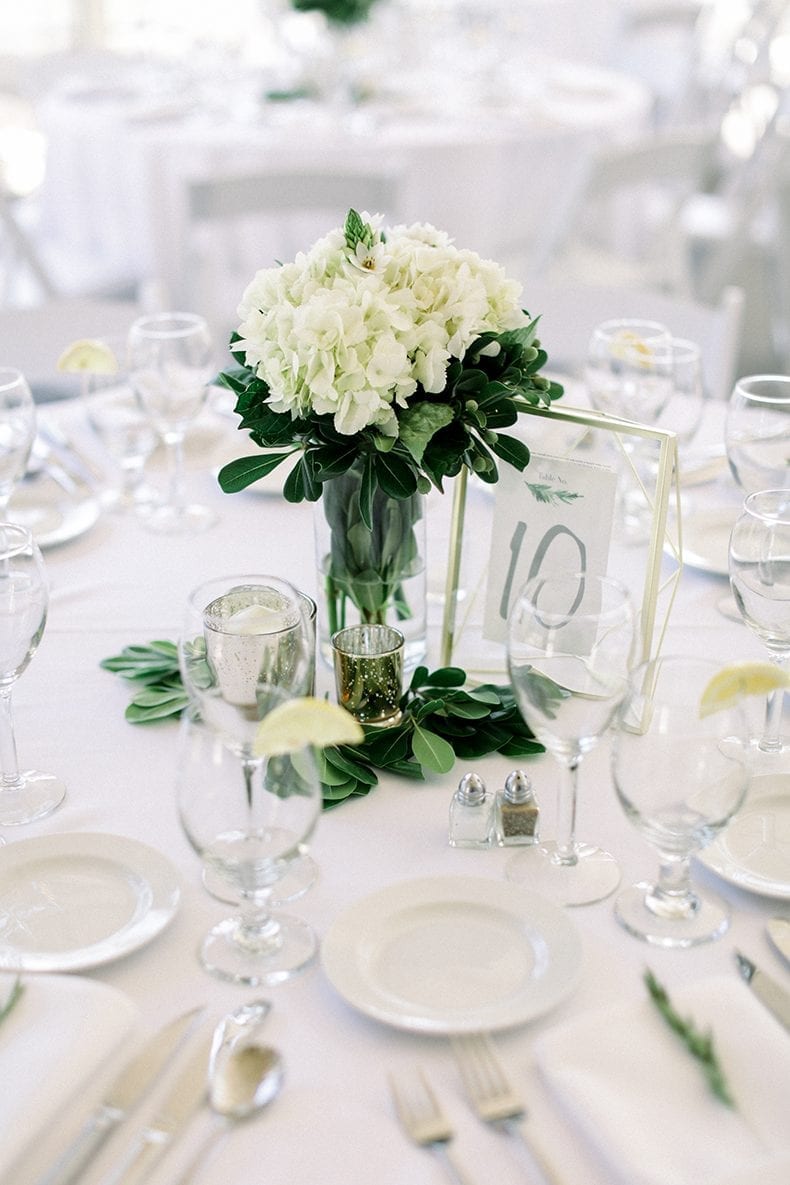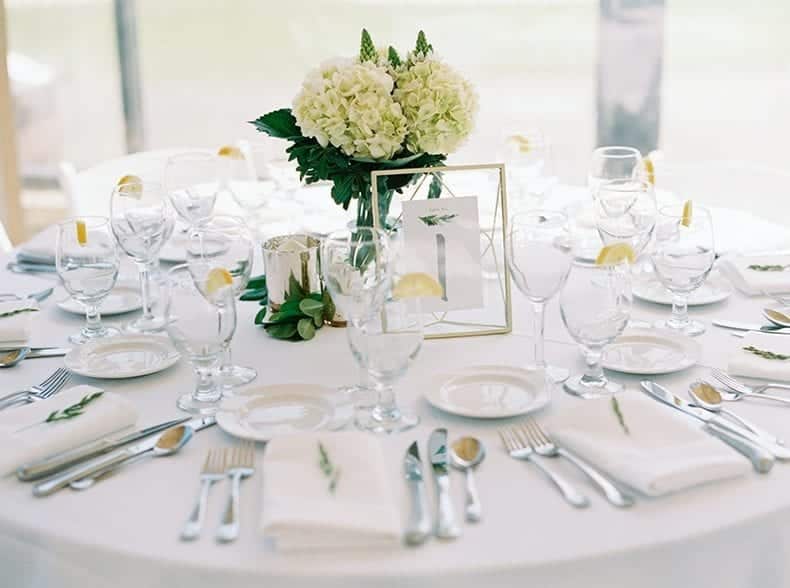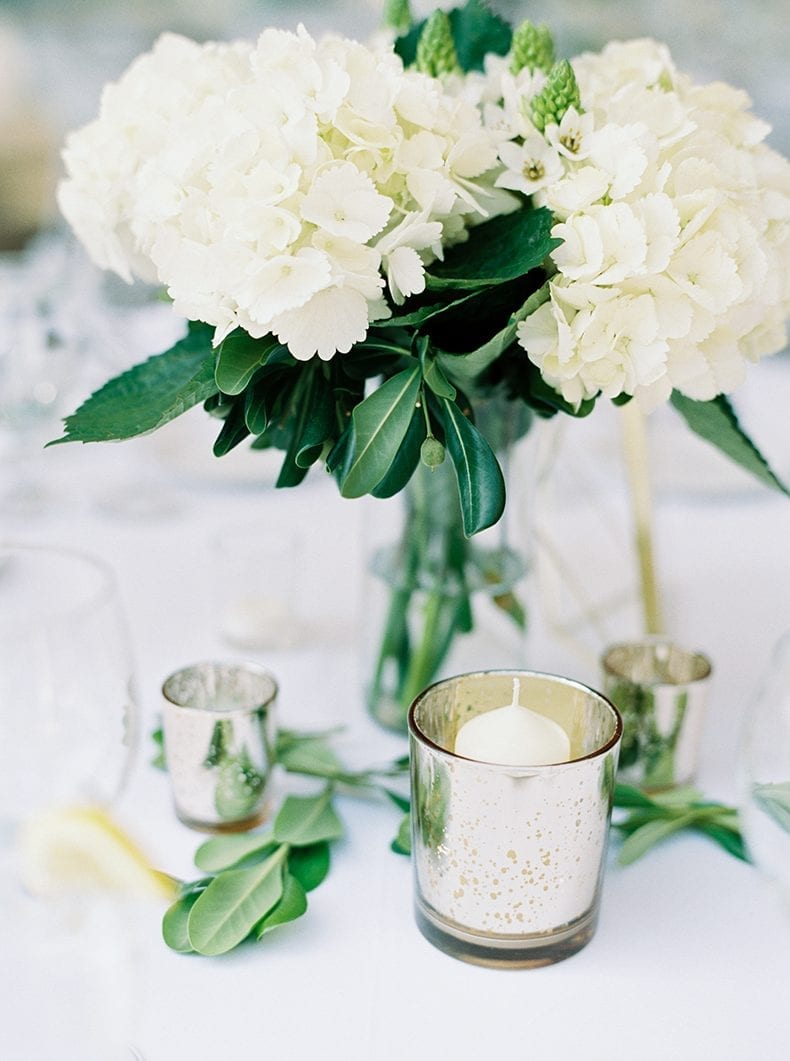 Chuppah/Wedding Arch
I honestly shouldn't be the person writing this portion because I had very little to do with the chuppah design. For those of you who don't know, a chuppah is a traditional jewish wedding canopy. It represents the home you're building together with open sides to remind everyone that the home is open and welcoming. C and his uncle built the Chuppah using douglas fir and that's about all I know. I gave them pictures and they used their engineering/architect skills to make it happen. Given that there were hurricane-force winds and the thing didn't blow over, I'd say that did a pretty epic job!
We covered the top with the tallit (jewish prayer shalls) from the women of my family and stood on top of a rug that C's parents gave us from one of their trips to Pakistan. Somehow, C's uncle was able to get the plants to stay on the chuppah despite the winds. That might be the most impressive piece. We kept the chuppah design pretty simple because we wanted the outdoor space to speak for itself.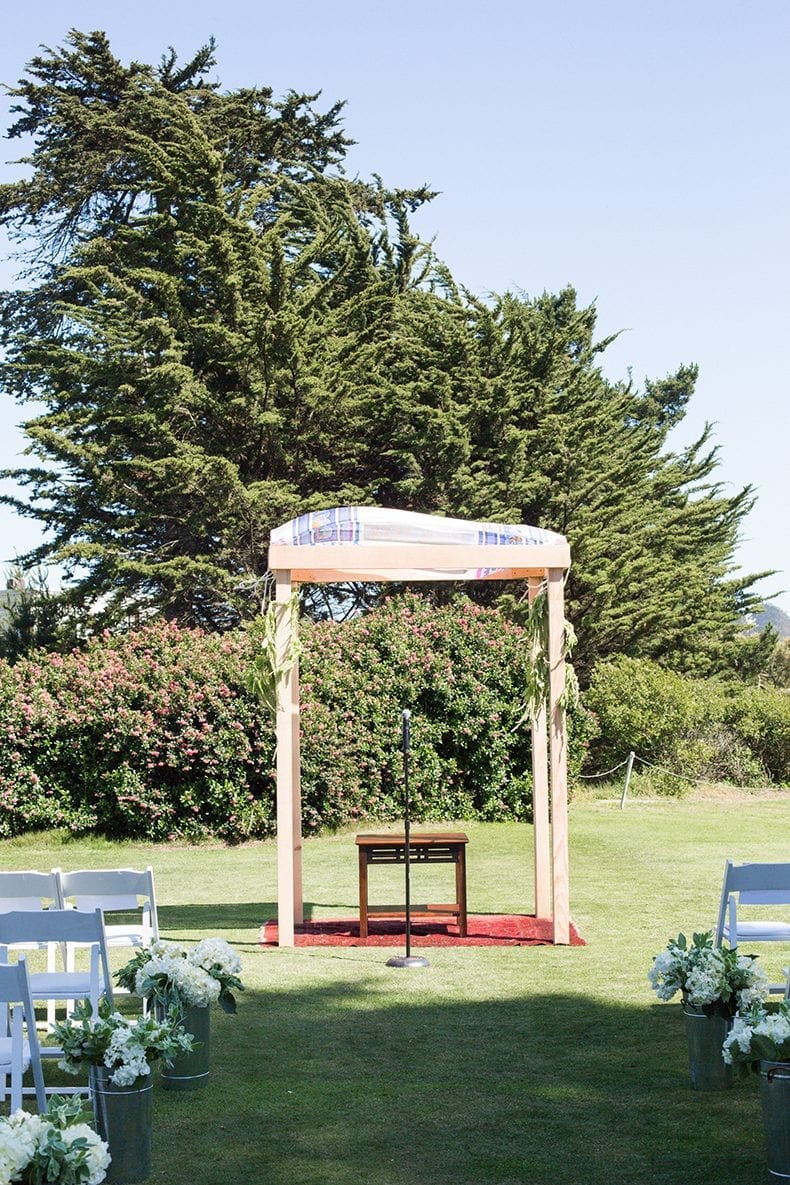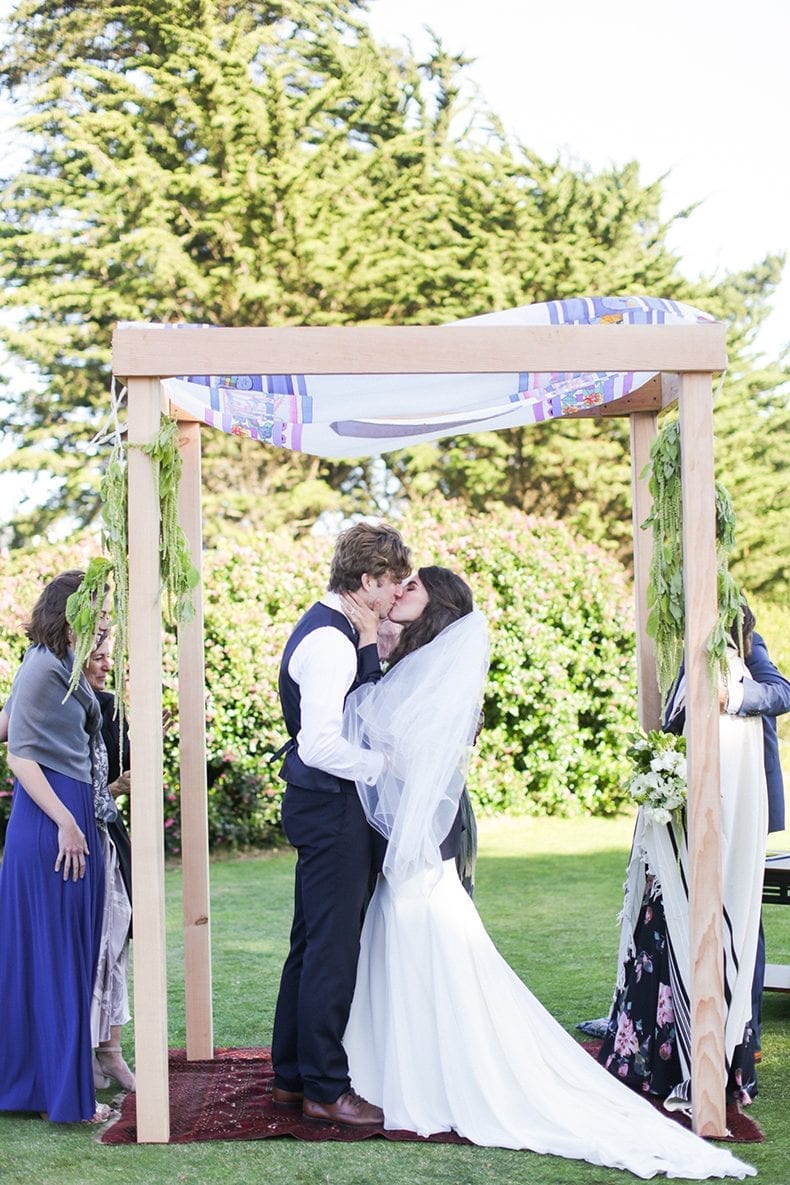 * * * * *
Weddings are a very individualized experience. There's a good chance you're looking at this recap and not liking any of our design. That's totally fine! Everyone has different tastes and the point is not to create a wedding that pleases all these tastes…because that's impossible. C and I are pretty classic. Even though I know I'll probably look back on our wedding in 30 years and think everything was tacky, I did my very best to not include anything super trendy that I know I'll hate in the future (I'm looking at you flower crowns…). But if mid-century modern, moody, flower crowns is your jam, by all means – DO IT. Your wedding should be a reflection of you right now, even if it makes you cringe 30 years from now.
We didn't DIY the entire wedding (some things just weren't worth doing ourselves) but I have no regrets on the parts that we did. They're weren't all perfect, but they made for some great memories that I'll cherish for a lifetime. Also I'm a sucker for saving $$$ so I'm feeling good about that.
This is the final wedding recap, but hold tight because next week I'm sharing our honeymoon to Napa and Sonoma! Possibly one of the best week's of my life and favorite post to write. Stay tuned!
Photography: Sierra Ashleigh Photography (digital + film)
Invites: Minted
Dress: Blush by Hayley Paige
Shoes: Raye Laurel Heel (sold out unfortunately!)
Venue + Catering: Presidio Golf Course Clubhouse
Dessert: Marla Bakery
Flowers: We did them!
Hair: Sarah Jordan from Harper Paige Salon
Makeup: Nikol Elaine
DJ: Fox Sounds
Brunch: Marriott Marquis
Did you do any DIY projects for your wedding? What advice would you have for someone looking to DIY their wedding?
JOIN THE THM NEWSLETTER
Join 20,000+ members of the THM Community to get access to exclusive recipes, healthy lifestyle tips and behind-the-scenes news from our team!