You might remember this epic sale from last year but each year Credo Beauty has a 20% off sale in November. Cue the confetti! I want to make sure you understand how big of a deal this sale is… Credo Beauty does.not.have sales. Ever. Except for this one, once a year. Now is the time to stock up and splurge! My cart is already full.
Never heard of Credo Beauty? They're a 100% natural clean beauty store. Think of them as the clean Sephora…but better! They have a couple brick and mortar shops across the US (we're lucky enough to have one in SF!) but they're also available nationwide for shipping. While I love going into the store, I oftentimes just buy online because the selection is incredible! And especially when the once a year sale occurs and I can save 20%.
If you aren't fully immersed in the green beauty world, it can be overwhelming. There's so many products and it can be hard to figure out which ones are quality and which ones to skip. Plus the thought of overhauling your whole makeup and skincare routine can be enough to make anyone run to the drugstore to buy their usual. So I thought it would be fun to do a little list of swaps: "If you already love X, why don't you try Y as a green beauty upgrade." That way you can start making these swaps one at a time or if you want to save 20% you can make them all today! Just don't forget to use CLEAN20 to save 20% off at checkout! Let's jump in.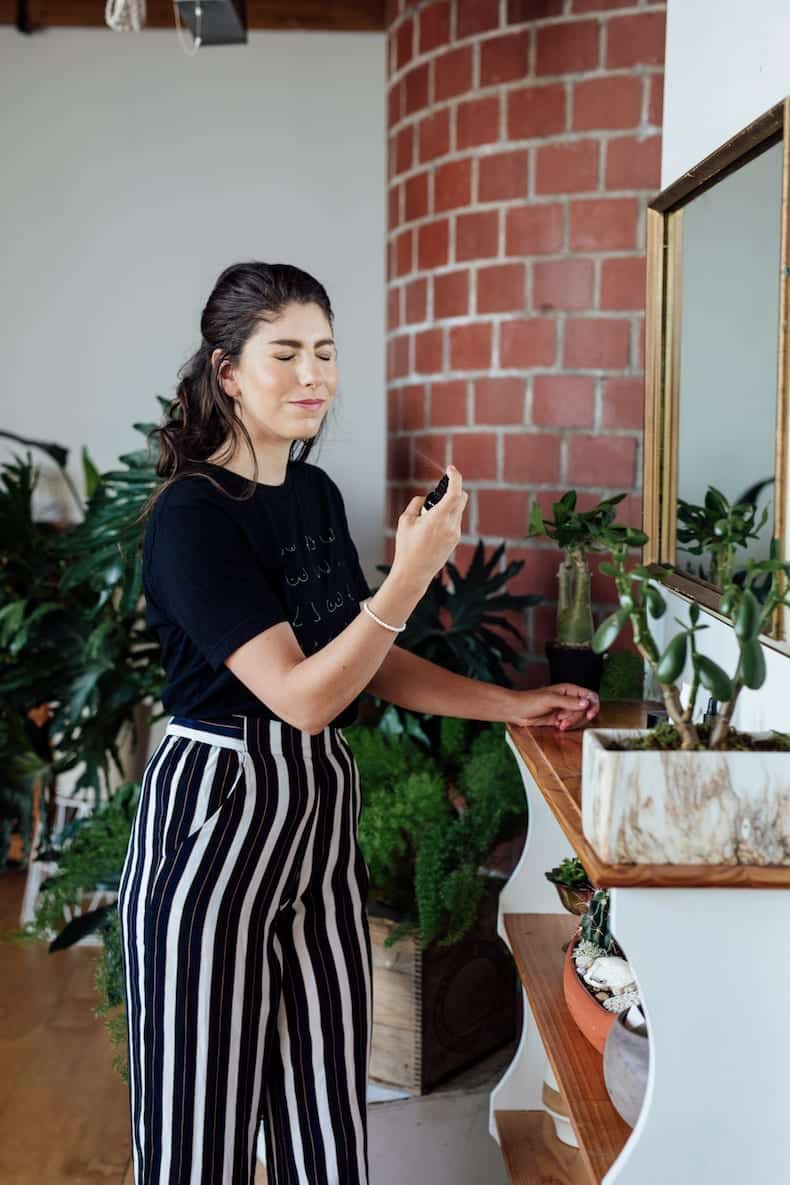 GREEN BEAUTY MAKEUP SWAPS
Foundation
Lightweight coverage – If you don't need a lot of coverage or on days where you just want a lighter makeup look, Vapour foundation is your girl.
Medium coverage – If you're looking for medium coverage, grab the Juice Beauty Compact Foundation.
Full coverage – The day I found Gressa foundation was the day my life was forever changed. Kidding, kind of. But seriously, this foundation is the real deal. It's full coverage but still very natural looking so you can wear every day or for special occasions.
Bronzer
Cream – The Rituel de Fille Ethereal Veil in Cyllene is my go-to bronzer. I feel like some people are scared of cream bronzers but I love using them! They blend so well and look super natural on the skin.
Blush
Cream – The cream blush from Juice Beauty is my go-to blush. It's super pigmented and blends so naturally on the face! I love the shade "flush" for a super natural look.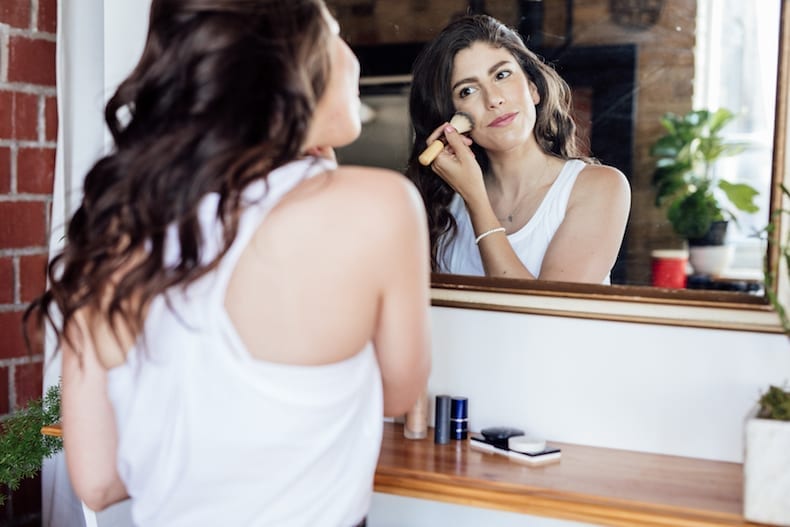 Highlighter
RMS Living Luminizer – I think I first heard about this when J. Crew models were all the rage and I found out they were all glowing thanks to this highlighter. Into my cart you go little luminizer! It really does look so natural and glowy on the skin… great for looking alive throughout winter. 😉
Vapour Halo Illuminator – The description of this product is literally "beam with angelic radiance." Enough said.
Eyebrows
Juice Beauty Brow Envy Gel – If you want to do you brows in 10 seconds flat, the Juice Beauty eyebrow gel. It comes in three different shades and is super easy to apply. I like to use this gel on my more "natural" face days.
Ecobrow Brow Defining Wax – When you have a minute to focus on your brows, take time to use Ecobrow. It will give you a more filled in, "done up" look.
Mascara
Lily Lolo – Lily Lolo will forever have my heart. I think the biggest compliment you can give a natural mascara is that it performs like a high end mascara. The wand on this mascara is like a traditional mascara want and hasn't steered me wrong yet!
W3ll People – Another really well performing mascara in the green beauty world! This wand is more rounded and the brush is made out of plastic/rubber.
Eyeliner
Pencil – The Ere Perez Jojoba Pencil is what you should try if you apply your eyeliner with a pencil! It comes in 8 different color choices and the formula is spot on: creamy but long lasting.
Liquid – If you prefer a liquid eyeliner, try the Juice Beauty Liquid Eyeliner. The applicator is super thin and easy to use and again, this baby is long lasting!
Lipstick
I only have one lipstick recommendation for you because I truly believe it's all you'll need in your makeup bag: ILIA Lipstick. I'm obsessed with the colors "Perfect Day" and "Madame Mina".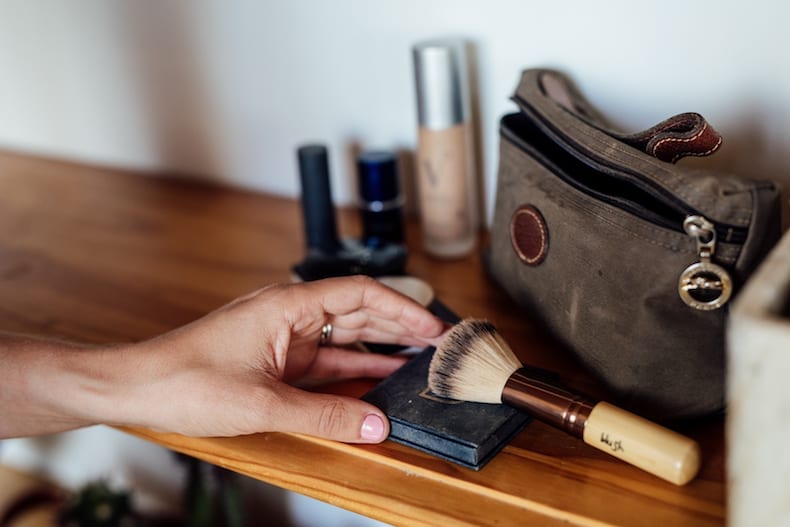 GREEN BEAUTY SKINCARE SWAPS
Of course, everyone's skin is different and what it needs will require a different regimen than somebody else. These are just suggestions for people of different skin types but be sure to speak with a holistic aesthetician or dermatologist before making changes to your skincare routine.
NEW TO GREEN BEAUTY
Marie Veronique: Free of harmful chemicals but still uses synthetics that can really help with the transition from conventional to natural.
Marie Veronique Oil Cleanser – If you're new to oil cleansing, this is the best one to start with! I truly believe it is the best oil cleanser on the market.
Marie Veronique Intensive Repair Serum – Hands-down this serum has changed my skin and I would 100% credit it with helping me get through some tough acne over the last couple of years.
Mother Dirt: MD is stripped down clean skincare at its finest! None of the frills but nothing that's going to harm your skin either. Also the price point is probably the best available.
Mother Dirt Cleanser – I use this daily to wash off the day and also cleanse my body with it. It is biome-friendly so it helps to balance the skin rather than strip it of all the healthy bacteria it needs.
AO+ Biome Mist – if you're looking for a more long-term solution to skincare, this mist is your answer. It helps to encourage a balanced skin biome so you're targeting skin issues at the source rather than treating the symptoms.
LUXURY GREEN BEAUTY
If you've dabbled a bit in the green beauty world, here are some products/brands I love that are better if you've already made the transition to natural.
Herbivore Botanicals – When it comes to oils, HB is the best of the best. I moisturize with an oil at night and will never go back to conventional moisturizers ever again. Their Jasmine Toner is life-changing. Truly.
Jasmine Green Tea Balancing Toner – I already said it but this toner is life changing. It hydrates, promotes balance and is just an overall magic-worker.
Lapis Facial Oil – This oil is made from blue tansy which helps sooth irritated skin and promotes balance.
Tata Harper –  it doesn't get more luxury than this! Tata Harper products are expensive but not only are they indulgent, they actually work.
Clarifying Spot Solution – This spot treatment is amazing! Definitely my go-to every time a blemish pops up!
Purifying Mask – This mask has probiotics to help rebalance your skin and clay to help pull out buildup. It seriously is the best of both worlds!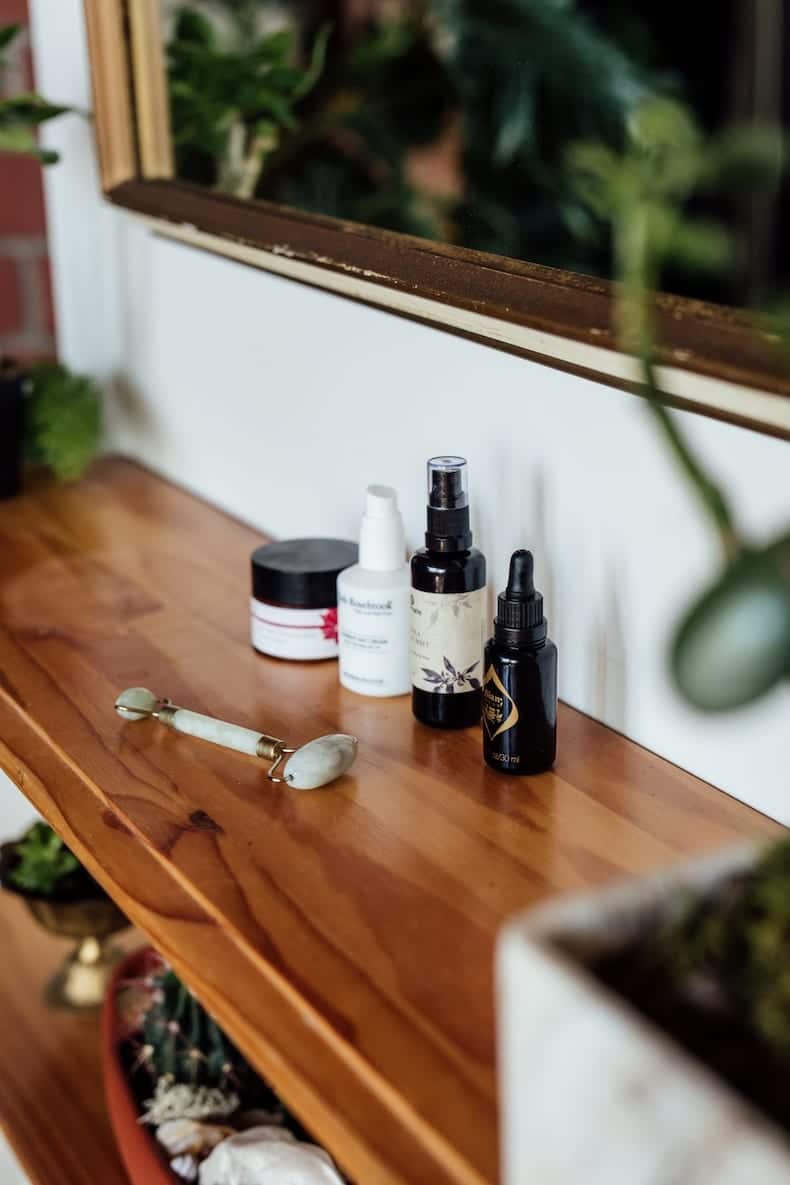 SKINCARE MUST-HAVES
Josh Rosebrook Nutrient Day Cream –if I could write a love note to this product, I would. I have been using this for years as my morning moisturizer and sunscreen (it's 15 SPF) and it's incredible. It has a cult following and it definitely deserves it!
Herbivore Blue Tansy Mask – I consider this one of my luxury masks and I absolute adore putting this on, sipping some tea and reading a book. It leaves my skin glowing and visibly less red!
Patyka Mask – I find my skin can use a light exfoliant once or twice a week and this Patyka Mask does the trick! It has tiny little scrubbing beads that help to remove dead skin cells leaving your skin looking fresh.
Herbivore Jasmine Body Oil – If the fact that I'm on my third bottle of this in 6 months isn't any indication, I adore this body oil! If you love the smell of jasmine, you need this in your life. Also it makes my skin literally glow!
GREEN BEAUTY HAIRCARE SWAPS
Kahina Argan Oil – A lot of people use argan oil on their skin, but it's also fantastic for your hair! I use this in between washes to keep my curls looking silky and less frizzy
EVOLVH Wonderbalm – You've heard me rave about this product and for good reason! It's an all-natural gel that controls frizz without leaving your hair feeling crunchy. See how I use it here!
EVOLVH Leave-In Conditioner – Another one of my go-to hair products. I use it in this video to style my curly hair and have found that it leaves my hair smooth and healthy in between haircuts!
* * * * *
Honestly, this post could go on for days. I have so many more masks and random other products I could add but I *tried* to keep it simple. If you're interested in going deeper into Green Beauty, LMK and I'll work on a few more posts for ya! Credo is also a great source for products like natural toothpaste, deodorant (working on deodorant review so stay tuned!) and even booty masks (not kidding!).
My biggest piece of advice? Be patient. Don't feel like you need to swap out all of your products at once. This stuff takes time so do it in baby steps and please, try to enjoy it! When you view it as an experiment rather than a burden, you may even become a green beauty addict…not that I have any experience in that 😉
Don't forget to use the code CLEAN20 at Credo Beauty to save 20% off all products, all weekend long!
What are some of your favorite green beauty swaps? LMK below!