A recipe for Healthy Peppermint Chocolate Cookies that are grain-free, paleo and made in one-bowl. They're not short on delicious, sweet flavor though and are perfect for your next holiday get-together or cookie bake-off!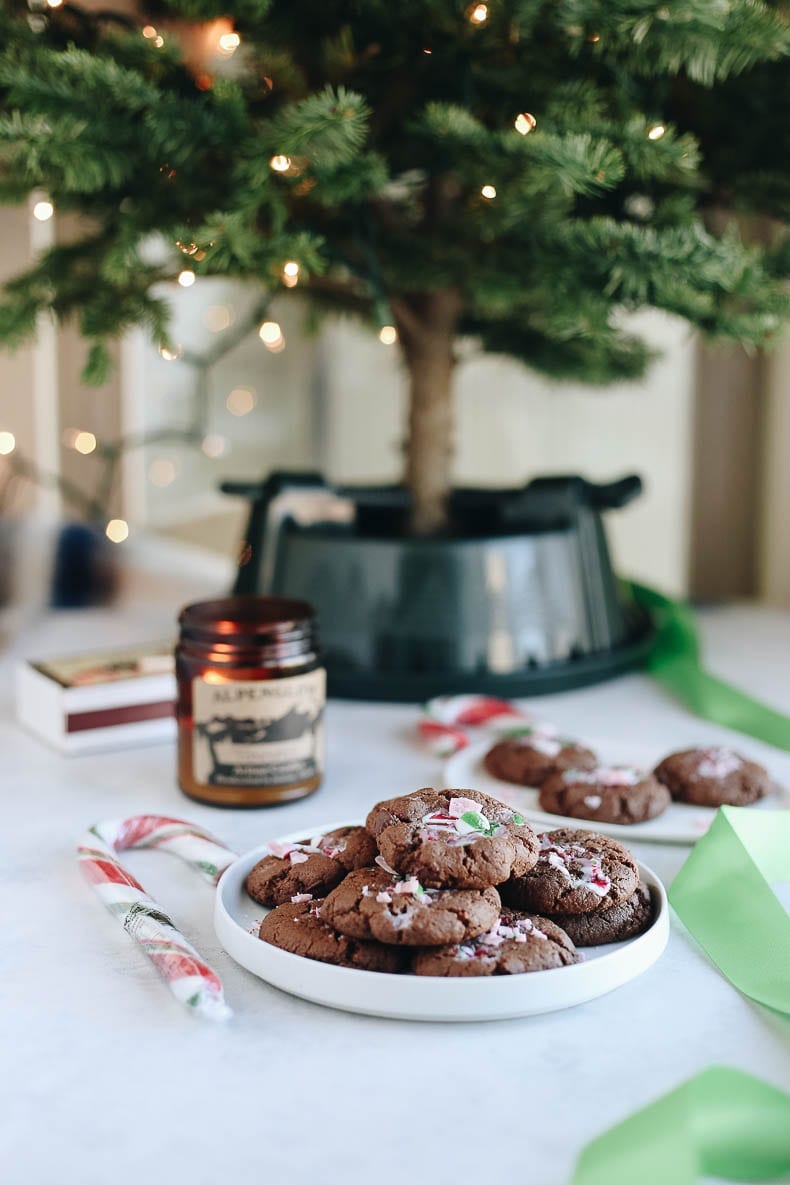 I'm pretty notorious for never following recipes. It's why I write a blog and rarely read blogs (anymore!). When you can't follow them, make them up! But when it comes to recipes for the blog, I always measure and test diligently because nothing is worse than deciding to make a recipe and it not actually working.
Of course, there are ALWAYS the comments from people who substituted every or even a single ingredient and then complain that a recipe didn't turn out. Besides things you can't account for like elevation, oven hot spots and occasionally the quality of the ingredients, there's really no reason why if you follow a recipe it shouldn't turn out.
…or at least that's what I expect!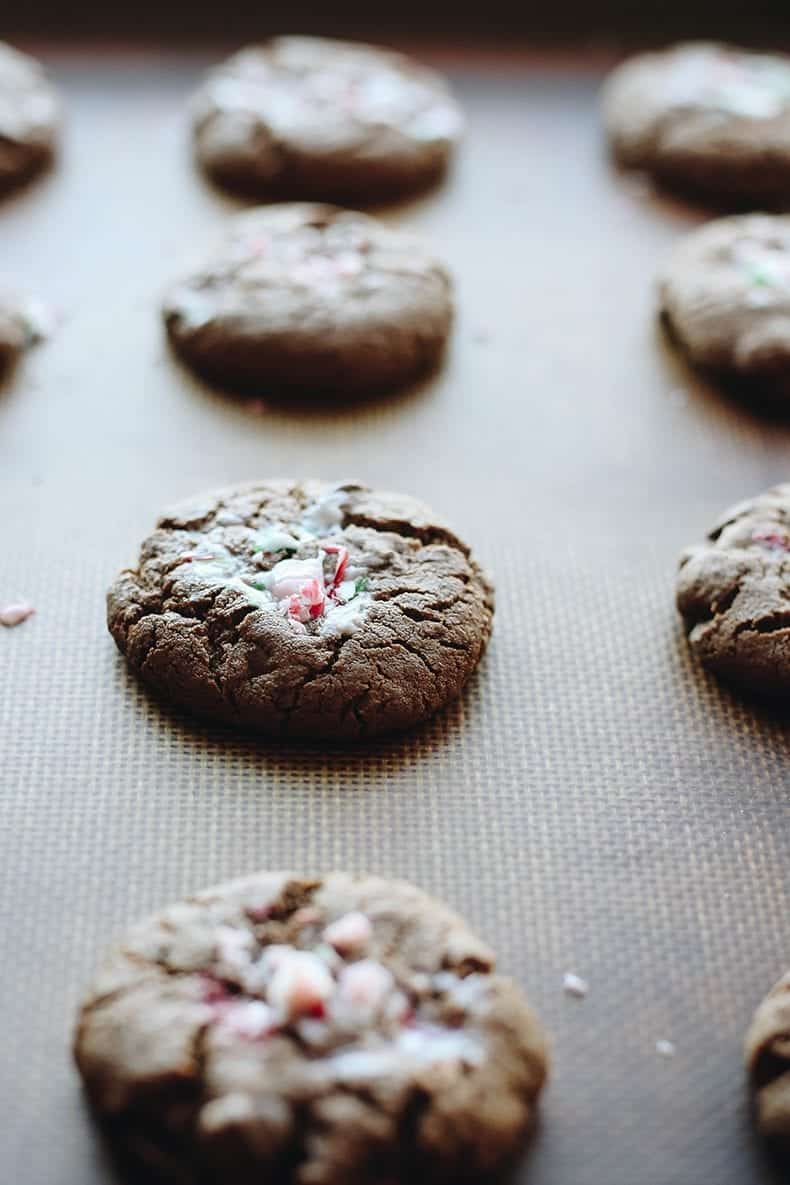 So a few weeks ago while I was in Minnesota I decided I wanted to make some Healthy Peppermint Chocolate Cookies. I was standing in the co-op and honestly just didn't have the mental energy to come up with a recipe and so I did a quick google search and picked a recipe from a blog I knew had a pretty decent reputation.
I was making them for a Thanksgiving dessert so I was banking on them turning out and given my expectation that bloggers actually test their recipes, I don't think it was unreasonable for me to assume that they might actually work out.
On second glance I realized that the ratio of flours to liquid was totally off and there was a 0% chance the recipe would actually work, unless I wanted a crumbly cookie mess.
But fortunately I have a few skills under my tool belt so when I realized halfway through I was going to have to double the fat (it was butter) I knew what I had to do. It just makes me so sad for the other people who have tried making the recipe and failed. Whomp whomp.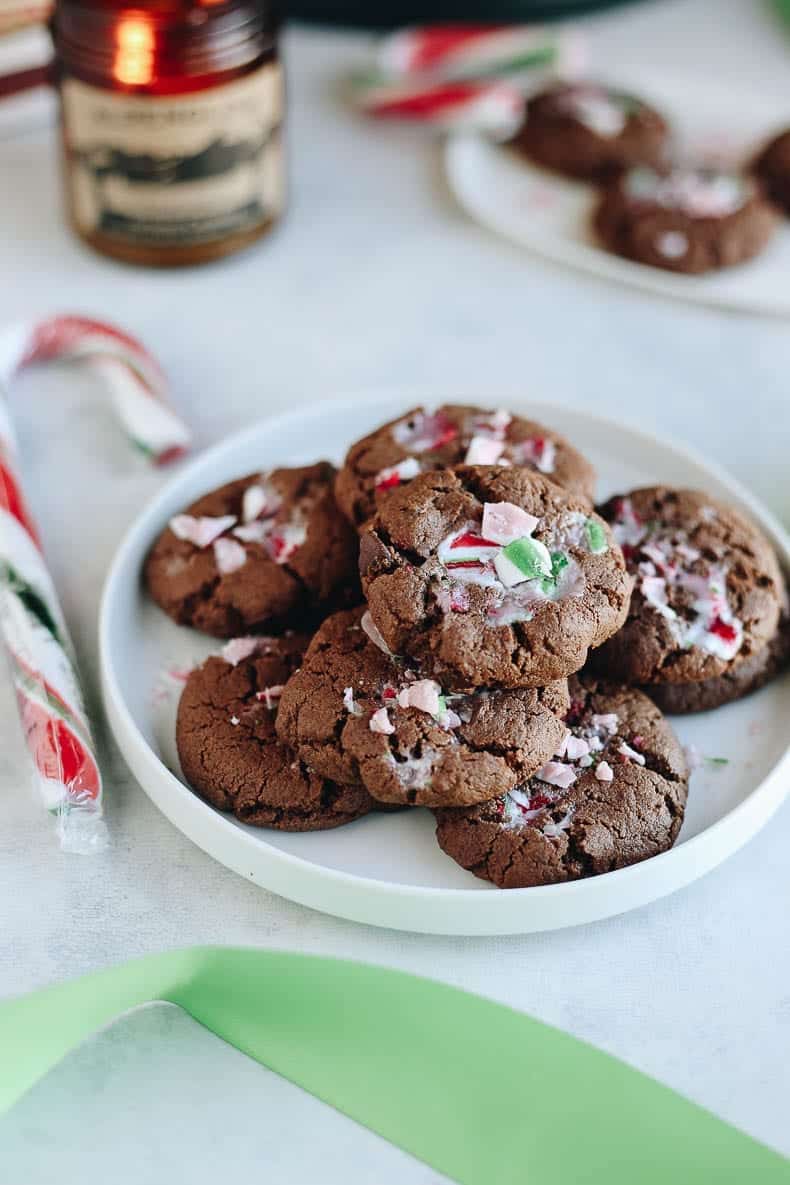 So this recipe is a response to that one: a well-tested, delicious and healthy peppermint chocolate cookie recipe. The recipe itself is totally different from the one I originally tried and is even simpler in that it can be made in one bowl (you know I'm lazy!).
If you guys want to see a sneak peek at my recipe testing process, you can watch my latest What I Eat in a Day video below. It should give you some insight on what goes into making THM recipes!
As always, if you make them don't forget to share them with me by using the hashtag #TheHealthyMaven or tagging me @TheHealthyMaven. Here's to foolproof baking and well-tested recipes! Enjoy 🙂
Print
Healthy Peppermint Chocolate Cookies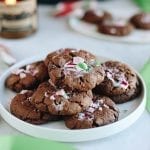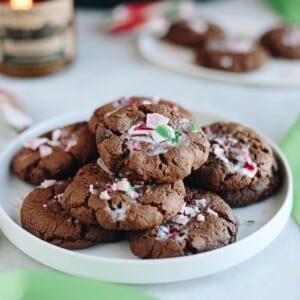 Scale
Ingredients
1 cup

unsweetened almond butter (must be drippy and 100% almond based)

1/2 cup

raw cacao or unsweetened cocoa powder

1/2 cup

coconut sugar (or brown sugar)

1 tsp

baking soda

1

large egg

1 tsp

peppermint extract

1/2 cup

chocolate chips
optional: pinch of sea salt or crushed candy cane
Instructions
Preheat oven to 350 degrees F.
In a large bowl combine all ingredients (yes you can do this all in one bowl!).
Line a baking sheet with parchment paper or a silicone mat.
Roll dough into 1 tablespoon-sized balls and flatten slightly (do not make them bigger than this as they spread).
Sprinkle with sea salt, if using.
Baking for 10-12 minutes (10 for softer cookies or closer to 12 for firmer).
Remove from oven and let sit on tray for 10 minutes ( do NOT attempt to remove before then).
Sprinkle with crushed candy cane, if using.
Place on a rack to cool completely.
Will keep for up to 3 days on counter in an airtight container.
These freeze well.

Who are your go-to bloggers for recipes that WORK???
JOIN THE THM NEWSLETTER
Join 20,000+ members of the THM Community to get access to exclusive recipes, healthy lifestyle tips and behind-the-scenes news from our team!