Crispy on the outside, chewy on the inside, these gluten-free chocolate chip cookies will have everyone fooled whether they're gluten-free or not! Just because you don't eat gluten doesn't mean you shouldn't be able to indulge in everyone's favorite cookie recipe!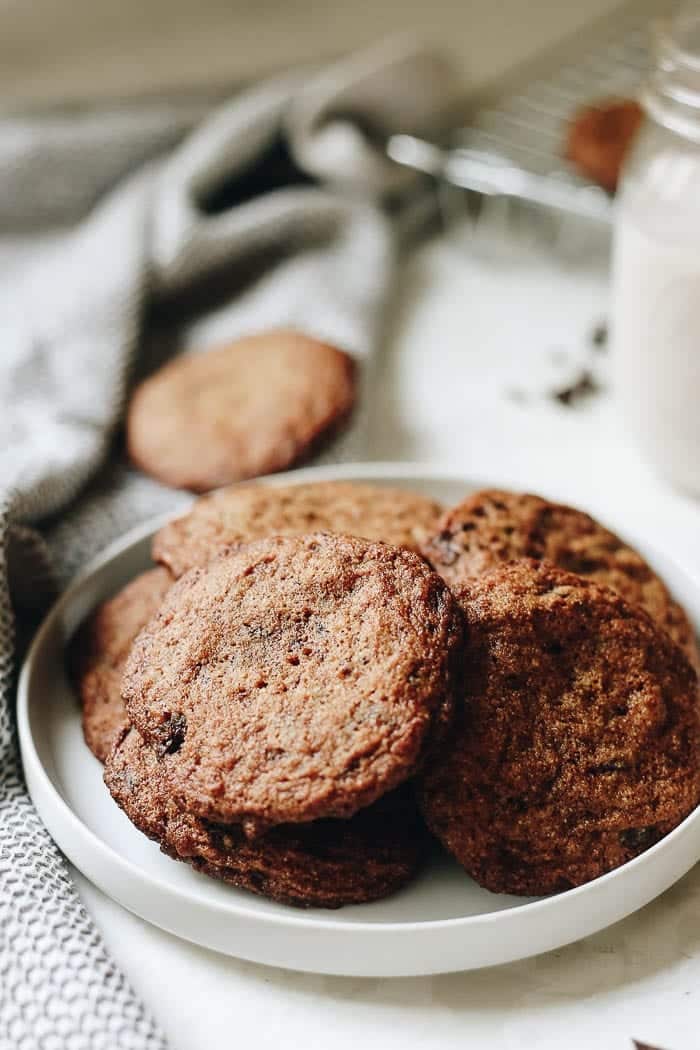 If I'm being totally honest, I'm feeling a bit terrified to publish this post. I've shared my struggles, my fears and some of my most vulnerable thoughts here on the blog, but I'm scared to post a cookie recipe?
Allow me to explain.
When I started The Healthy Maven four years ago (read more about THM's four year journey HERE!), I could never have expected that I'd be in the position I'm in. I was creating recipes that I was making in my life and workout and wellness tips that made sense for me as a 23-year-old post-grad who was, quite frankly, completely lost. I never intended to grow a big audience, let alone turn this fun, side-hobby of mine into a job, but the universe had other plans and with a lot of hard work and grit, here I am.
But I've changed A LOT over the past four years, and I love that this place has chronicled it all. But when my thoughts and needs change, I can help but be hesitant in implementing these changes on the blog.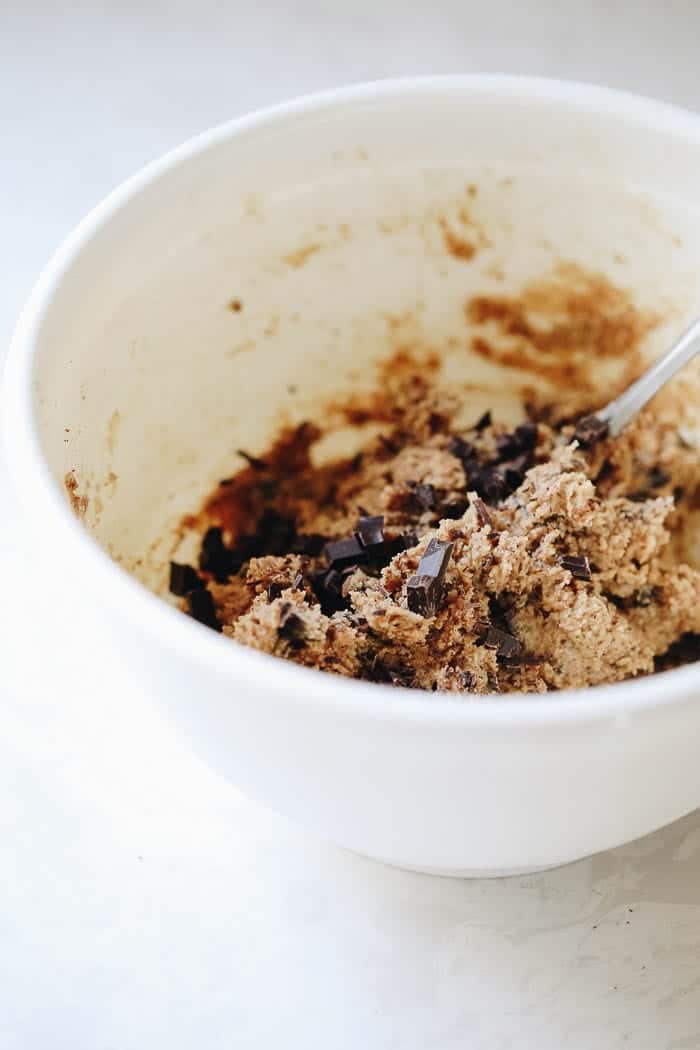 I know that you guys have come to know and love certain kinds of content on here, and especially when it comes to recipes. You know I believe 100% in a whole foods philosophy. This, I'm quite certain will never change. But that doesn't mean that everything around here has to be veggie bowls and energy balls. I also believe strongly in "soul food". The kind of food that hits that warm place in your heart that no black bean brownie or chickpea blondie could ever reach. Not that I'm knocking these kinds of foods, you know I love them and I know you love them too, but sometimes girlfriend needs a real chocolate chip cookie if you know what I mean?
For years I kept trying to force my healthified cookies onto C, who while incredibly kind in his appreciation also would ask if I could "make him a real cookie, please?". And for as many swaps and healthy substitutions I could make, nothing quite satisfies quite like a butter and sugar-filled cookie.
So I made a compromise. I swapped out the refined flour for whole grains and almond flour. I used coconut sugar in place of brown sugar and honestly guys, butter is butter and so grassfed butter it is! I have lots of coconut oil cookies on the blog, but BUTTER MAN.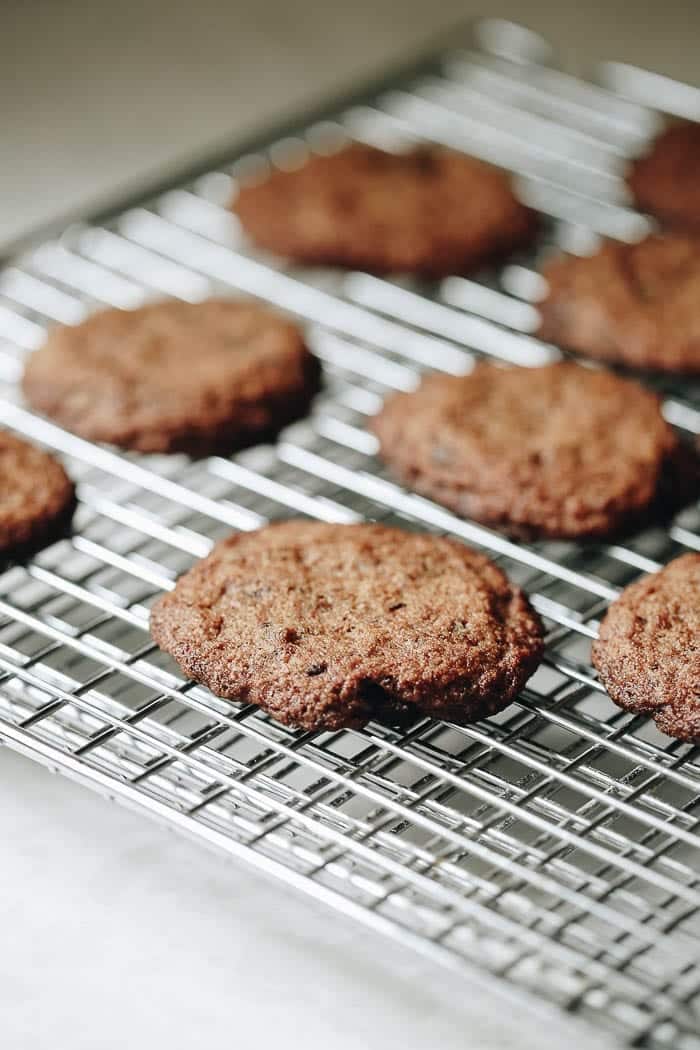 So I started making these cookies for C and then for my friends. Even my friends who care as passionately about health as I do, and they all agreed I needed to post the recipe.
These Decadent Gluten-Free Chocolate Cookies definitely would not have been on the blog four years ago, but I'm so happy they are now. They show how much I've grown. And I mean that in the mental sense. They show that I've made room for more foods and learned to love and embrace those "soul foods" that I spent far too many years avoiding.
One of the questions I ask on the podcast is "what advice do you have for your 20 year old self"? Well friends, mine would be to tell her to EAT THE DAMN COOKIE. Don't eat five of them, but don't be afraid of them either. There is room for everything, and especially for a chocolate chip cookie.
Print
Decadent Gluten-Free Chocolate Chip Cookies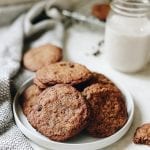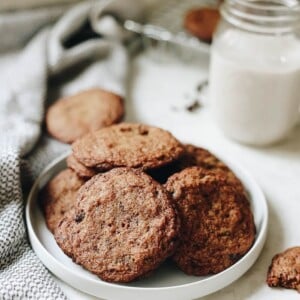 Prep Time:

10 minutes

Cook Time:

10 minutes

Total Time:

20 minutes

Yield:

20

cookies

1

x
Scale
Ingredients
1/2 cup

unsalted grassfed butter, softened

1/2 cup

coconut sugar (brown sugar works too)

1/4 cup

pure cane sugar (white sugar works too)

1 tsp

vanilla extract

3/4 cup

brown rice flour

1/2 cup

almond meal

1/2 tsp

baking soda

1/4 tsp

sea salt

1

large egg

1/2 cup

chopped dark chocolate
Instructions
Preheat oven to 375 degrees F.
Line a baking sheet with parchment or a silicone mat (or grease tray if neither are available).
In a large bowl cream together butter, sugars and vanilla.
Stir in the egg until well combined.
In a separate bowl combine rice flour, almond meal, baking soda and sea salt.
Add dry ingredients to wet until well combined.
Stir in chocolate.
Add dough to try, 1 tablespoon at a time. Don't add more than 12 cookies per tray or they will overcrowd.
Bake for 10 mins (or slightly longer as all ovens are different).
Let sit on tray for 10 mins before removing to cool completely on a wire rack.
Use remaining dough and repeat 10 mins in oven and 10 mins on tray.
Stir in an airtight container for up to 3 days (if they last that long…)

What are your thoughts on seeing recipes like these on the blog? I totally respect your honesty! 
JOIN THE THM NEWSLETTER
Join 20,000+ members of the THM Community to get access to exclusive recipes, healthy lifestyle tips and behind-the-scenes news from our team!