If you missed my latest April Favorites videos, you can watch episode #1 HERE and episode #2 below! Hope you enjoy xo
Two years ago I decided to start a Capsule Wardrobe. I was inspired by Caroline's journey over on Un-Fancy and wanted to try it out for myself. I picked a number (I believe mine was around 45?) and set out my clothing for the season. My decision behind it wasn't because I wanted to limit my shopping (I'm not a big shopper), but more because I genuinely hated picking out my outfit every day. The peak of my fashion skills was high school…when I wore a uniform everyday.
I so appreciated the ease of not having to worry about what to wear because my options were so limited. It also made me think twice about buying something so I found myself focusing more on the quality of clothing and just shopping in general rather than on what was cheapest or how to maximize my dollar.
I did a few seasons of capsuling (I'm making that a thing), but eventually my eagerness started to fade. I found myself dipping into the back of my closet to reach for something from another season or going shopping simply because I was so bored of what I owned already.
I once again learned the all important lesson that my personality does not vibe well with rules…will I ever learn?!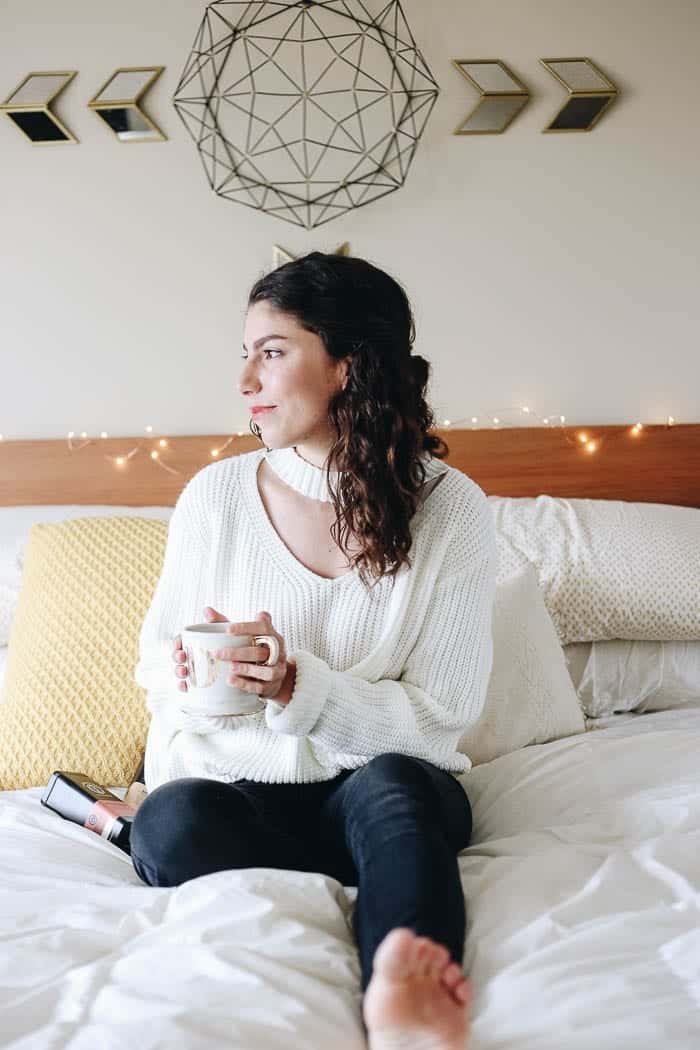 I found myself craving more variety, wanting to express myself in more ways than my black turtleneck could handle. I also wanted my cozy christmas socks in the middle of summer and the choice of every lipstick under the sun!
I wanted comfort and joy in the stuff I owned. I wanted Hygge.
For those of you unfamiliar, Hygge is a Danish term meaning nice, cozy, safe and comforting. It's a psychological state, but certain objects or possessions can bring the feeling on. Think, that cozy sweater or your favorite candle.
So here I am struggling between wanting less and wanting more. So how did I resolve the two? I moved.
Moving is like the ultimate purge. And moving across a continent will really make you think about the stuff you own and whether or not it brings you joy. What we brought had to be worth it and things we truly valued.
We got rid of a lot. More than I expected we would, but it was so refreshing to not feel like we were so burdened by stuff. At the same time, we kept quite a bit too. Things like my cookbook collection or my excessive number of essential oils. Sure, I don't need all of them to function, but I enjoy having them in my home.
It's something I'm torn about, because as a society I do think we consume way too much, myself included. I'm not going to pretend like I don't get a little rush when I order a new cookbook or my next ASOS shipment arrives. But I also know the anxiety of feeling like your home is too cluttered. When our apartment is clean I feel SO much better and I honestly think I'm more productive.
I'm learning that it's okay to NOT be a minimalist, even if it's being touted as "the next new thing". Do I think it works for some people? Absolutely. But I am not one of those people.
I think purging is necessary and we definitely shouldn't let our "stuff" define us. When you buy something, donate something else. But more than anything, be conscious when you do purchase something about whether it is bringing you joy in that moment and if you think that joy will extend beyond the rush of buying it.
At the same time, collect things that offer value to your life or that you can turn to when you're in need of some comfort. Fill your home with things that make you smile or invoke those feelings of hygge.
You don't need things to feel good, but you also don't need a blank canvas to feel good either.
The happy place lives somewhere in between.
WANT MORE HEALTHY LIVING TIPS? Join the THM Community!
Join 10,000+ members of the THM Community to get access to exclusive info about healthy living, products I'm loving and tips and tricks on making a healthy lifestyle easier and sustainable.