My deep love for Credo Beauty is known to most of you guys at this point. I'm incapable of going into their store without buying something and by now all their sales associates know me by name. They geek out with me over Lily Lolo Mascara and Gressa Foundation and humor me for a hot minute by giving me the pleasure of feeling like I work there. It's glorious.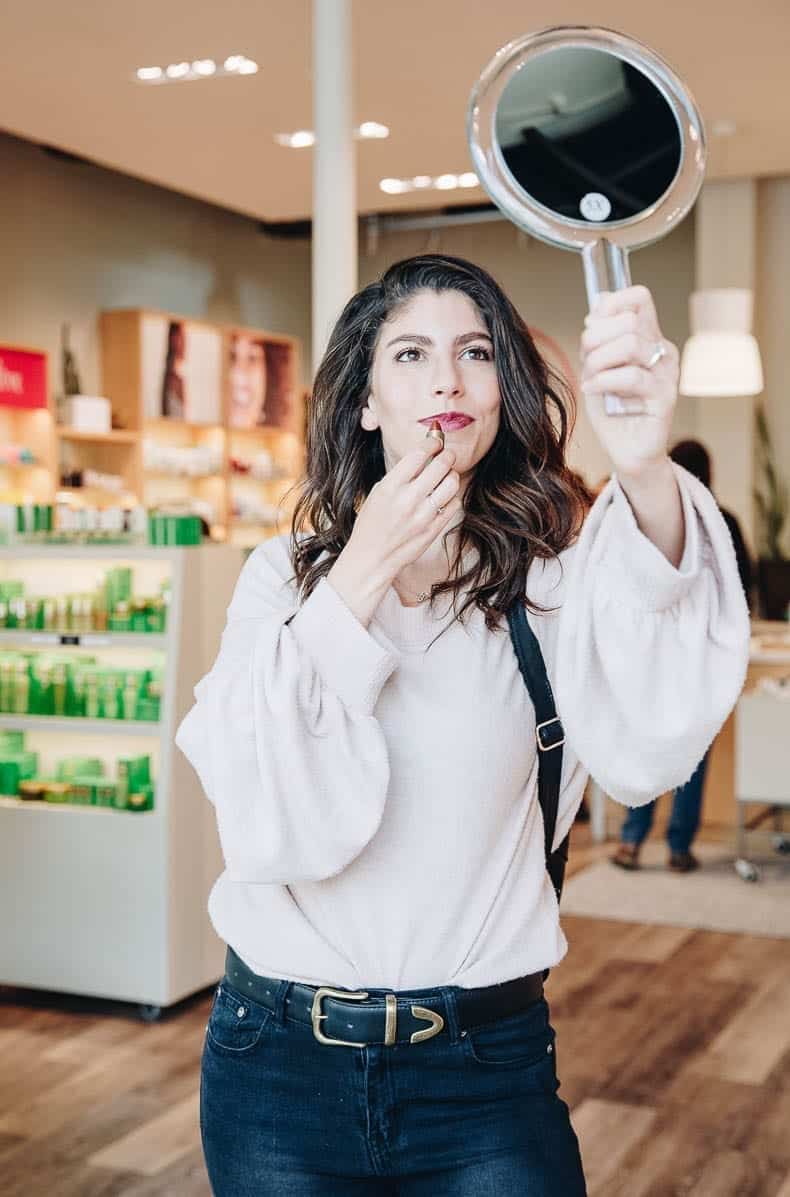 Photo by Rae Surbaugh photography
For those of you unfamiliar with Credo Beauty, it's a huge green beauty store only selling body, skincare and makeup products made from clean ingredients. Think Sephora, but natural. It is mecca for all things green beauty and if you have the chance to go into one of their storefronts, I encourage you to run not walk. BUT if you can't make it to one of their stores, everything can be purchased online! They offer free shipping (on orders over $50) and an equally large stockpile of merchandise so fear not if you don't live in LA, SF, NYC or Chicago.
And once a year, my dear friends at Credo spread their green beauty angel wings and offer a 20% discount on ALL merchandise online and in-store until November 5th. It's my chance to stock up on all of my favorites and splurge on all those items I've been wanting to try. And it's your chance to do the same. All you have to do is use the code CREDOFAM at checkout. This is the only time of year they have sales so now is the time. I went a little overboard yesterday…
WHY GREEN BEAUTY?
I feel like this conversation is old news to me, but I'm consistently brought back to reality that the majority of people have no clue what green beauty is and why they should begin switching over their products.
I've written a whole post about it HERE, but to keep things brief, most conventional bath and beauty products are unregulated and full of harsh and harmful chemicals that are known to have a negative affect on our bodies. Parabens and phalates are known endocrine disruptors that can rue havoc on your hormones. Certain chemicals have been linked to increased cancer occurrence and other chronic illnesses. Once you get to reading what's in your favorite hair oil or face wash you will know what I'm talking about. If the majority of the ingredients are things you can't pronounce, it might be worth investigating.
Now, as with anything, I say this: You do You. I have friends and family-members who use conventional body care, home and makeup products. That is totally fine. I'm just here to try out some cleaner options and share them with you. I will never force you to switch, I simply want to try things out, give an honest review and remind you that you always have options. This is a judgement-free zone.
But with hundreds of products available, it's hard to know where to start. So many people reach out to me asking about green beauty products and what's good vs. what's bad; what is okay vs. what to avoid. It's confusing, I get it. And honestly, I've spent the last 3.5 years experimenting and I'm only just feeling like I know what's going on. My hope is that THM can be a resource for green beauty favorites (in addition to healthy food and lifestyle tips!) so this world can be a little less confusing for you. And in this case, more affordable…because 20% off people!!! Let's jump in…
MUST-BUY GREEN BEAUTY – MAKEUP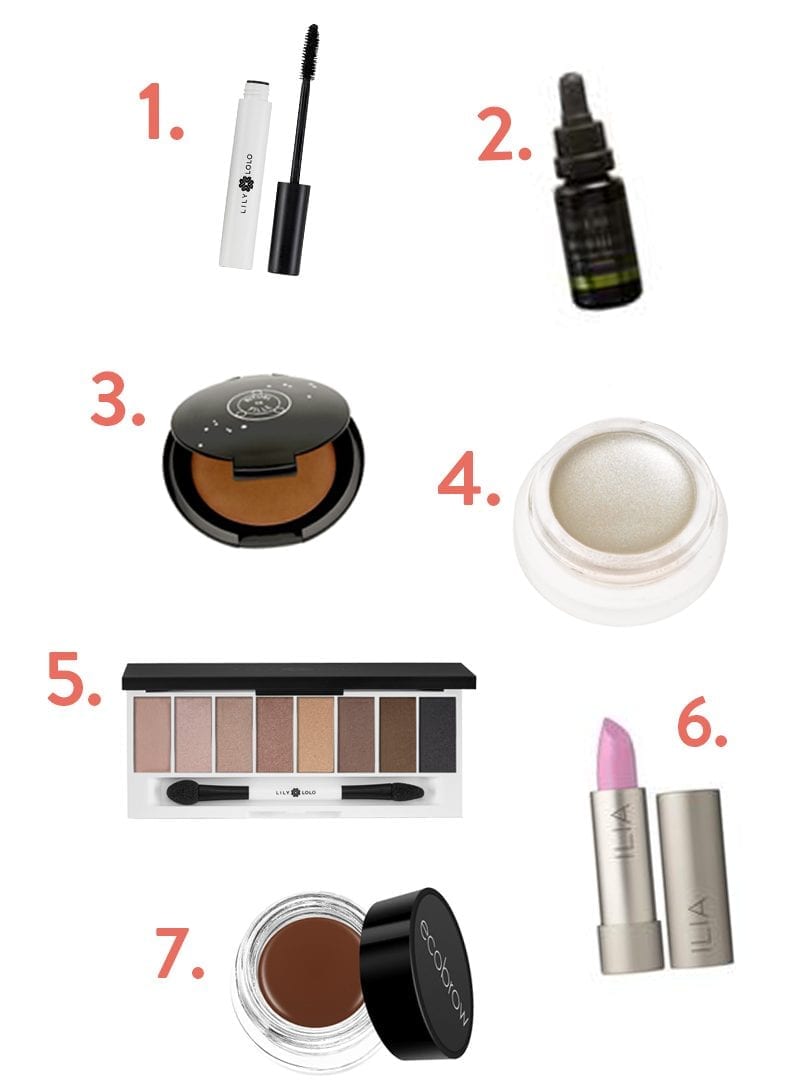 1. Lily Lolo Mascara – all praise this mascara! It's extremely lengthening and you'd never know it was natural.
2. Gressa Corrective Serum Foundation – if I could dream up the perfect foundation it would be this one. Perfect for full coverage, but if light coverage is your thing I'd recommend the Vapour Soft Focus Foundation, which also gives a flawless dewey glow.
3. Rituel du Fille Creme Pigment – I never understood contouring…until I started contouring. I've been pairing this with my Beautycounter Matte Bronzer, and together they give me the cheekbones I wish I actually had.
4. RMS Living Luminizer – there is a reason this has a cult following. One word: highlighter. Don't you ever forget that.
5. Lily Lolo Eyeshadow Palette – perfect introductory eyeshadow palette for anyone just getting into green beauty. I love the array in the Laid Bare Palette and the Smoke and Mirrors palette.
6. Ilia Lipstick– Hallelujah! If you haven't heard me declare my love for Ilia lipstick, then you clearly don't follow me on Instagram…or you unfollowed me lol. 
7. EcoBrow Eyebrow Wax– I'm a total eyebrow geek and to me if there is one step every makeup routine needs, it's to fill in those brows. I've used this stuff for years in both Sharon and Penelope. Truly the best out there.
MUST-BUY GREEN BEAUTY – SKINCARE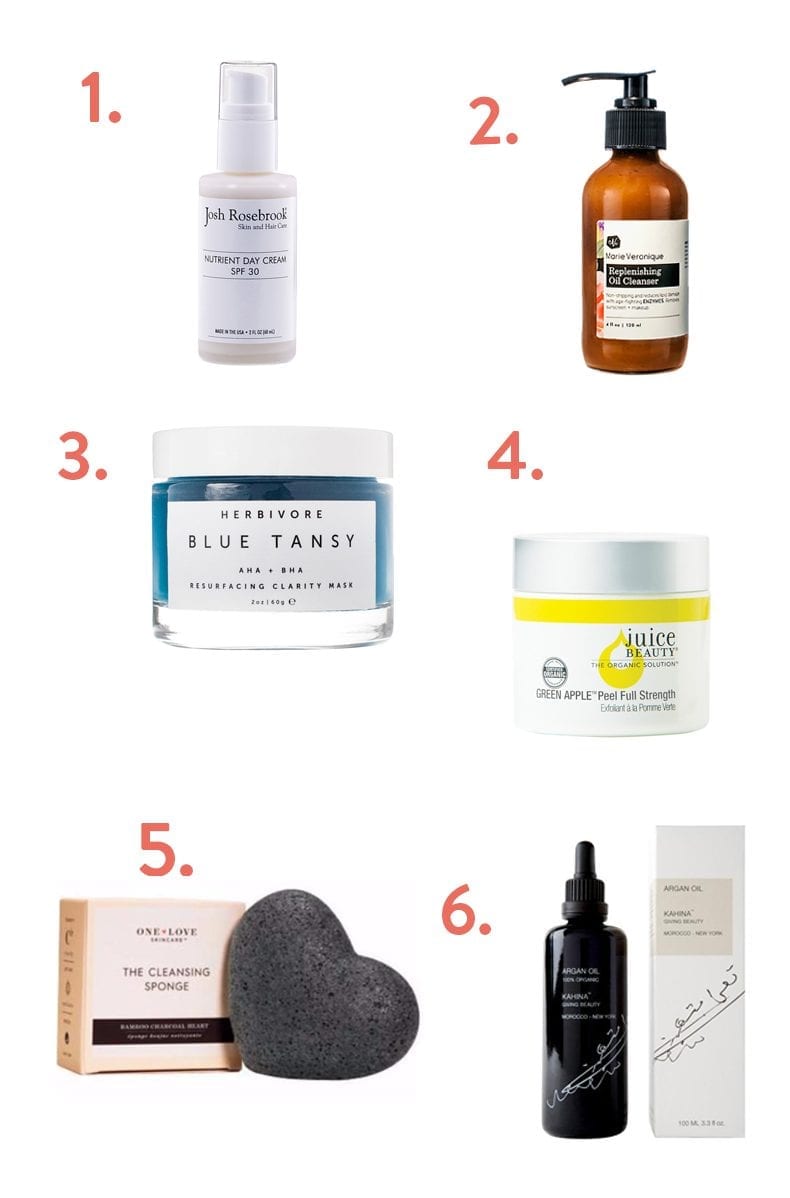 1. Josh Rosebrook Nutrient Day Cream –if I could write a love note to this product, I would. I have been using this for years as my morning moisturizer and sunscreen (it's 15 SPF) and it's incredible. It has a cult following and it definitely deserves it!
2. Marie Veronique Makeup Removing Oil Cleanser – This is one of my newer products (it's in my October favorites!) that I've incorporated on days when I'm wearing makeup. It's an oil-based cleanser that also foams and removes makeup flawlessly!
3. Herbivore Blue Tansy Mask – I consider this one of my luxury masks and I absolute adore putting this on, sipping some tea and reading a book. It leaves my skin glowing and visibly less red!
4. Juice Beauty Green Apple Peel – I love this mask when I'm looking for a fast-acting, exfoliating mask. I only have to leave it on for 5-10 minutes so you could easily do it in the shower before heading out for the day for a quick-acting mask.
5. One Love Konjac Sponge – I use this every single day with my Luminance Skincare Cleanser (unfortunately not at Credo!) and it's so soft on my skin and helps exfoliate without harshness.
6. Kahina Argan Oil – Okay admittedly I actually use this on my hair, but people swear by argan oil for their skin. It just doesn't work for me! But it legit makes my hair shine and I love it.
MUST-BUY GREEN BEAUTY – BODYCARE + HAIRCARE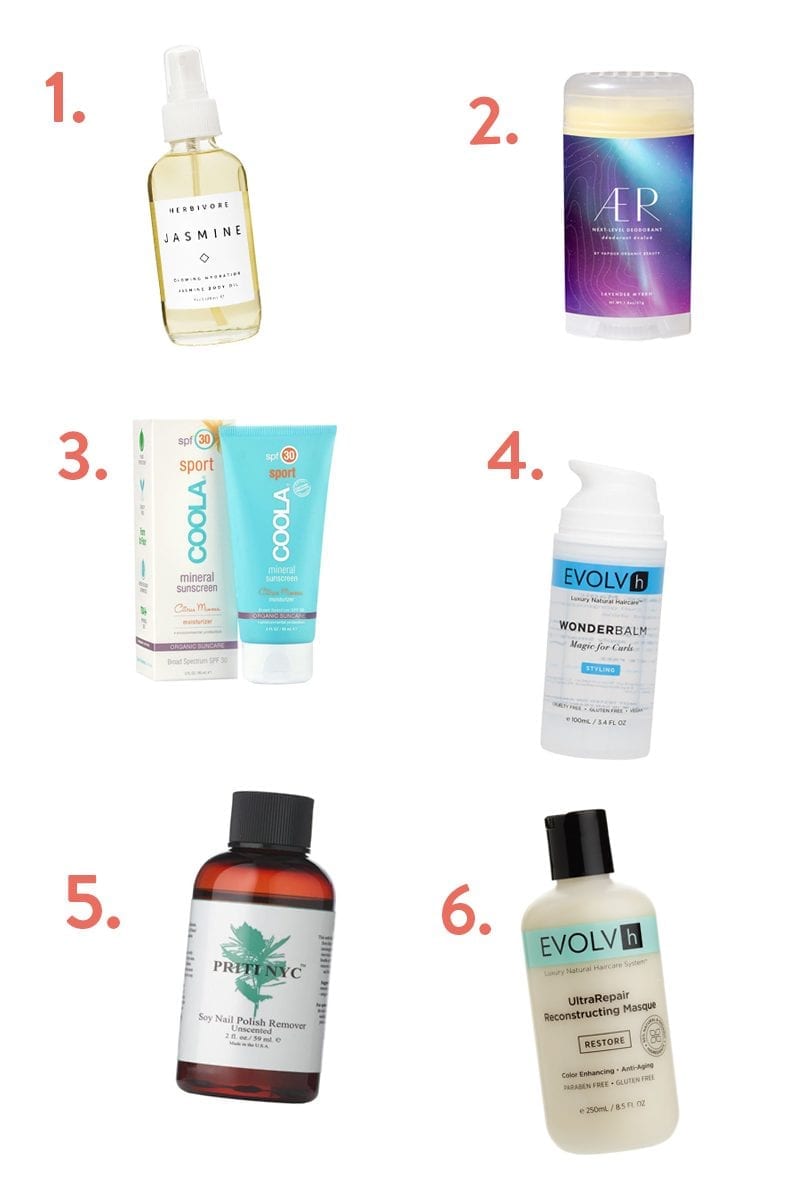 1. Herbivore Jasmine Body Oil – if the fact that I'm on my third bottle of this in 6 months isn't any indication, I adore this body oil! If you love the smell of jasmine, you need this in your life. Also it makes my skin literally glow!
2. Vapour AER Deodorant – after my homemade deodorant got taken by airport security THREE times, it was time to invest in a store-bought. This is the only one I've tried that works and doesn't give me a rash!
3. Coola Sunscreen  (30 SPF)– a natural sunscreen that doesn't turn me as white as a ghost! Admittedly I'm still on the lookout for one that is more affordable, but if you're going on a fancy vacation and don't want to burn, you can count on Coola.
4. Evolvh Wonderbalm – this is every curly girl's dream! All-natural gel that doesn't make your hair feel like straw and controls frizz. I'm told it works really well with straight hair too!
5. Priti NYC Nail Polish Remover – It requires a little bit of elbow grease, but this natural nail polish remover takes off the old nail polish without taking off all your skin with it!
6. Evolvh Ultra Repair Reconstructing Hair Masque – This stuff hands-down has saved my hair. It's why it's in my October favorites and is definitely the reason I've been getting compliments on my hair lately.
* * * * *
Again – don't forget to use the code CREDOFAM at checkout in order to save 20% off your whole order! Remember, you only have until November 5th to save 20%!
Disclaimer: This post is NOT sponsored; however it does contain some affiliate links. I receive a small commission from these sales but all opinions are 100% my own.
Are you into green beauty? Are there any products you want to see reviewed???