Everything about our move to San Francisco has been more than I could have ever dreamed of. Not to sugarcoat the move itself (it sucked), but in general I feel very confident that we made the right decision moving to SF…with the exception of one issue: SEASONAL ALLERGIES. Or more accurately, year-round allergies.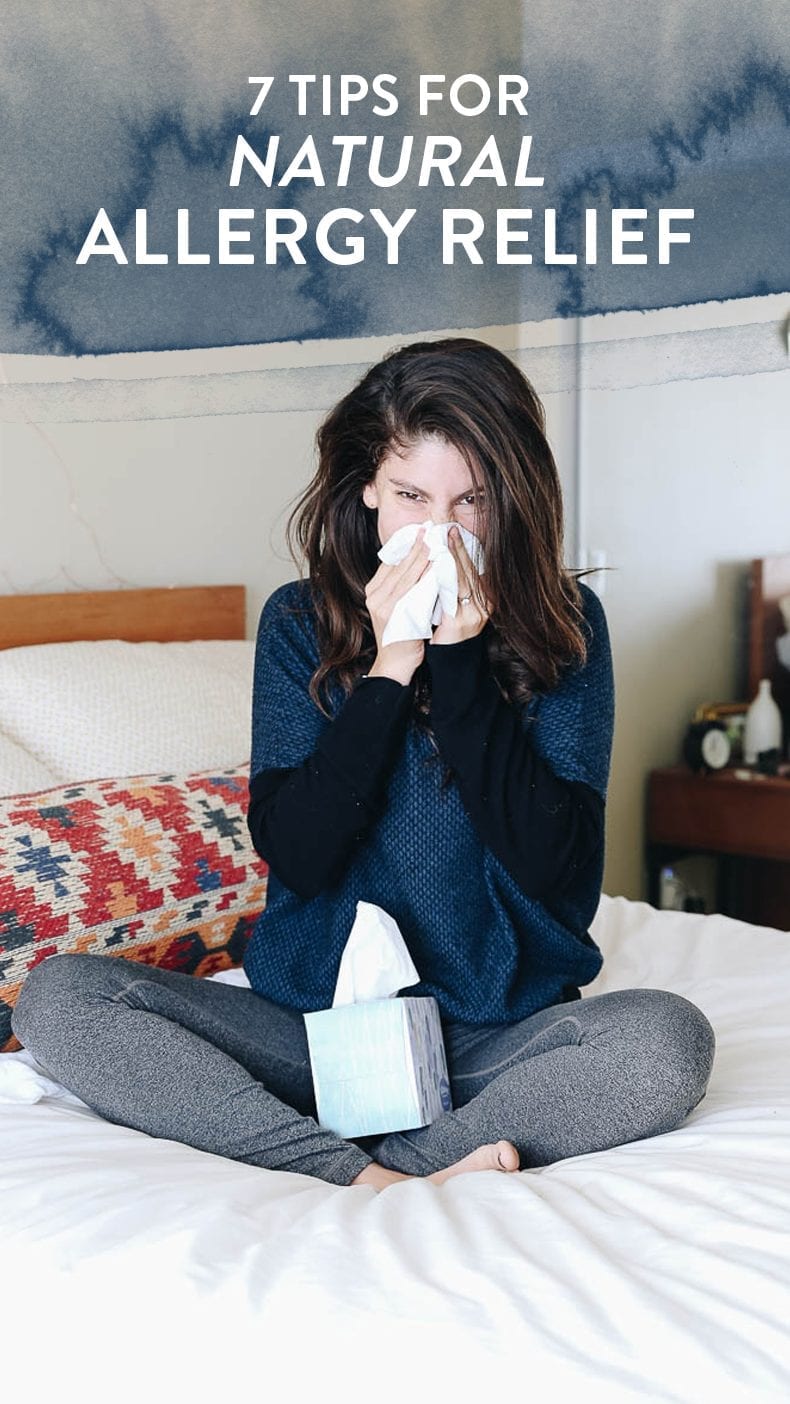 Pretty much since the day we moved here my allergies have decided to rear their ugly head. In Toronto, they'd be bad for a few weeks in April/May and then again for a few weeks in September. They were pretty manageable and only on the really bad days did I have to take my allergy meds. It's been a different story since moving to California. I've joked that I'm legitimately allergic to California!
That being said, things have gotten much much better. I still have rough days, but I mostly don't have to take allergy meds unless it's an insanely high pollen count. Weirdly, it's also when I get back from a trip where I've been elsewhere and am reacquainted with the San Francisco air that it's also pretty bad. My symptoms are pretty common. Mostly itchy, watery eyes, sinus headaches and post-nasal drip.
For now, I've been able to manage my seasonal allergies naturally through diet, supplementation and certain lifestyle changes. I hate the idea of not being outside so I swear by these things to help keep my allergies at bay. If things are really bad (like 3-4 times a year) I take allergy meds, but I hate how groggy and dry they make me so I avoid if possible. I have nothing against this route, but the side effects suck for me so I'd rather not feel that way all the time. As a result I've tried a lot of different methods to help me treat the symptoms of Hay Fever without taking medicine. Here is my 7 Natural Allergy Relief Remedies that actually work!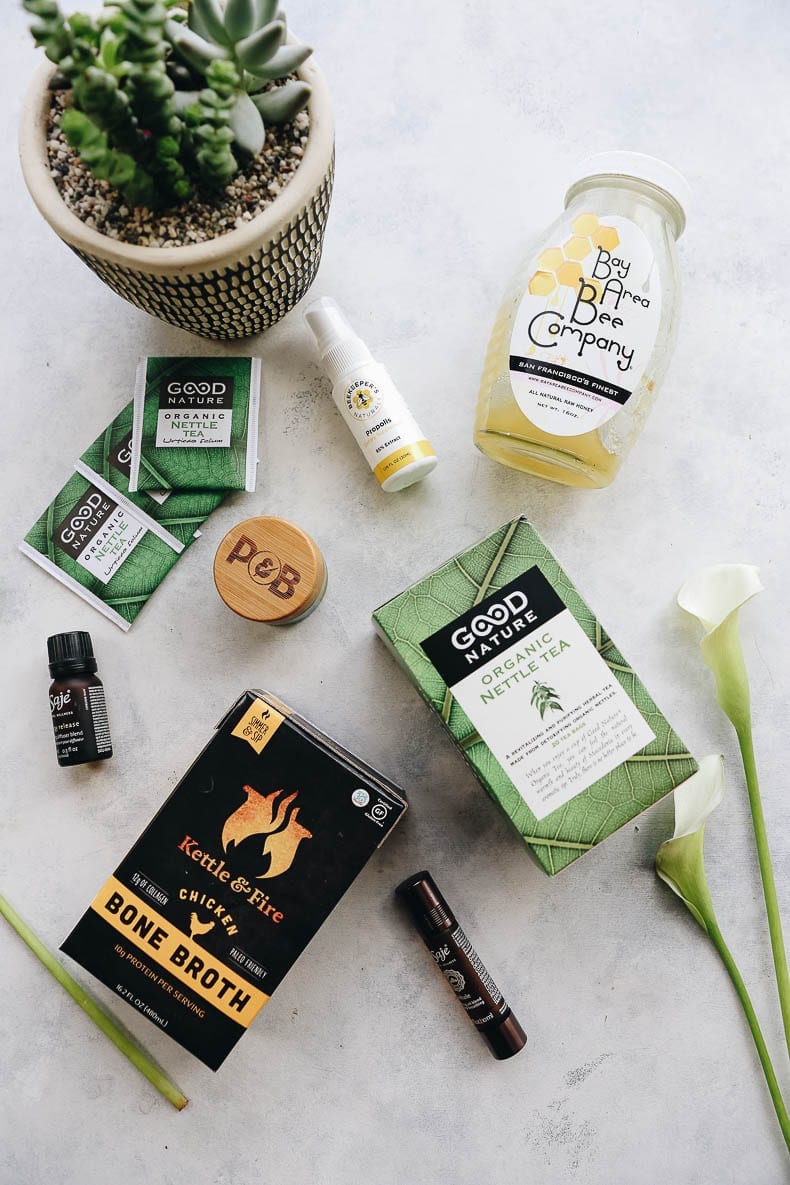 NATURAL SEASONAL ALLERGY RELIEF TIPS
1. Propolis + Raw Local Honey
If you haven't heard me profess my love for Propolis then you must be living under a rock. Just kidding! But if you want to learn more about propolis, check out this podcast episode with Carly Stein from Beekeeper's Naturals. We also chatted about raw honey and its benefits. But as a synopsis, propolis is the substance the seals the bee's hive. It's super antibacterial and antiviral and is basically as superfood as foods get. Raw honey is as well. It's believed that by consuming each, your body slowly builds up a tolerance to local pollen and in the future will be less sensitive to it.
2. Essential Oils
Aromatherapy for the win! Some essential oils that are great for seasonal allergies include chamomile, lavender, peppermint, tea tree, and lemon oil. I personally use the inhale blend from Saje Wellness (called allergy release in Canada) both in the diffuser blend and the roll-on for when I'm outside. Otherwise feel free to blend your own!
3. Nettle tea
Nettle Leaf Tea has long been used as a treatment for seasonal allergies. It's super anti-inflammatory which as I mention below is the root of all seasonal allergies. I find it makes my mouth a little tingly and numb but apparently that's normal. Some people do react negatively to it so just be careful!
4. Bone Broth
I could go on about the benefits of bone broth for days! The root of seasonal allergies is inflammation and bone broth is as anti-inflammatory as it gets. I have a cup a day and besides being delicious, it's incredibly good for reducing inflammation, seasonal allergies, boosting your immune system and has a healthy dose of collagen for your skin, hair and nails! I love Kettle and Fire Bone Broth and get an order each month. If you want to save 20% off your order (and free shipping!), use the code THEHEALTHYMAVEN at checkout or click here for it to be automatically added!
5. CBD Balm
I use this for my sinus headaches. If I wasn't able to avoid my allergies, CBD Balm for headaches has been soooo helpful. I rub it on my sinuses, temples and neck. If you combo it with Peppermint Halo from Saje, it's a double whammy!
6. Netty Pot
I'll be honest, this is the one I do the least – likely because I hate doing it! but if my sinuses are super stuffed up or I have a bad post-nasal drip, the Netty Pot is a complete lifesaver. In theory, you're supposed to use it everyday to keep things clear, but I use it more as an SOS management. Either way, it helps!
7. Shower and Change Your Pillow Case
I know this seems like an obvious one but it really makes a huge difference. Pollen or whatever allergen you're allergic to can get stuck to your hair, skin, clothing etc… and then also end up on your pillows and in your bed. Frequent washing when you've been outside for a long time can go a long way. Even though I HATE washing my hair, if I've spent a couple hours outside I know I have to wash it.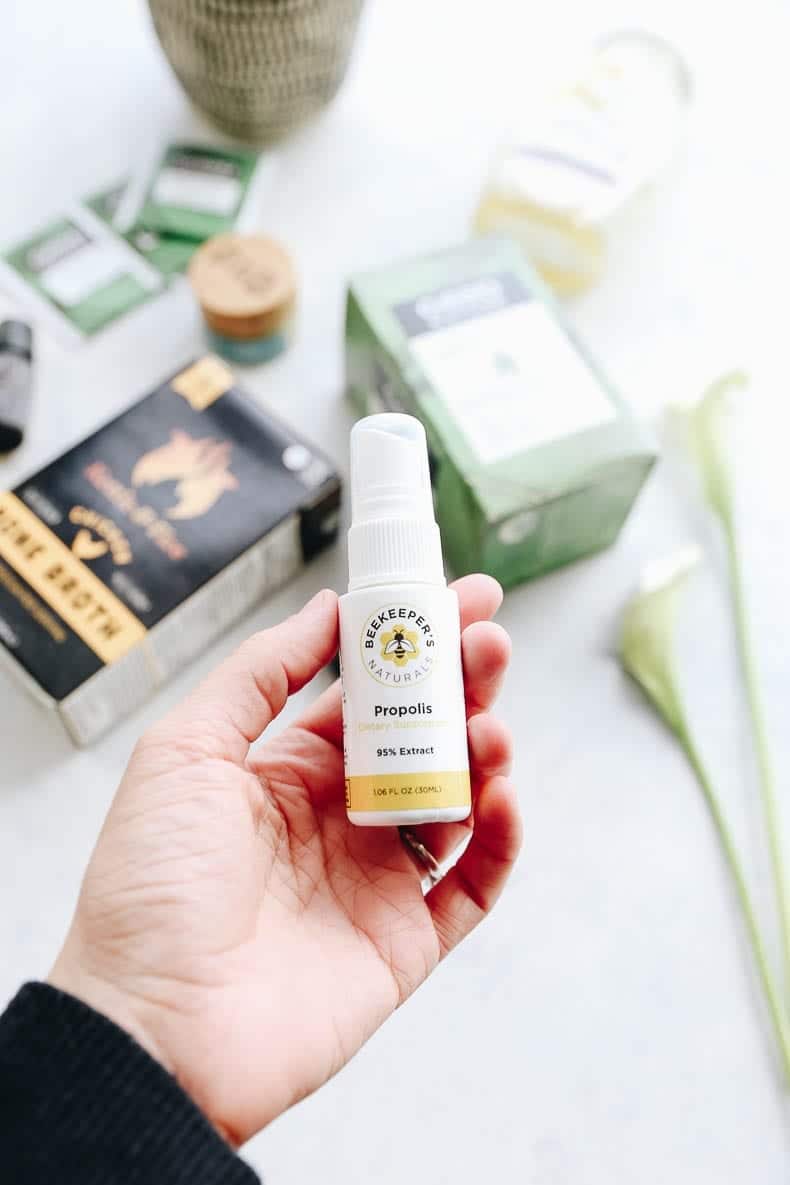 * * * * *
That's all I've got for you! If you're struggling with seasonal allergies, I feel you. They suck and I've had moments where I just don't want to go outside because I know I'll have to deal with them. Hopefully these tips and tricks to surviving seasonal allergies naturally are helpful to you.
As always, these are all just options. Try out what you like and stick with the things that work. If something isn't serving you, let it go. Our bodies are all so different which is why experimentation is key! Don't feel like you need to go out and buy everything at once.
Did I miss any tips? Drop your best seasonal allergy tricks below!
WANT MORE HEALTHY LIVING TIPS? Join the THM Community!
Join 10,000+ members of the THM Community to get access to exclusive info about healthy living, products I'm loving and tips and tricks on making a healthy lifestyle easier and sustainable.