Stress has been called the "health epidemic of the 21st century" by the World Health Organization and is estimated to cost American businesses up to $300 billion a year. But besides the monetary cost its taking, it's also taking a major toll on our health. From short-term ailments to long-term chronic illness, stress is not to be ignored and should be your first sign that your body is out of sorts.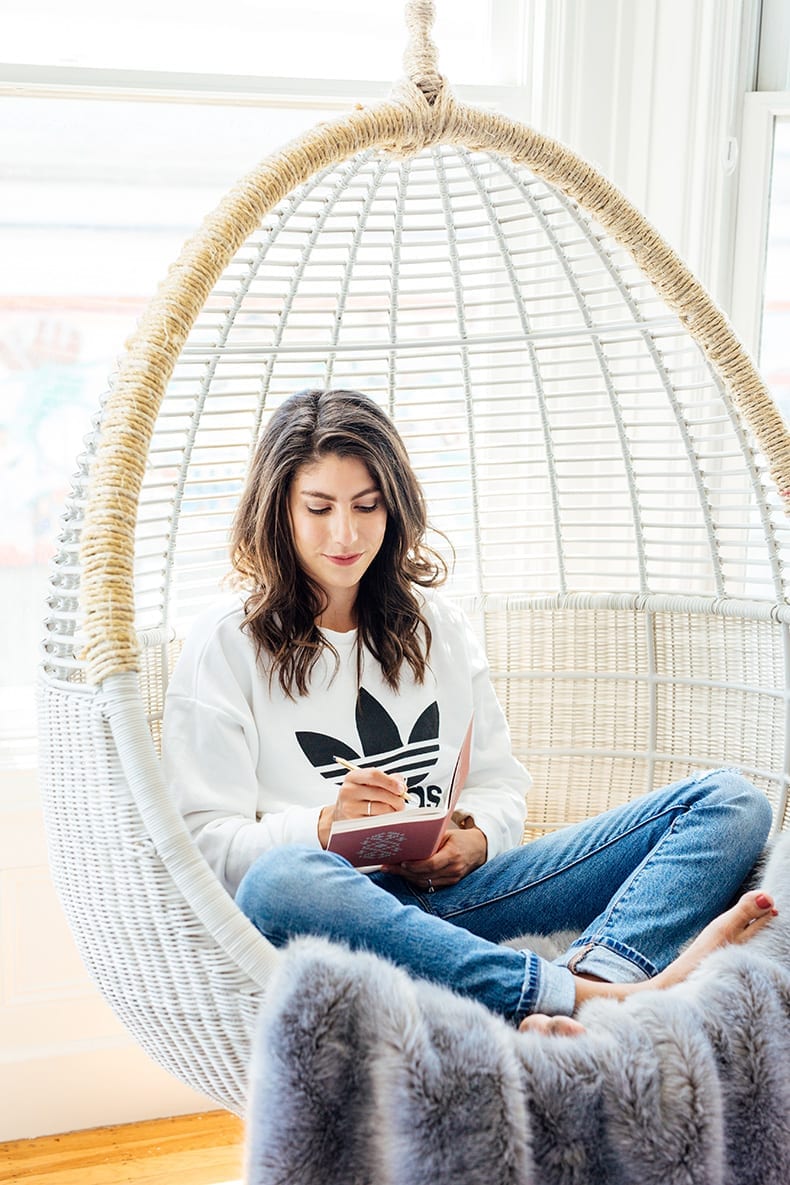 As we welcome 2018, I've been thinking a lot about my own goals for this year. I actually prefer to set intentions rather than goals- intentions for me are more like guiding lights rather than a destination– because they help me stay the course even when life is feeling overwhelming. I'm less focused on arriving somewhere and more focused on making sure my decisions are rooted in my values. How I set my intentions is a post for another day (coming soon!) but today I wanted to talk about why I believe your intentions, goals or even resolutions for 2018 should include incorporating ways to decrease and target your stress levels.
Stress can manifest from many different activities and rear its ugly head in many different ways. But the solution is quite simple: START CARING FOR YOU. And I'm not talking just luxurious crystal baths and expensive spa days. Tackling stress can involve everything from unsubscribing to emails to taking 5 minutes to focus on your breathing.
Over the past few years, I started to realize that one of the biggest obstacles in my life that was holding me back from feeling great was my stress levels. I was burnt out, overwhelmed and felt like I was only devoting half myself to everything in my life. I had built a business I was proud of, but I couldn't say the same for the person behind it. When I finally committed to tackling my stress, I suddenly became happier, more content and surprisingly, more productive. It's been a journey for me that I'm thrilled to be able to share with you in my new guide!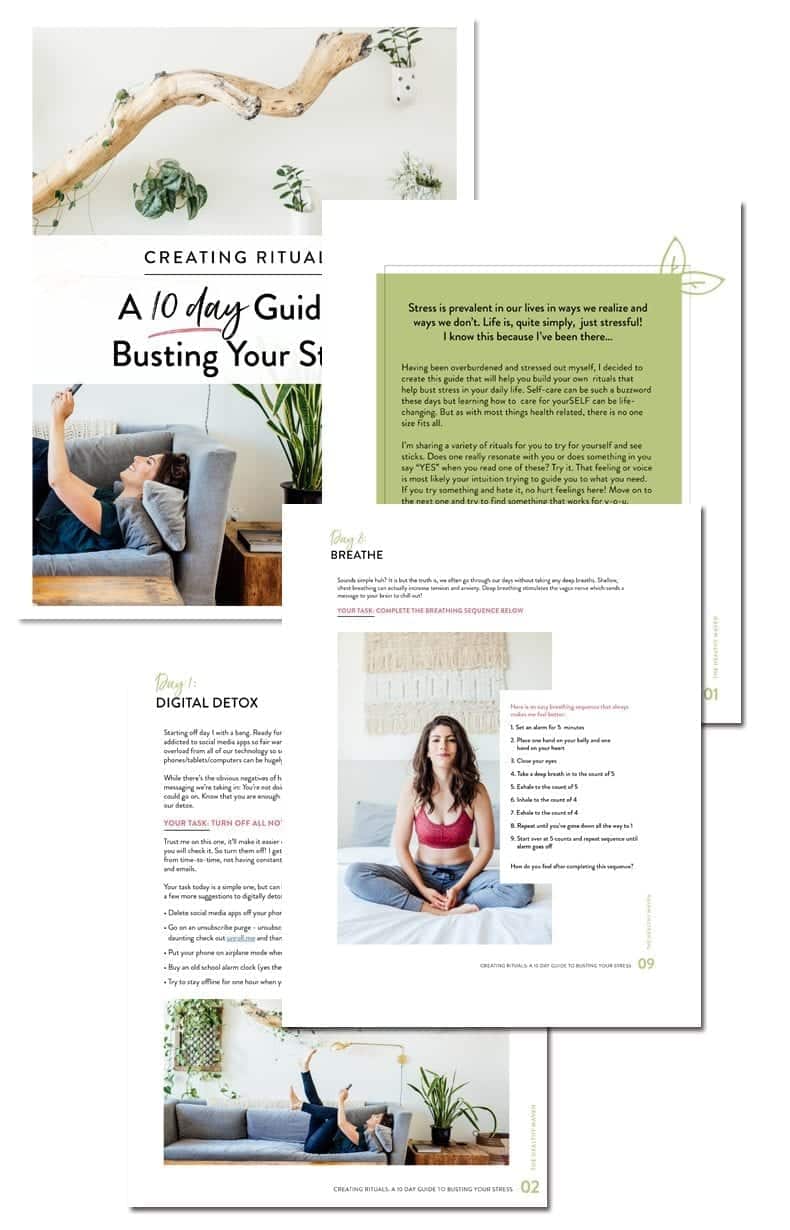 Introducing my new ebook: Creating Rituals | A 10-Day Guide to Busting Your Stress. It is a reflection of one of my greatest passions in life: Helping people tackle their own stress levels and TRULY embrace self-care. This isn't a guide on how to tackle stress through expensive massages or 3-hour meditations. It's practical and was created with a realistic understanding of how much spare time we actually have in a day. Each activity can be done in under 10 minutes and I've yet to meet anyone who doesn't feel better after them. That being said, this guide was also written as a choose your own adventure activity. Not every ritual will stick for you. The point is to try it out and see how you feel. From there, pick and choose which ones realistically fit into your life and actually yield the benefits you need. Will you be immediately free of stress by the end of it? Hell no! But I can assure you that taking 5-10 minutes a day to institute a practice to reduce your stress-levels will make you feel better, not worse.
It's unrealistic to expect that we will never have to deal with stress – life is inherently stressful at times – but what's important is having practices in place that help you cope with it. My hope is that this guide can be that for you! To download, just click here, enter your email address, and you'll get the ebook right to your inbox. I can't wait to hear what you think!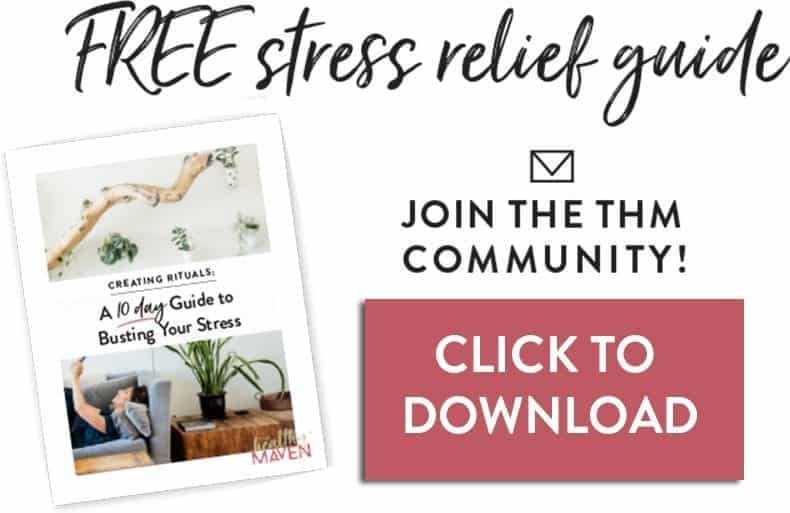 Let's not define the 21st century by our over-the-top stress levels. It's time to start caring for our health holistically…and that means your extra dose of kale just ain't gonna cut it!
Do you set resolutions? What are some rituals you use to tackle stress?
Creating Rituals: A 10-Day Guide To Busting Your Stress
Subscribe to get my guide straight to your inbox and say ADIOS to your stress!