Switch up your Peanut Butter Cup game with these Tahini Butter Cups with Honey Candied Cereal sprinkled on top for a sweet treat with a twist. This delicious chocolate dessert recipe is sweetened entirely with honey for a healthier swap!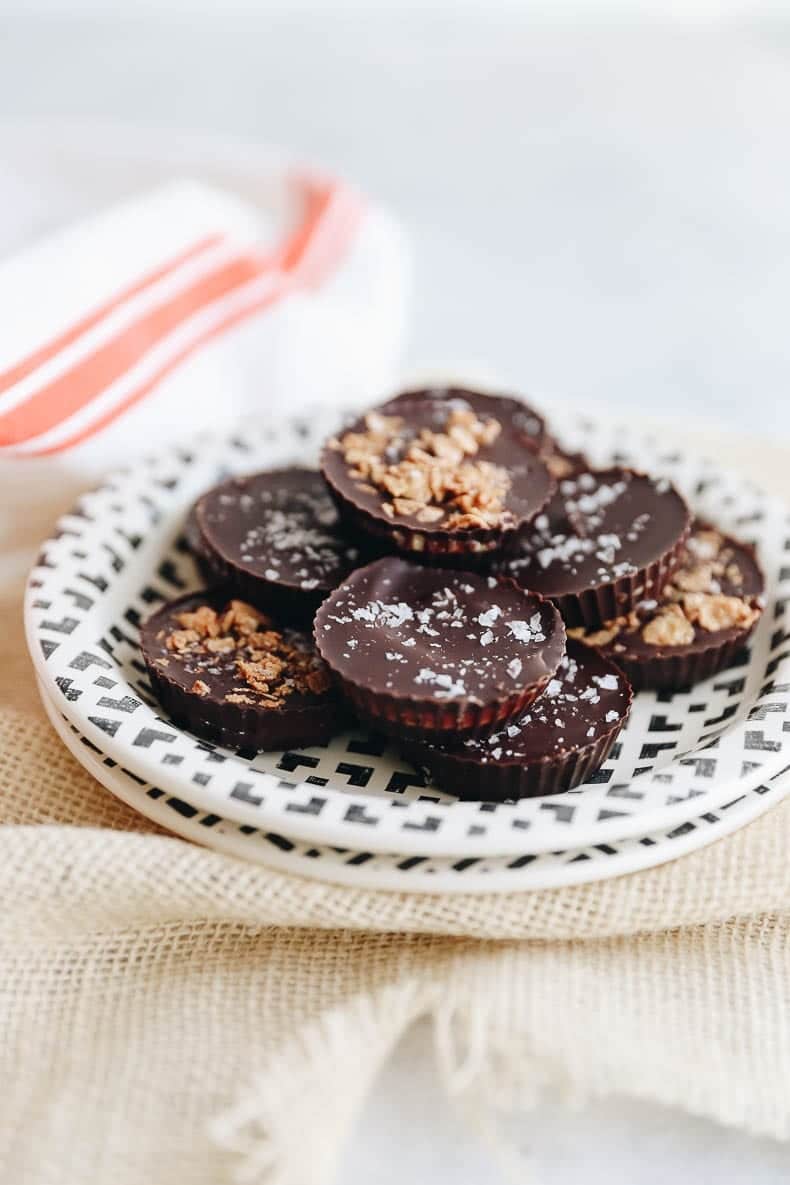 Remember that time I told you this recipe was going to be the last year of the year? I lied. Last week Jess was over and we were cooking and shooting recipes for the new year. As soon as I took a bite out of one of these Tahini Butter Cups, I knew there was no way I could keep this recipe from you.
Truth-be-told, this recipe was actually supposed to go out as a thank you to my email subscribers. I do from time to time send out special gifts to them and I figured this would make a great holiday treat. Well, like I said, this recipe is life-changing and I couldn't just share it with a fraction of you. Perhaps most importantly, it's SUPER easy to make. Basically anyone can make these. Which means you have absolutely no excuses.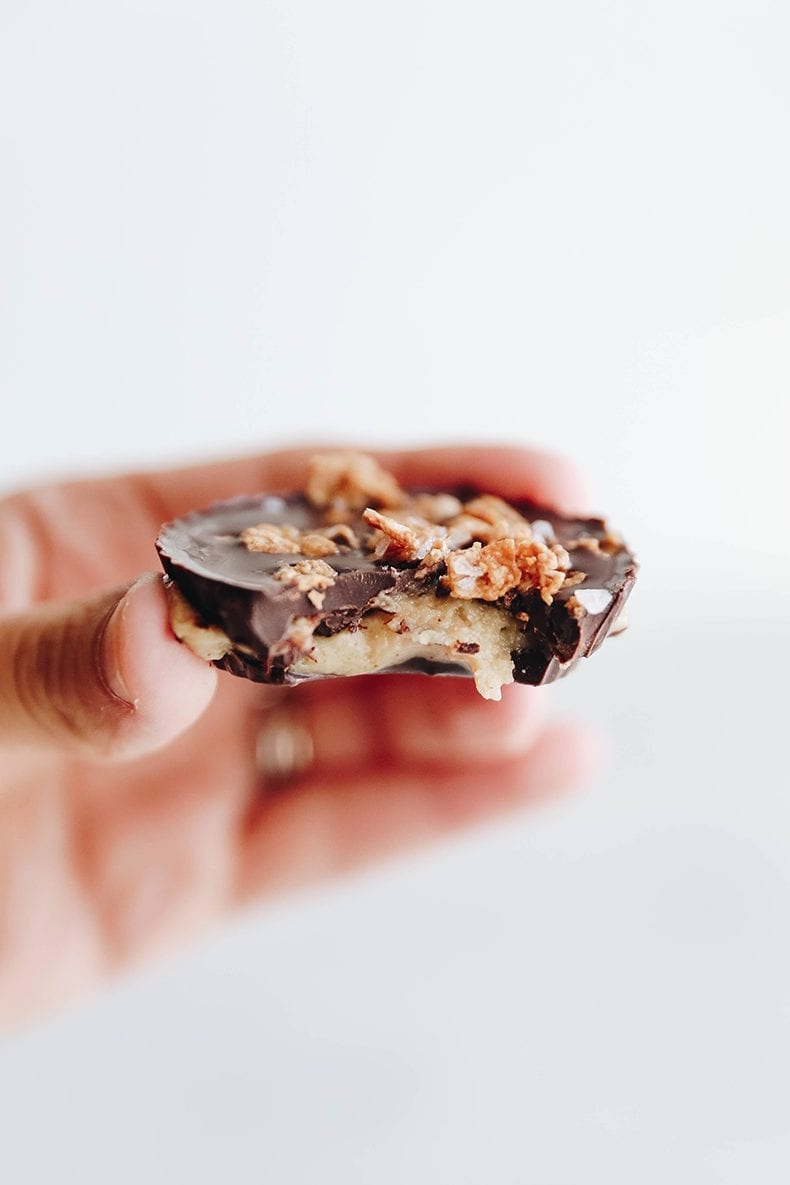 But first, let's discuss the inception story. It began at one of the 214871374 times Jess and I were hanging out discussing our very precise cravings and I was describing to her how I really wanted a "honey butter cup", aka bite into some chocolate and out pours honey.
I consume more honey than the average person. As Beekeeper's Naturals #1 fan girl I propolis have at least 3 different types of honey products on a daily basis. From their CBD honey, to their propolis to their Bee Powered blend, I think it's save to say my life runs on honey. So I thought a chocolate + honey combo would be a great idea.
For the record, it is, but since Jess' palate is more evolved than mine she suggested we add some nut butter in there to cut some of the sweetness. We both like sweets, but nothing too sweet and I totally trusted her on this decision.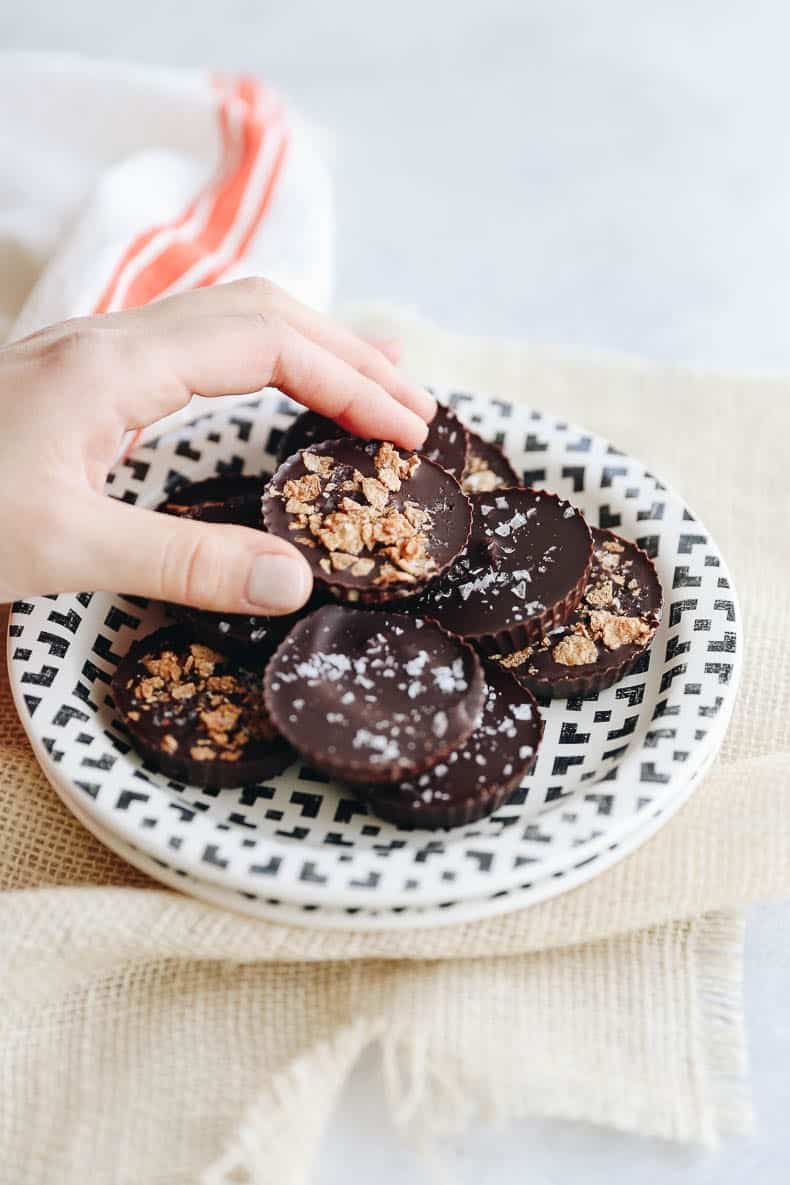 In the end she experimented with both coconut butter and tahini because we didn't want the usual peanut butter or almond butter (not that there's anything wrong with that!) and while both were amazing, the Tahini Butter Cups came out on top for me. Just even dropped off a bunch of flavors with me to try and in the end the combo of the tahini with the honey candied cereal on top totally blew my mind. And C's mind too…we're fighting over the leftovers!
I think this recipe makes a perfect final recipe for 2018. Whatever combo you decide to go for, take your time to savor it and enjoy it with good company!
Print
Tahini Butter Cups with Honey Candied Cereal
For the candied cereal:
½ cup

cereal (use your preference but bran/corn flakes work well)

2 tsp

honey (we love Beekeeper's Naturals)
Instructions
Combine the tahini and honey in a small bowl and set aside. It will thicken as you stir it, don't worry.

Place the chocolate in a medium heat proof bowl set over a small pot of simmering water and melt the chocolate. You can also melt the chocolate in the microwave, stirring every 15 seconds.

While the chocolate is melting, arrange 10 silicone baking cups on a small plate or tray. Spoon 2 tsp of melted chocolate into each cup. Place in the fridge to set for 10 minutes.

Spoon 1 tsp of the tahini honey mixture into each cup and make sure it's in the center of the chocolate. Place in the fridge for 10 minutes.

Spoon 2 tsp of melted chocolate on top of the tahini and sprinkle with sea salt (or honey candied cereal). Place in the fridge until fully set, 15-20 min.

Pop out of the silicone molds and enjoy!
For the candied cereal:
combine the cereal and honey together in a bowl until cereal incorporated into honey
*Can also sub coconut butter (softened) in place of tahini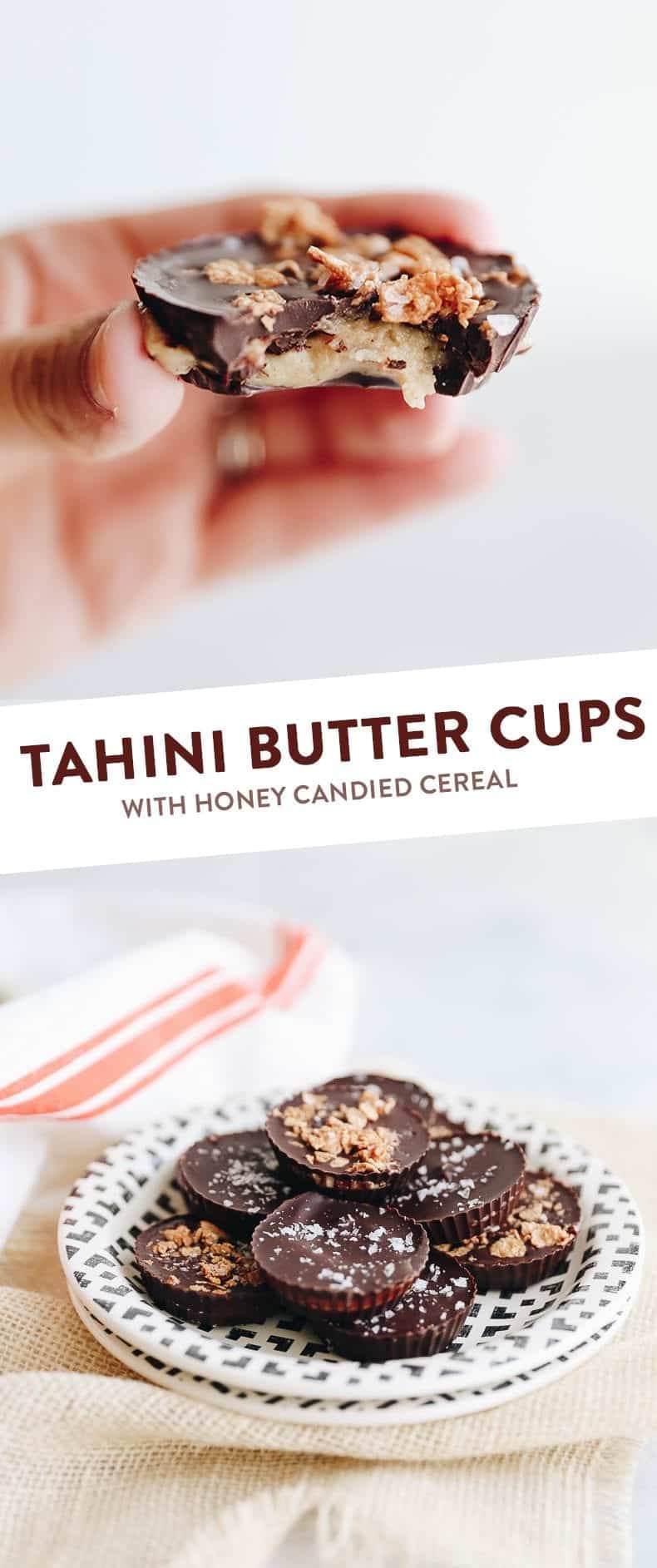 JOIN THE THM NEWSLETTER
Join 20,000+ members of the THM Community to get access to exclusive recipes, healthy lifestyle tips and behind-the-scenes news from our team!