These Tandoori Chicken Kebabs are packed full of flavour but lightened-up with greek yogurt and a zesty spice blend. They're super easy to make with the only challenge being the wait while they marinate! Perfect for a weeknight dinner or weekend BBQ recipe.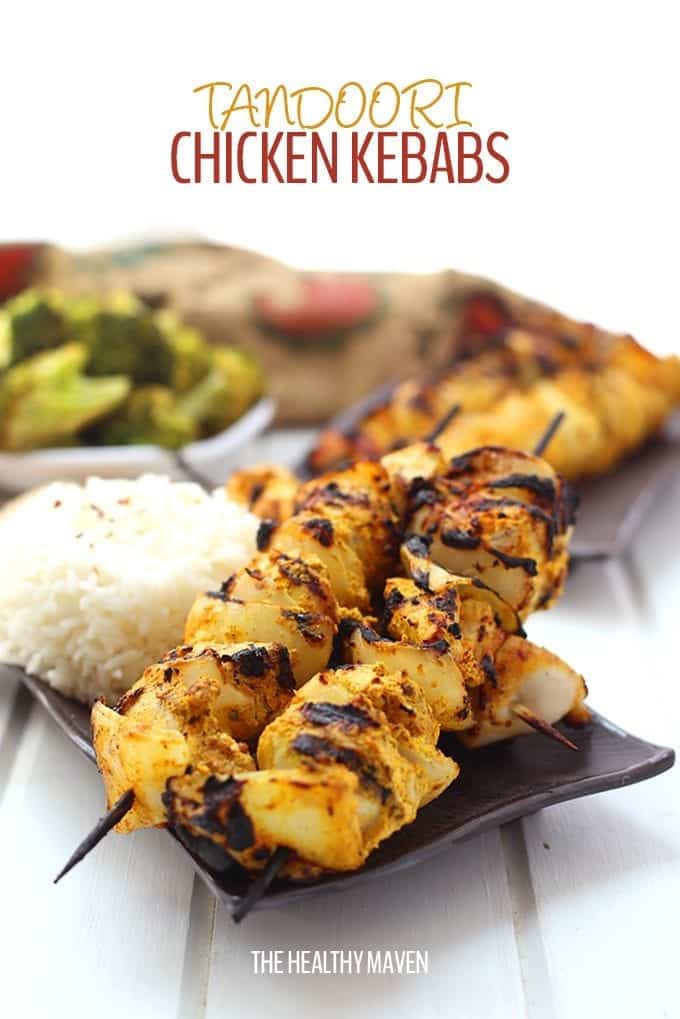 If my last post didn't make it totally obvious, I really really love meeting my fellow bloggers. Whether it's through events, blog consulting or through blogger tinder (aka online), part of the job description is getting in "facetime" with my fellow bloggers. Of course I don't mean facetime in the literal sense since most of my blogging friends and colleagues live outside of Toronto, but I still have some kind of engagement with bloggers every single day.
As in any workplace, you have the suck-ups and the sell-outs (sorry but it's true…) and of course the occasional, you-spent-most-of-your-childhood-in-the-penalty-box-competitive colleagues. But most of the time bloggers are incredibly supportive and encouraging.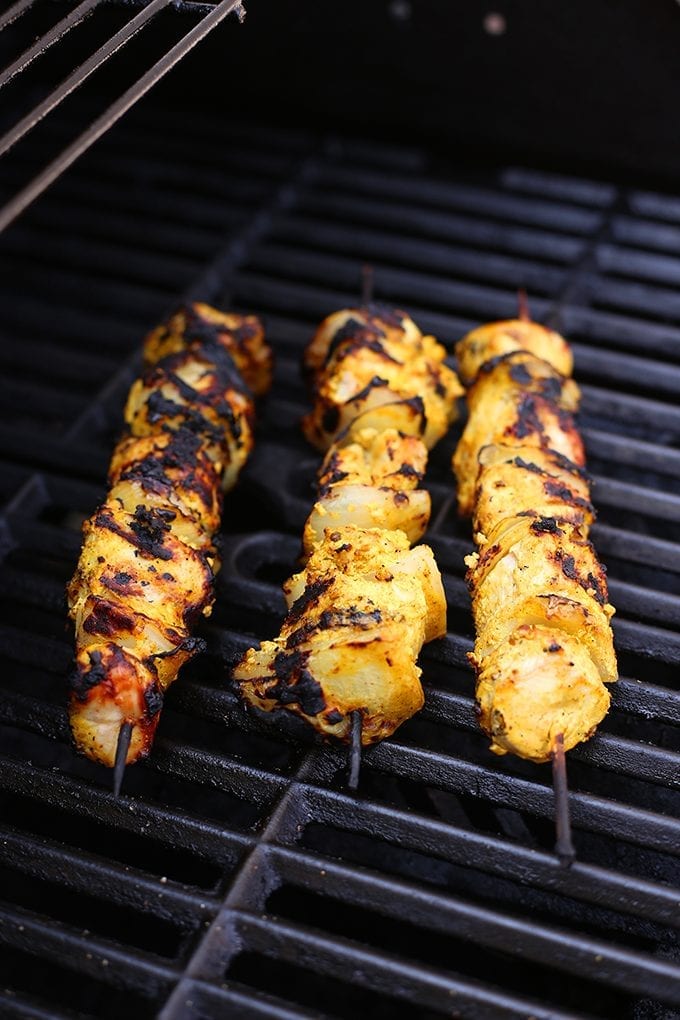 I couldn't help but be reminded of this after this past weekend while hanging out with Nikky and Katie. Besides being total gems, we all agree that blogging needs to be a place of collaboration and not competition. It's about supporting each other in our endeavours, even when these activities might overlap.
While there is quite a bit of overlap between our projects and brands, there's also a lot that sets us apart. My focus is on blogging, Nikky's is on youtube and Katie is a podcasting all-star. We also share a focus on health and wellness, but our interpretation of what it means to lead a healthy lifestyle isn't always the same.
And you know what? That's awesome.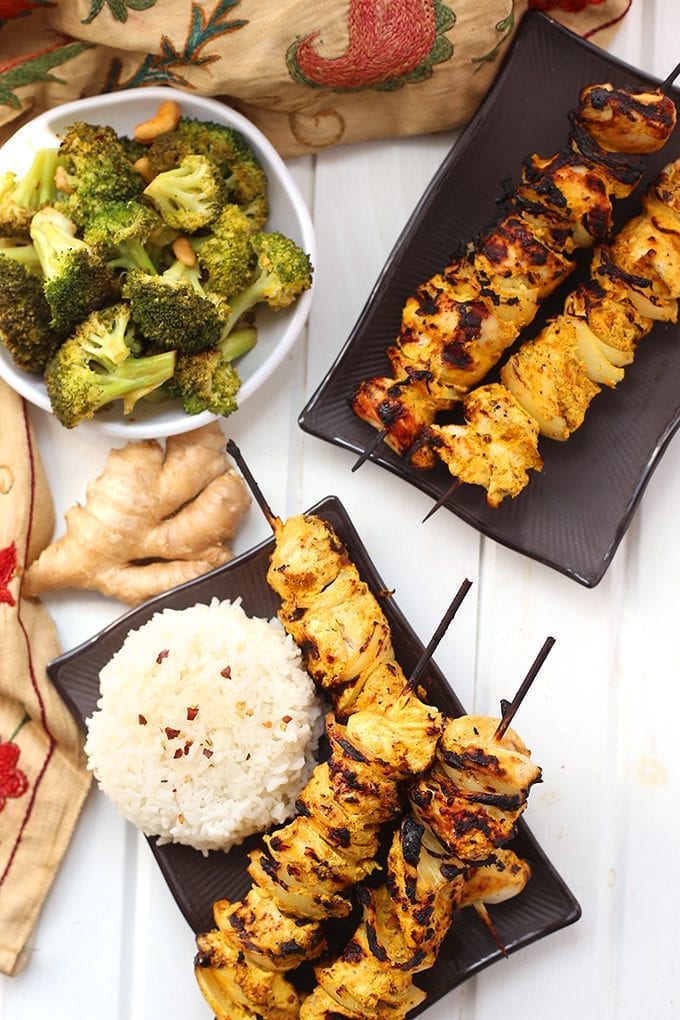 After a day of filming, we sat down for a lovely meal at Fresh, a vegetarian restaurant in Toronto. I am always ALWAYS happy to go to Fresh, but we got on the topic of vegetarian/veganism and naturally I was the carnivore of the group. Both Katie and Nikky eat meat but it's not something that they crave all the time. I, on the other hand crave meat every.single.day. I would never argue that my diet is any healthier than Nikky's or Katie's nor would they they ever harp on me for my bacon consumption.
I support them in however they define health, just like I do in their blogging/online adventures. I know they feel the same way. At the end of the day we're all trying to achieve the same goal here, which is to help others find a little more balance for both body and soul.
So maybe some of you would never consider these Tandoori Chicken Kebabs healthy, or maybe dairy isn't part of your diet. At the end of the day, it really doesn't matter. If at the very least I inspire you to grocery shop and get in your kitchen, then I'm happy! We've got way bigger fish to bake (or fry…whatever frosts your gluten-free cake!) than to be trying to tear each other down.
That is all.
Print
Tandoori Chicken Kebabs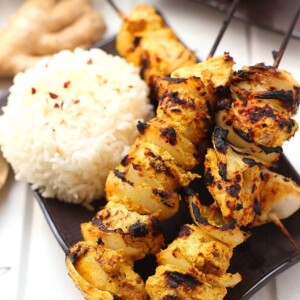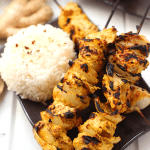 Prep Time:

3 hours

Cook Time:

10 minutes

Total Time:

3 hours 10 minutes

Yield:

5

kebabs

1

x
Scale
Ingredients
2

large, organic boneless, skinless chicken breasts, cut into bite-sized pieces.

1

large yellow onion, cut into chunks

1 cup

plain 0% Greek yogurt

2

garlic cloves, minced
juice, 1 lemon

2 tsp

freshly grated ginger

1 tsp

garam masala

1 tsp

ground coriander

1 tsp

paprika

1/2 tsp

turmeric

3/4 tsp

ground cumin

1/2 tsp

sea salt

1/4 tsp

cayenne pepper

5

wood or metal skewers
Instructions
If using wooden skewers soak in water for at least 20 minutes. Skip this step if using metal skewers.
In a large bowl combine greek yogurt, garlic, lemon juice, ginger and all spices.
Thread the chicken onto the skewers, alternating with chunks of onion. Each kebab will fit 5-6 pieces of chicken + onion. Do not overcrowd.
Place kebabs in a large ziplock bag or large tray and coat well with marinade.
Let marinate in fridge for at least 3 hours (longer is even better).
When ready to cook, heat your grill to medium-high heat and spray with non-stick spray.
Place kebabs directly on grill and cook for 10-12 minutes (time will vary between BBQs), turning occasionally to cook all sides.
Let sit for 5 minutes before serving.
Would you consider yourself competitive? Are you a big meat-eater like me?
JOIN THE THM NEWSLETTER
Join 10,000+ members of the THM Community to get access to exclusive recipes, healthy lifestyle tips and behind-the-scenes news from our team!