If you are scared of putting oil on your skin… I get it. There were far too many years that we were told that oil clogs your pores and putting oil on your skin = acne. Considering I use a face oil every day and my skin has never looked better, I think we can all agree that oil can be great for your skin! In fact, facial oils may actually be the antidote to your acne-prone skin!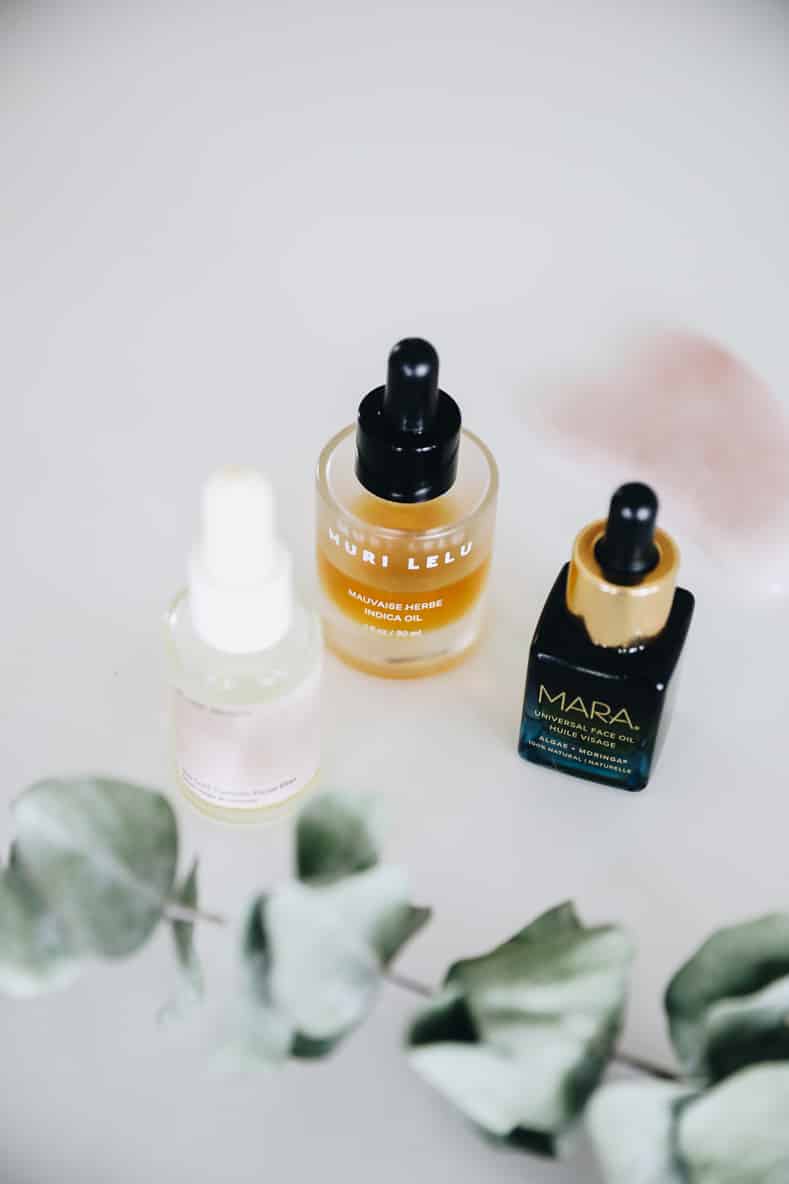 What Are Facial Oils?
Facial oil is an umbrella term that covers a wide variety of products that moisturize your skin. It could be referring to essential oil-focused products, synthetic oils or plant-based oils. There are single oil products or oil blends. Depending on your skin type and needs, there are different options for you!
While they are called facial oils they can actually be used on any part of your skin! Facial oils are amazing if you have dry or dehydrated skin or just want a nourishing boost for your skin.
How to Use a Facial Oil
Think of a facial oil like a moisturizer. It's the last step in your skincare routine… unless you're using a facial oil and a moisturizer in which case the moisturizer goes on last to lock everything in. I like to add 5-10 drops of facial oil (or a few pumps!) to my fingertips and then gently massage the oil onto my skin.
What's the Difference Between a Facial Oil and a Moisturizer?
Both facial oils and moisturizers are here to hydrate the skin! Facial oils are… you guessed it: just oils. Moisturizers are typically water-based and contain more ingredients.  Generally, moisturizers require some kind of emollient because water + oils don't mix. Facial oils are a more pure version because they don't contain water. I believe both serve a purpose and use both in my skincare routine!
I find oils to be more nourishing and moisturizing so I depend on them when my skin is dryer. I like using a moisturizer when my skin doesn't need as much moisture (like in the humid summer months in MN!). I typically apply my facial oil at night and a moisturizer in the morning.
The Best Single Oils for Your Face
Below, I'm sharing my favorite oil blends but I wanted to share these single oil options as well! They are typically cheaper and can be found in almost all health food stores. Make sure you're buying high quality products – look for cold-pressed and organic where possible.
Pure Rosehip Seed Oil – is great for redness and scarring.
Grapeseed Oil – is great for dry, acne-prone skin. (My personal favorite!)
Squalane Oil – great for oily skin. which people with oily skin tend to love.