Now that we've explored why sustainable fashion matters, I thought we'd jump into some of the top sustainable clothing brands and how to be stylish while doing good by the planet. As a reminder, ethical clothing tends to be more expensive, but for good reason! Using sustainable materials, green energy and paying fair wages is worth the investment (IMO) and hopefully you can also see clothing as an investment to have for a long time rather than cheap clothing to keep up with the trends.
I'm also sharing some of my favorite sustainable workout brands and clothing because we all know I live in leggings…Let's jump in.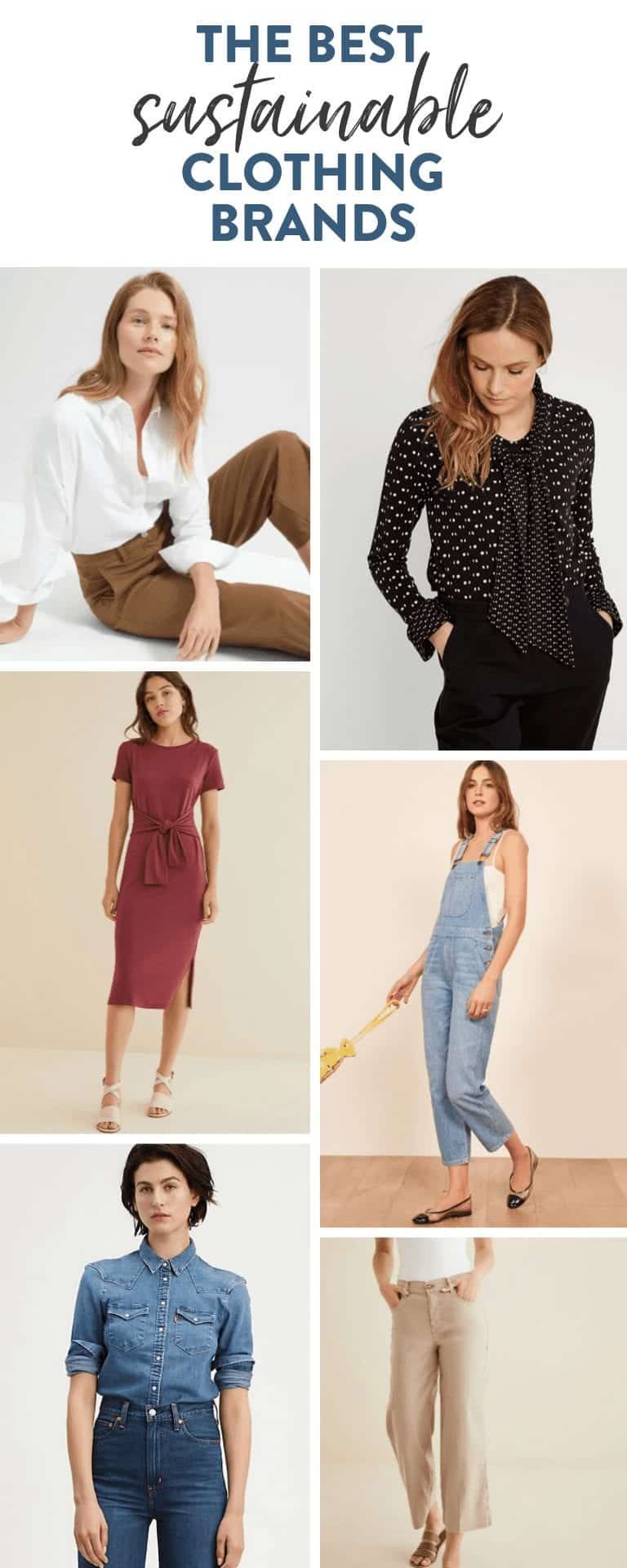 The Best Sustainable Clothing Brands
Reformation –You can't talk sustainable clothing without mentioning Reformation. Reformation can be pricey but follows a slow fashion policy of making clothing items that will last. I can attest to this as many of my major clothing purchases over the last few years have been from reformation. Not only this but they provide a sustainability "RefScale" on every product to track the amount of carbon dioxide, water and waste generated through production and how this compares to traditional manufacturing in the US. They also provide a sustainability report every year to track their own measures.
[show_boutique_widget id="875449″]
PACT – If you need some high quality basics, you need to check out PACT! They make the comfiest cotton clothing using organic cotton from a fair trade factory with zero harmful chemicals. Their goal is to help you shop more consciously and offer ways to recycle or reuse old clothing and towels. Pretty cool huh? They want to make sustainability affordable to all and I think they're doing a pretty great job so far!
[show_boutique_widget id="875390″]
People Tree – People Tree's sustainable fashion mission started before I was born. ? That's how you know they're the real deal! They've stayed true to their roots for three generations and have a clear mission and environmental responsibility they stand by.
[show_boutique_widget id="875395″]
Amour Vert – Their name means "green love" in french. With every tee purchase, they plant a tree. Their gorgeous pieces are made in limited quantities to make sure their production standards are being met and to eliminate waste. If "trendy staples" are a thing, they're nailing it. Most of their products are made within a few miles of the SF office which obviously makes them a special brand to me!
[show_boutique_widget id="875400″]
Levi's – Levi's has done a lot in the last several years to up its sustainability practices. Denim is one of the most polluting textiles because unless you're buying raw denim, most needs to be "finished" which uses an incredibly water-intensive practice. Levi's has committed to using its Water<less technology to reduce denim water use by up to 96%. Currently 70% of their denim is made this way with goals of reaching 80% by next year.
[show_boutique_widget id="875401″]
Everlane – Everlane is interesting as it doesn't explicitly indicate being more sustainable, but they are 100% transparent about their supply chain. They would be considered a "slow fashion" brand as many of their items are made to last and aren't produced at a rapid pace to meet changing trends. They did recently release a line of outerwear using post-consumer recycled polyester, however their focus tends to be more on ethical wages and working conditions, which is of course, a start.
[show_boutique_widget id="874929″]
Other great brands to check out: ABLE, Sézane and Vetta Capsule
The Best Sustainable Workout Clothes
PrAna – I always been a big fan of PrAna but when I learned about the values behind the company I loved them even more. "Ethically-made clothing should be the standard in the apparel industry." Can I get an amen?! They think about how their actions are impacting others involved and the world in general. They use organic cotton, recycled wool and responsible down in their garments. shop
Patagonia – Patagonia is such a thoughtful company. If you've never read stories or watched any interviews with their founder, you need to. They take their social responsibility and environmental impact seriously – always assessing their factories, the fabrics/materials, and the methods used to make their products. shop
Manduka's Eko® line – While I wish all of their products were eco-conscious, I'm still celebrating the fact that they offer some products! Their eko® line consists of a few yoga mats and yoga apparel made from recycled material. The yoga mats are made from sustainably harvest tree rubber and non-toxic (did you know most yoga mats are toxic?!). The eko® apparel is made from recycled polyester and organic cotton. Way to go Manduka, keep it coming! shop
Outdoor Voices – Outdoor Voices feels like the trendy new adventure-wear company on the scene. But they have a mission and values to back up their trendiness! They create products and run their business with their environmental impact in mind. shop
Athleta – Are you surprised to see Athleta on the list? "It's about doing the right thing, especially when it's hard. Athleta is actually a certified B Corp so while sustainability isn't the center of their mission, they are using sustainable fabrics, being conscious of their water use during production, and are reducing their waste. shop
Girlfriend Collective – About as sustainable as they come! Their clothing is made from recycled materials including post-consumer recyled water bottles, fishing nets and recycled spandex. They also use eco-friendly dyes and are fair-trade produced. shop
These are just a few of my favorite sustainable clothing brands. There are many others and many smaller, local sustainable brands that are definitely worth supporting. If ethical fashion is not in the cards for you right now, try shopping used! Wearing second-hand clothing is an amazing sustainable choice and bonus points if you can repurchase an ethical clothing brand- it's possible!
Some great online second-hand shopping:
Both ThredUp and Poshmark are great options for online second-hand shopping. If you're anything like me, thrift stores can be a bit overwhelming. These two sites allow you to search certain brands, clothing items, colors, sizes, etc. so you can quickly narrow down the products and find exactly what you've been looking for.
* * * * *
So there you have it! I hope this series has been helpful for you. As a reminder, this is not about perfection. Awareness is the first step. Don't go throwing out all of your clothing and Marie Kondo'ing your life (unless of course they don't spark joy!). Try reducing your clothing purchases and saving money to invest in sustainable pieces that will last. And of course, don't forgot to stop in local secondhand stores or browse some of the online options above. You can get some great finds that will both save you money and limit the amount of clothing that ends up in a landfill. Happy shopping!
WANT MORE HEALTHY LIVING TIPS? Join the THM Community!
Join 10,000+ members of the THM Community to get access to exclusive info about healthy living, products I'm loving and tips and tricks on making a healthy lifestyle easier and sustainable.