Originally the title of this post was "The Ceremony" but it felt way too reminiscent of The Handmaid's Tale…and I also realized there was so much more leading up to the ceremony that I should couldn't narrow it down. So buckle up because today's post is going to be one serious photo blast.
Last week I talked about The Welcome Dinner and how nice it was to have a chance to see all of our guests before the actual wedding day. That night C and I headed back to our apartment with Bo and actually managed to get a good night's sleep. C had some last minute errands to run first thing in the morning and I headed to the Ritz Carlton Residences (where my family was staying) to get ready.
I mentioned last week that we opted not to have a wedding party. I don't have some grand reason for this other than the fact that we just wanted things to be as simple as possible. I certainly have nothing against wedding parties and I would be honored to be asked to be in one, but the idea of trying to coordinate our friends and families just felt really overwhelming for me. Another thing we didn't do: a videographer. I knew having a photographer (or two!) was going to be plenty for us. The idea of being followed around by a videographer made me super anxious. Zero regrets on this one too! Plus Sierra crushed it on photography!
That being said, I did ask my friends and family to get ready with me that day. It was mostly me and a few others getting their hair and makeup done, but really just an opportunity to eat delicious food, drink mimosas and hang out. These are some of my favorite memories from our wedding day. Also thank you to Erica for going out of your way to pick up fresh bread from The Mill that morning. You get me.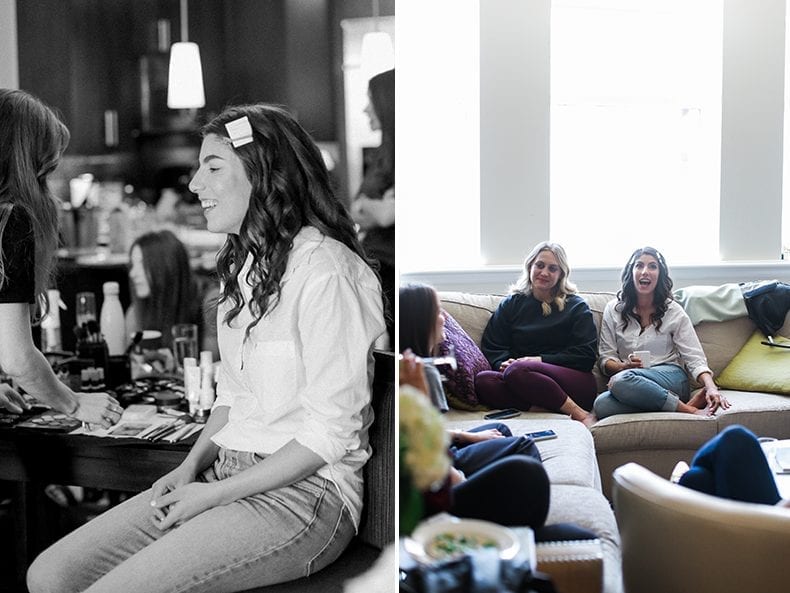 Hair and Makeup arrived shortly after and I was so thankful for Sarah and Nikol's calming energy and go-with-the-flow attitudes. They also did an incredible job! From there my Mom helped me put on my dress and then we took a few pictures before heading out for the first look.
Some highlights of the morning: my 5 year old niece watching intently as Nikol did my makeup. Mama Maven and every single one of my friends attempting to open a magnum of champagne. Being hand-fed fresh cherries from Bi-Rite (basically a dream come true LOL).
My favorite moments was giving my Mom and Mother-In-Law a special present I had made for them. They both love tea so I worked with Yerba Buena Tea Company to build a custom tea blend for them mixing their favorite flavors and some much-deserved relaxation herbs. We called it the "maven" tea blend since all my maven wisdom 100% comes from them. I ordered a few extra for me and I've been drinking a cup of Maven tea every morning 🙂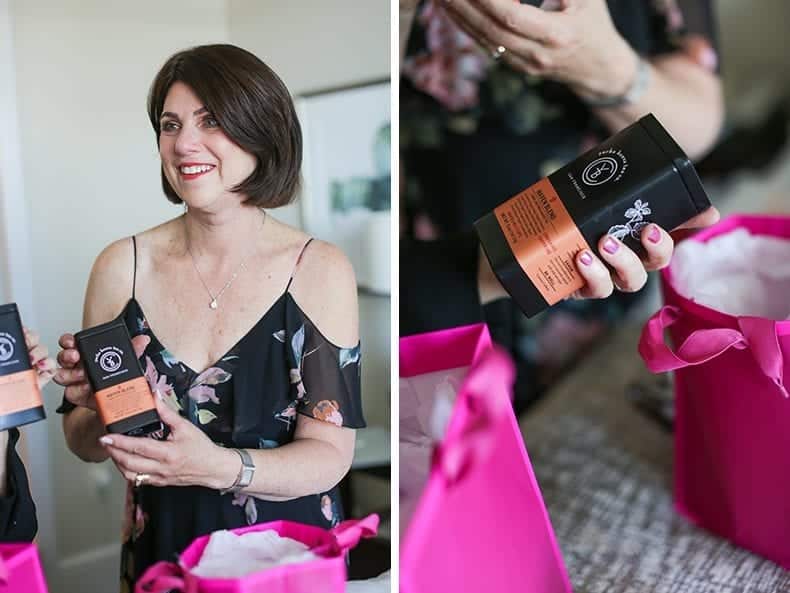 And then we were off to the first look!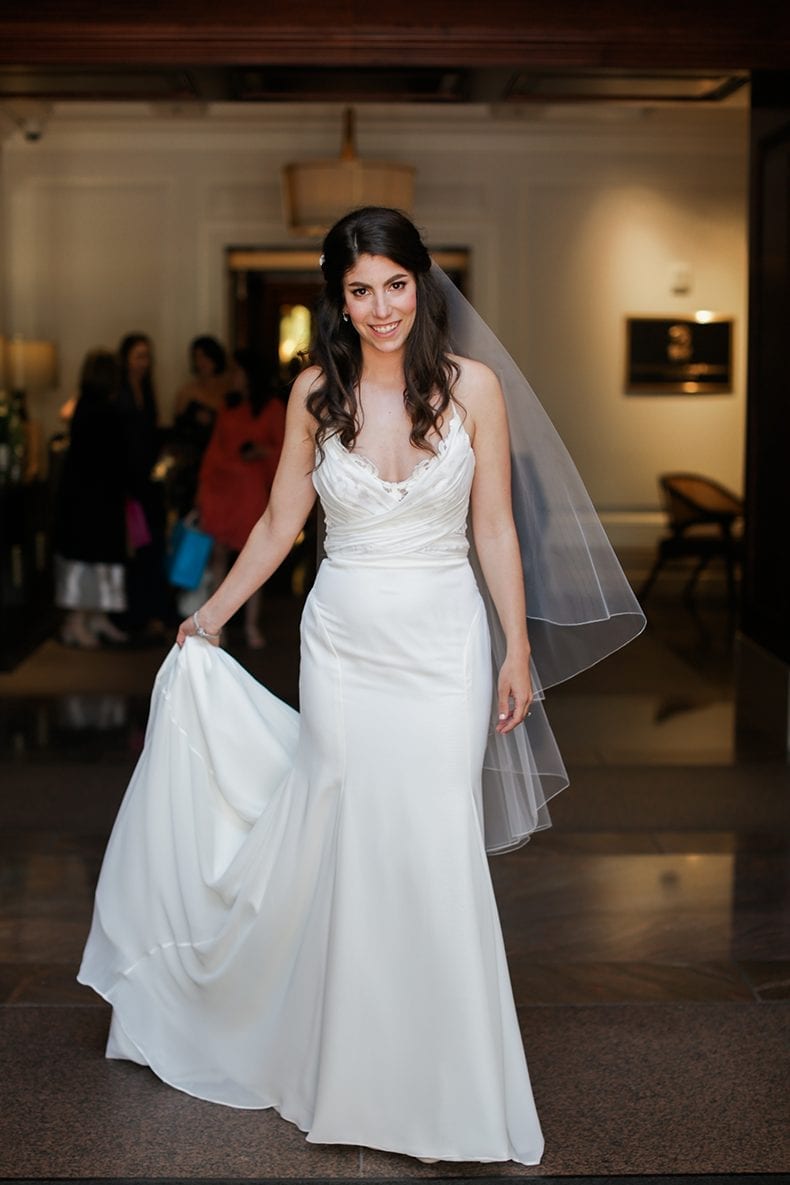 Meanwhile back at our apartment C was "getting ready" with his friends and family. I say "getting ready" because I'm pretty sure they were just taking shots of whiskey and C watched YouTube videos to figure out how to tie his bowtie. C has way too many suits that he's barely worn since moving out to the Bay Area (the land of polos and hoodies) so instead of buying a new suit he wore one of his old custom suits. I wanted him to feel like his outfit was "him" so he did it up in a way that felt comfortable for him. Of course that meant a bowtie (the man loves a bowtie) and pocket square but he also wore a pin in memory of his Dad. His Mom and sister also wore pins, each signifying a milestone for his 35+ years working at the VA. It was a beautiful way to honor his memory.
Since we were getting ready in the Presidio we decided to do our first look pictures in Lover's Lane. The pathway got it's name because it was where soldiers in the 18th century would walk toward the sunnier mission to see their loved ones. It felt fitting!
At this point I was just so excited to see C (and Bodhi!). It was such a relief to know that this point forward we would spend the day together. We probably spent about 20 minutes there taking pictures alone, together and with Bodhi. I'm obsessed with how these photos turned out!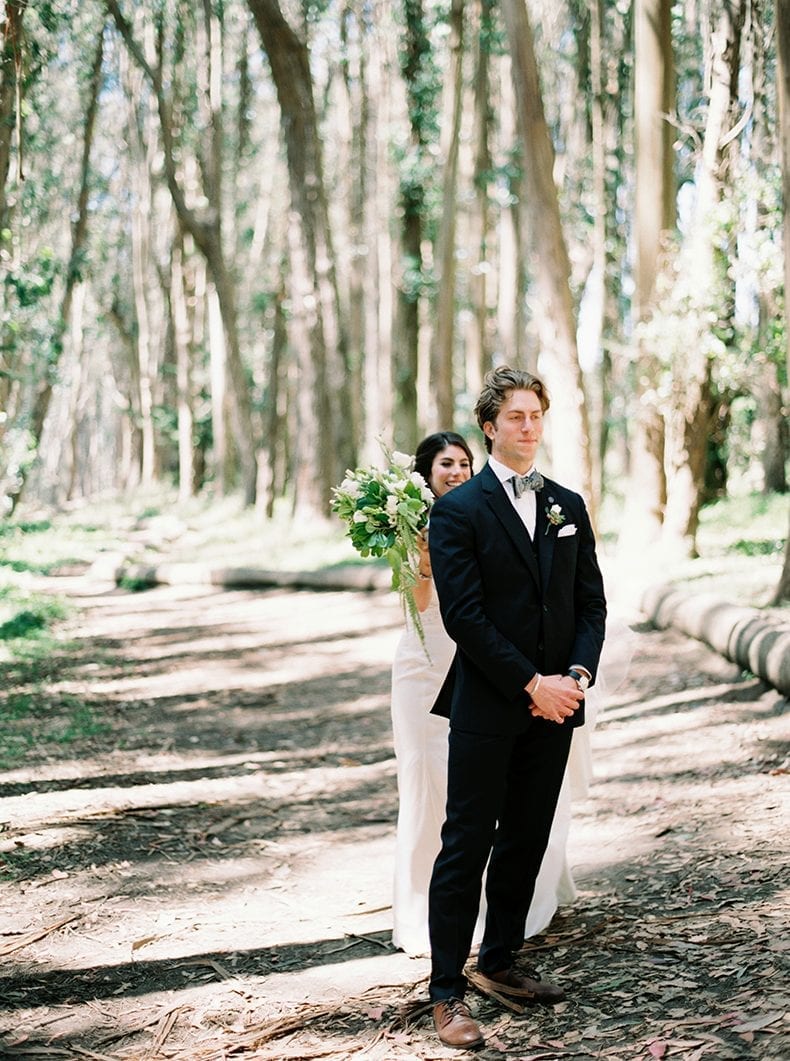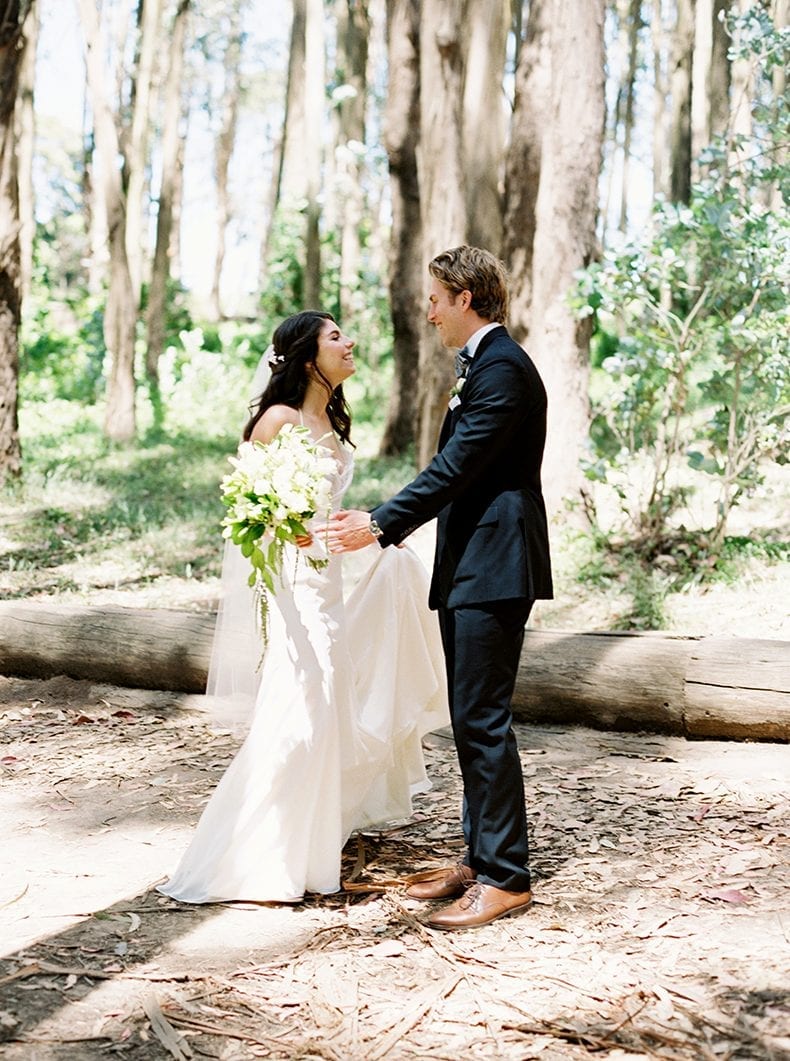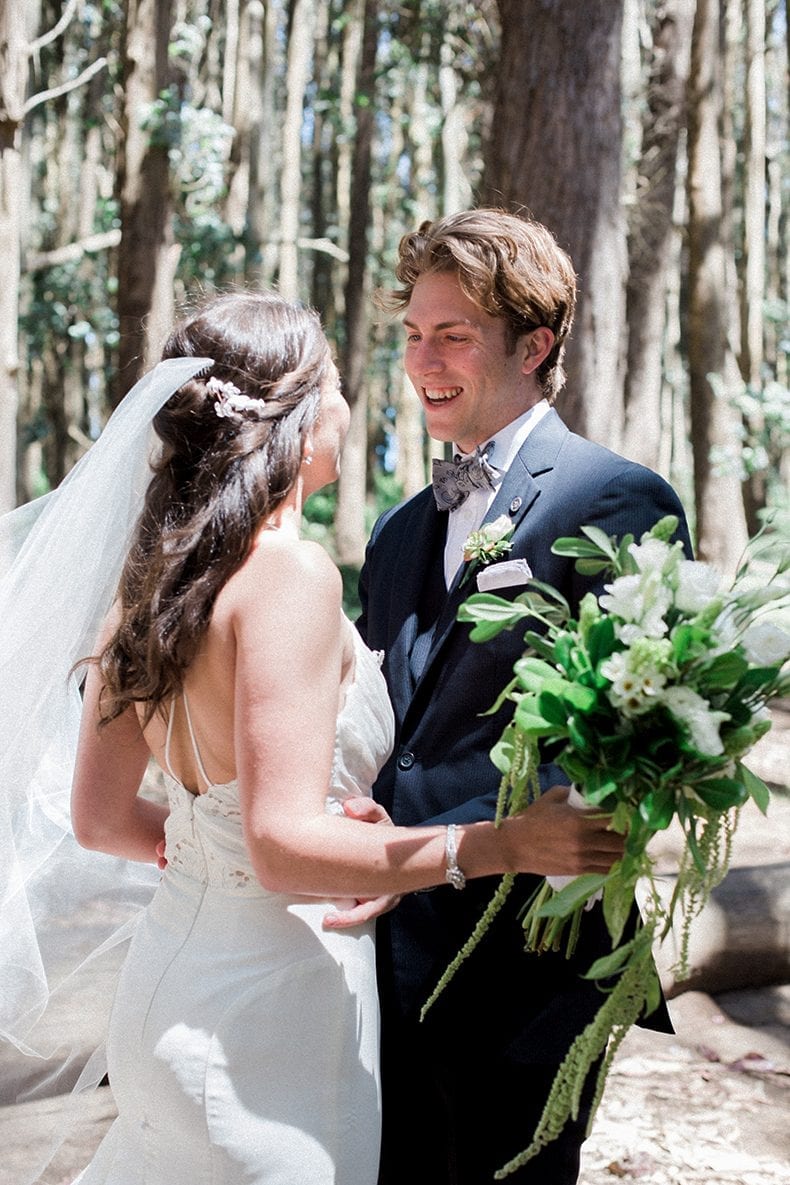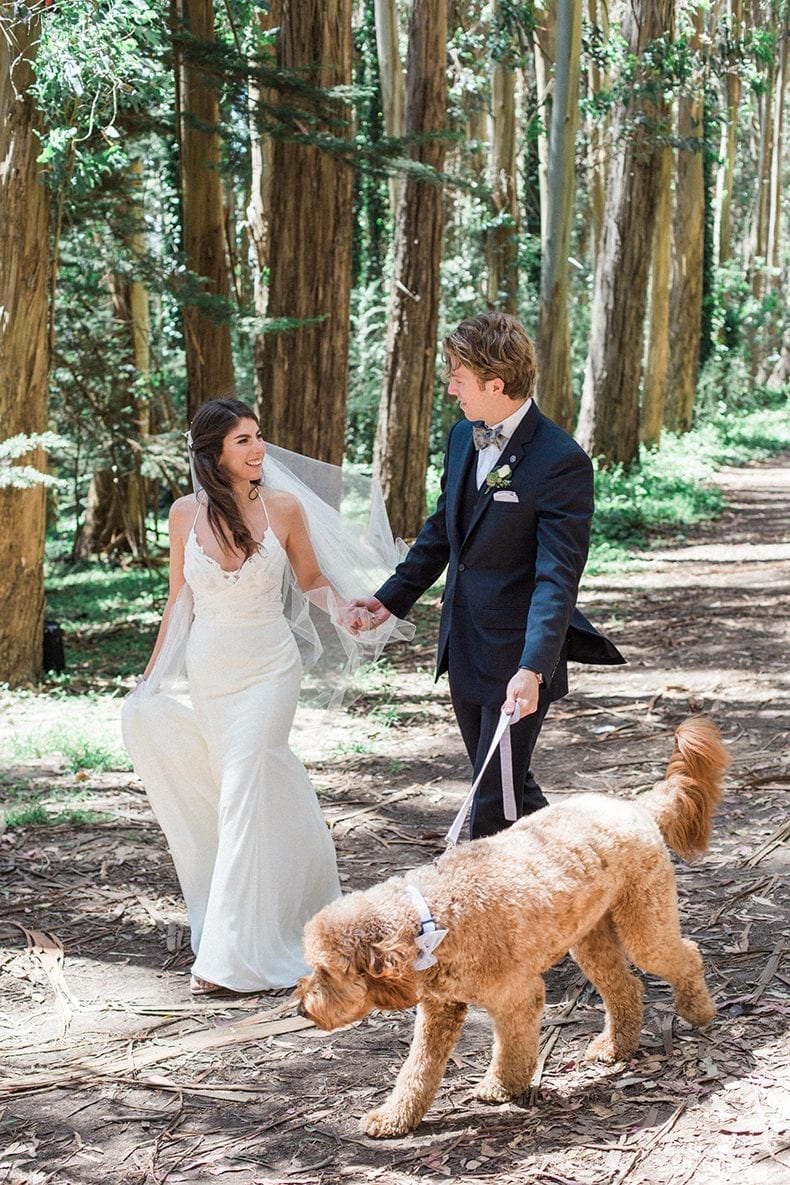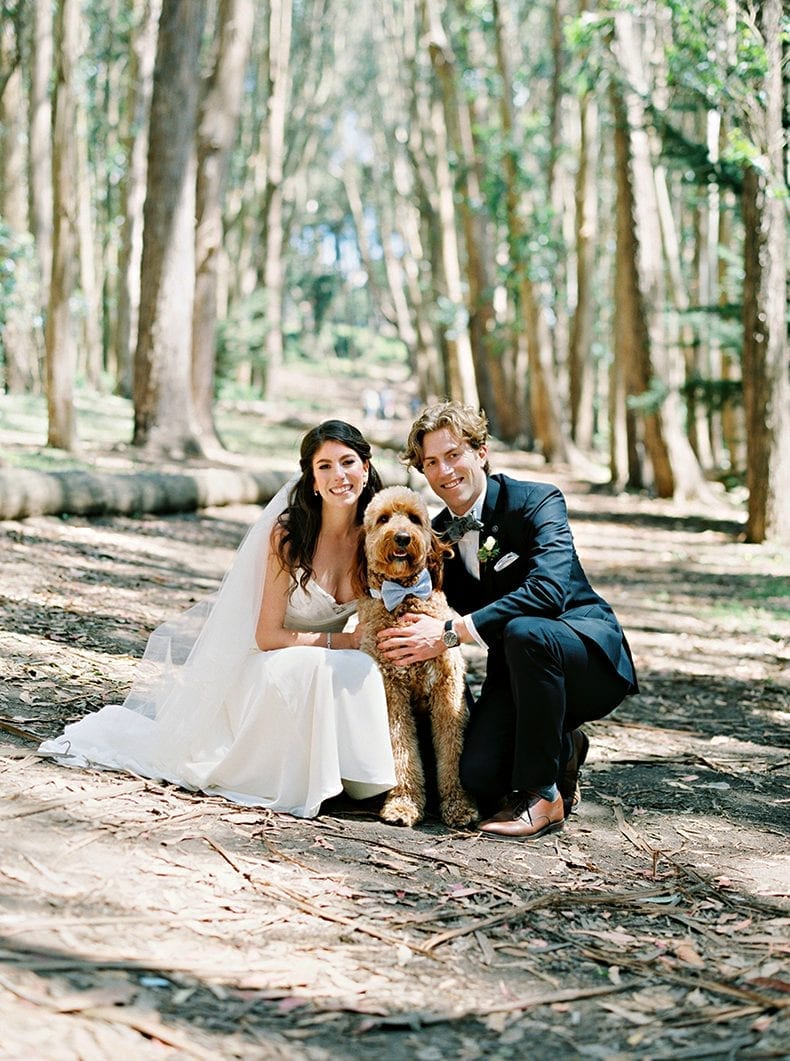 From there we headed to our venue, The Presidio Golf Course Clubhouse for family photos and preparing for our ceremony. I'm not gonna glaze over this part, at this point I was FREEZING. We actually got pretty lucky SF weather-wise and the temperature was in the low 60s but the winds were insane and standing outside in a dress was chilling me to the bone. I ended up sitting in a room, shivering while drinking tea just to try to warm up. The winds ended up playing quite a significant role in our ceremony…but more on that later!
As most of you know, I am Jewish and C is not. C did not grow up with any religious beliefs but it was important to us that we acknowledge my background and Jewish traditions. We chose to be married by a rabbi and worked with her to incorporate elements that felt like us but also worked in elements of a jewish ceremony.
Part of a Jewish wedding ceremony is the signing of the Ketubah (Jewish marriage license). Typically the groom has what's called a Tisch and the bride has what's called a Bedeken. C *kind of* had a Tisch back at our apartment (the boys typically drink and sing and are rowdy) and the Bedeken is an opportunity for the women in the brides life to greet her and give words of wisdom and love.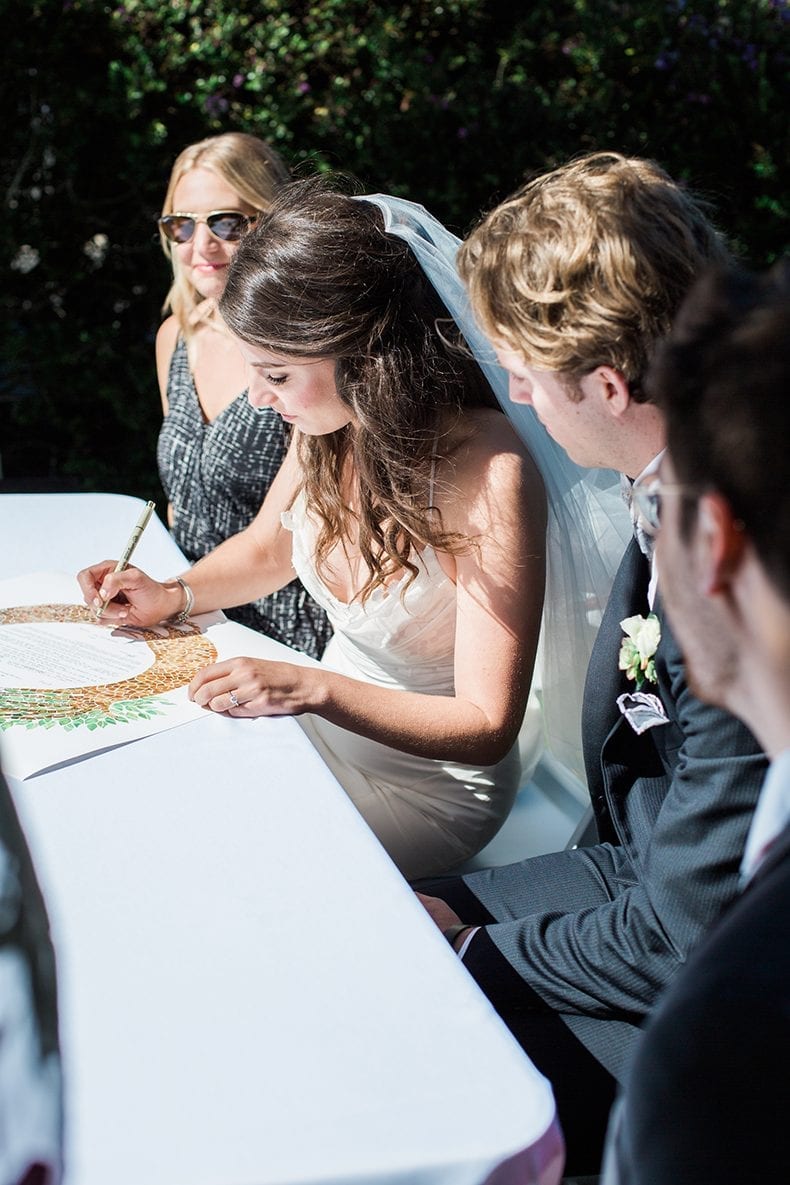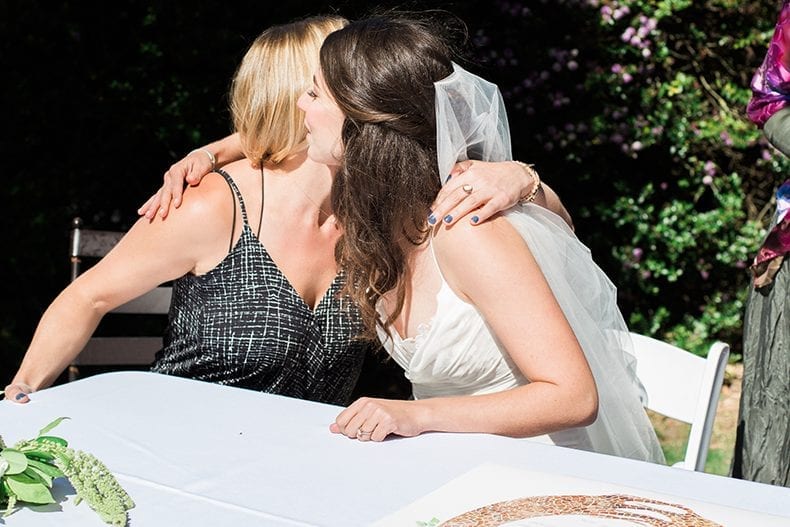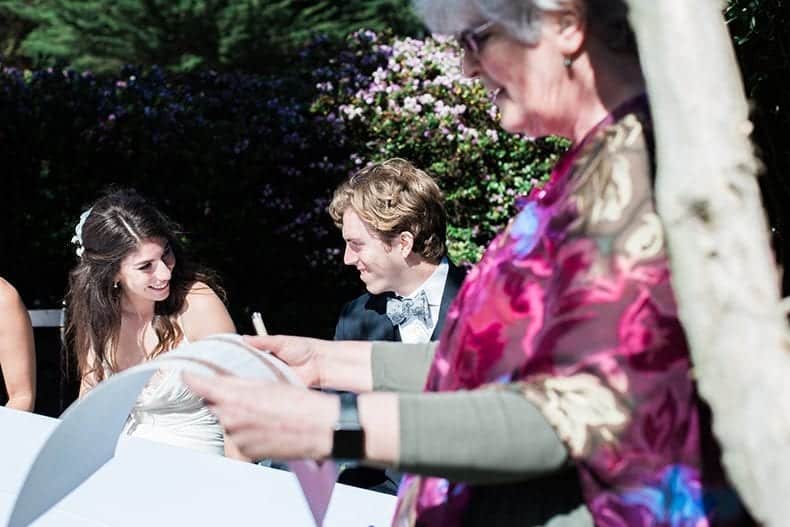 We called our Ketubah signing a Bedeken because we wanted to acknowledge a small group of people who have played very important roles in our lives and in our relationships. You also pick two people to sign your Ketubah. These are two people who you want to have in your lives for the remainder of your relationship and will help you uphold the vows in your Ketubah. My person was Lee and C's was his childhood friend Jake.
After this we had a very small and private veiling of the bride and prepared for our civil ceremony.
This is where things got fun…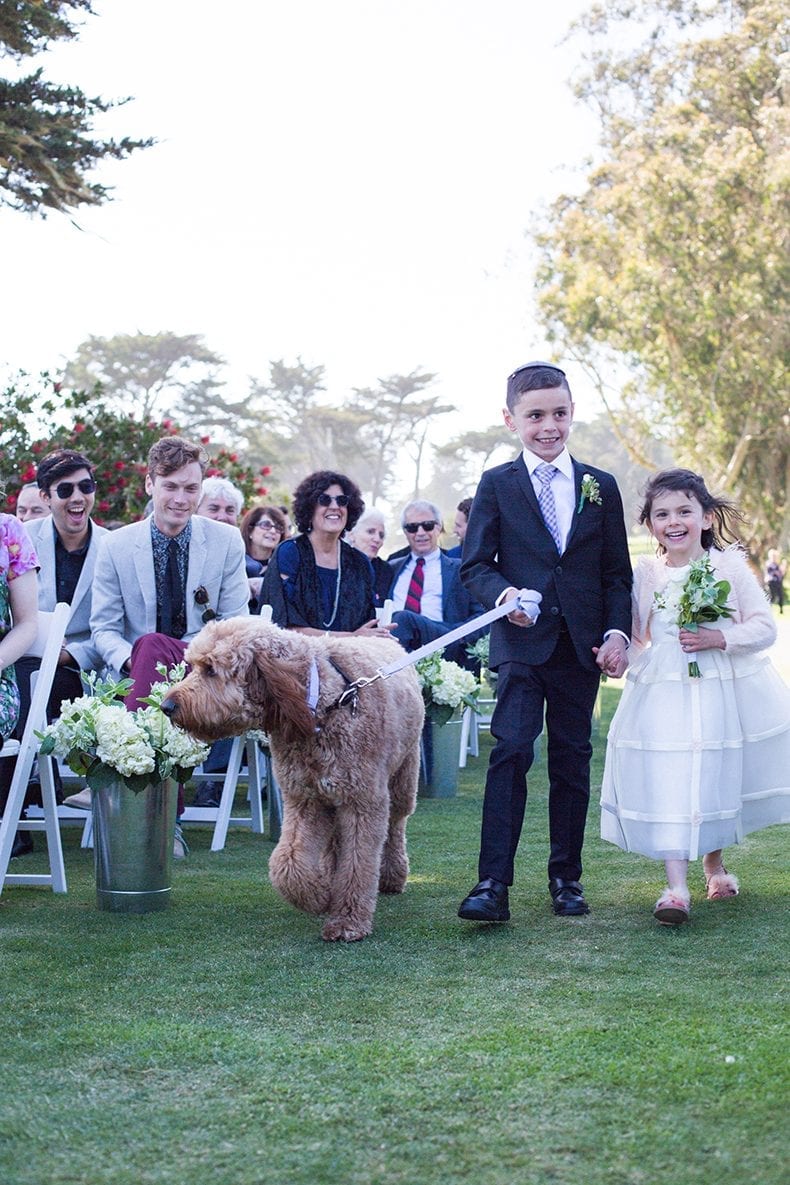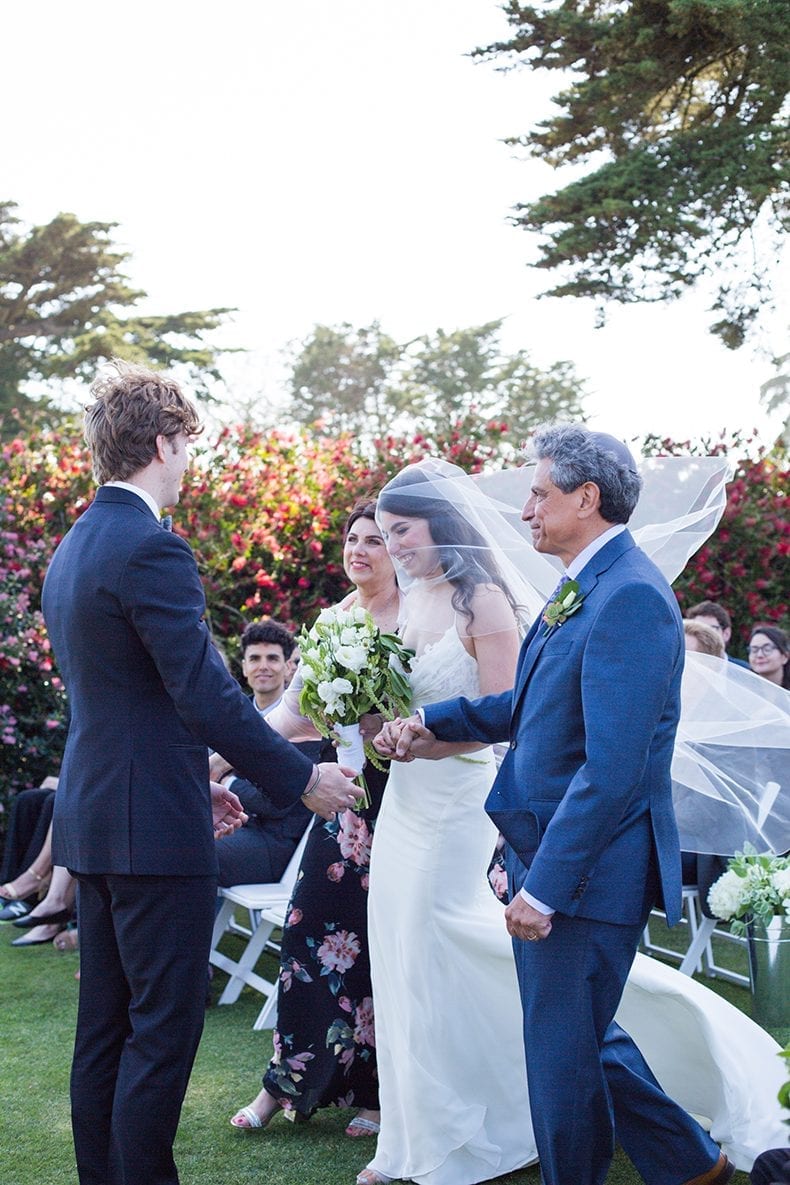 So before the wedding everyone had warned me that things would go wrong and not to sweat the small stuff. The minor disasters would one day make for great stories and they were definitely right about that! Our ceremony was perfectly imperfect in every way. It was kind of a mess, but so are we! It most definitely made for great stories.
First off, the winds were insane. I think I was pulling hair out of my mouth every 5 seconds! I also tripped going down the aisle TWICE (nothing major but still…thank you Dad for coming to save me). I was so freezing standing up there that I made C take his jacket off and proceeded to wear it for the rest of the ceremony. Our ketubah went flying. My vail flew off my head at the end.
BUT it was also so so beautiful.
I loved standing under a chuppah that C and his uncle made. I loved that it was covered with the Tallits (jewish prayer shawl) from the women of my family. I loved drinking the wine from the kiddush cup I was given when I was born. I loved that Bodhi and my niece and nephew walked down the aisle. I loved the music. I loved that we stood on a rug from C's parent's travels. I loved the vows we wrote together and the vows we wrote separately. I loved that the ceremony was so us. Not perfect and most definitely not according to plan but a real and deep reflection of who we are and our ability to roll with the punches.
And for the record, I was totally convinced I wasn't going to cry. I was wrong. The second I started saying my vows the flood works poured out of me.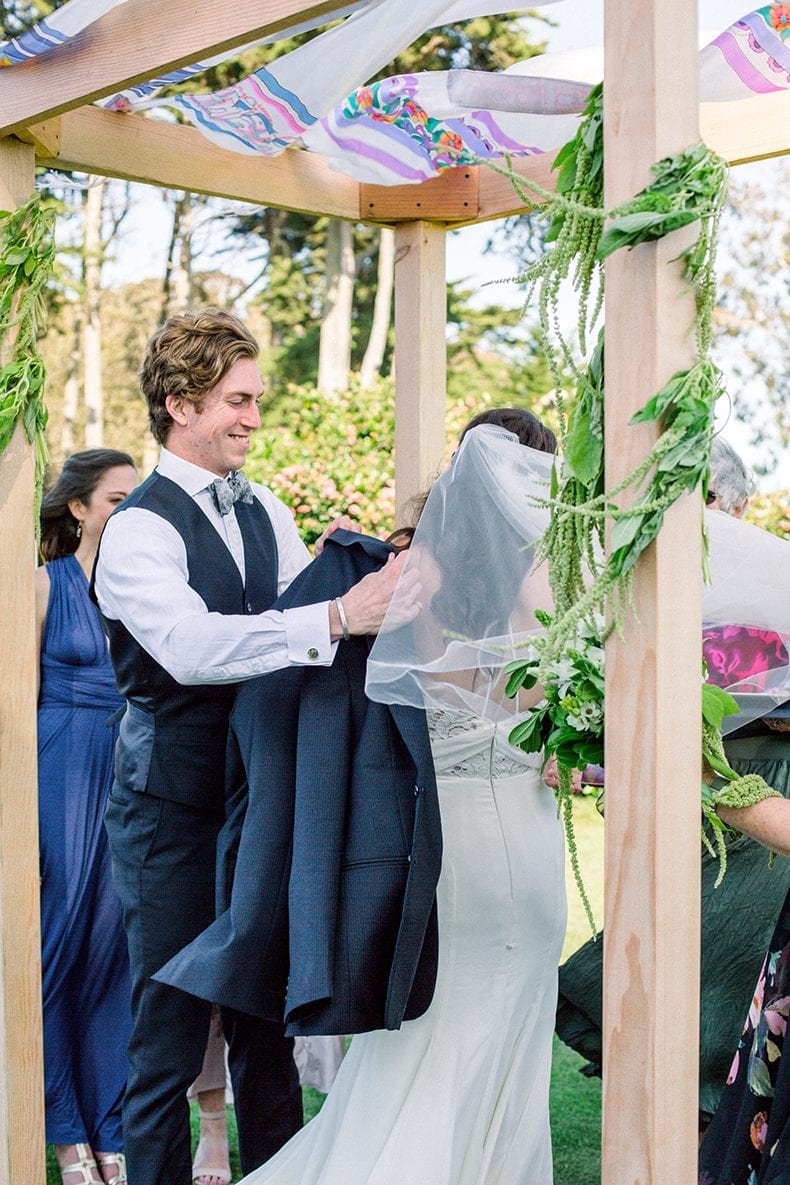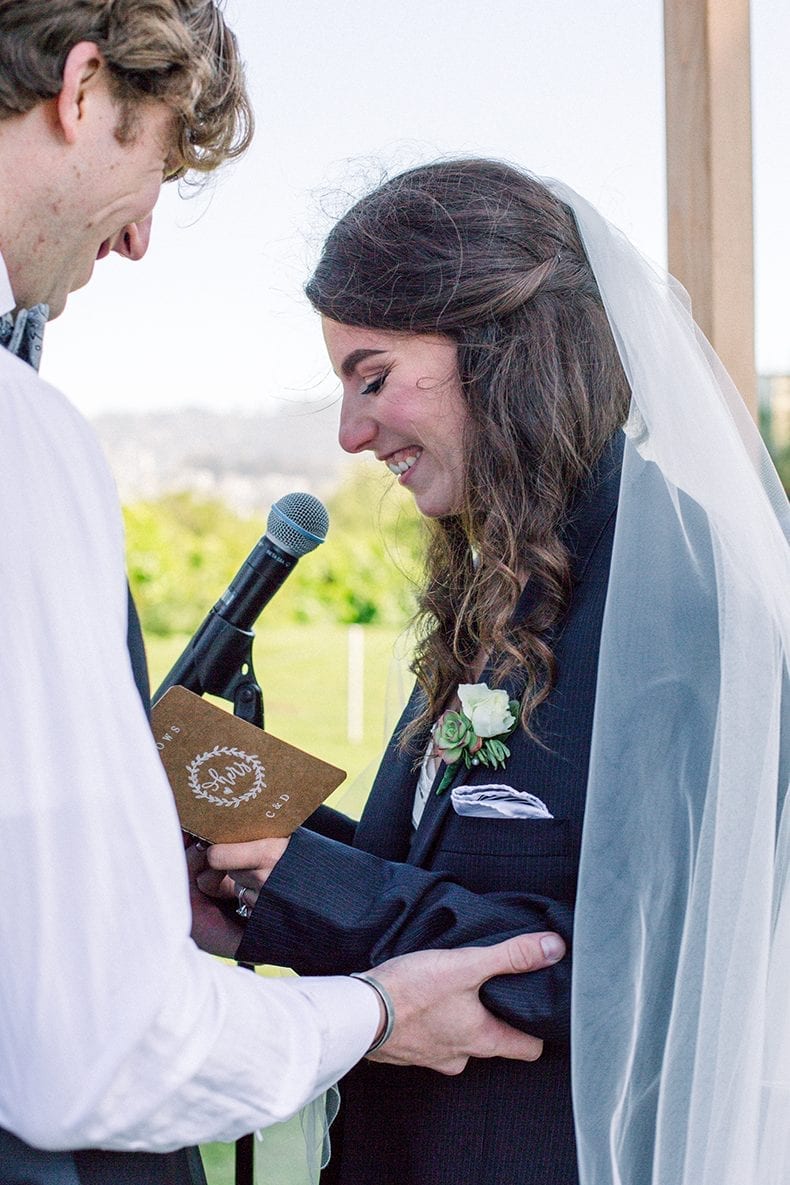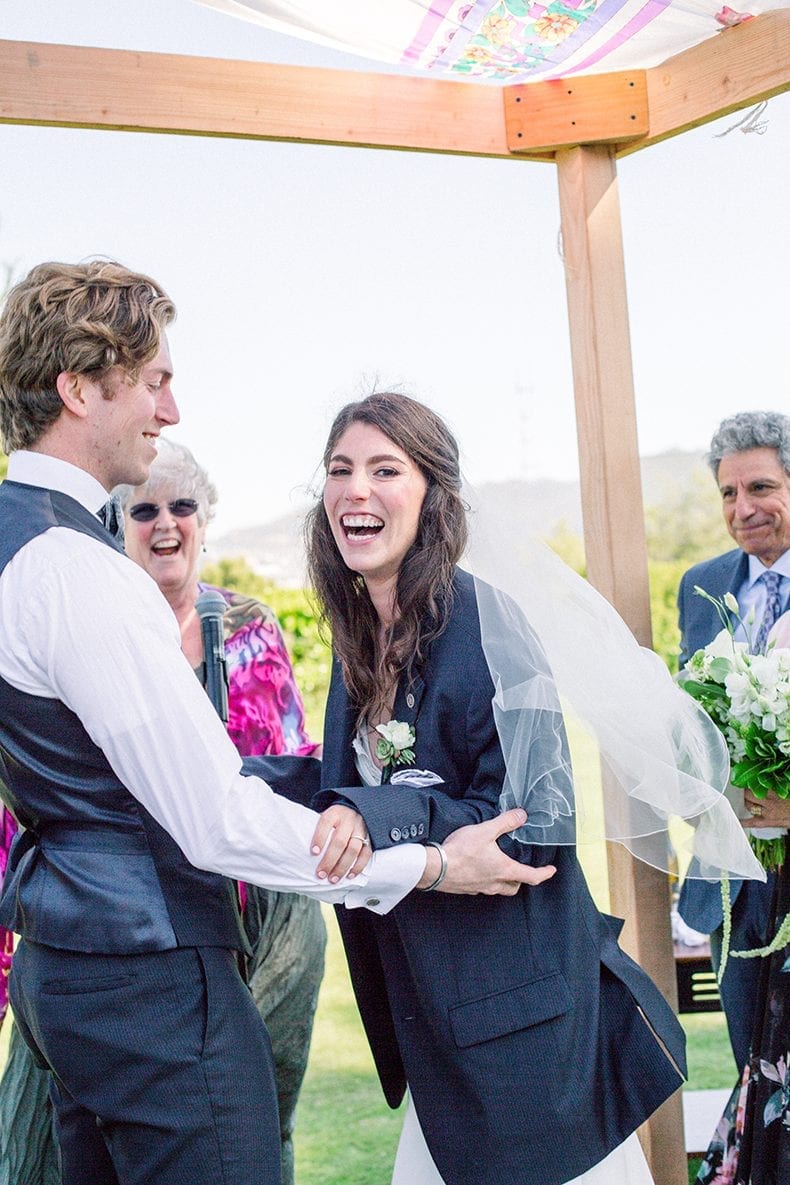 After the ceremony we spent a few minutes alone, took some more pictures and proceeded to spend a half hour trying to figure out my bustle. In true form, C was the only person who could figure out how it worked. Thank goodness I married him!
At this point I think someone should probably cut me off so I'll save the reception and the brunch for next week. I'm also doing a post on the DIY details since we did a lot of the wedding ourselves and didn't hire a planner. I hope you guys are enjoying this series. It's so fun to be able to take you along for the ride. And if this isn't your thing, I'll be back to the usual THM content on Monday so stay tuned!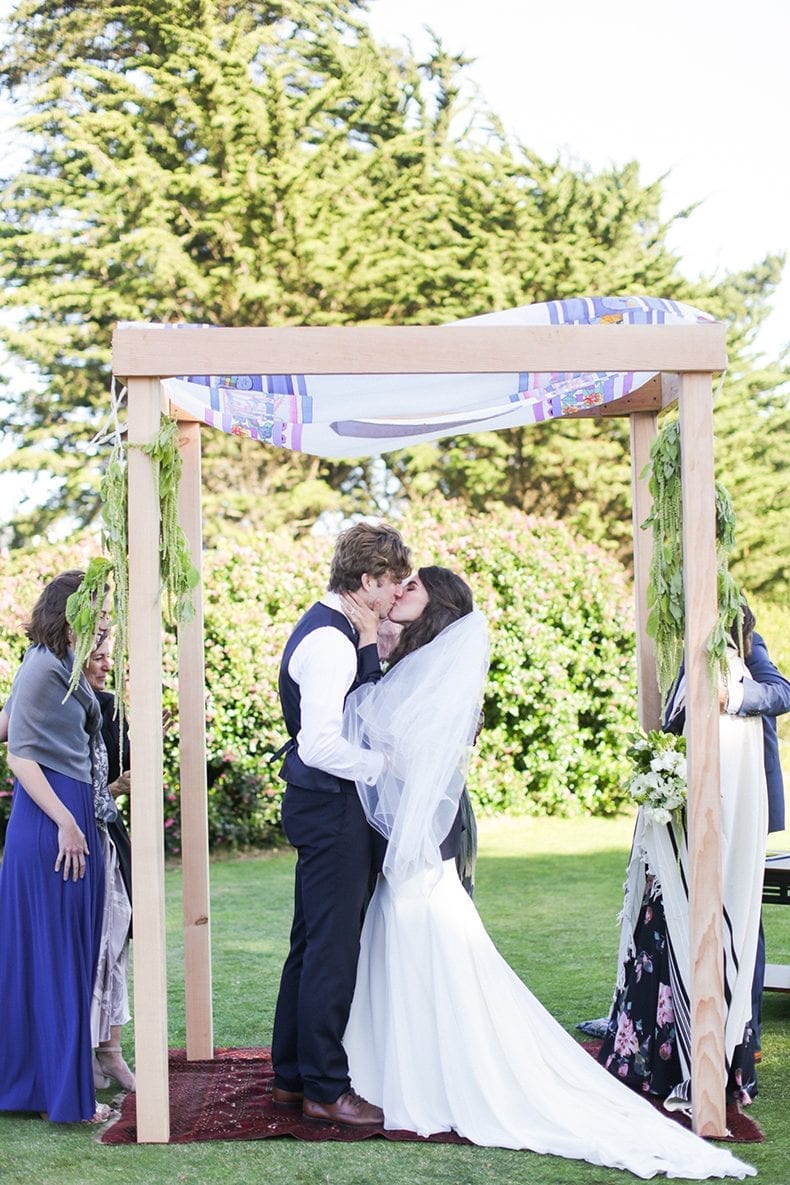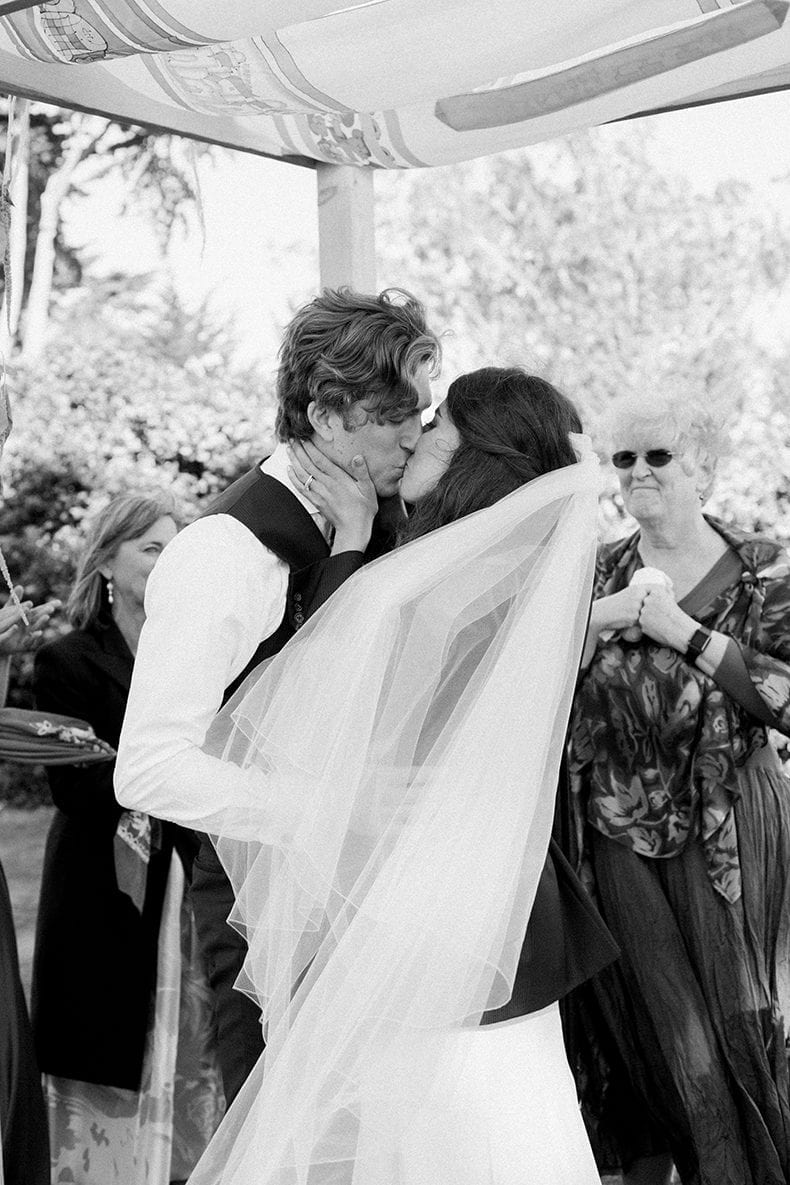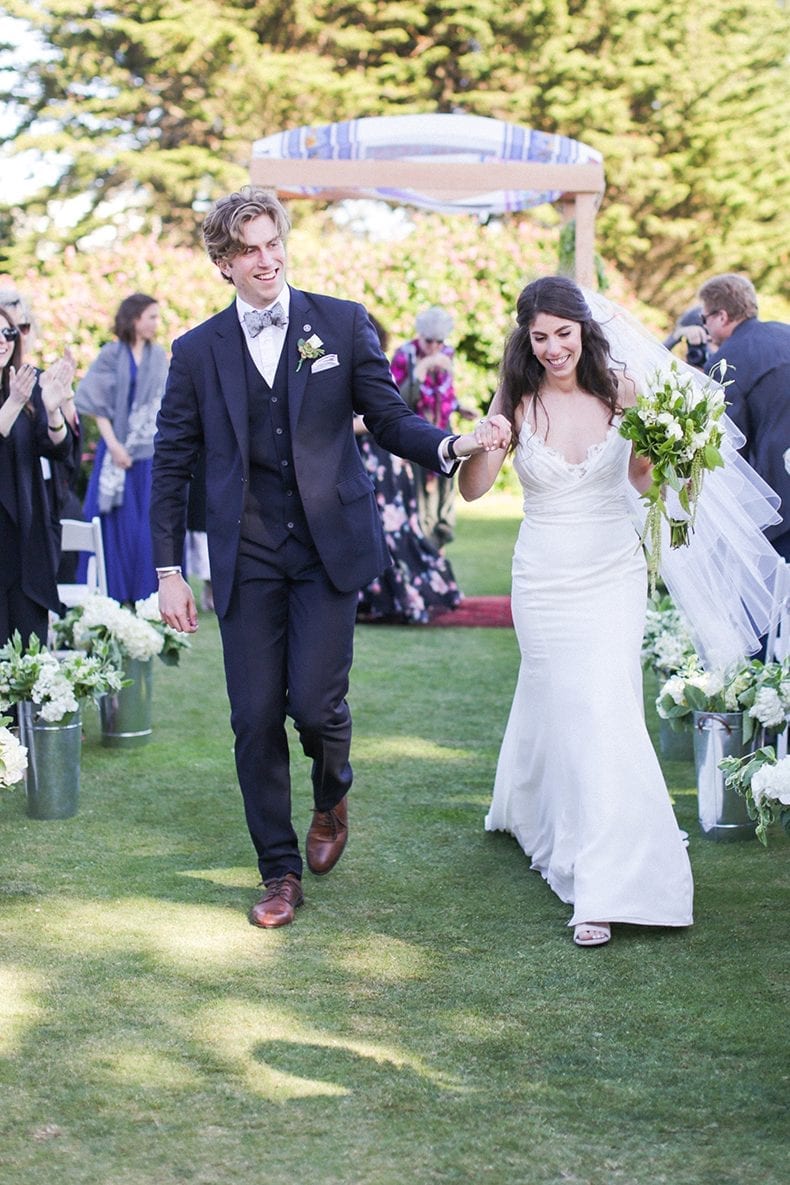 Photography: Sierra Ashleigh Photography (digital + film)
Invites: Minted
Dress: Blush by Hayley Paige
Shoes: Raye Laurel Heel (sold out unfortunately!)
Venue + Catering: Presidio Golf Course Clubhouse
Flowers: We did them! DIY post coming soon
Hair: Sarah Jordan from Harper Paige Salon
Makeup: Nikol Elaine
DJ: Fox Sounds
Music: This Feeling by Alabama Shakes (Groom processional), River by Leon Bridges (Bride processional), Precious Love by James Morrison (recessional)
What made your wedding perfectly imperfect? Tell me about it!
DON'T WANT TO MISS A LIFE UPDATE? Join the THM Community!
Join 10,000+ members of the THM Community to stay up to date on the latest life happenings and behind-the-scenes of The Healthy Maven!