I can't believe I just typed those two words into the title. The engagement. Ah!!!!
As some of you may know (via Instagram), C and I got engaged last week. What I thought would be an average Wednesday ended up being one of the best days of my life.
What followed was 5 incredible days exploring the California coast with our families and soaking in the amazing news that we're OFFICIALLY GETTING MARRIED!
But let's start at the beginning and how in the span of 30 seconds C went from my boyfriend to my fiancé.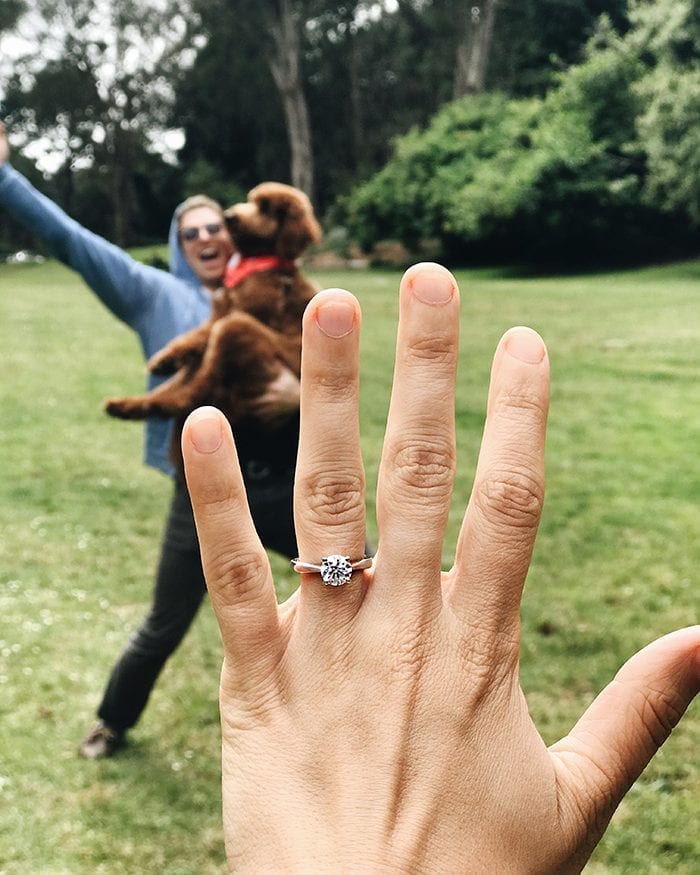 I've known for a couple of months that my parents were coming to town to see our new place in SF and head north to spend a few days in Mendocino (an adorable ocean town 3 hours north of SF). What I didn't know was how much scheming was going on behind the scenes.
A few weeks before my parents visit C stopped in Toronto after a work trip to Montreal. That was when the plan was hatched. After asking my parent's blessing, the three of them went ring shopping for what has to be the absolute most beautiful ring I have ever seen. To their credit, they knew exactly what I wanted (simple, classic and something I would want to wear for the rest of my life) and they completely exceeded any expectations I had. It took a few weeks to put the ring together so that meant it would make its way from Toronto to San Francisco with my parents when they visited.
The morning my parents arrived C went to pick them up at the airport and they gave him the finished ring. I somehow was convinced to stay back at the apartment and wait for them to arrive. Unbeknownst to me, the day was going to turn into a pretty epic one.
After settling in, we took my parents on a walk and went to grab lunch from a local cafe. We ate our lunch outside and then my parents wanted to go back to take a nap before our big dinner that night since they were jet-lagged. Most Wednesdays we have family dinner with C's family who live in the city (there's 6 of us + many guests!) and it was actually our turn to host that night.
Before any dinner or party, we always try to run Bodhi so he's not a total maniac. So C suggested we bring him to Golden Gate Park to run around. Now here's where it gets interesting. It's not at all unsusual that we take Bodhi on a walk to the park. In fact, we do it pretty much everyday. So much so we named one meadow of the park "Bodhi's Meadow" because the three of us love going there. It's enclosed and usually very few people there so we play fetch with him and sit on a picnic blanket and (sometimes) drink beer.
So we walked to the park, C put out a blanket and we played a couple rounds of fetch with Bods. Then C told me he had taught Bodhi a new trick and asked if I wanted to see it. I said "of course!" so he told me to turn around. Then when he told me to turn back around he was there on one knee!
I was completely blown away. I did NOT see it coming in that moment. Obviously, I knew that one day we'd get married and it was definitely something we had talked about but I had no idea that a very everyday moment for us would become so incredibly special.
Not only did he present the most beautiful ring, but he did it in the most perfect way. Despite how much I may share on the internet, C knows that those truly special moments are the ones I want to soak in privately. No photographers, or onlookers. No big, grand gestures. Just me, him and of course, Bodhi 😉 I could not have asked for a more perfect moment or partner to spend the rest of my life with.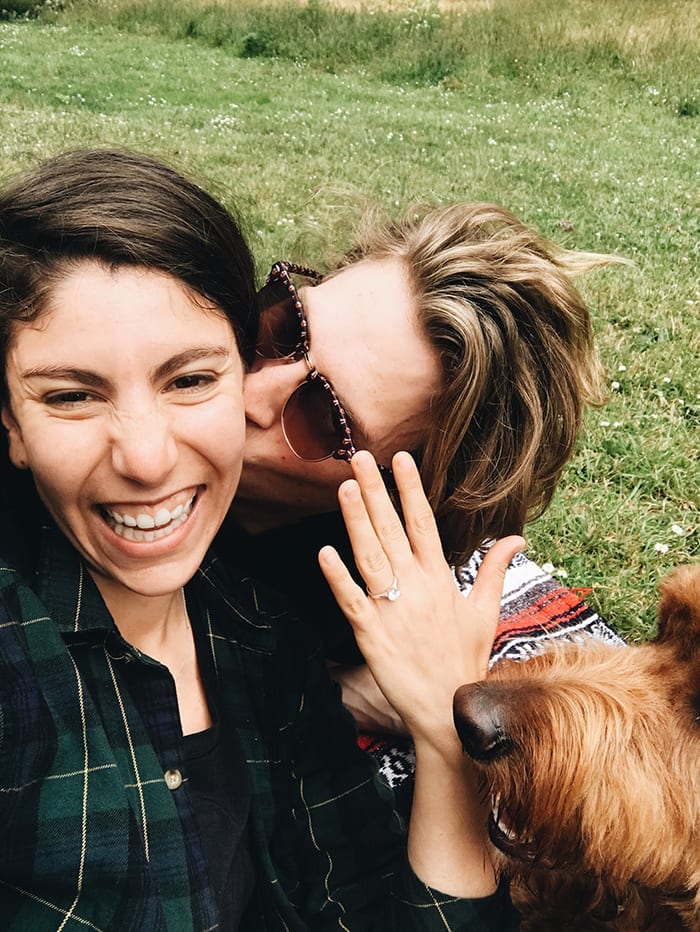 But the surprises weren't done there…
After spending about 45 minutes in the park, drinking beers, soaking in the shock and saying "OMG" at least 200 times, it was time to head back to our apartment to share in the excitement with my parents (who were eagerly awaiting for us to return). But when we got back to our apartment, C turned to me and said "I have one more surprise".
When I walked through the door, HIS PARENTS jumped out from around the corner and I was in TOTAL shock. When we were sitting in the park, I told C we should call his parents to share the news, but he told me we should wait a bit. What I didn't know was that his parents were already in our apartment waiting with my parents to join in the celebration. Beyond everything, the thoughtfulness he put into having both sets of our parents there is the #1 reason I love him and am so excited to spend the rest of my life with him.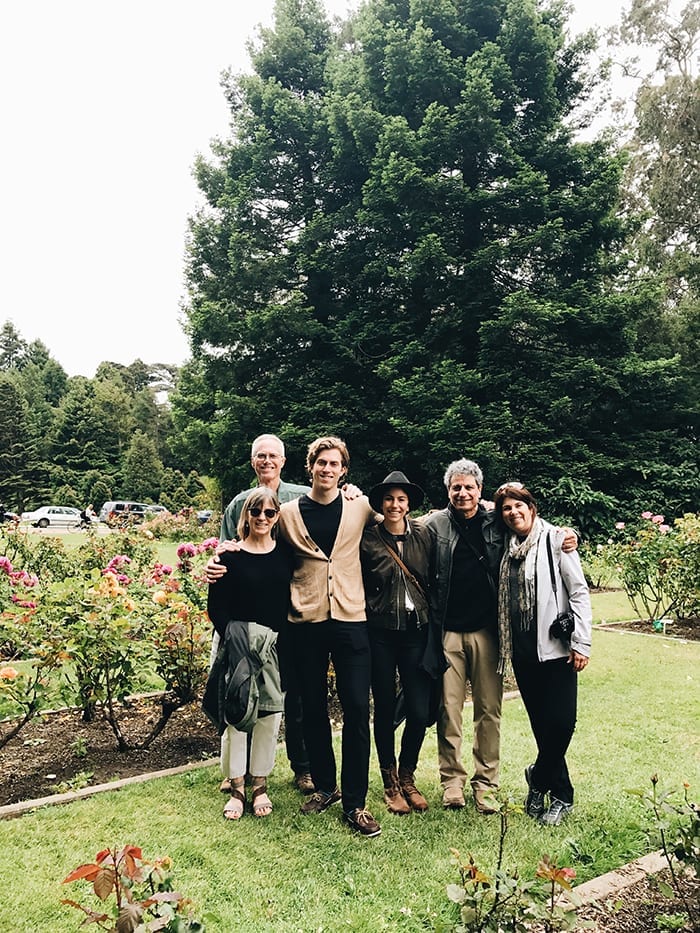 After popping some champagne and hugging everyone like 500 times, it was time to start calling our families and close friends. What was even better was knowing that so many of them would be with us in a few hours to celebrate at family dinner. I had somehow planned our own engagement party!
In hindsight, I now realize why my parents and C had been so pushy about me not cooking for dinner (which I usually do). I had expected there to be 12 people there (my cousins and aunt were also in town visiting!) and was feeling overwhelmed by all the cooking I'd have to do so instead they all suggested we order in. Thank god they did this otherwise I would not have known what to do! But, me being me meant I had to make dessert so I broke in the new ring with some chocolate chip cookies.
The night ended up being such a perfect way to share in the excitement with some of the most important people in our lives. I am forever grateful for them and having them as part of the celebrations.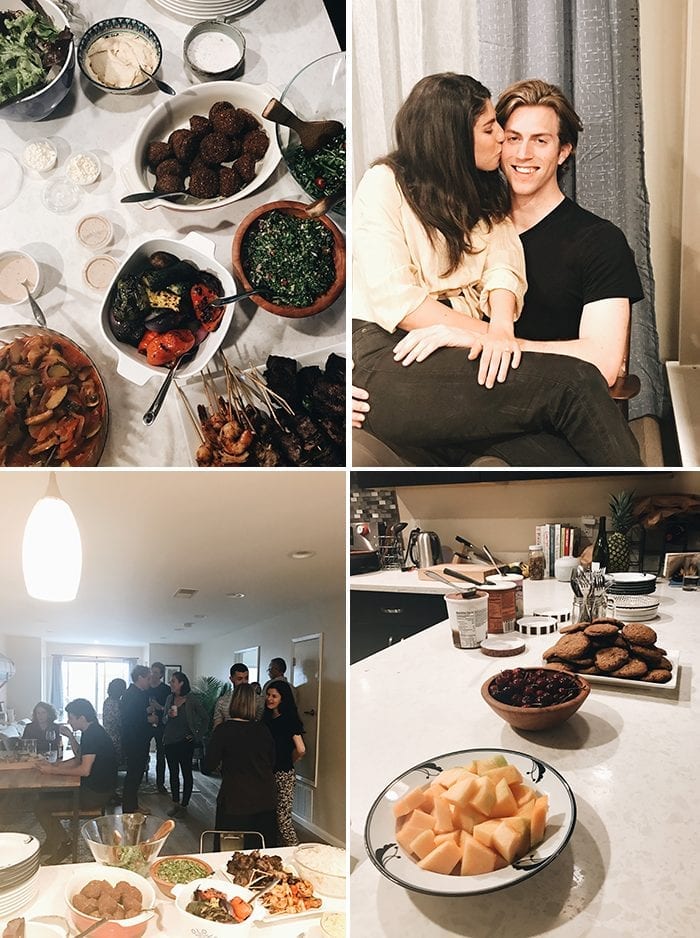 We crashed that night but woke up the next day to a full house with both of our parents in town. We had a delicious french toast breakfast (courtesy of Mama Maven) and then headed to the De Young museum for the the Summer of Love exhibit (go if you live in the Bay Area!). From there we ate lunch before heading to Baker Beach to run Bodhi around and take in the views.
That night we headed to Nopa for dinner and it was as divine as everyone had told us it would be.
The next part of this story takes us through wine country and up to Mendocino so I'll save the deets of this weekend for my Mendocino recap post. Stay tuned!
* * * * *
Before I end this post, I just wanted to say THANK YOU to every single one of you who has wished us well on this exciting news. I was blown away by your kind words and all the love we received when I shared the engagement with all of you. And to all of our friends and family who made us feel so special, we love you so much. As C and I look back on the past 6 years of our relationship, we see so many memories we've shared with each other, but it's those we've shared with all of you that have been the sweetest. We can't wait to have all of our people in one room to celebrate at our wedding. WOAH.
As for the actual wedding, well, we've made approximately zero plans. At some point we'll start planning but for now we're just relishing in this special time and embracing every second of it. I'm sure as we begin sorting out more details I'll share more, but I also haven't decided how much that will be. For as much as I want THM to be a part of this celebration, I also know that it only makes up a small fraction of my relationship with C.
But we shall see. Who knows what the future has to bring!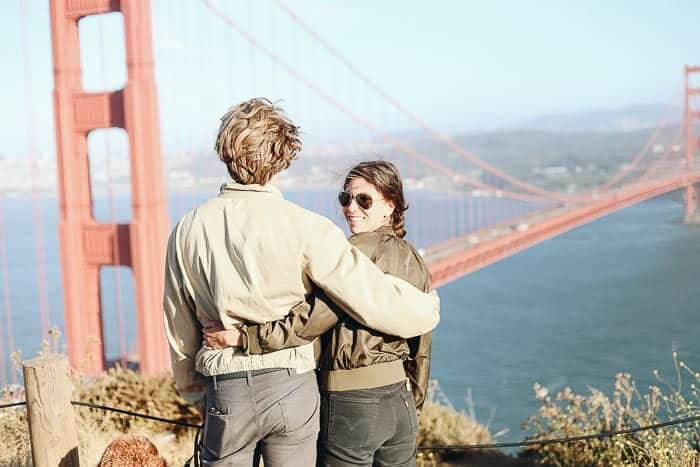 DON'T WANT TO MISS A LIFE UPDATE? Join the THM Community!
Join 10,000+ members of the THM Community to stay up to date on the latest life happenings and behind-the-scenes of The Healthy Maven!