I'll be honest, I wasn't 100% certain I was going to share about this part of our wedding, but as I sat down to begin planning out how I'd break down each post, I realized I couldn't NOT share about the welcome dinner. Our wedding (as it turned out) was so much more than the wedding day itself. It was truly a wedding weekend and since I didn't share any details with you guys leading up to the wedding, I did want to include you in a full recap of what went down. But let's back up…
When we initially started planning our wedding, my one and only request was that it be in San Francisco. I think this came as a surprise to most people since neither C nor I are from the bay area and at that point we had only been living there for 8 months. But for some reason San Francisco just felt right to us. It's where we call home, where we're building our lives together and we wanted to bring all of our favorite people to our favorite place to celebrate with us. So even though people get married in San Francisco all the time, our wedding was actually a destination wedding for pretty much everyone except us (and 15 others). That mean that 120 of the 135 guests attending were coming from out of town. We had family and friends flying in from Toronto, New York, Montreal, Minnesota, China, Taiwan, Berlin…pretty crazy! This meant that we not only wanted to give our people a fantastic weekend in San Francisco, but we also kind of had to.
At the same time, I was pretty adament that if we were to do a welcome dinner, it not just be a second wedding. That being said, everyone invited to the wedding was also invited to the welcome dinner, so we were in essence throwing two epic parties. The question was how to make them both awesome yet different and a true reflection of us.
Side note – we opted not to hire a photographer for the welcome dinner so all pictures in this post (besides the invite – Thanks Sierra!) are from our friends and family. I didn't have my phone or camera out all weekend and it was glorious!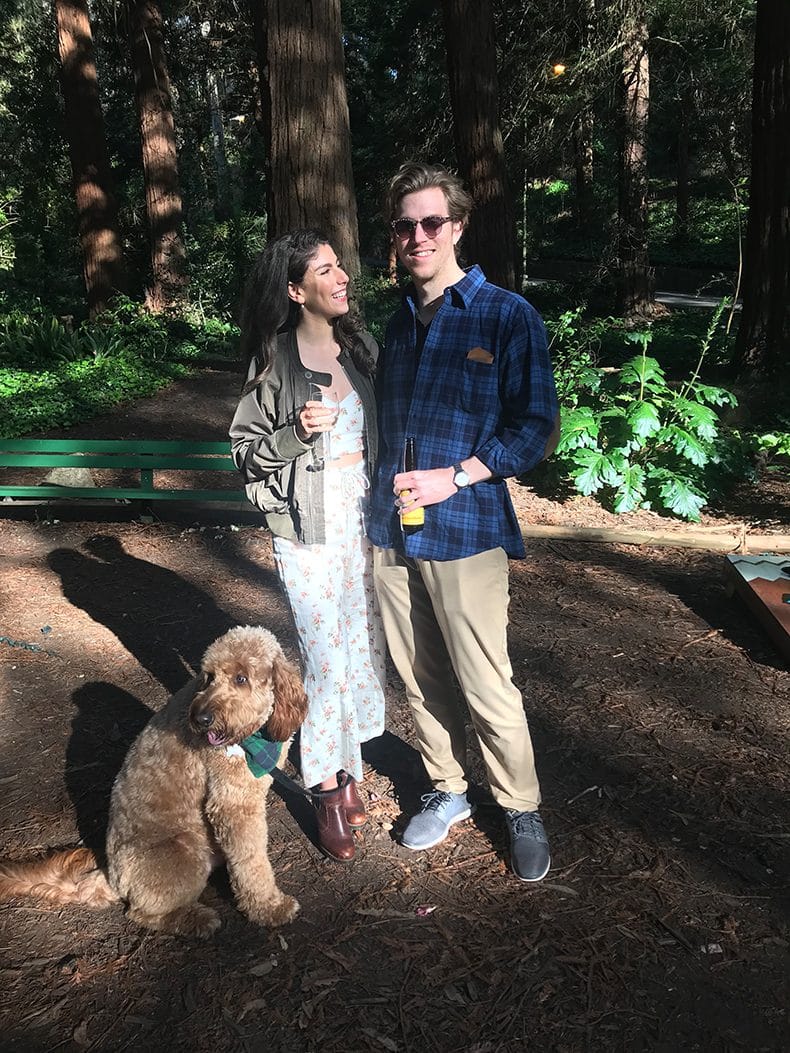 One of the things we love about San Francisco is that it offers many different types of exploration. By now, you've probably picked up that our version of San Francisco involves a lot more parks and beaches than downtown pavement. Our hope was to show-off our side of San Francisco. The less popular side but the one that makes us feel most at home. So originally the plan was to have a BBQ in Golden Gate Park in the meadow where C proposed to me. Though I'm sure it would have been great, I had two loving mothers reason with me about why this was going to be impossible. For 1) it offered no rain plan and 2) catering and bartending for 135 guests in a park isn't the easiest. For the record, they were right. It was only when I saw how many people 135 guests truly is and how much coordination is required that I realized it would have been hellish trying to host our welcome dinner in Golden Gate Park. So instead we went for the next best thing…
Stern Grove! I've spoken to a lot of San Franciscans who love Stern Grove and many who haven't heard of it. If you have a dog in SF you have definitely heard of Stern Grove. It has an awesome off-leash dog park where we take Bo frequently and a huge amphitheater where they do live music in the summer. It's also beautiful.
What I didn't realize was that Stern Grove also has a clubhouse that you can rent out for events. Not only did C's Mom discover this (Thank you Janet!) but she also managed to secure it for the Saturday of Memorial Day Weekend. CHAMP! Now Stern Grove did not come without its challenges. Because it's a city park you have to work with municipal park staff which is well, not the easiest. Thankfully Janet did most of the work (insert all the prayer thank you emojis) and in the end it all worked out, but as a warning, if you want to throw a party in a park, prepare yo'selves.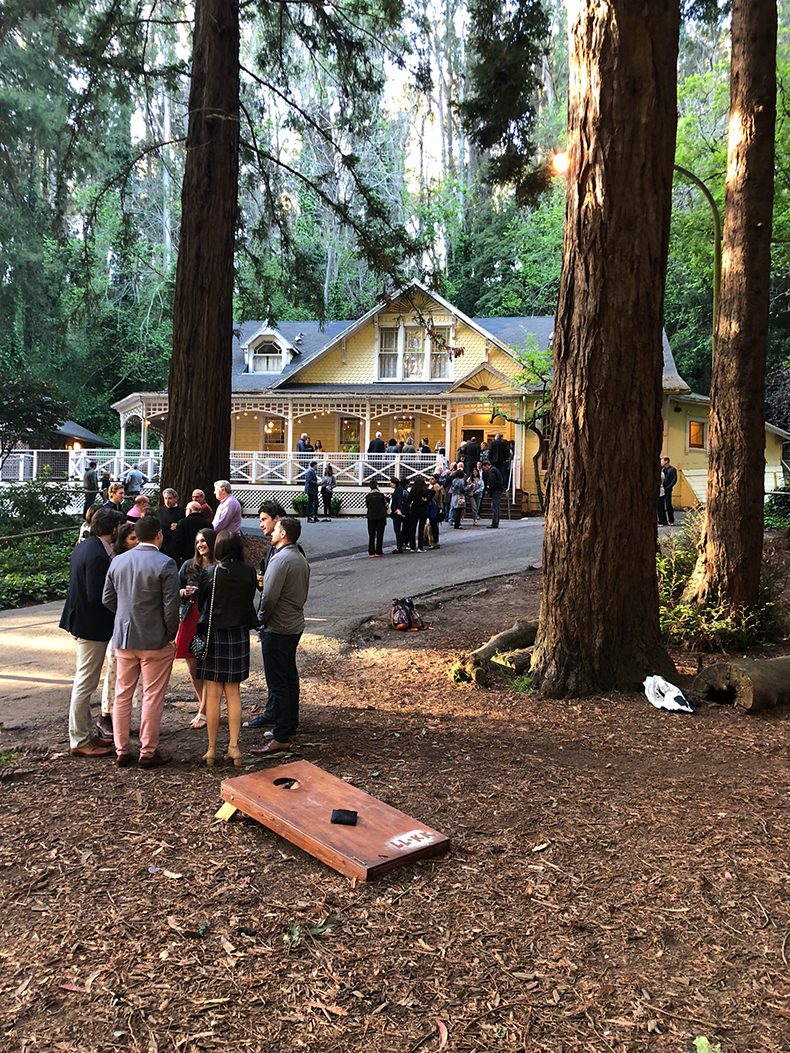 The real draw of Stern Grove is the gorgeous redwood grove it's situated it. Being in a redwood grove in the middle of San Francisco is pretty special. Our original plan was to have everything be outside with the inside as a back-up, but because it got quite cool and we had an issue with the heaters most people ended up inside, which was totally fine. We did have outdoor lighting and set-up a couple of lawn games for people to enjoy.
We wanted everyone to feel welcome and loved but also really wanted it to be casual. Dress was casual and layers were encouraged! We also kept the food to the theme by bringing in one of our favorite places, 4505 BBQ to cater the dinner. We love this place and also loved the idea of it being a big ole' BBQ. The food was AMAZING. We also hired bartenders and brought in wine and beer and of course, La Croix.
Truthfully I was VERY nervous before the welcome dinner (more nervous than I was for the wedding itself) since I didn't know what to expect of the evening and greeting so many friends and family members from all walks of life. What unfolded was so much better than I could have imagined and did not come without a whole lot of help!
C's family is actually the ultimate and they helped to set-up and breakdown everything (thank you!!!) and made sure everything flowed smoothly so we could actually enjoy ourselves. We didn't have any specific plan for the evening other than to let guests reunite, meet each other and be merry! We ate, we drank and we hugged. We also speeched! We didn't have a wedding party (more on that in the next post) so we asked a few of our friends to do short speeches at the welcome dinner. My best friend of summer camp and best friend from HS/College/Toronto also spoke. C had one of his camp friends and Toronto friends each speak. It was so nice to congregate in that room with the fire going and hear our friend's perspectives on C and I. So special!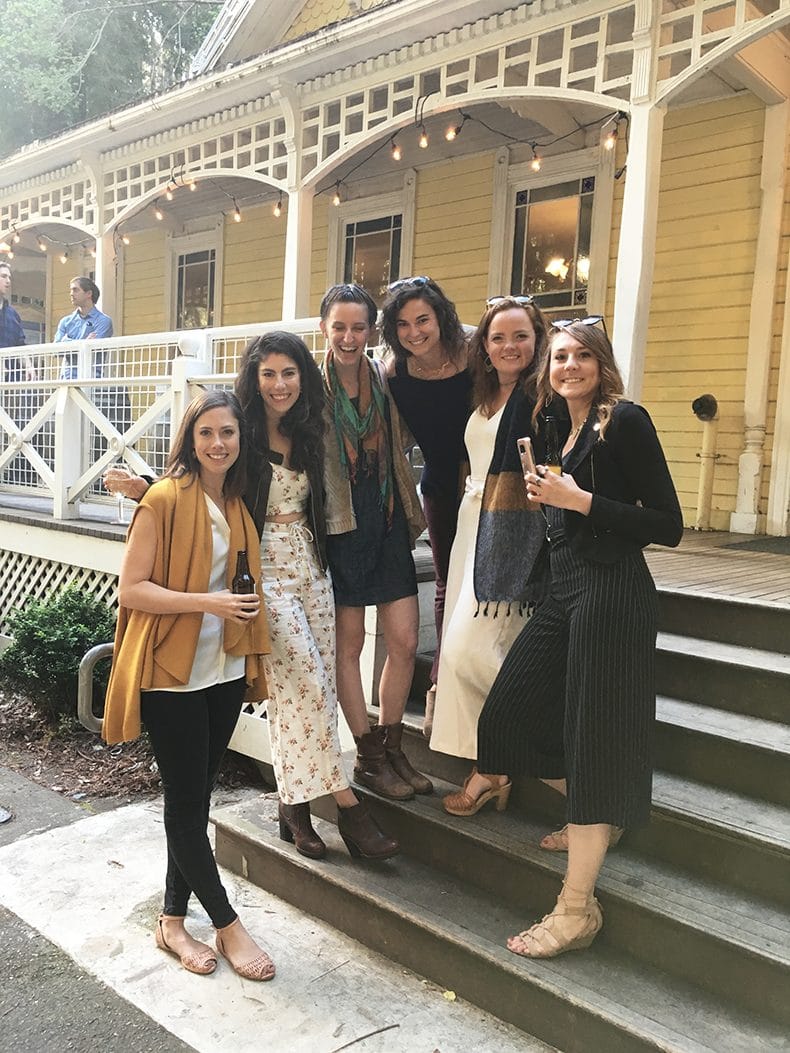 We were supposed to be off property by 10:00 but our friends are wild (you will see…) and we didn't end up till leaving after 11:00 upon which a spontaneous afterparty happened, which we sadly did not attend. Instead C and I went home, packed our stuff for the next day and cuddled with Bodhi. The whole "being apart the night before your wedding" felt very archaic to me. He is the exact person I want to be with the night before such a big occasion so we did things our own way. No regrets!
Stay tuned next week for the first look and ceremony. Fridays for the next few weeks will be all about the healthy maven wedding recaps so hope you like weddings LOL. Making up for neglecting you guys through the planning process. Sorry!
Invites: Minted
Outfit: Reformation
Location: Stern Grove – Trocadero Clubhouse
Catering: 4505 BBQ
Bartender: Fresh and Fizzy Events (they were great!)
Did you have a welcome dinner? Where was your wedding?
JOIN THE THM NEWSLETTER
Join 20,000+ members of the THM Community to get access to exclusive recipes, healthy lifestyle tips and behind-the-scenes news from our team!