Seeing the Rockies for the first time is like falling in love. Your heart races, your mind becomes pre-occupied and suddenly life as you know it will never be the same.
I will never forget my first experience with the Canadian Rockies. It blew my mind that nature was capable of creating such beauty. They were breathtaking to stare at but even more spectacular as you immersed yourself in their natural playground. In a world that is constantly expanding it's sprawl, it says something that someone was able to stand amongst giants and establish this landscape as a place to be protected. To whoever fought to protect Banff as Canada's first national park, thank you. I have you to thank for this experience.
But as with anything that is beautiful, if the doors are open, people will come. While there is no doubt that the Canadian Rockies sparkle all summer long, it also means navigating crowds and playing the parking game. Somehow we all forgot that Banff is open year round and offers endless escapes whether the mountains are covered with green or white.
I'm honored and grateful that Banff Lake Louise Tourism invited me back to experience Banff in the Fall!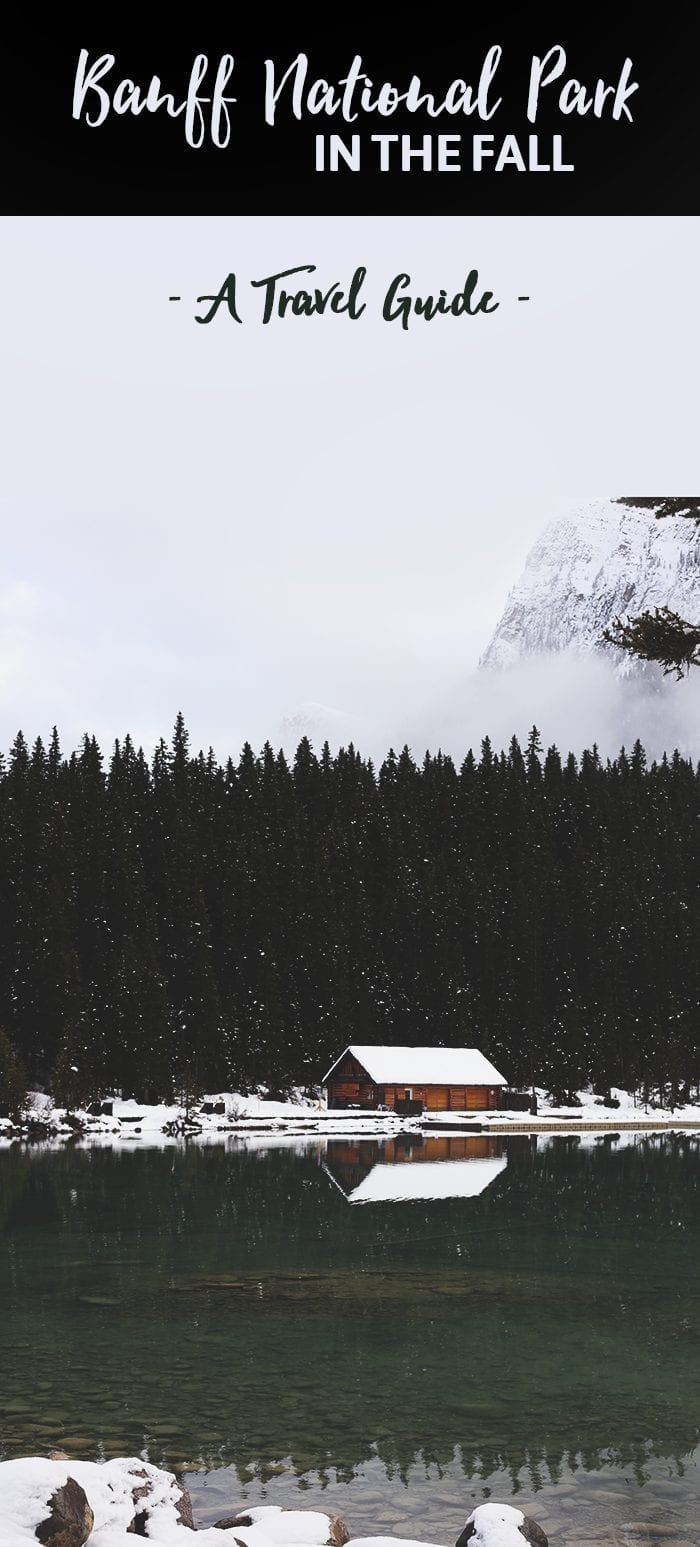 PIN TO YOUR BUCKET LIST BOARD!
Banff is one of the few places I have visited that I knew I had to come back to. And after this trip I've determined that this isn't just a place you come back to twice, it's a place you visit every year. Each time I set my bags down in the park I uncover a whole new layer of charm. But after this visit, I'm certain that Fall is the best time to plan a trip to Banff.
I expected to enjoy my return trip to Banff, but I hardly expected to fall in love with the Rockies all over again. I suppose they call it fall for a reason…
RELAX
Moose Hotel + Rooftop Hot Tubs
We stayed at the Moose for this visit and it was spectacular. Located right downtown, all the restaurants and shops are close enough that you can walk. The room had it's own fireplace which was perfect for a morning coffee or evening glass of wine and the rest of the room was cozy and comfortable.
Perhaps the best part was the rooftop hot tubs with an unmatched view of the mountains. If you aren't up for trekking up to the Banff Upper Hot Springs, you can rest assured that you'll get the full experience right from your roof top.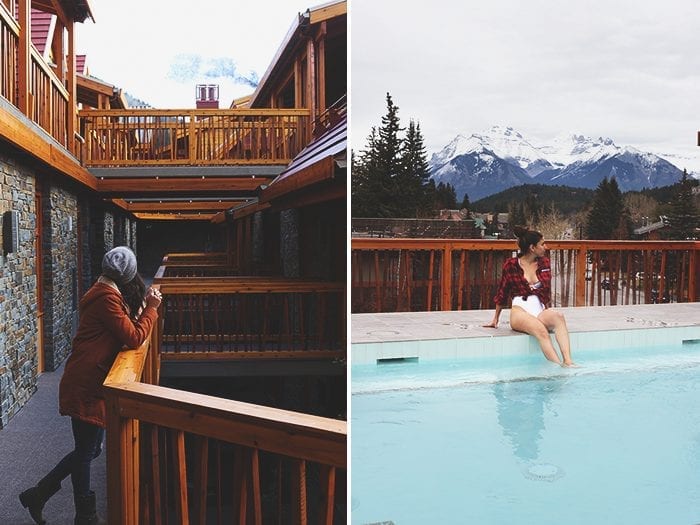 Shop in Downtown Banff
Retail therapy is definitely a form of relaxation! I loved exploring the local shops like the Banff Tea Co. and Rocky Mountain Soap Co. I also got suckered into Patagonia and Lululemon. If you're coming from outside Canada, the dollar is in your favor, and on top of that there's no sales tax in Alberta so you're only going to get hit with a 5% tax unlike the 13% I pay at home!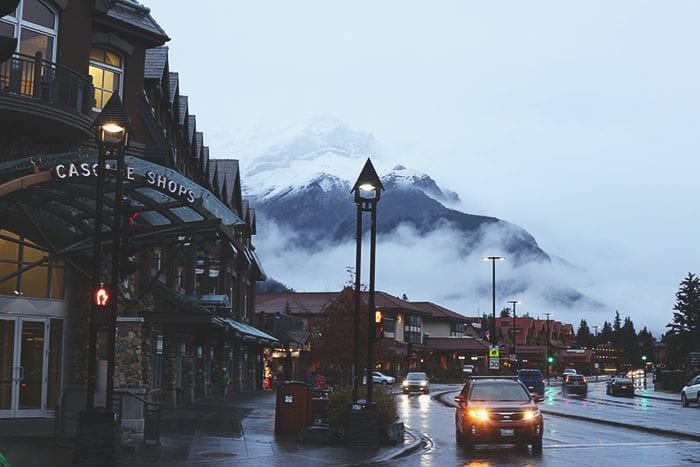 Explore the Culinary Scene
Many people don't realize that Banff has such a huge culinary scene. This is not your usual national park fanfare. Check out THIS POST for a full recap on the best restaurants in Banff, and if you're there in October/November be sure to check out Taste for Adventure. It's a two week culinary fest during which many of the local restaurants participate and offer specialty items and deals. You will be blown away by all the delicious food.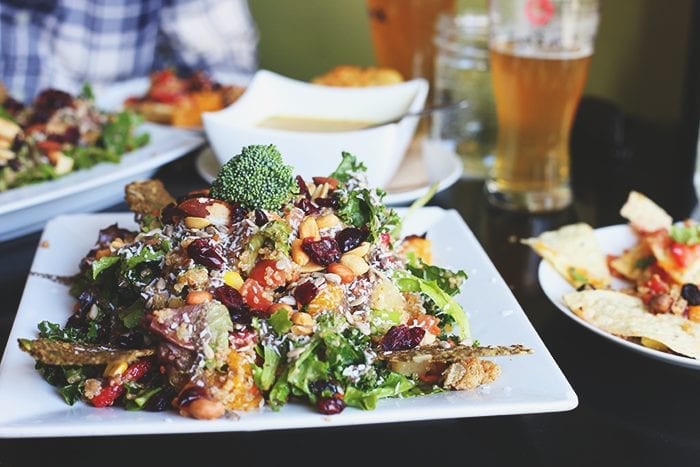 Sunrise/Sunset at Vermillion Lakes
Looking to do an activity but keep things chill? We loved grabbing a coffee at Whitebark and watching the sunrise at Vermillion Lakes. I'd highly recommend doing the same with some vino during sunset. So incredibly peaceful and awesome that it's walkable from downtown. You can also easily drive there too!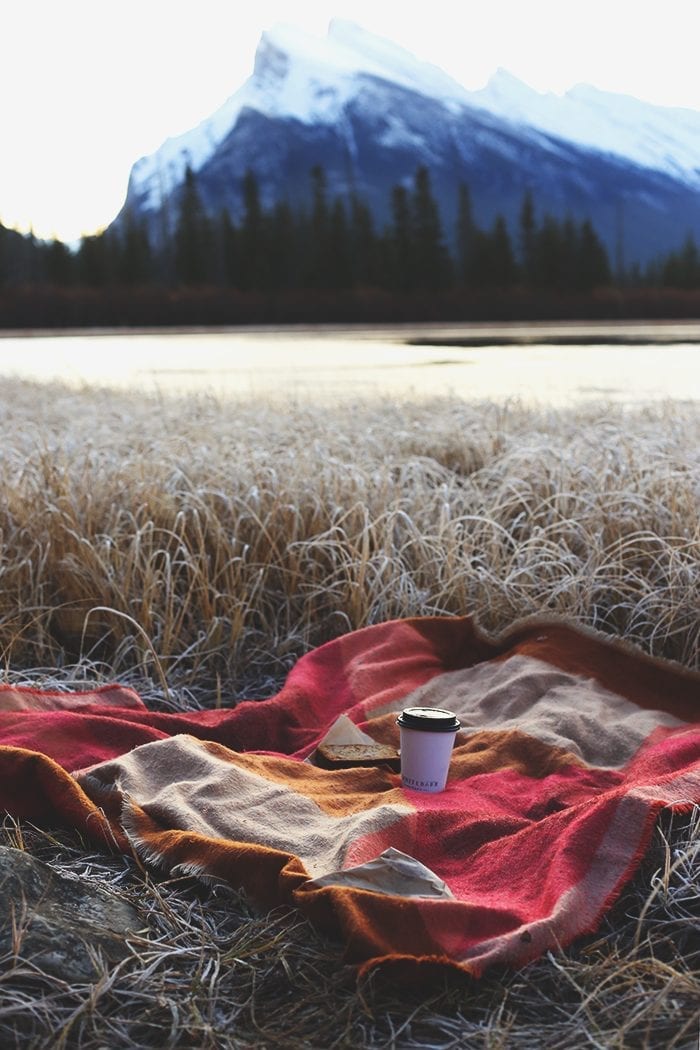 Take In a Show at the Banff Mountain Film Festival
Few people realize that there is a bustling arts culture in Banff. The Banff Centre has one of the top musical and film education programs in the world. Each year, creativity meets mountain at the Banff Mountain Film and Book Festival. Sponsored by Patagonia, The North Face and National Geographic (amongst others), the videos tend to focus on sports and global issues and are beautifully shot. You cannot miss the festival if you're in town!
REJEUVINATE
Sound Healing with Alchemy Crystal Singing Bowls 
I'm all for trying everything once, so when BLLT suggested we try out a sound bath at Amaryllis Crystal Garden, we went for it. I wasn't entirely certain what to expect, but holy heck was that a powerful experience. Apparently everyone reacts differently, but I swear my whole body was reverberating after our 30 minute experience.
Be sure to check the schedule to see when they have open sound bath treatments, otherwise stop by and speak with store manager, Victoria to learn more about sound and crystal healing.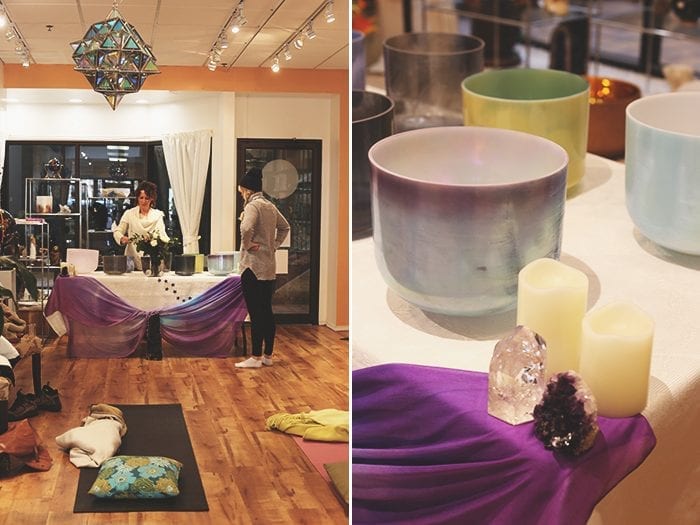 Meadow Spa at The Moose
If you read this post, you know that my visit to Meadow involved crying on a massage table. This complete emotional breakdown was actually a positive thing as it turns out I was holding in a lot of stress and tension. I wasn't certain what my thoughts were on Emotional Release Therapy but now I am a total believer. This was hands down one of the best massages of my life.
You also get access to their private hot tub with one of the best views in Banff along with a relaxing lounge to hang out in between treatments.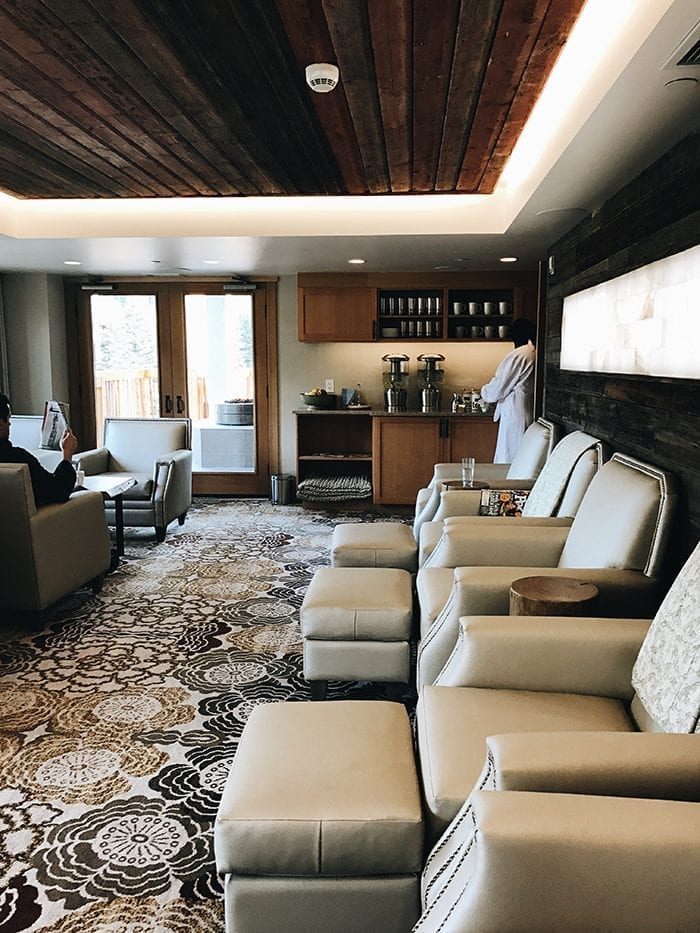 Yoga at Rocky Mountain Yoga
Admittedly, I didn't actually make it here due to time constraints but I've heard from many locals that Rocky Mountain Yoga is THE spot to do yoga in Banff. Next time I'm back I'll be sure to pay a visit, but if you're looking to move your body amongst the mountains, this is your place.
EXPLORE
Visit Lake Louise
No matter what time of year you visit the park, you must pay a visit to Lake Louise! That being said, seeing it in the fall was a peaceful and contemplative experience. You could sit and enjoy the lake and not feel like you were blocking someone's view. Also parking was a breeze!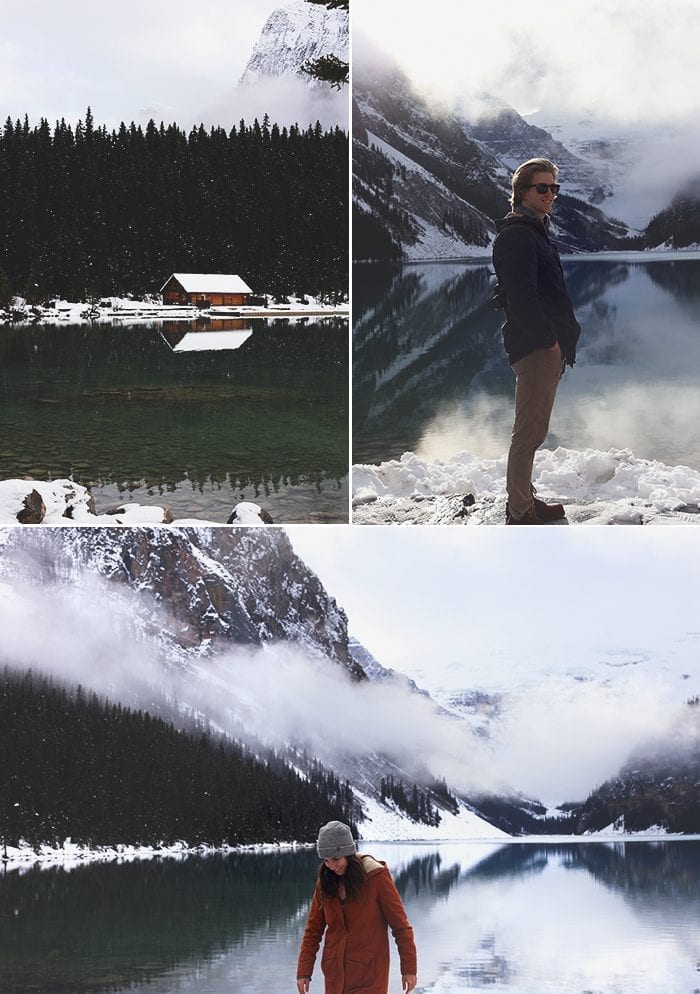 Meander To Bow Lake + The Icefields Parkway
From Lake Louise take a drive to Bow Lake along the Icefields Parkway. Named one of the top 10 drives in the world, about 30 seconds on this road will make that evidently clear why. See the bow glacier and meander around the trails surrounding Bow Lake. There was not a soul there and I've never experienced 360 degree views like that! By far my favorite place in Banff.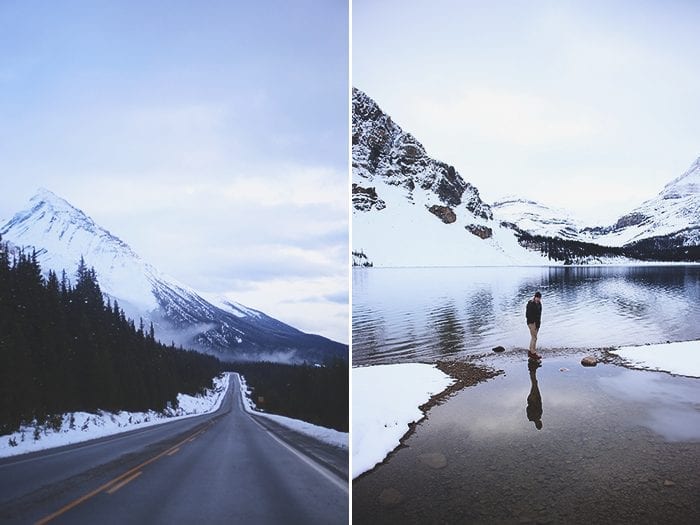 Climb Tunnel Mountain
If you're a hiker visiting in the fall, Tunnel Mountain is a must-do. The trail is open later than most and offers a 360 degree view of downtown Banff and the surrounding Rockies. It's a steep uphill climb but worth the views.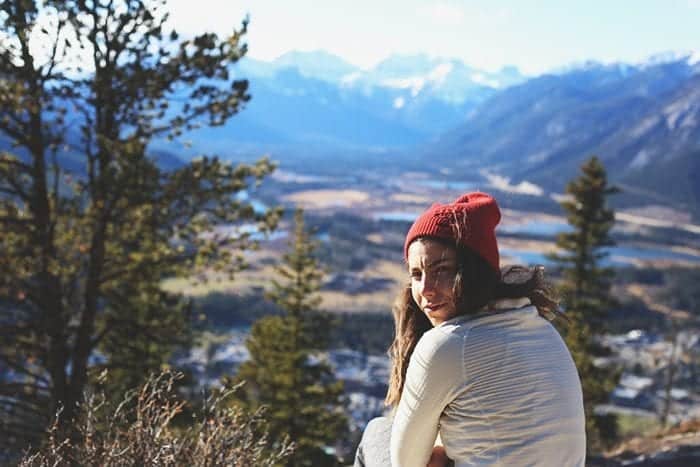 Go up the Banff Gondola
We took the newly opened Banff Gondola up to the top to enjoy a meal at Sky Bistro. The Gondola was an experience in itself! It was like climbing through the clouds to see the tops of the snowcapped mountains. They have several restaurants/coffee shops up there and are always hosting new activities like mountain top yoga so be sure to check out the schedule.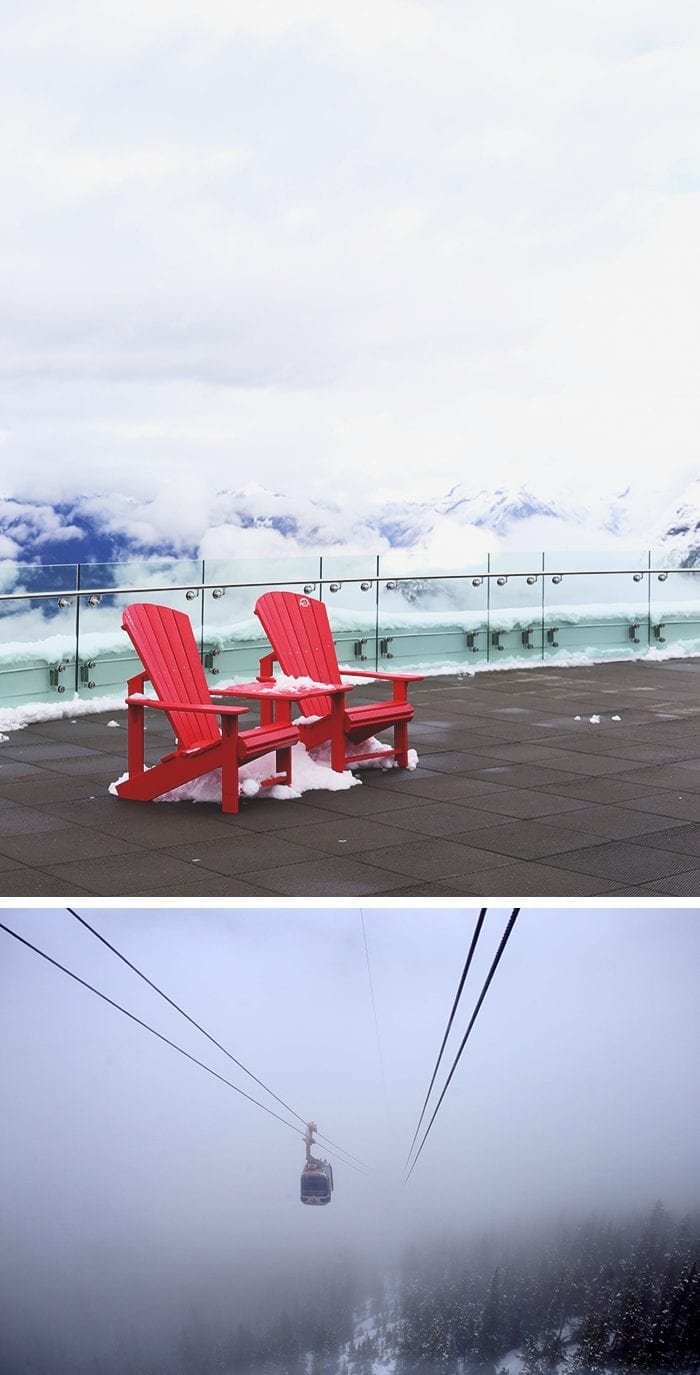 Get Lost
We took a drive along the Bow Valley Parkway and pulled over occasionally to explore nooks and cranies around the park. We stumbled upon Morant's Curve and watched the iconic Canadian Pacific Railway cars power through and took in the changing leaves and scenery. One of the few times you want to find yourself lost.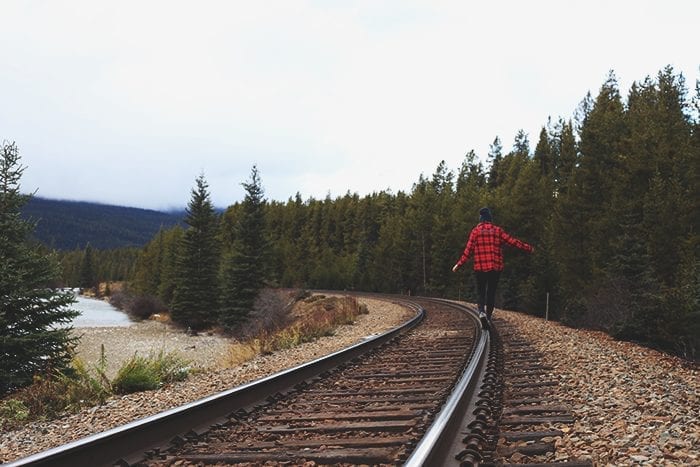 Things to Know About Banff in the Fall…
Getting to Banff is relatively easy. You fly into Calgary International Airport and then can easily rent a car from the rental kiosks. We used Budget Rentals and had a superb experience (I'm being 10000% honest – they were unbelievably helpful when C lost his bag…long story). You are going to want a car as most activities are road accessible and there is no public transportation around the park. Be sure to get one with all-wheel drive as you never know when the snow might come falling!
Bring layers. It can be warm or cold in the Fall. One minute we'd find ourselves in t-shirts and the next in boots and a winter coat. Layer up and you'll be just fine.
If you're visiting Banff in the summer, be sure to check out THIS POST. And if you're looking for what to eat while in Banff check out THIS POST.
Disclaimer: This post was sponsored by Banff Lake Louise Tourism. I was asked to come out and explore the park in the Fall. All opinions are 100% my own.
What's your favorite place to visit in the Fall? Have you ever been to Banff?
DON'T WANT TO MISS THE NEXT ADVENTURE? Join the THM Community!
Join 10,000+ members of the THM Community to get access to exclusive info about travel, places I've visited and how to stick to your healthy lifestyle on the road.