A look at what's in my natural makeup bag! From my favorite products to which brands to choose from, we explore the world of green beauty and which natural beauty products to try!
We could spend days going through my makeup bag, but I thought I would share some of my top pics that I've been loving right now. These products are all natural, non-toxic and good for your body and the environment.
It can be an overwhelming process to transition your beauty products over to all-natural options, so I thought I would highlight a few that are worth investing in.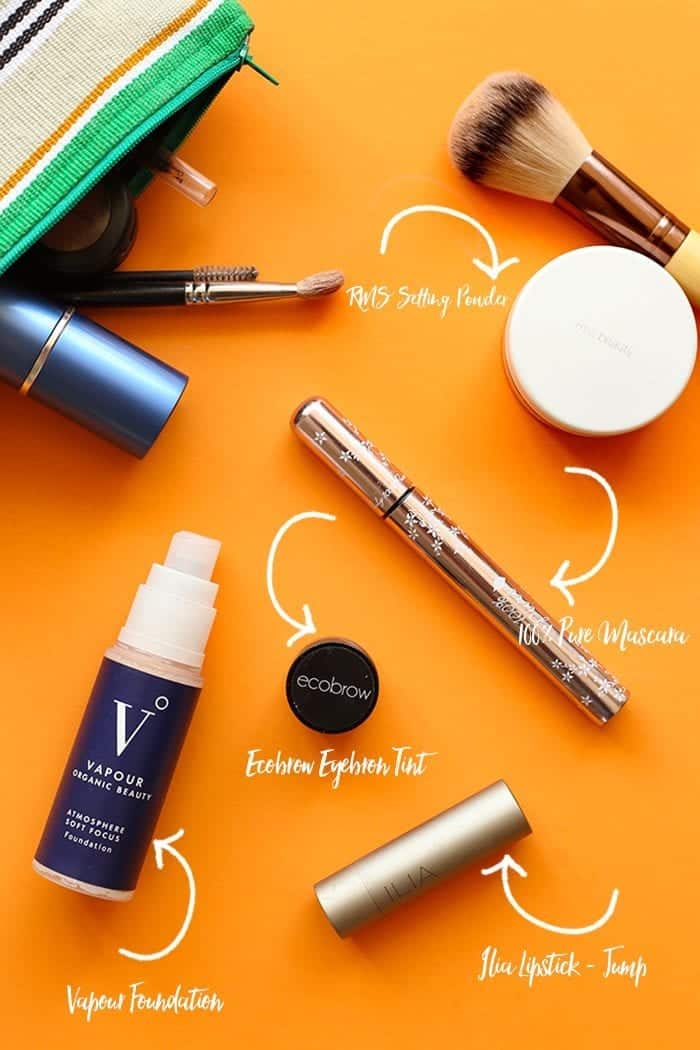 1. Vapour Atmosphere Soft Focus Foundation
5. Ilia Lip Conditioner (in Jump)
*watch the video above to learn why I love them so much!
NATURAL BEAUTY BRANDS I TRUST
RMS Beauty – I use their concealer and setting powder. A little goes a long way so it's definitely worth the investment.
100% Pure – a very reputable and well-known brand. I've talked about their liquid eye-liner before that is impressively good.
ILIA Beauty -They have every lip color under the sun and I'm obsessed. I usually go for their moisturizing matte options but if you prefer gloss, they have many varieties as well.
Lily Lolo – I find this brand to be one of the most versatile and affordable.
Alima Pure -my go-to for pencil liners. They have tons of eye shadow colors too that I want to try out.
W3ll People – They're sold at Target, which is AWESOME, and make all different types of products. I haven't explored them as much as I should but be on the lookout for them!
Vapour – these guys do clean beauty right! All of their products are not only non-toxic, they're actually good for your skin!
Remember, it's a marathon not a sprint. It's taken me years to convert my makeup bag over to green options and I'm still not done yet! Start investing slowly and in time you'll get there. A little is better than nothing!
LOVE THESE NATURAL BEAUTY TIPS? Join the THM Community!
Join 10,000+ members of the THM Community to get access to exclusive info about natural beauty, products I'm loving and how to transition to a more natural lifestyle.