Hippocrates said, "All disease begins in the gut." In case you aren't aware, Hippocrates lived a really long time ago (as in was alive from 460-375 BCE) and is known as the father of medicine. He made this bold statement that I feel like we're just starting to recognize. Only in the past few years have I begun to learn more about the importance of gut health.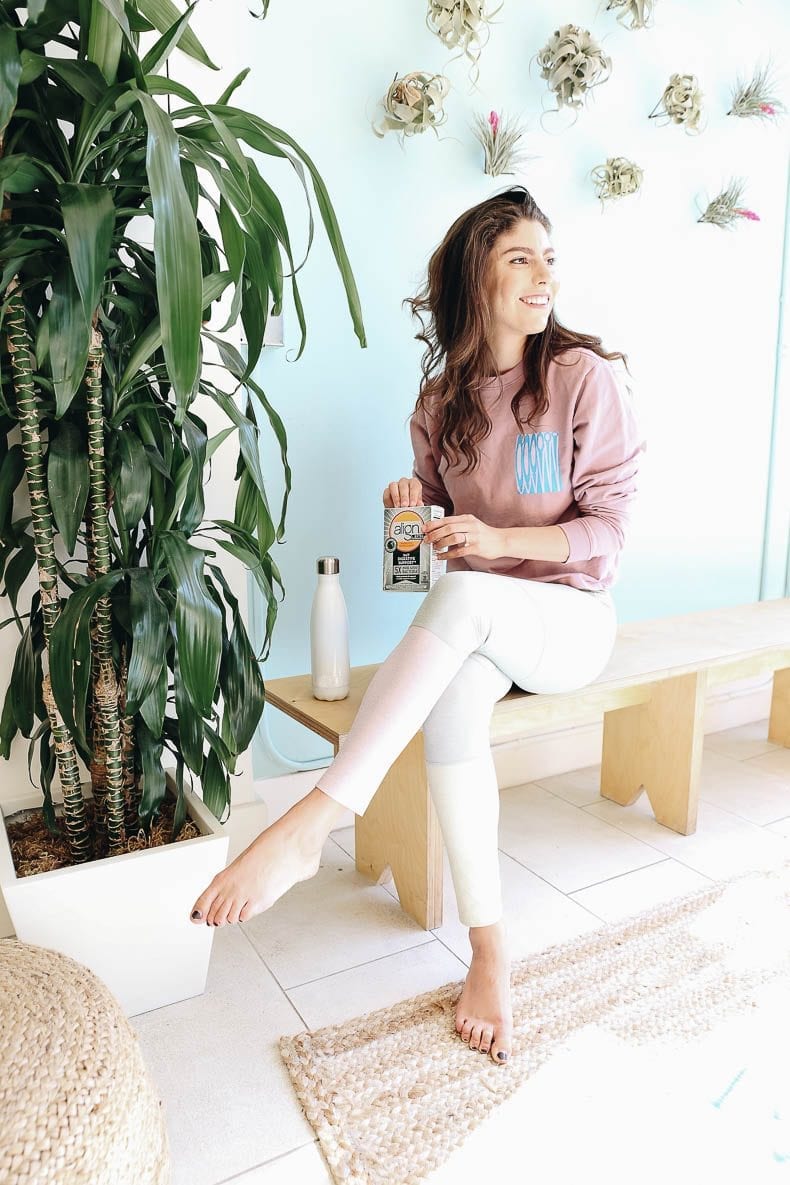 Your gut is the center of your health. It breaks down the food we eat, absorbs nutrients, supports bodily functions, and houses 70% of the immune system. You could say it's a pretty big deal 😉 When your gut is healthy, you are healthy. Remember that time I had SIBO? Case and point that when your gut is off, your health will be compromised. Luckily I got that taken care of, but since then it's been a journey of healing my gut after a round of antibiotics that killed off the bad bacteria…but also the good bacteria!
So let's start by talking bacteria. We have 10x more bacteria in our bodies than cells. Yes, you read that correctly. Most of them live in our gut and we need them…the good bacteria at least. Having the right ratio of good bacteria in our gut has been linked to improved digestion, improved immune system function, better skin and more. One of my favorite resources for science-based nutrition information, Healthline states, "Taking care of your gut, and the friendly bacteria that reside there, may be one of the single most important things you can do for your health." Did that get your attention?!
So how do we take care of our gut?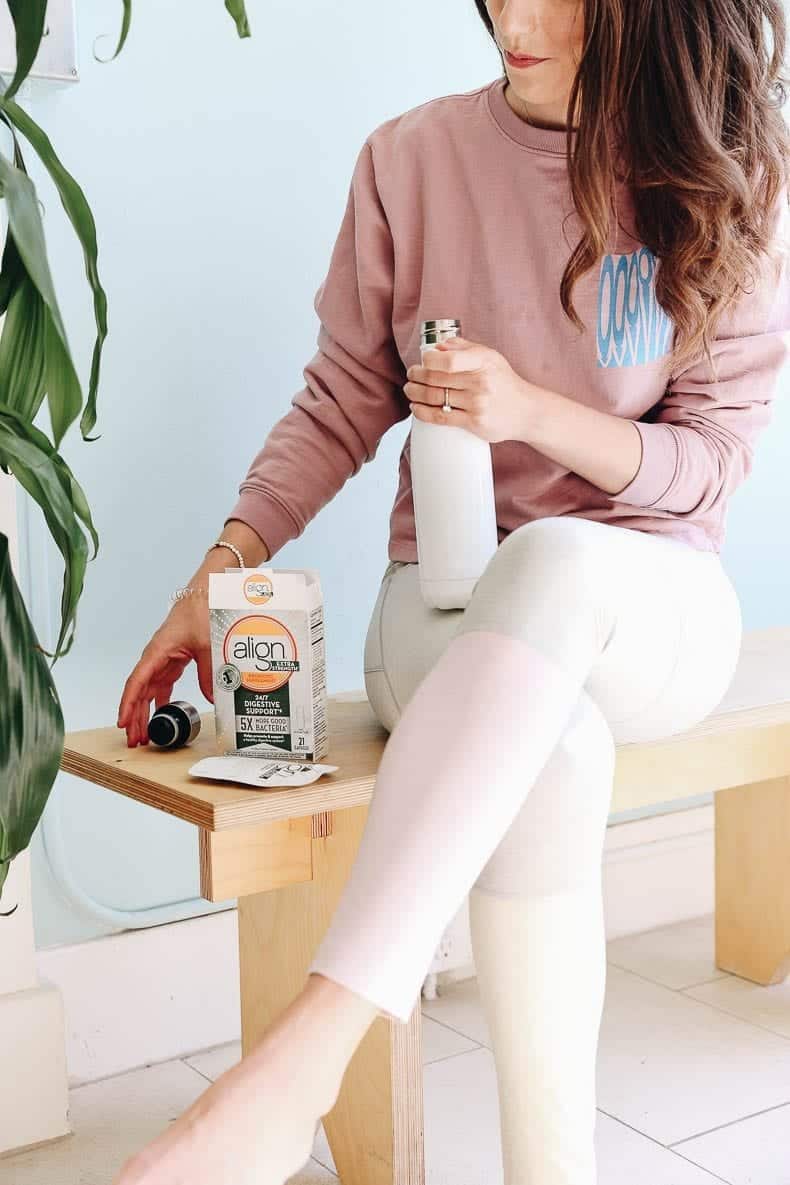 1. Focus on what you're putting in your body
Are you feeding yourself real, whole foods? I love the saying, "the more alive your food is, the more alive you are." No need to get obsessive about this, just make sure you're focusing on eating more fresh foods than packaged foods. There's certainly no shortage of recipes on here so I encourage you to check those out.
2. Take a daily probiotic
The easiest way I improve my gut health is by taking a daily probiotic. What are probiotics? Probiotics are good bacteria that support many essential bodily functions, including healthy digestion. While they.can be consumed through fermented foods, you may find probiotic supplements offer unique benefits over foods with probiotics. Align Probiotic is the #1 gastroenterologist recommended brand‡ – I've been taking it for years! I don't mess around with quality when it comes to probiotics. There are a lot of brands (and quality of product) so you want to make sure you're getting the most bang for your buck. Align contains Bidobacterium 35624™, a unique, pure-strain probiotic that was developed by gastroenterologists to help promote and support a healthy digestive system*. Align also comes in Align Extra Strength which contains 5x more good bacteria than Align Probiotic.
What I love about taking a daily probiotic is that it's kind of a "set and forget it mentality". It's as simple as taking a pill. What an awesome way to care for your body that takes less than 20 seconds. I can get down with that.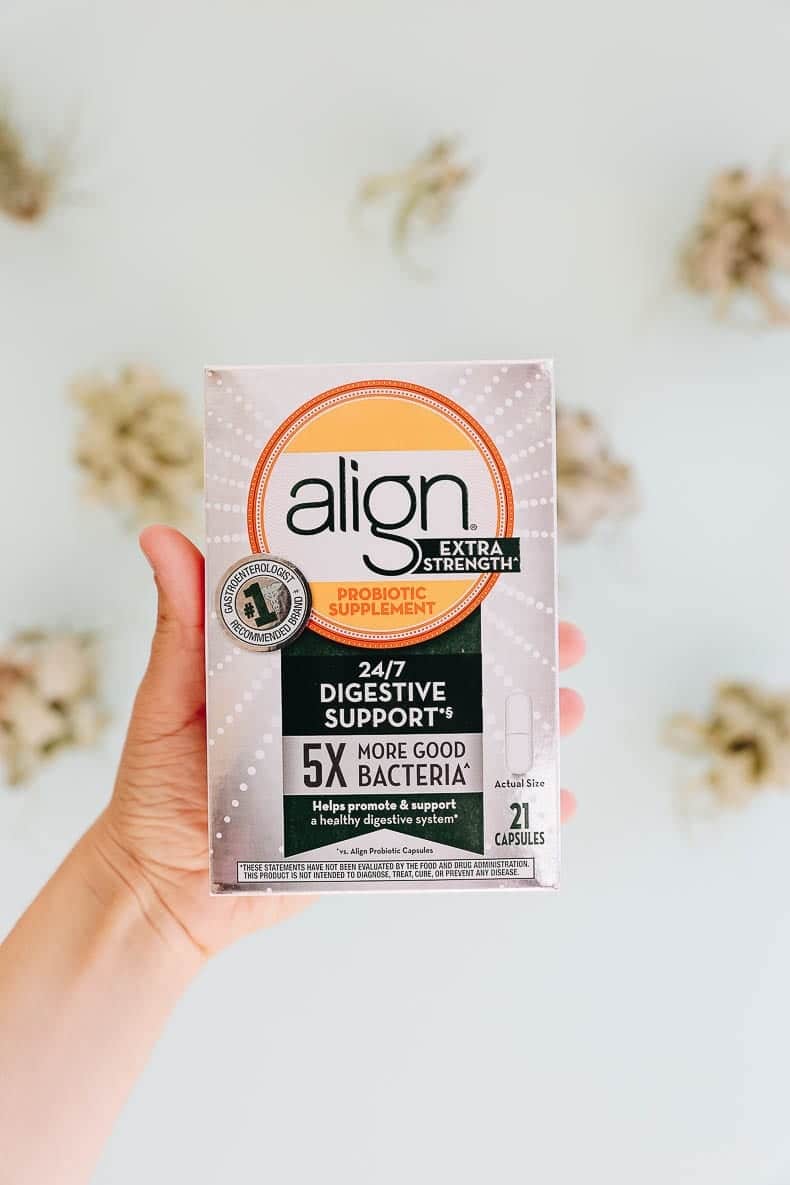 3. Eat/Drink Fermented Foods
I like to consume fermented foods and drinks in addition to taking a daily probiotic. It's just another way to get in some good bacteria for your gut. Some great options include:
kombucha
sauerkraut
kimchi
yogurt
4. Ask Your "Why"
I've found that one of the most important ways to stick with a routine or health goal is to remember why I'm doing it. So what is your 'why'? Are you always getting sick? Are you wanting to improve your skin? Your digestion? Are you working to improve your anxiety and depression? Why will probiotics benefit y-o-u? When I have a specific intention in mind that correlates with something important to me, I want to stick with it. Don't just take probiotics because I convinced you that they were cool…dig into your body and its needs.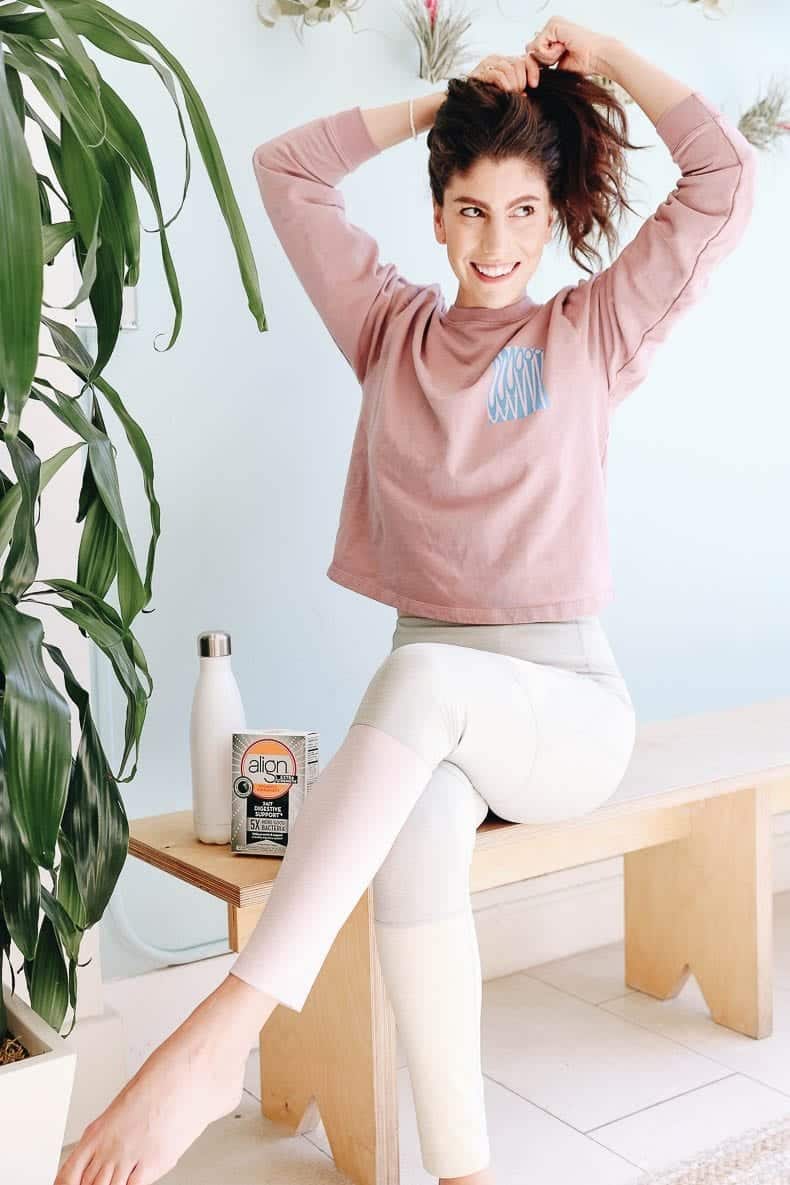 Gut health is king when it comes to overall health. If you want to address health issues (no matter where they are in your body!), chances are you'll want to start by looking at your gut. Take care of that gut of yours!
As always, chat with your doctor before adding anything new to your health routine.
Disclaimer: This post was sponsored by Align. I was compensated for my time. Thank you for supporting the brands who help make THM possible.
Have you ever taken a probiotic supplement? What's your stance on gut health?
ǂAmong gastroenterologists who recommended a brand of probiotic in a QuintilesIMS 2017 survey.
*This statement has not been evaluated by the Food and Drug Administration.
This product is not intended to diagnose, treat, cure, or prevent any disease.
JOIN THE THM NEWSLETTER
Join 20,000+ members of the THM Community to get access to exclusive recipes, healthy lifestyle tips and behind-the-scenes news from our team!