Happy November! New month, new journal prompts. You guys loved October's journal prompts so I'm back for more this month. In honor of Thanksgiving, I thought it would be fun to focus on gratitude all month long. Let's dive into why practicing gratitude is important, how to start a gratitude journal and finish with the gratitude journal prompts!
Why is practicing gratitude important?
There have been so many studies about how gratitude positively impacts our lives as a whole. Gratitude reduces stress levels and a lot of negative emotions like resentment, frustration, anger, aggression, etc. A gratitude research has found that gratitude increases happiness and reduces depression. Pretty incredible! It also improves self esteem, empathy and mental strength overall, creating a greater sense of calm. But the benefits don't stop there! Studies have shown that gratitude can impact our physical well-being as well. Grateful people sleep better apparently and feel less aches and pain. (Source)
Have I convinced you? Why not try being more grateful, right?
How to Start a Gratitude Journal
Now that I've sold you on why practicing gratitude is so important, let's dive into how to actually start a journal. How do you practice gratitude? What do you write? As with any journaling, there is no one right way to do this. Make this practice your own. Here are some ideas of how to incorporate this practice into your life:
Take time to think about what you're thankful for each day.
Jot down three things you're grateful for 15 minutes before bed.
Set an alarm reminder to take time to journal daily.
Take time to complete my journal prompts below.
10 Gratitude Journal Prompts for November
1. Who/what made you smile today?
2. What is something you take for granted that you're grateful for?
3. What is the best thing that happened this week?
4. What cheers you up when you have a rough day? How can you incorporate more of that in your life?
5. When I reflect on my friendships, what friendships are giving life that I'm so grateful for?
6. What do you love about yourself?
7. What friends or friendships am I grateful for and why?
8. What inspires me? Am I finding inspiration regularly or just going through life?
9. What are you grateful for this season? What are your favorite things about fall?
10. I am looking forward to…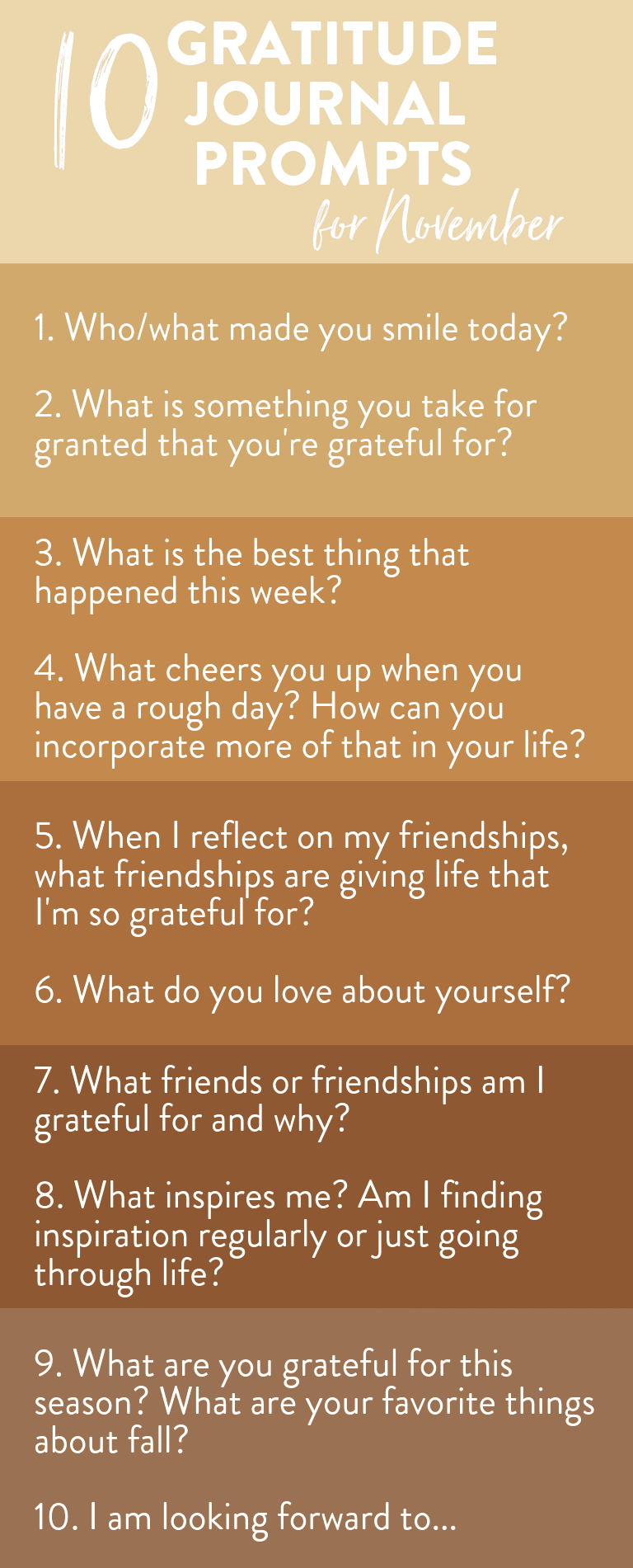 Like this post? Here are others you might enjoy:
JOIN THE THM NEWSLETTER
Join 20,000+ members of the THM Community to get access to exclusive recipes, healthy lifestyle tips and behind-the-scenes news from our team!