Matcha Powder has so many benefits beyond your standard green tea latte! Here are 20 Recipes with Matcha Green Tea Powder so you can benefit from all of its antioxidant health properties and delicious flavor!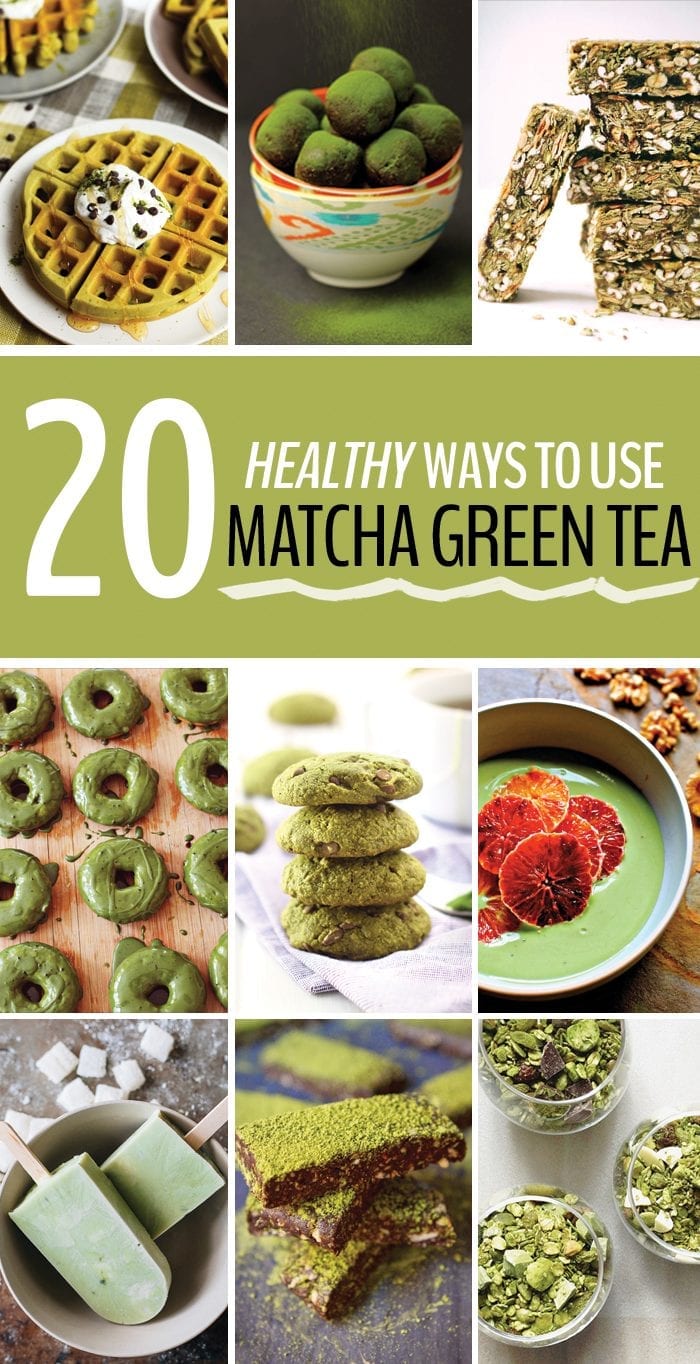 What is Matcha?
Matcha is a finely ground powder of green tea leaves. Matcha is slightly different from regular green tea leaves as it is shade grown for 3-4 weeks before harvest. It is then ground up into a fine powder. It typically has a vibrant green color and has an earthy taste.
Matcha is consumed in many parts of East Asia as part of daily life and tea ceremonies.
Traditionally matcha tea is combined with hot water in a special mug using a matcha whisk (bamboo whisk). Sometimes another liquid is added such as oat milk, coconut milk or almond milk.
There are several different grades of matcha powder but I recommend sticking to a premium and high-quality culinary grade matcha. Matcha drinks are very popular but matcha can also be consumed in food such as desserts and snacks.
What Are The Health Benefits of Matcha?
Matcha is packed with antioxidants and in particular, catechins a class of plant compounds that help the body eliminate free radicals. Not only that, but matcha has been shown to help support the liver, the heart as well as boost brain health. Need help focusing? Matcha is got you covered!
Matcha has roughly a quarter of the amount of caffeine as a similar-sized cup of brewed black coffee. There are also no spikes and crashes as matcha contains L-Theanine, a phytonutrient which slows the body's absorption of caffeine. This can help prevent the coffee jitters.
It is also naturally gluten-free, dairy-free and vegan.
Best Matcha Powders
Looking for the best matcha powder out there? Opt for a ceremonial grade matcha. My favorites include:
Are you ready to meet your match-a? Try out one or all 20 of these matcha recipes!
20 Healthy Matcha Recipes