Planning a visit to New Orleans? Here's a full breakdown of where to stay, what to do and where to eat for your 72 hours New Orleans Travel Guide! A trip of a lifetime you won't soon forget.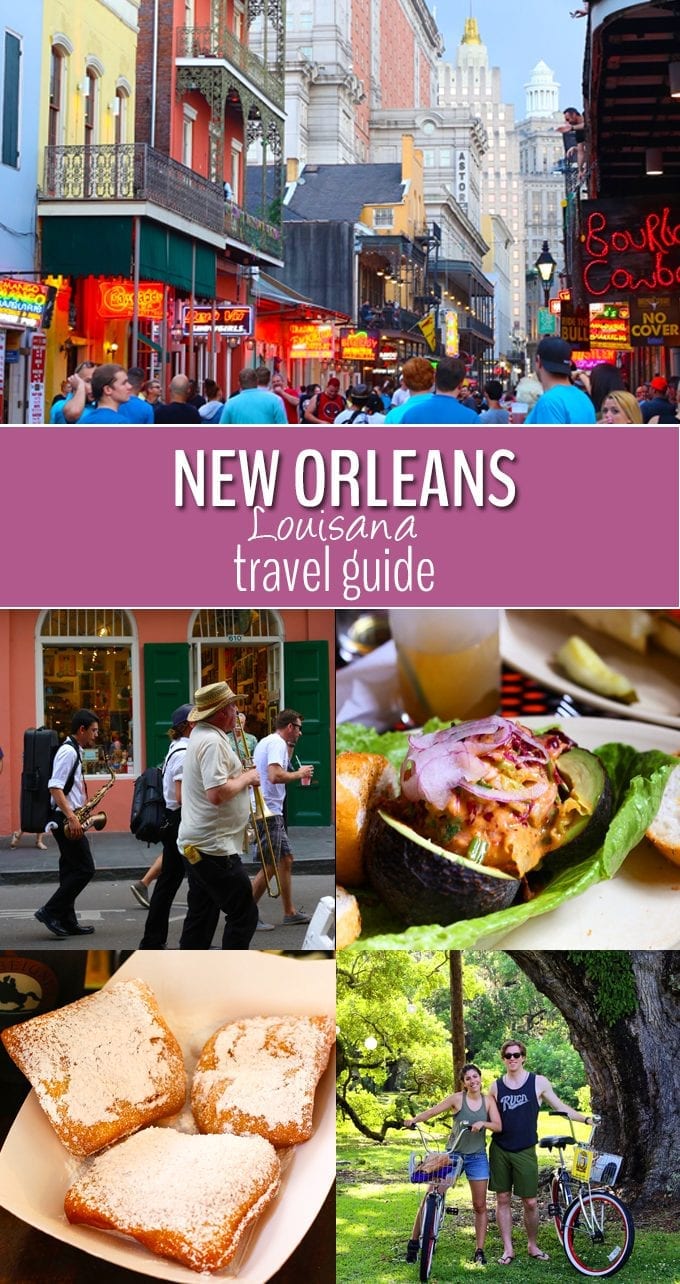 New Orleans is one of those cities that I've always wanted to visit. It's been at the top of my US bucket list for years so I was thrilled when an opportunity popped up turning my wishes into reality.
C had a work trip down there that also coincided with his birthday so we decided to celebrate by tacking on an extra couple of days to explore NOLA and see what all the fuss was about.
Neither of us really had any idea what to expect out of the city. I've heard tales of insane Mardi Gras experiences, bachelorette's taken to new heights and music like none other. What we got in return was so much more.
I don't know that I could accurately relate New Orleans to any other city. It feels like a fusion of Paris, Vegas, Miami and Dublin. And if that seems impossible to imagine, that's probably because it is. It's a place you need to visit to truly understand it. And honestly, it feels like we just barely touched the surface in our 72 hours there.
I'm excited to tell you all about what we tackled in our 72 hours in New Orleans, in case you're considering a trip there. And if you are, GO. I can promise you won't regret it.
WHERE TO STAY IN NEW ORLEANS
International House – We were put up at the International House and it was the perfect home base for our time in NOLA. The location could not be more optimal. It's two blocks from the French Quarter, which makes it prime for exploring but far enough from the madness that you can actually sleep at night.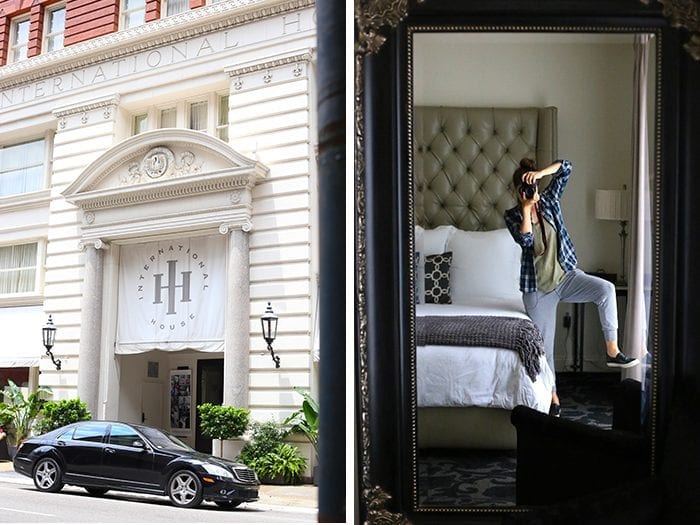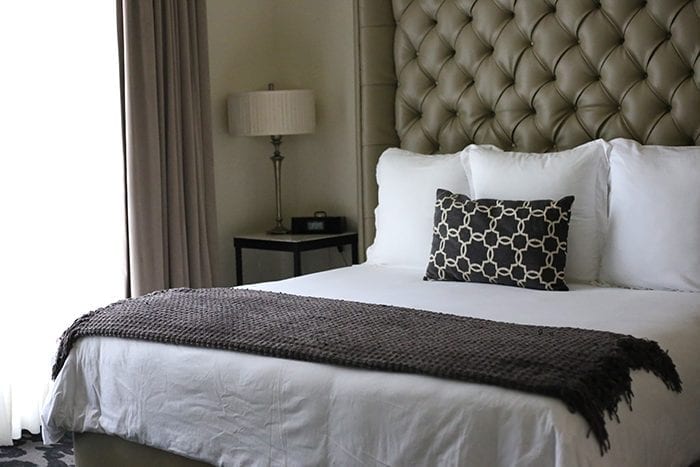 The amenities were fantastic and we especially loved our penthouse view of the city (not bad, eh?). When we were there they were hosting a Havana Whites party so the entire lobby had been transformed into a Cuban/all-white extravaganza.
The hotel was definitely on the trendier side but also had everything you could need. Hip but functional? Our kind of place. I really only have great things to say about International House!
WHERE TO VISIT/WHAT TO DO IN NEW ORLEANS
The French Quarter – When you hear about some of the craziness that goes down in New Orleans, you're likely hearing about the French Quarter. While, the French Quarter does indeed house the infamous Bourbon Street, it's also the epicenter of New Orleans' history and cultural sphere.
To get a full understanding of the French Quarter, be sure to take the Historic French Quarter Walking Tour. You'll cover everything dating back to the 18th century and the passing of control from the French to the Spanish and eventually to America.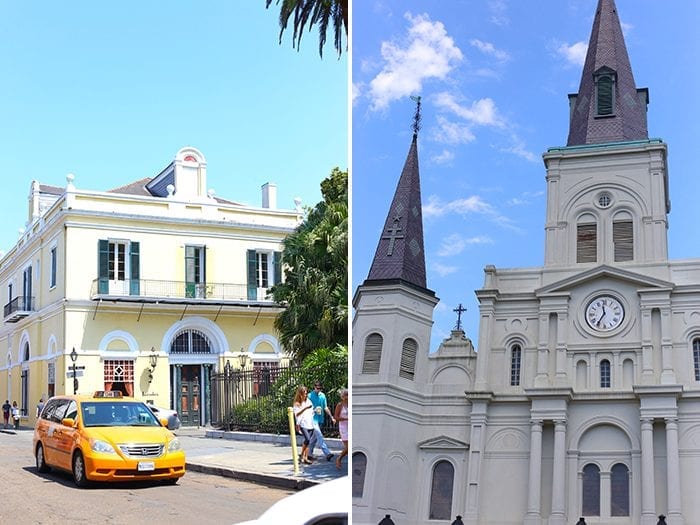 Take a Bike Tour – This was one of my favorite activities of the trip. New Orleans isn't too big, which means you can get a really good sense of all of its different neighborhoods by bike Jonathan was a fantastic tour guide who led us through all of New Orleans, dropping tidbits about the city all along the way.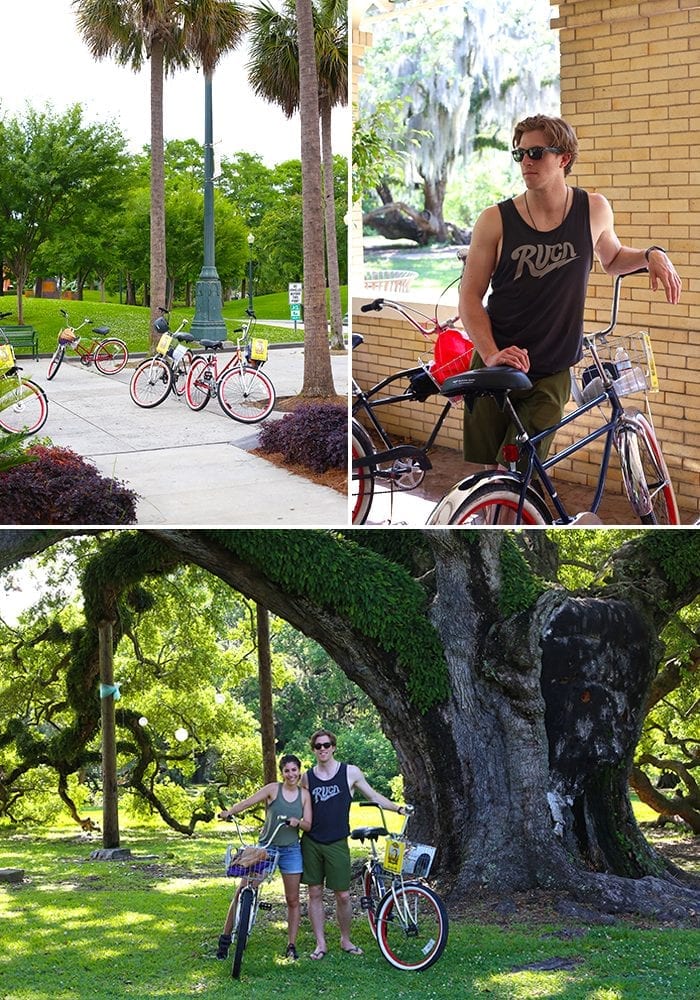 Check out the Music Scene– We were there during the Bayou Buglaoo but if a festival isn't going on, be sure to head over to Frenchmen's Street to catch some traditional New Orleans Jazz. But to be honest, everywhere you go there will be music. No matter where we went there was always someone or somewhere playing music. And man are the musicians good. We could have spent a day just listening to the sounds coming from buskers in the French Quarter!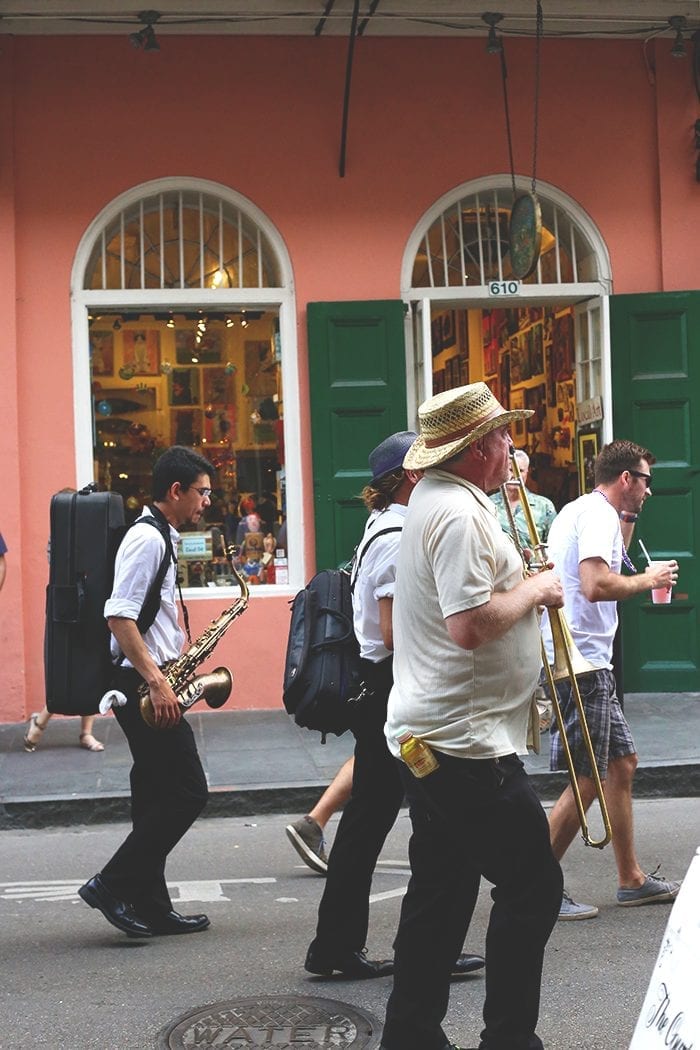 Shop on Magazine Street– From Jackson to Louisana there's some great little shops to explore! We loved all the antique shopping and cute local clothing stores. My wallet didn't love it nearly as much…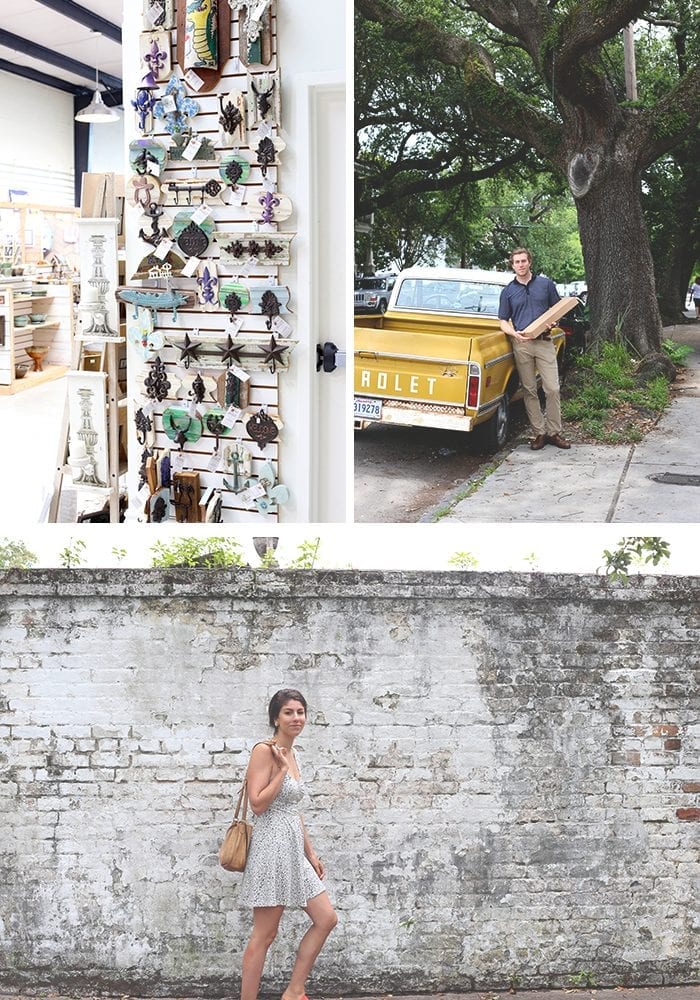 Explore the Garden District– Walking around the garden district made me feel like I was transported to another world. The architecture feels like it's straight out of a movie, which likely explains why so many movies are filmed in NOLA. Take the Historic Garden District Tour to learn more about it's history and continued cultural influence.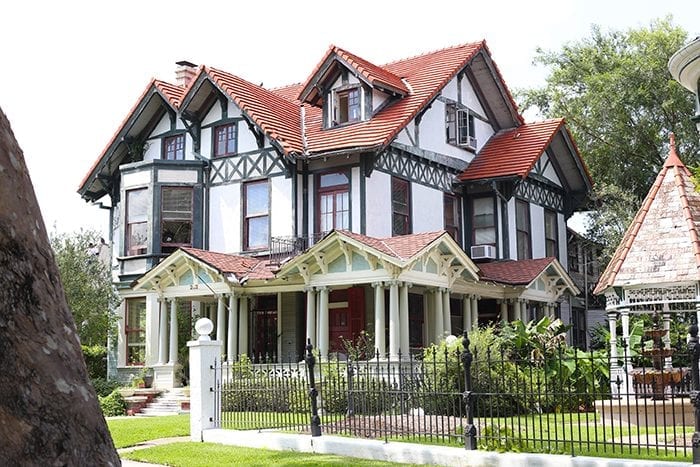 Take a Boat Tour– I am of the opinion that if a boat tour is available, you make it happen. It's one of the best ways to learn about a city! We took the Steamboat Natchez Dinner Jazz cruise and loved it! While the food left more to be desired (if being totally honest…), the views and in particular, the sunset over the city was absolutely incredible. And with a live band playing away as we cruised down the Mississippi, I couldn't think of a better way to celebrate C's birthday.

WHERE TO EAT IN NEW ORLEANS
I knew to expect good food in New Orleans, but I didn't expect it to be THAT good. It seemed as though everywhere we looked there was either a historic restaurant that had been around for a hundred years or a new and hip restaurant serving up a fusion of foods representing NOLA's diverse cultural history.
I should probably add that the food scene in NOLA wasn't particularly "healthy" (by a green juice-salad-bar-loving hippie), but I feel passionately that you gotta do the thing you're supposed to do in the place you're supposed to do it. So I barely bothered to find the best Acai Bowl (if it exists!) and instead opted to stuff my face with traditional Creole and Cajun foods. YOLO.
Napoleon House– Our first stop was the historic Napoleon House where I nearly cried tears of joy after trying their Shrimp Remoulade stuffed Avocado. C got the alligator po'boy and said it was delicious. We also got a private tour of the upstairs, which was originally built for Napolean in 1812, though he died before he ever made it there.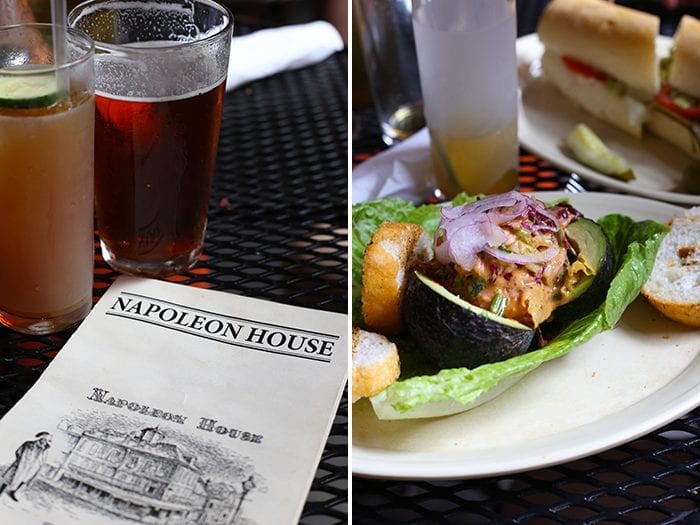 Arnaud's – This whole meal felt like a classic New Orleans experience, all accompanied by a live Jazz Band. We got the potato soufflé, baked oysters and split the shrimp creole and Pompano Duarte. We loved knowing that some of the recipes were almost 100 years old and the service felt like straight out of a Parisian 5-star restaurant.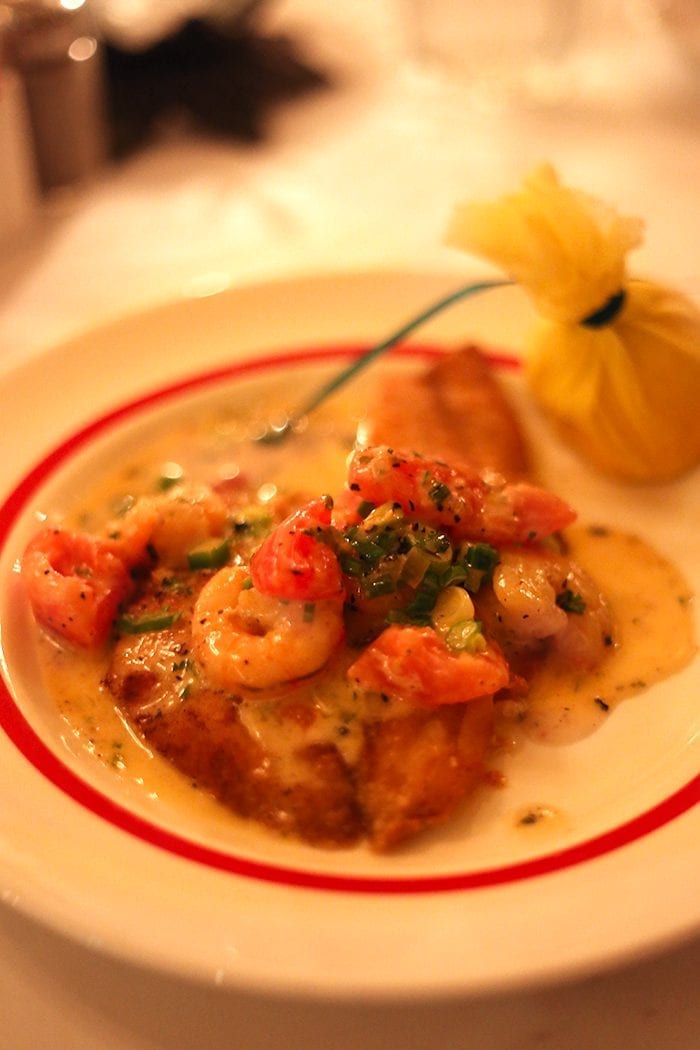 Kingfish– By far our favorite meal in NOLA! The food here was out of this world. We opted for the charcuterie board, the apple and fennel salad and split the fish tacos and catch du jour with summer squash and artichokes. This is a meal it will take me a long time to forget. It was more contemporary than the other places we ate at but still incorporated traditional New Orleans seafood, with a twist. Go here!

Commander's Palace – I have never experienced a 3-course brunch before and Commander's Palace was certainly the place to try it for the first time. We did the Jazz brunch I loved that they offered an "Eat Fit" option for some healthier meal options (I went for the Spring Granola for course 1 and the Spring Frittata for course 2) but also went full force with Lolly's Praline Parfait, which hands down was one of the best desserts I've eaten this year. And yes, we had dessert with breakfast and my life will never be the same. Once again there was a live band accompanying the experience and the service was first class.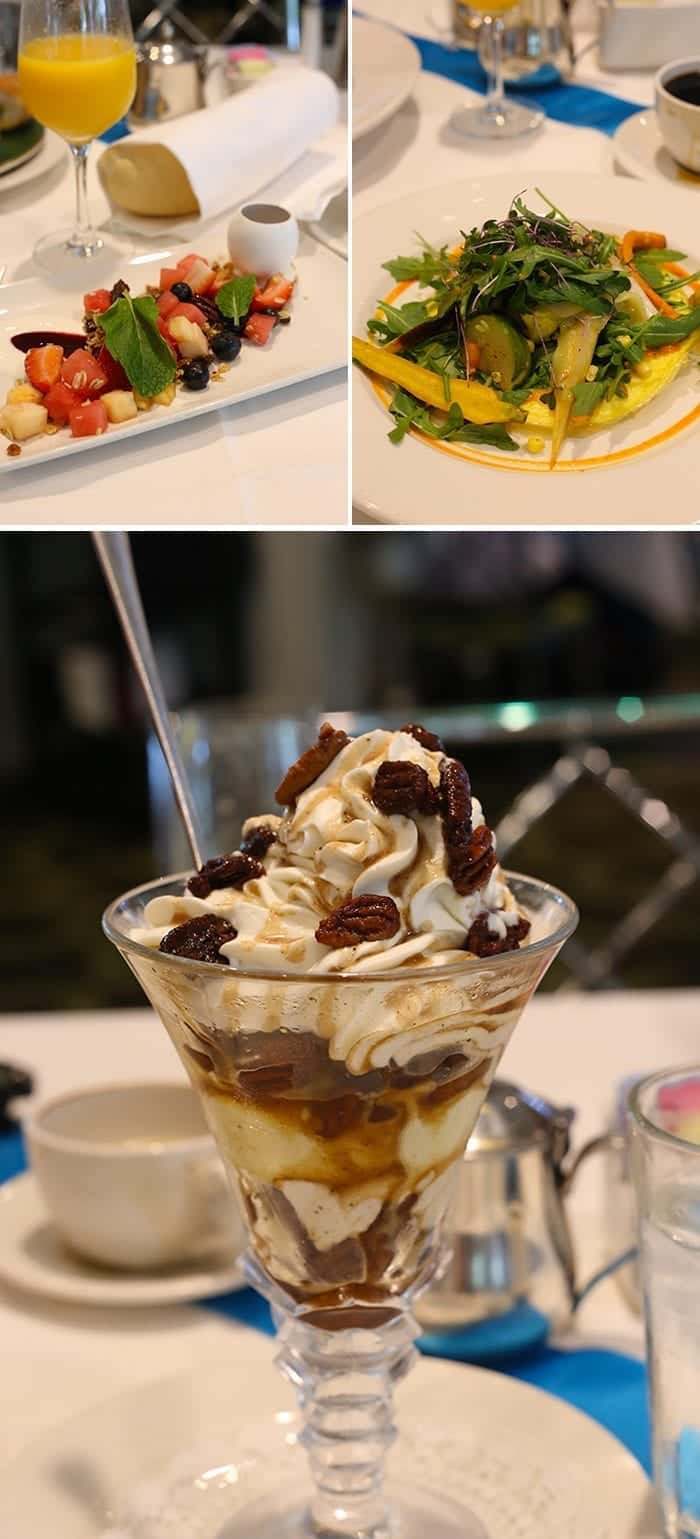 Beignets – Everyone in New Orleans has their own opinion about the best Beignets in the city. An overwhelming number of people suggested Café du Monde, our bike guide recommended Morning Call Coffee and NOCVB advocated for Café Beignet. I'm fairly certain that all fried dough covered in sugar tastes amazing, but we opted for Café Beignet because the line and the cute café were just right. And yes the, the beignets were phenomenal. And no, no one warned me not to exhale out of my nose when eating them!
Coffee – An overwhelming number of people told us to try French Truck cold brew coffee. We ended up getting it at G & O Food Company and it truly was delicious. We also stopped in Spit Fire coffee and loved the cute coffee shop vibe and their Yirgzu cold brew drip coffee.
THINGS TO KNOW BEFORE YOU GO TO NEW ORLEANS
It is hot as heck! -Maybe it's the Canadian in me, but this is a heat I don't think I've ever experienced. And apparently it wasn't even hot for New Orleans. The combo of heat + humidity meant I needed at least a 2 hour nap everyday. We visited in May when the hot season was just beginning so be sure to check out the average forecast for NOLA or avoid going in the middle of summer if heat ain't your thing.
Getting Around – Yes, there's Uber in New Orleans. We made use of it quite a bit and it was seriously cheap to get around.
You can also easily hop on the streetcar (which is only blocks from the hotel) to get between the French Quarter and the Garden District and is a quintessential New Orleans experience.
Bourbon Street – You'll notice I didn't include Bourbon Street on my list of places to explore. Maybe it's because I'm old or maybe I've become far too accustomed to the "Netflix and Chill" mentality, but Bourbon Street had zero appeal to me. You can't help but walk down it while you're in the French Quarter, but unless you're prepared to get next level rowdy, and make poor decisions that you'll hopefully never remember, I wouldn't hesitate to skip it.
There's still a ton of history worth discovering about Bourbon Street (which you'll learn on your walking tour), but drinking margaritas out of a fishbowl and throwing beads off a balcony 3 months after Mardi Gras is not a make-or-break NOLA experience.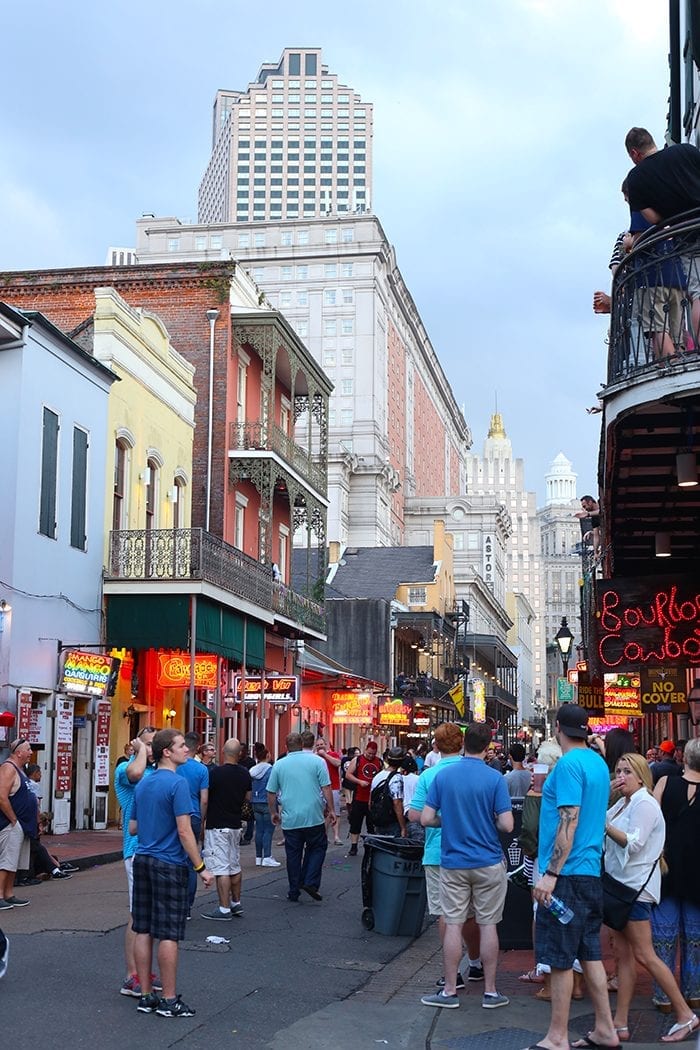 I still don't feel like I've fully summarized a true New Orleans visit, because there's truly something indescribable about the city. You have to experience it yourself to believe it.
If you're looking for a fun vacation full of history, architecture, phenomenal food and a high-energy vibe, New Orleans is for you! I can't think of a better place to let the good times roll!
Disclaimer: This trip was sponsored by the New Orleans Convention and Visitors Bureau. My trip was compensated, however all opinions expressed are entirely by own.
Have you ever been to New Orleans? Any places you would add to the list?
**Believe it or not but I'm already back on the road and this time hitting up San Francisco! I'm going to be taking the next week or so off on the blog, but stay tuned on Instagram and Snapchat (TheHealthyMaven) to watch our California adventures!
DON'T WANT TO MISS THE NEXT ADVENTURE? Join the THM Community!
Join 10,000+ members of the THM Community to get access to exclusive info about travel, places I've visited and how to stick to your healthy lifestyle on the road.