This post is sponsored by State Farm®.
"At least it will make for a great blog post!" was my parent's second reaction, after assuring we were all alive and well. And they could not have been more right. Today's post is perhaps the most intense, emotional and storytelling worthy of any of the last 750+ posts I've written.
It's about that time C and I headed out on a "half"cross-country road trip, only to total our car on the first day. It's a story of resilience, resourcefulness and making things happen even when you feel like the world is working against you. And it's a story of a 6-point buck who may or may not have lost his life but definitely did not win the war.
But the story begins in Minneapolis as a young and bright-eyed couple loaded up their baby blue prius with their fur-baby in tow. Don't they look so fresh and so clean?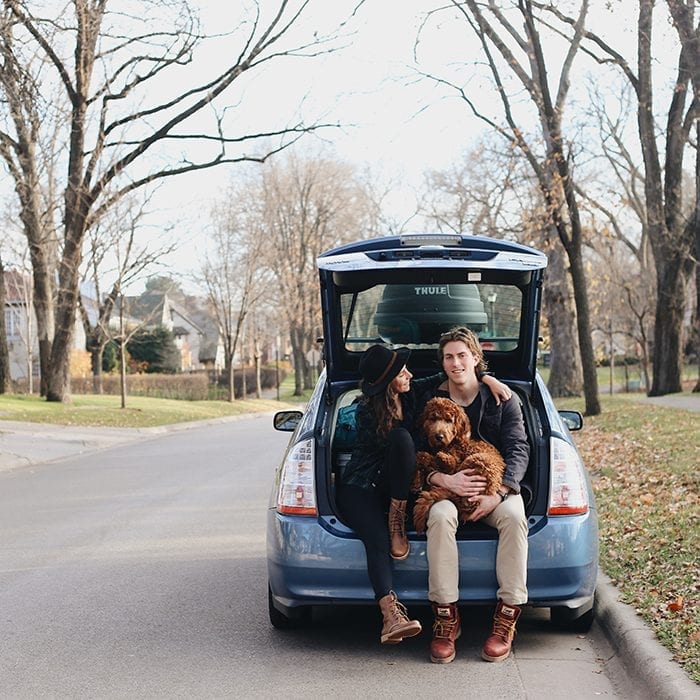 Badlands National Park is a natural destination point for those from the Twin Cities. While still being 8+ hours away, it is one of the closer National Parks to the cities and it's alien landscape certainly helps add to the draw. So as we planned our route from Minneapolis to San Francisco we knew we had to stop at Badlands. It was, as we would soon discover a decision that would truly test our tenacity and desire to make this trip a reality.
Back to Badlands…
We left Minneapolis early Wednesday morning fully prepared for a boring drive. Plains upon plains upon plains pretty much dictated the drive. Bodhi took the opportunity to get in his beauty rest…
The drive itself was not too eventful. We powered through lunch at Panera in order to make it to Badlands for sundown. And when we arrived it felt like we had landed on Mars.
Entering into the park was very unassuming, but as soon as we crossed in we entered a whole new world. Perhaps what we loved most about the experience was having the entire park to ourselves.
Apparently no one visits the Badlands in November because they didn't have anyone manning the visitor center. We took two mini-hikes (forgot to write down the names) and enveloped ourselves in the views. The park itself looks like you jumped straight into a shark's mouth, full of pointy canines and razor sharp molars. It's hard to believe that nature created this.
If the trip were longer (a theme which we returned to each day..) we'd have stayed an extra day to do some more hiking in the park. But the sun was setting and we still had another hour and a half to our airbnb…or so we thought.
Before turning out of the park, C suggested we pull over and take in a few more minutes, while watching the sun finally set. I'm grateful to have had those grounding moments where we intentionally looked around and at each other and felt extreme gratitude for our life. I'm not so certain all the events that would later unfold would have been as manageable if we hadn't given ourselves this time. It serves as an important reminder to take time to slow down and simply observe. You never know when things can change.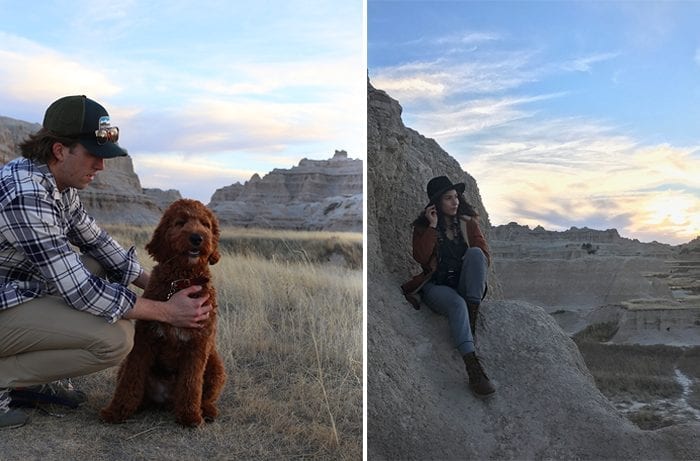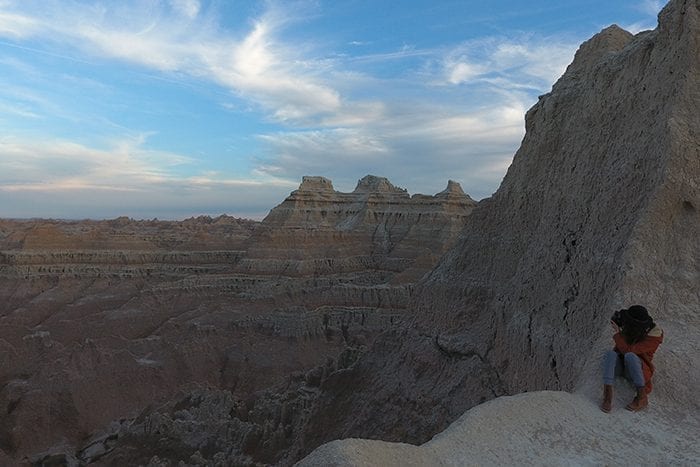 We continued West on i-90 towards Hot Springs, South Dakota until about 40 miles outside Rapid City, SD a 6-pointed buck (a MASSIVE deer) decided to cross the freeway while we sauntered along at 80 miles per hour. BAM was all I heard and when I looked up all I could see was black. The hood of the car had flown up and smashed our windshield sending glass flying into our laps.
Immediately Bodhi ran into the front seats as C successfully pulled our dying car over to the side of the road. The engine failed followed quickly by the battery and within 2 minutes we sat stranded on the side of the freeway, looking completely dumbfounded but feeling lucky to be alive.
First I'm going to tell you what we did and then I'm going to tell you what I wish we had done. I have no regrets about the situation but I do think everything is a learning lesson for the next time (hopefully there won't be another one of these…but you know). I'm also laughing as I write this because C's parent's reaction was that "I'd be teaching people how to navigate totalling your car in a week". So yeah….our parents know us well.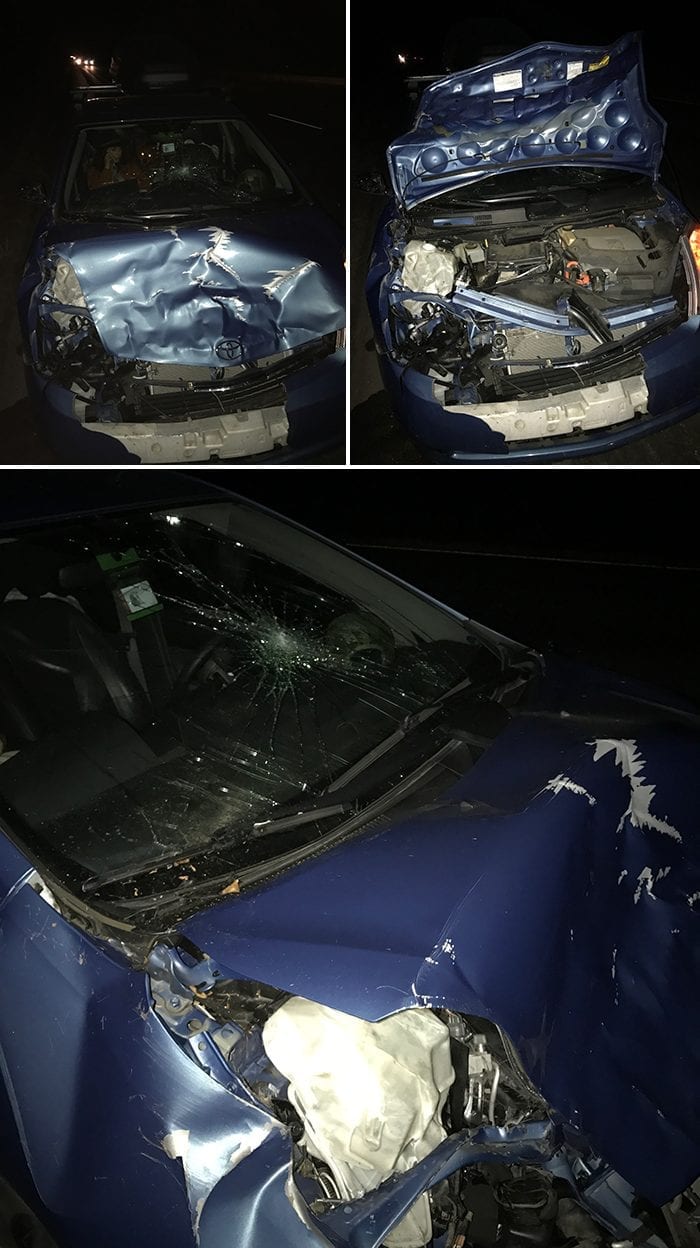 WHAT WE DID
1. Looked at each other and made sure we were okay and Bodhi was okay.
2. Called our parents to let them know what happened and that everyone was alive and well.
3. Tried to figure out the best course of action for a tow truck. Blindly going into a road trip, not knowing the details of your insurance is always a bad idea.
4. Ordered a tow truck out of pocket and figured we'd deal with it later.
5. Booked a dog-friendly hotel.
6. Called Enterprise® 15x trying to secure a rental car to continue our trip. Thank you to everyone at Enterprise who listened to my sob-story as I begged you for an SUV that wouldn't be destroyed by a deer…
7. Lock all earthly possessions into car in a random tow truck lot in Rapid City.
8. Unwind at the hotel bar that also happened to be INSIDE a Perkins that was also hosting karaoke night. And thank you to everyone at Perkins who broke health codes to let Bodhi inside…
WHAT WE SHOULD HAVE DONE
1. Spent more than 5 seconds checking in on each other and devising a realistic plan of action instead of mad-scrambling phone calls.
2. Hi parents! We did this part right.
3 + 4. KNOW YOUR INSURANCE. We were literally gifted the car by C's parents a few weeks earlier so the car was brand new to us. The car was still insured under C's parents while we researched our own car insurance. Regardless, we should have researched the current insurance to have known in advance what we were entitled to should a situation like this arise. We had no idea what to do about the tow truck or the rental car or if there was anyone to call to help us. Having a safety kit in the car would have been a good idea too. Thanks for the tip State Farm!
5. Desperate times call for desperate measures and while we would have way rather stayed in our airbnb, we're just grateful we found a dog-friendly hotel.
6. Put off dealing with the rental car until after we had gotten to safety. In the moment I was so obsessed on making sure the accident didn't end our trip that I became laser-focused on securing us a car. As a result I made 15+ phone calls during which the plan would change dramatically and I'd end up hanging up. Where there is a will, there's a way and that will could have waited until we were back at the hotel.
7. I don't even know about this one. The trunk and passenger-side doors wouldn't open so emptying the car when it was zero degrees in the dark just didn't feel like the best option. When I think about having left all of our stuff in the car I feel pretty icky about it but sometimes you just have to remember that stuff is stuff.
8. NO REGRETS. YOLO. At least I can add "drank in a karaoke bar inside a Perkins in Rapid City, South Dakota" to my next game of two truths and a lie…
We were incredibly lucky in that we had cell service and were only 40 miles outside a city. I think about the long stretches we did through Nevada where there was literally no one around and no cell service. If the crash had happened then, I'm not sure what we would have done.
After the crash, State Farm reached out about their sponsorship of DOT Safety Patrols that's currently available in 15 states across the US. Each fleet of Assist Patrol vehicles patrols the highway looking for crashes, dangerous debris, and stranded motorists to provide assistance and help drivers get safely on their way. If you're wondering whether this totally free service is available in your state, check out the list HERE. It's a great resource to know about if you're travelling this holiday season.
So here we are, a month out from the crash and I'm still feeling so many emotions from it. Initially the fact that we actually survived didn't quite sink in. People kept telling me how lucky we were to be alive and unharmed but it just wasn't really clicking for me. A few days later I started to get some pretty bad dreams and I'd wake up in the middle of the night making sure C and Bodhi were okay. These have subsided (mostly) but I also think that I didn't let myself deal with the emotional impact of the crash properly. It's something I'm just starting to tackle now and giving myself a bit more grace around it.
But even though I'm still dealing with some emotional trauma surrounding it, I also feel incredibly proud at how C and I handled the whole situation as a couple. We didn't do everything perfectly, but we were a team and there is no way we would have been back on the road at 9:30 the next morning if we hadn't done it together. Bodhi helped too…in his own kind of way.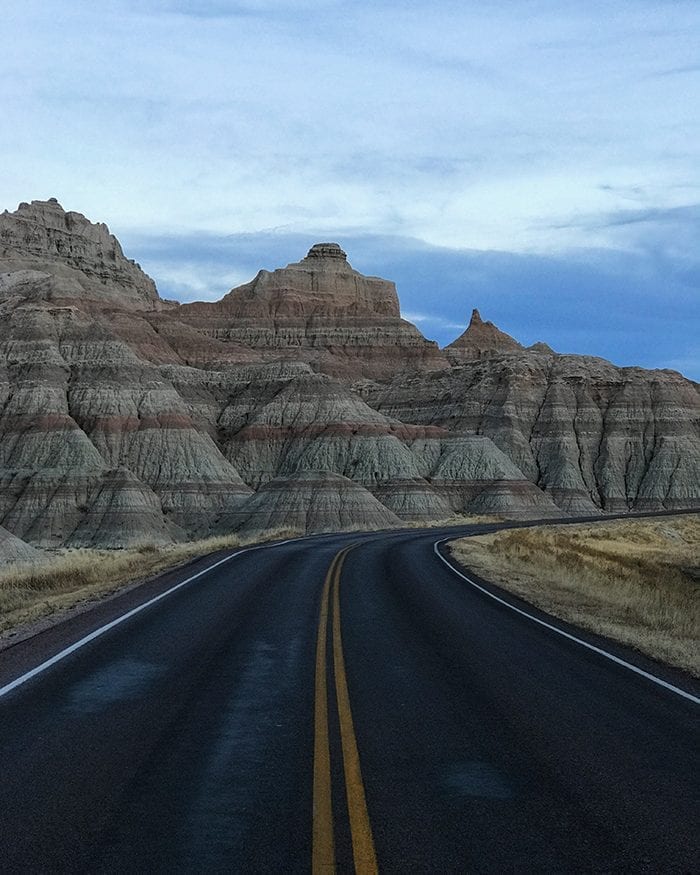 This is the first part of a 6 part series on our road trip. Not surprisingly, this first piece ended up being the most emotional but the rest of the trip was not without it's excitement. Be sure to watch the video and subscribe on YouTube so you don't miss a future video from the series. Some crazy drone footage coming your way!
This whole experience has reminded me how incredibly lucky I am to have you guys and the life that I have. Hug your loved ones extra close today because you just never know.
Disclaimer: This post is in sponsorship with State Farm Assist Patrol. Thank you for sponsoring the brands that help make THM possible.

Have you ever gotten into an accident? What tips would you add?
DON'T WANT TO MISS THE NEXT ADVENTURE? Join the THM Community!
Join 10,000+ members of the THM Community to get access to exclusive info about travel, places I've visited and how to stick to your healthy lifestyle on the road.