It's been almost a year since I last talked about my struggles with acne so I thought it was due time to give you guys an update.
*If you want to catch-up on my acne journey, you can do so HERE.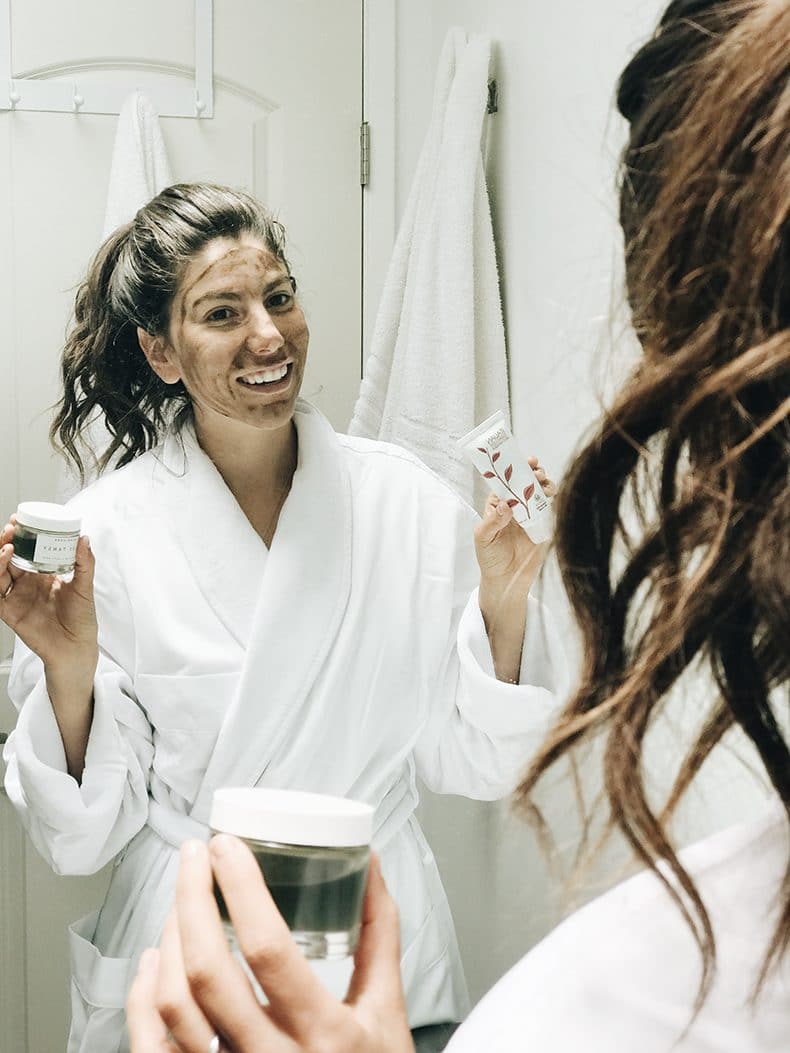 As I mentioned in the first post I wrote on the topic, I never in a million years imagined that I'd be writing this series. As someone who grew up with near-perfect skin, has been obsessed with skincare since my teenage years and also praises a healthy, balanced diet, I never expected I'd be struggling with acne. But let me tell you, it's the best thing that ever happened to me.
Yup, I just said that.
My acne story has taught me so much about the importance of natural skincare, respecting your hormones and having a deep sense of compassion for anyone struggling with a public insecurity. I've learned the value of talking about these insecurities and how therapeutic and connecting it can be to be open and honest about the things you may not love about yourself.
I've also learned that no one has perfect skin.
Sure, there are some people who only occasionally breakout and are immune to skin-stressors like food allergies and hormones, but just as I believe in body diversity, I also believe in skin diversity. That's not to say that there isn't always room for improvement, but trying to make our skin look like the perfect airbrushed model we see in a magazine is not something to strive for. It plain and simple just isn't real.
What I've also learned is that getting down to the root of the issue takes a very very long time. It's been almost 4 years for me since my initial acne breakout and I'm only now starting to get a grip on it. In addition, the protocol that I use might look completely different on you. The underlying causes of our acne are a combination of a lot of individual factors and so I encourage you to take in this post and every piece of advice related to acne with a grain of salt.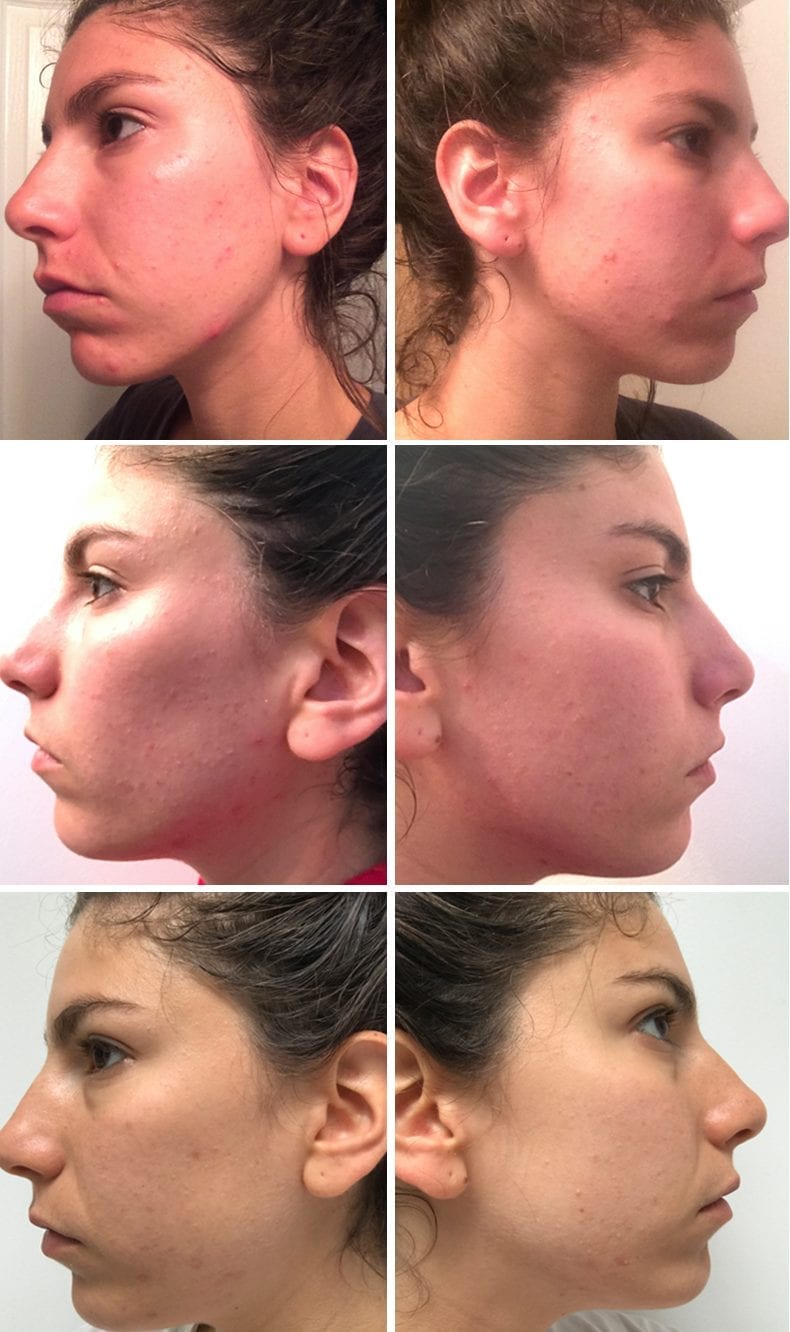 When I first started breaking out I took everyone's advice at face value. What I've since learned is that there are valuable pieces to what everyone has to say, but what will work for you may not be that exact same protocol. It's super important that you speak to someone, whether it be a doctor, naturopath or nutritionist who can help you figure out YOUR acne and then the cherry-picking experiments are up to you.
At this point I've tried almost everything from eliminating dairy to a whole slew of supplements and along the way I've kept and eliminated certain things. As I compare these pictures over the last year, I can see pretty drastic improvements, even if it felt slow at the time. Keeping in mind that this is a marathon not a sprint has been super helpful to me and I hope it can be helpful for you.
With that, I thought I'd go through what's been working for me right now. I'm very very happy with where my skin is at and have no expectations of it ever being perfect. There are certain things that I know could improve it even more, but I'm not willing to make those sacrifices…but more on that below.
1. My Skincare Regimen
You guys have seen me change my skincare products A LOT over the last couple of years. That's because it's been a transition from conventional to natural and then about finding the right combination of natural products that work for my skin. I also changed a lot of my products when I moved to San Francisco because the climate is different here and required a different lineup to prevent breakouts. To see my current skincare routine, watch the video below.
I want to add that transitioning your products from conventional to natural will almost always cause you to breakout. It takes your skin a long time to wean off chemical-based products and when your skin isn't used to natural oils, well you can imagine what happens. Be patient and know that the long-term benefits are worth it.
I also go for bi-monthly facials to just help nourish my skin and give it a little extra TLC. If you're looking for a good place in San Francisco, I can't recommend Ritual Skincare enough! I absolutely love Katie and she does an amazing job. If you're in Toronto, check out Province Apothecary and if you're in Minneapolis go to Tula Spa.
2. Supplements
A supplement protocol is not for everyone, but personally I've found a lot of benefits from certain ones. To hear more about my supplement protocol, check out this post. One thing to note, I've removed a couple things from my Care/of order. I no longer get calcium or omega-3 fish oil. I feel good about the amount of calcium I get from my diet and I just really hate the feeling I have after taking fish oil. I've tried at least 6 different brands and all of them make me nauseous. So I prefer to get my omega-3s from other sources, like actual fish and nuts and seeds.
3. Find Your Triggers
It took me a really long time to figure out what my triggers were, but once I determined my acne was 100% hormonal, it really helped narrow it down. Here they are:
i) Stress – if I'm stressed out, I break out – plain and simple. Keeping my stress levels down has been key to getting a handle on my acne.
ii) My Period – because my acne is hormonal, I break out around my period. It's always worse around that time of the month so making sure I really support my body during this time is super important.
iii) Caffeine – I've tried eliminating everything under the sun, but the only thing that really affected my skin was coffee. I gave up coffee for two months and definitely saw an improvement, but ultimately decided I wanted to add it back in. I don't drink coffee everyday, but sometimes I want it and I'm okay with breaking out because of that.
4. Don't Give Up On Experimentation
I'm all about experimenting and seeing how your body reacts to certain things. This is especially true when it comes to figuring out your triggers or adding in things that could help support your skin. I've given up coffee, dairy, gluten, and stress. I've also tried so many types of supplements, a detox powder and a whole slew of other things. I've currently been testing out collagen in my coffee to see if it helps. I'm a proponent of trying everything and seeing how your body reacts. It really requires you to pay attention and listen to your body, but that's something that I'd advocate for any day.
5. Stop Striving For Perfection
This is a hard one since I know we all want perfect skin, but sometimes that simply isn't possible. If what you're looking for is a quick fix, you can certainly take medications for that (no judgement here – I totally get it!), but if you're hoping to get down to the root cause, this requires accepting that no body functions perfectly. I'm thrilled if all I have on my face is a bit of acne scarring or a couple of zits. I know something is off when I'm really broken out and will always find a way to support my body if this is the case, but I don't expect to look airbrushed on a daily basis.
So yeah, that's where I'm at! Far from perfect, but really happy with the state of my skin and the quality of my life. As I mentioned above, this is simply what has worked for me, but I hope you can find some value in bits and pieces of it. I definitely encourage you to talk with a professional if you're struggling with acne.
I'm not sure how much more progress I can make from here, but I'm okay with that. I love taking care of my skin, and I also love feeling confident in it. For now that's all I could ask for!
Do you struggle with acne? What are some things that have helped you?
LOVE THESE NATURAL BEAUTY TIPS? Join the THM Community!
Join 10,000+ members of the THM Community to get access to exclusive info about natural beauty, products I'm loving and how to transition to a more natural lifestyle.