It's been a while since I shared a travel guide around here. I believe Grand Cayman was the last one in January. There's certainly been no shortage of travel since then, but lately I just haven't felt aligned to make travel guides out of each trip. Truthfully, I've found it challenging to balance both being in the moment while travelling and also capturing the experience for you. I love being able to share my best tips, but lugging around multiple cameras, capturing pretty pictures, filming videos and asking C to be my personal photographer isn't always the most conducive to being present. It's a fine line to walk…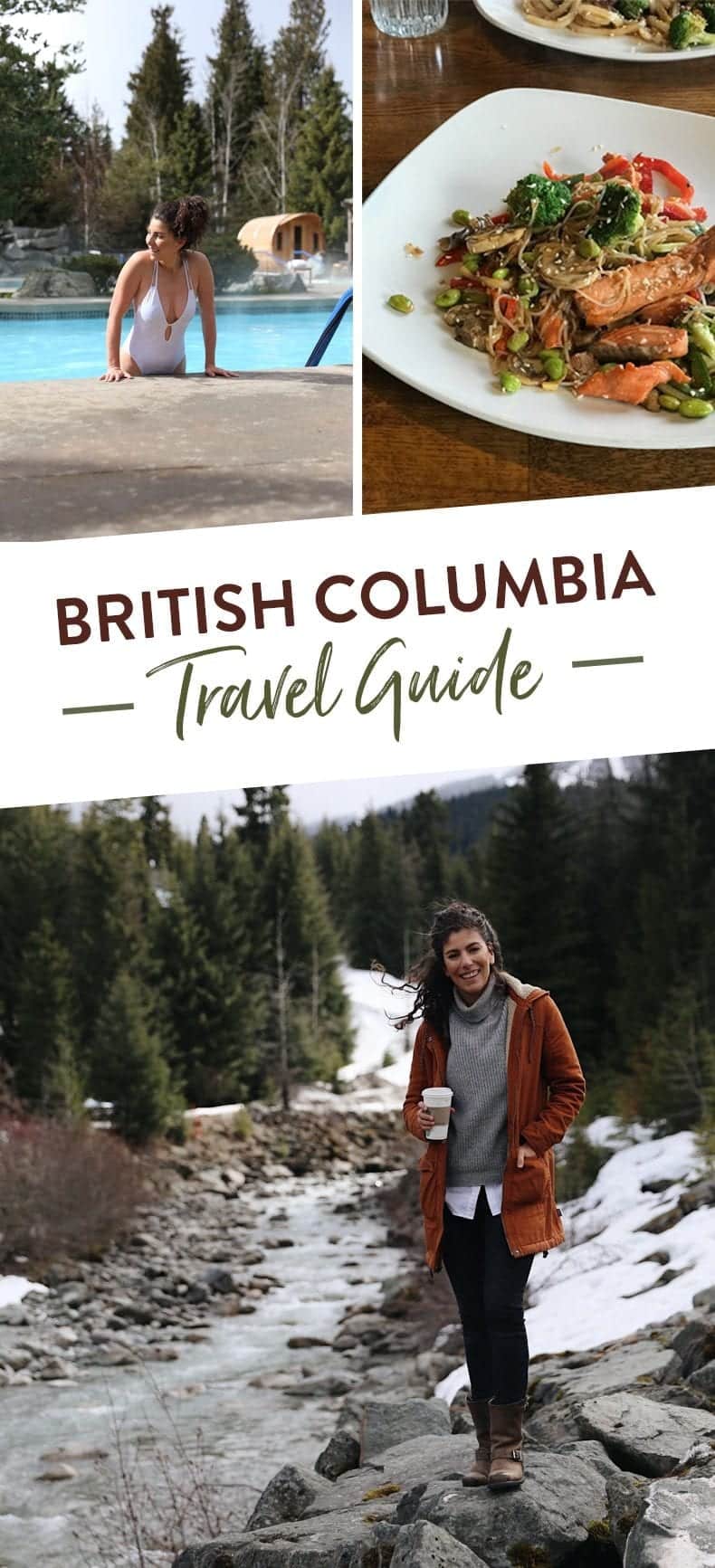 PIN ME TO ADD TO YOUR BUCKET LIST
That being said, I'm also learning that maybe, just maybe, I'm putting too much pressure on myself. I don't need to have a video with every travel guide. I don't need to take every picture with my gigantic professional camera. I don't need to capture every single moment. That's what my trip to British Columbia taught me – that sometimes we aren't the best judge of what we need.
So I packed up all my gear for my trip to Vancouver and Whistler and decided to just let my alignment dictate what felt right, rather than try to get in alignment with what my brain told me was right. In the end I had such an incredible trip where I came home with memories to share with you guys and memories just for me. It just feels so right.
I captured some on my phone, some on my camera and decided to leave the vlogging camera in the comfort of my suitcase. I'm on a bit of a hiatus right now from video (I'll be back after the wedding!) and honestly, I'm glad I didn't film at all this trip. Though to be fair I did take about 100 snapchat videos of C with his baby cousin that make my heart swell and my ovaries ache (sorry it's the truth) that I'm saving just for me. They're sooooo cute.
The original reason for the trip was a conference in Whistler and then C and I extended our stay and spent a few days in Vancouver to see his family and hang with friends. I had never been to BC which is both embarrassing as a born-and-raised Canadian and legitimately made me feel like I was missing out on a part of the world that I knew I would love. I was right. Vancouver and Whistler are AMAZING, and I actually cannot wait to back.
But with that, let's jump into the British Columbia Travel Guide…
WHERE WE STAYED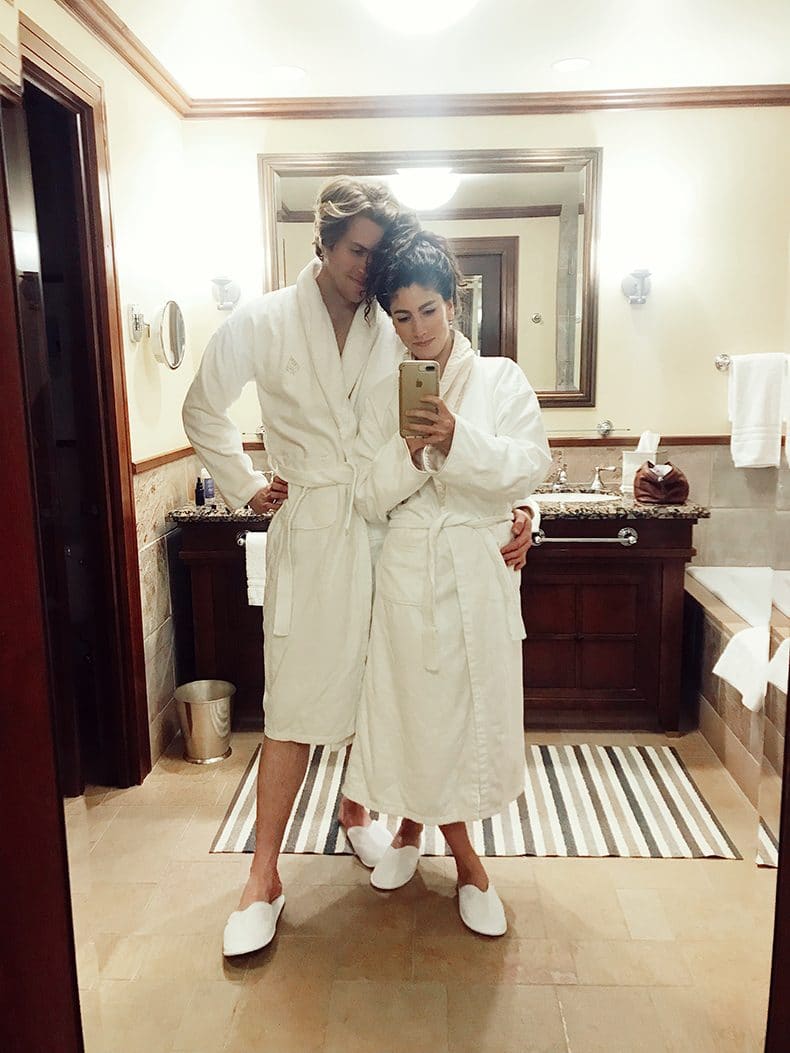 Whistler
The Four Seasons Whistler – truthfully C and I never would have spent the money on this ourselves, but the conference put us up here and we definitely weren't complaining! Understandably, the amenities were amazing and we totally made ourselves home at the spa and outdoor pools and hot tubs.
Vancouver
The Georgian Court Hotel*- we booked our hotel last minute on a really good deal through Hotel Tonight. The hotel was in a great location near Yaletown, had perfect amenities and was a great place to crash if you aren't looking for any over-the-top frills.
*We've gotten some amazing deals on hotels (up to 60% off!) through Hotel Tonight and if you want to save $25 off your first trip with them, use the code DKUGELMASS when signing up.
WHAT WE DID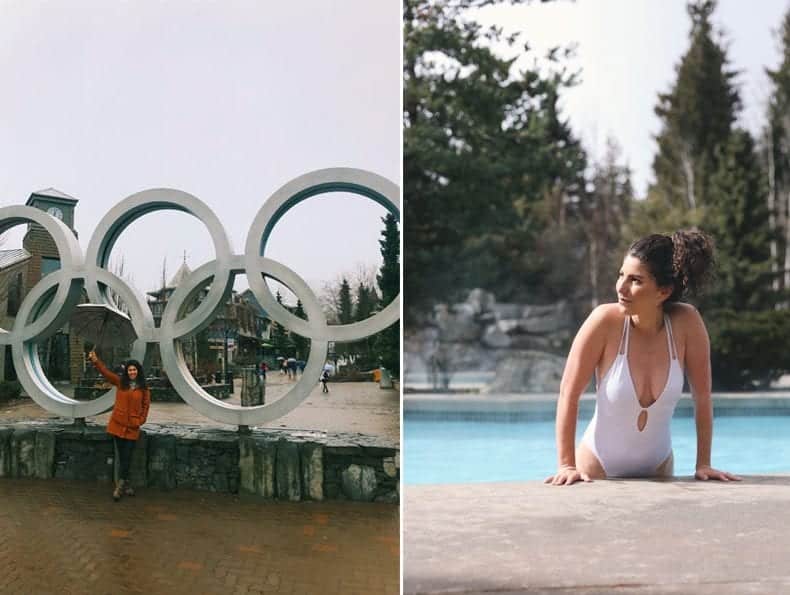 Whistler
Ski Whistler – yup definitely didn't ski, but I wasn't going to write a Whistler Travel Guide and not include skiing. C has skied there are few times and says it's amazing, but being dropped off on the top of a mountain and told to slide down to the bottom is not my version of a good time.
Head to the Spa – Now this is my version of a good time. The conference actually had a morning at the Spa Scandinave but yo' girl was late to arrive and it got totally booked up. I've heard it's incredible and based on the other Scandinave spas I've been to in Canada, I'm sure it's amazing. We did however enjoy the Spa at the Four Seasons and I'm definitely not complaining about that one…
Visit the Olympic Village – There's a bunch of little shops in the courtyard and it's fun to see the olympic rings and the amazing views of Blackcomb.
Walk around the Village – Admittedly the village is a bit kitchy, but there's also lots of shops you can visit and restaurants for your Apres Ski.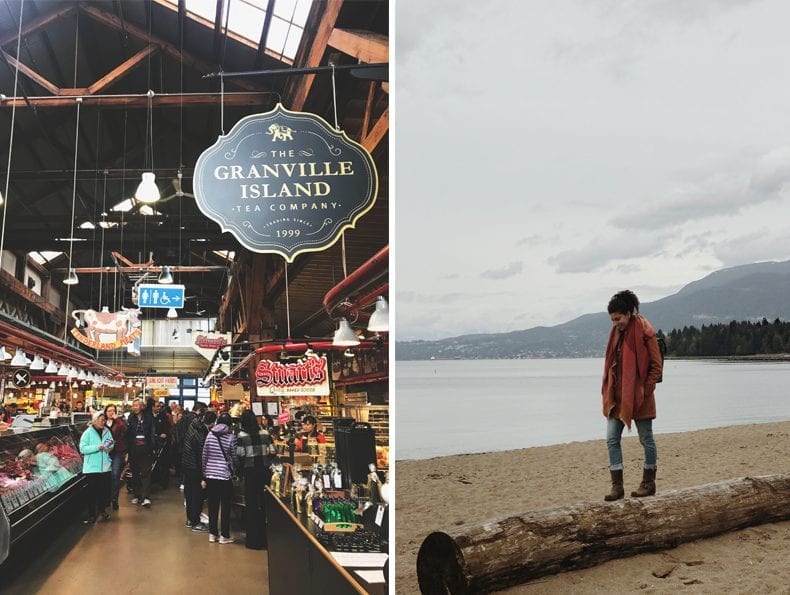 Vancouver
Granville Island – We loved our little excursion to Granville Island! Visit the food market, the little artisan shops and just wander around the island for a few hours. We took the ferry since we thought it would be fun, but you can also access it by car or public transit.
Walk Around Stanley Park – Stanley Park is actually amazing! For one, all the trails make you feel like you're in the middle of the wilderness, not the city and it also showcases the amazing flora and fauna of the PNW. I could have spent 3 days in there.
Vancouver Seawall – Lots of people recommended running or biking the seawall but due to the fact that I hate biking and it called for rain, we opted to walk. Good choice! We started at English Bay and walked along to Third Beach before weaving through Stanley Park. It was the perfect way to spend an afternoon!
WHERE WE ATE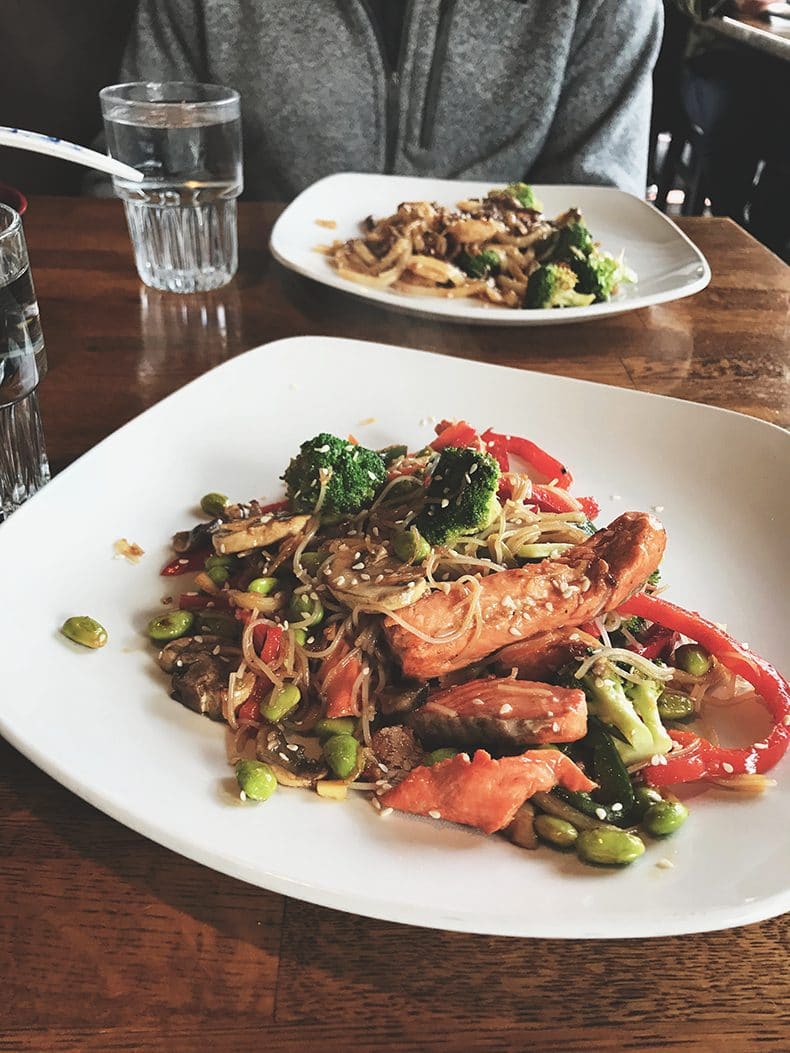 Whistler
The Green Moustache – The token healthy juice bar in Whistler. The food is delicious, quick and perfect if you want to top up on your green juice or kombucha. I had the kitchari upon suggestion and it was SO GOOD. My only regret is not buying dessert.
Sidecut – This is the restaurant at the Four Seasons and truly it's delicious. I would recommend asking to eat in the lounge so you don't spend an arm and a leg on your meal. Still not cheap but the quality is there and the service is amazing.
Naked Sprout – Similar to The Green Moustache, Naked Sprout has your organic, healthy fare but this time I didn't forgot to grab dessert. The Mint, Goji and Spirulina bar was INSANE. A great place to stop for smoothies or a quick bite to eat too.
Araxi – Happy hour oysters. Need I say more?
Mongolie Grill – I think this might be a chain, but if you're looking to top a plate full of veggies and pick your own flavor, this place is for you! We stumbled upon it for lunch and it was perfect and affordable.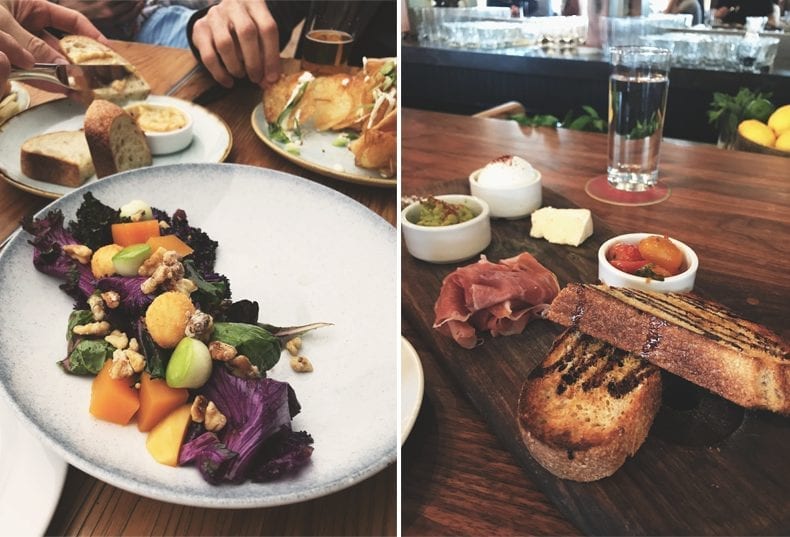 Vancouver
*The food in Van was INSANE. Seriously so good. We ate in with C's cousins one night but otherwise, basically just ate out our whole trip. If your only reason for visiting Vancouver is the food, you've made a good decision.
Chambar – two big realizations, brunch and waffles are HUGE in Vancouver. We couldn't get into Medina or Jam Bar but it was a blessing in disguise because Chambar was incredible and the brunch was to-die-for. Also if someone could please explain why every restaurant in Van serves waffles, that would be helpful!
Beach Bay Cafe – This was the perfect place to stumble upon after our walk through Stanley Park. We ordered a bunch of the Happy Hour appetizers and some beer and everything was fresh and delicious. Highly recommend!
Yaletown Distillery – The cocktails here were SO GOOD. It's pricey and definitely trendy but if you're looking for a great place to grab drinks, go here!
Minami – One of the best meals of my life (not hyperbole). The sushi here is incredible. Get the Salmon Oshi Sushi and then order it at least 3 more times. My only regret is not eating every meal here!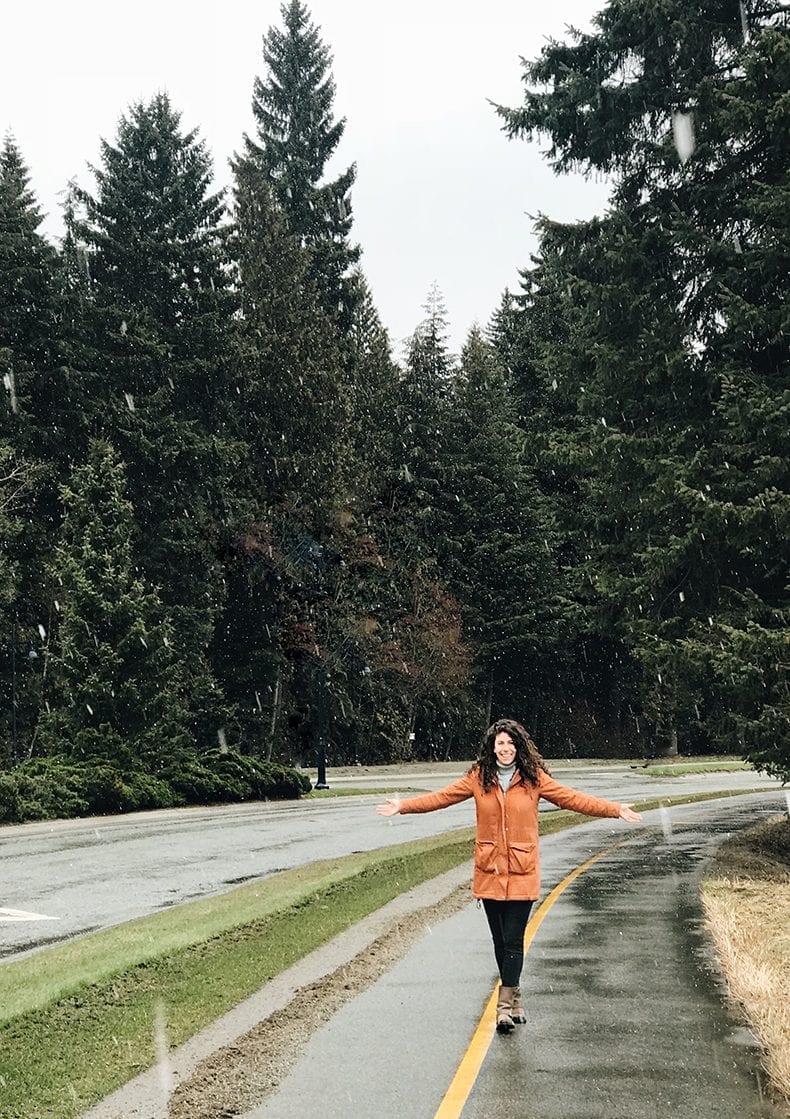 A few other random things…
-There is no Uber/Lyft in Vancouver – Yes, it drove me crazy. Yes, you will spend way too much on cabs. Yes, they take credit cards. PHEW.
-There is a bus that takes you directly from the Vancouver airport to Whistler. It's about $60 each way. We had a shuttle through our conference, but C took it on the way up and said it was easy. You just pick it up from International Departures.
-Bring a rain coat. It rains A LOT. Most hotels will offer umbrellas but if umbrellas aren't your thing make sure you have your rain coat.
-We only had 48 hours in Vancouver so if you have more time, I'd suggest getting out of the city to do some hikes, but since we didn't have that kind of time we decided to eat instead!
-You will have the best time! Honestly, Vancouver and BC in general blew me away. I loved it and can't wait to go back!
Have you ever been to BC? Where should I travel to next with my slightly less pressure-filled attitude;) ?
DON'T WANT TO MISS THE NEXT ADVENTURE? Join the THM Community!
Join 10,000+ members of the THM Community to get access to exclusive info about travel, places I've visited and how to stick to your healthy lifestyle on the road.