A healthy summer snack made from 3 simple ingredients! These Chocolate-Covered Banana Pops are easily customizable, kid-friendly and a delicious recipe straight from the freezer.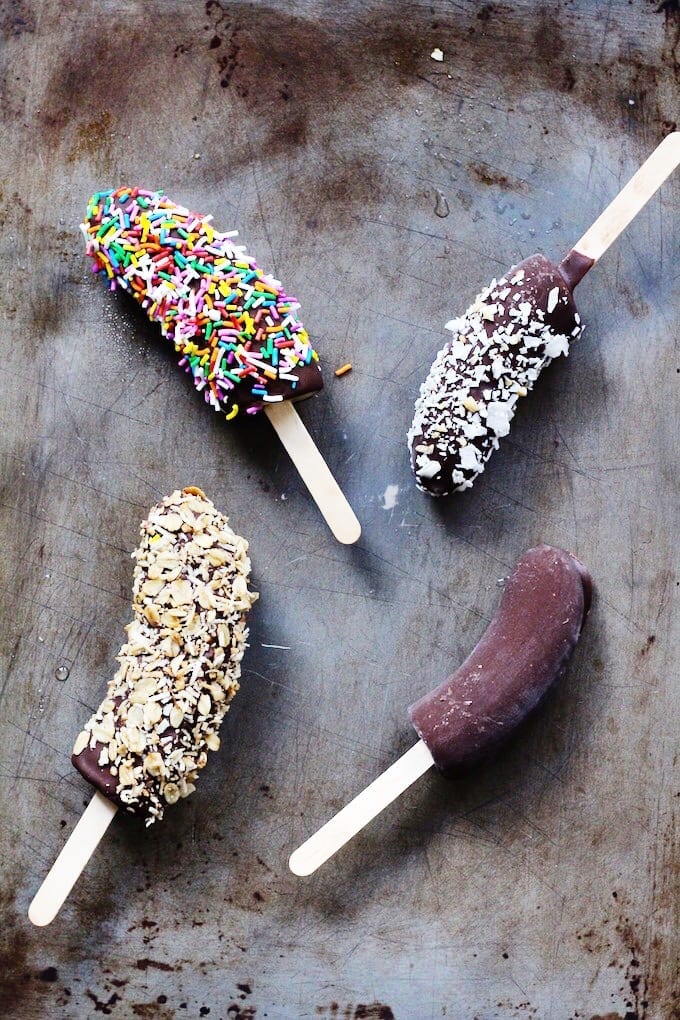 I didn't think it was possible to be as excited for a post as I am for this one. Not only is the recipe out of this world, but the best part is that I am finally introducing you to the latest and greatest member of Team Maven, the insanely talented Jess Bronstein.
Jess has been helping out with social media (you've probably "heard" from her before, you just didn't know it!) as well as in the kitchen. She's qualified beyond-belief, hilarious and a successful blogger/instagrammer in her own right.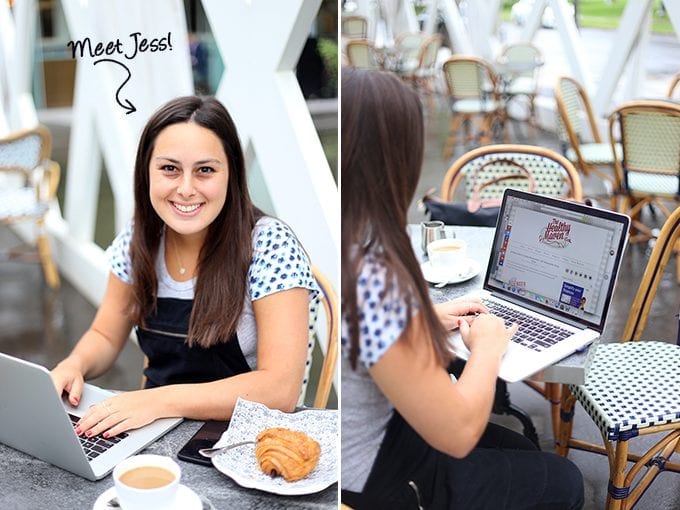 CHECK OUT HER AMAZING INSTAGRAM ACCOUNT HERE.
Bringing on Jess was the best decision I ever made for THM. She's helped me refocus my energy where my passions truly lay (in the kitchen and in photography) and I am no longer straining muscles trying to get "the pour shot". She also is an awesome sounding board for ideas and I kind of enjoy making her uncomfortable by forcing her to pose with sandwiches, chop nuts on camera and film me fake waking up in the morning. Clearly we're both learning a lot from each other 😉
But enough of me, I'm gonna let Jess take you away on this one and tell you all about these unbelievably delicious Chocolate Covered Banana Pops.
———————————————————————————————————————————————
Hey you guys!!! I am Jess, Davida's right hand lady, occasional hand model and taste tester. When I am not working on my slow pour, I am busy in my own kitchen- cooking, baking and all around making a delicious mess! I am a recent graduate of George Brown Culinary School in Toronto and just wrapped up an internship in the Test Kitchen at Canadian Living Magazine.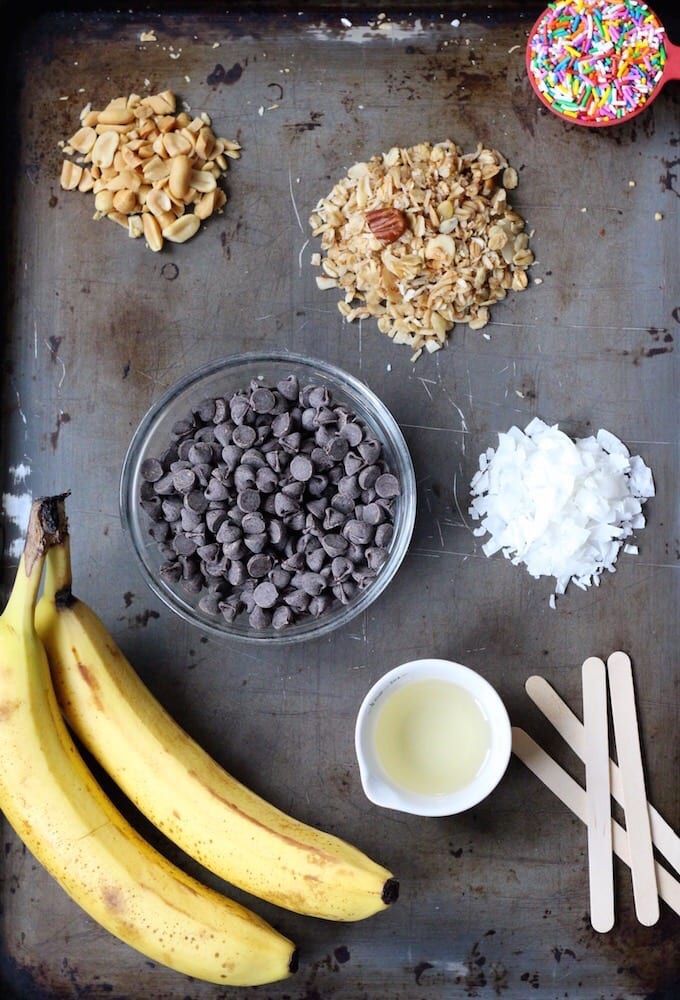 Davida and I met last fall after some mutual friends suggested that we would really hit it off (they were right). We met up for a coffee and to talk shop. Davida is INTENSE and her excitement and passion had me instantly inspired and motivated. Fast forward a few months and were reuniting over breakfast and totally fan-girling Bonnie Stern (read: my idol). In between attempts at getting a picture with Bonnie, we got to talking about the idea of working together. And here we are.
When Davida offered me the opportunity to write a guest post, I got really excited and then REALLY nervous! You see, I love the behind the scenes element to blogging. I am a total social media junkie, I love Instagram and I mean who doesn't love a solid evening of binge watching Gossip Girl on Netflix, while drinking wine and Pinning pictures of food? Back to the guest post- I really didn't know what I was going to write (some how we're already 215 words deep and I haven't even told you about the recipe I have for you), so I figured, when all else fails tell everyone about your latest crush.


I have a little bit of a fruit crush on Bananas. Bananas are super versatile, they are the perfect grab and go snack, they are always in season, heck you can even make pancakes with 2 eggs and a banana! But more technically speaking, because bananas are higher in sugar and carbohydrates than other fruits, they are often my go to ingredient for turning the unhealthy, healthy.
HELLO Chocolate-Covered Banana Pops! These babies are loaded with potassium and are an instant crowd-pleaser, not to mention they are really really easy and fun to make (as long as you are cool with having sprinkles EVERYWHERE). They even last for a few weeks in the freezer, which makes them the perfect option for a make-ahead snack!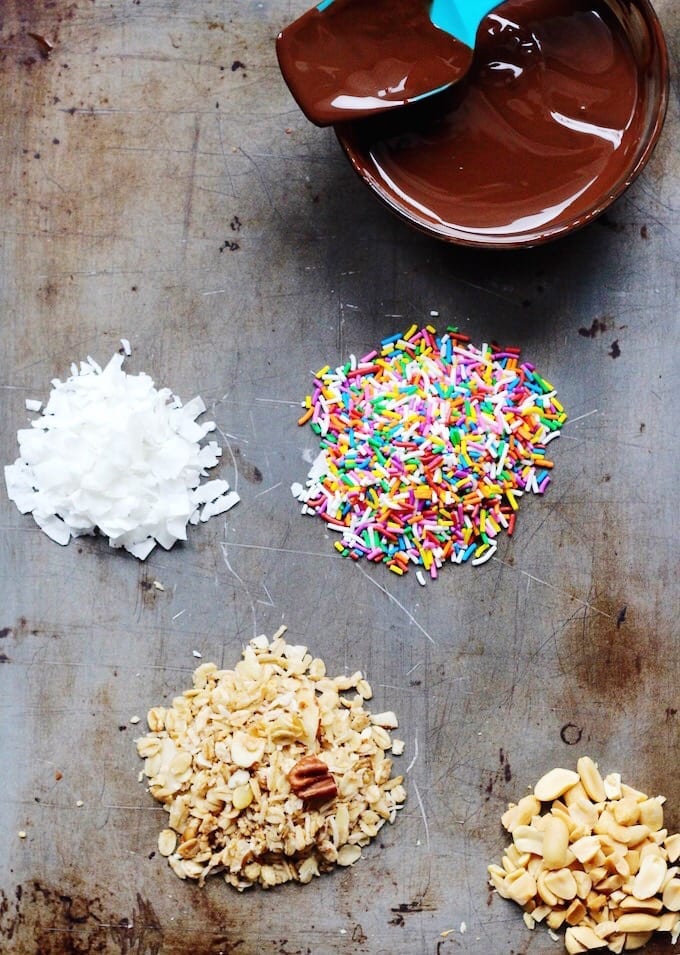 The best thing about these guys is that there are no rules! Go bananas and get creative with your toppings, really sky's the limit here. You could even be extra crazy and dip your bananas in Greek yogurt. Regardless, whatever you do, just make sure to freeze the bananas on the sticks first.
Thanks for hanging out with me today & happy snacking!
Print
Chocolate-Covered Banana Pops
Prep Time:

10 minutes

Total Time:

40 minutes

Yield:

4

banana pops

1

x
2

ripe but firm bananas

6 ounces

dark chocolate chopped, or semisweet chocolate chips

3 TBSP

coconut oil, liquid

1/2 cup

granola, chopped peanuts, sprinkles, coconut etc (optional)
Instructions
Line a baking sheet with parchment paper.
Cut bananas in half and insert a Popsicle stick into each half. Place bananas on baking sheet and freeze for 15 minutes.
Meanwhile, melt the chocolate with coconut oil in a microwave safe dish (checking every 30 seconds) or in a bowl over a half full pot of simmering water. Stir until smooth.
Dip each banana pop in the chocolate, then sprinkle with your choice of topping.
Freeze Banana Pops for at least 30 minutes.
Serve or store in an airtight container in the freezer for up to 2 weeks.
Be sure to stay tuned on Jess' adventures in the kitchen by following her on Instagram HERE.
I'm also in NYC for a few days so make sure you're following me on Instagram and Snapchat (thehealthymaven) to stay up to date on my adventures!
Do you want to see more of Jess (rhetorical question)? Favourite summer treat, GO!
JOIN THE THM NEWSLETTER
Join 20,000+ members of the THM Community to get access to exclusive recipes, healthy lifestyle tips and behind-the-scenes news from our team!