I'm so excited to finally share a new series I've been dreaming about doing for a long time. After a busy season leading up to the launch of Camp Wellness – The Bootcamp I finally found myself with some some time to really think about what I want for the future of this space. Of course, recipes, wellness tips and travel aren't going anywhere, but Green Beauty (or Clean Beauty – whatever you want to call it!) is a passion of mine and one that I don't feel I've explored enough here. Some of you may know that I'm legit a beauty product hoarder. I LOVE trying out new products and seeing what performs, what doesn't and what's actually worth investing in. A part of me just loves the experimentation, but another part of me loves that through my own experiences I can help save you time and money.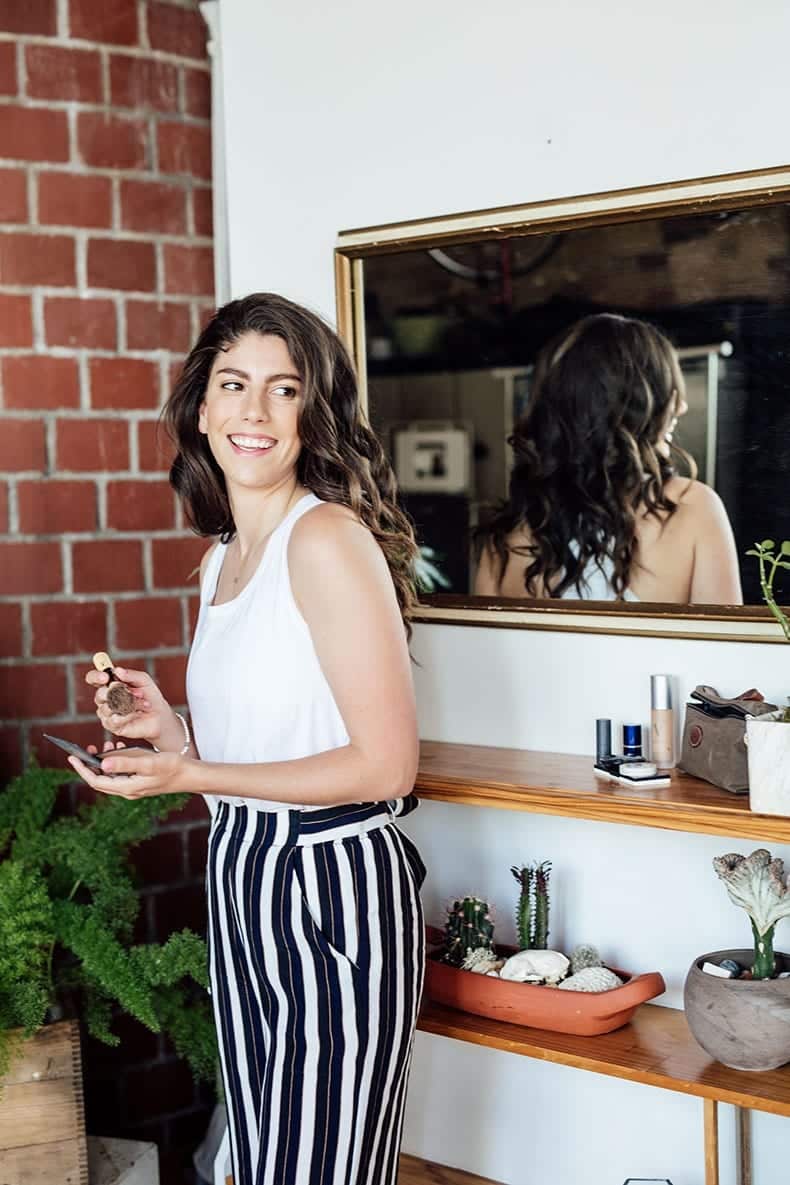 Because that's the downside to clean beauty…it's really hard to navigate! Between what's in the products, where to find them and the high price point, it's hard to know where to start. That's not even counting how much time and effort it takes to replace your skincare, haircare, body care AND makeup. It's a lot and I completely sympathize.
So I'm doing something about it. I've talked a lot about skincare and haircare on the blog (check out these posts) but makeup is something I haven't really jumped into. Today that changes. I'm excited to finally announce a new series on my YouTube channel called the Clean Beauty 5 x 5.
What is the Clean Beauty 5 x 5?
It's a 5-day challenge where I experiment with new clean makeup products and give my 100% honest reviews and feedback. Each week for 5 days in a row I'll compare a different product from the same category i.e. foundation, mascara, lipstick etc…This way you can see the comparisons for yourself and help make the most educated decision for you. I'm taking the grunt work out and helping you save $$$ by spending it myself (lol sorry C).
Now I'm announcing this here because all reviews will live on my YouTube Channel and will be released about every two weeks (give or take). I won't be posting about it here for redundancy's sake so you'll have to subscribe to my YouTube Channel to be notified when a new video is live. If you've been wanting to switch over your makeup to cleaner options, then this series is for you. So let's kick things off!
I decided to start the challenge with a favorite of mine and the product I recommend most people switch over first: foundation. So without further adieu here is my first video for the Clean Beauty 5 x 5:
LOVE THESE NATURAL BEAUTY TIPS? Join the THM Community!
Join 10,000+ members of the THM Community to get access to exclusive info about natural beauty, products I'm loving and how to transition to a more natural lifestyle.