It's been a few weeks since we got back from Guatemala, but after moving into our new place in San Francisco, immediately upon landing, it's taken me a little while to finally get through all of the footage. But better late than never, right?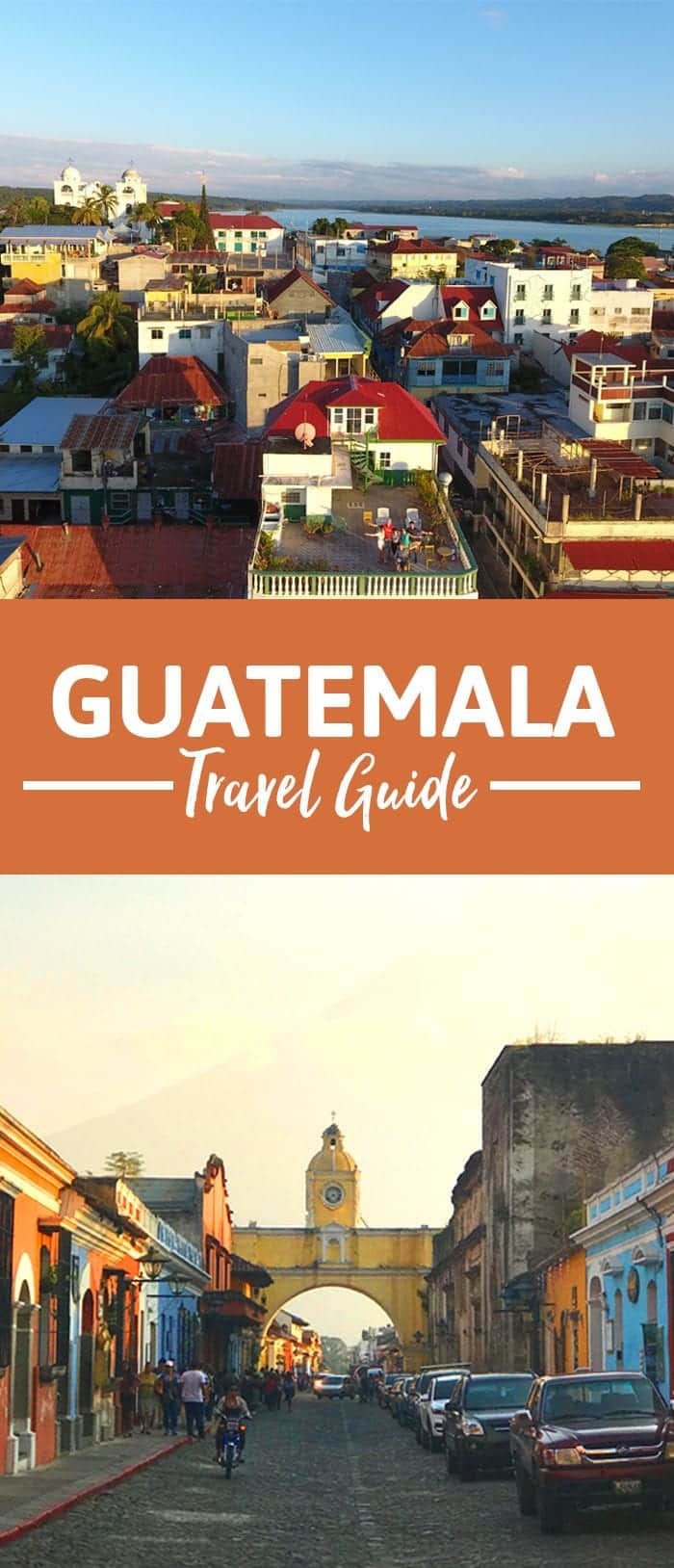 As I mentioned in early January, C's family invited us on a 10-day trip exploring Guatemala. I'd never been to Guatemala before but C's sister had been a couple of times and is basically the expert on all things Guatemala. This is probably the first and only trip I've played no hand in planning, but it was kind of nice to sit back and enjoy the ride.
I thought I'd share our itinerary with you as well as some words of wisdom is if you're planning a trip to the area.
We went to four different destinations on the trip so I thought I would break the post down based on locations. It was a whirlwind 10 days so I hope you'll come along for this Guatemala Travel Guide!
We flew into Guatemala City as it's the main international airport in Guatemala. I wouldn't recommend spending time in Guatemala City unless you're feeling particularly adventurous. Fortunately, it's easy to hop another flight out of Guatemala or a bus or van to any of the destinations we visited.
VISITING TIKAL
We caught a flight from Guatemala City up to Flores and then took a van from Flores to the Mayan ruins at Tikal (about an hour away). If you've been to Chichen-Itza, Tikal is very similar but is older and far more spread out. It feels way less touristy and equally as impressive.
We spent the day walking the ruins and covering a lot of ground across the park. Beware of howler monkeys who are guaranteed to scare the living wits out of you.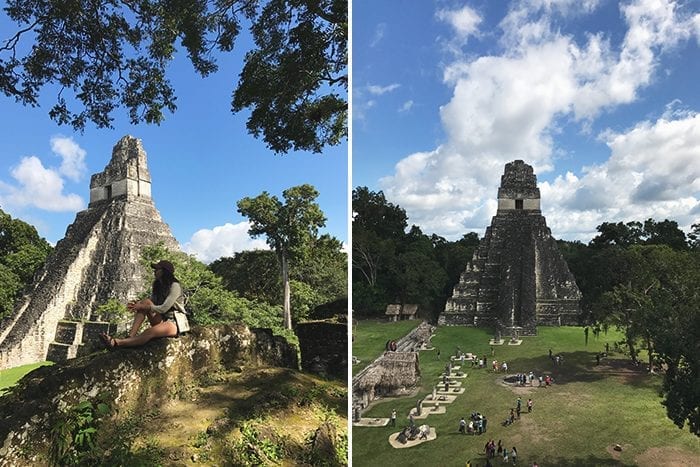 Where we stayed + ate: Hotel Tikal Inn, which was lovely and a perfect little jungle oasis. We also ate all of our meals there. Food is pretty minimal in the park so be prepared to eat most of your meals at your hotel or another hotel. Bring snacks!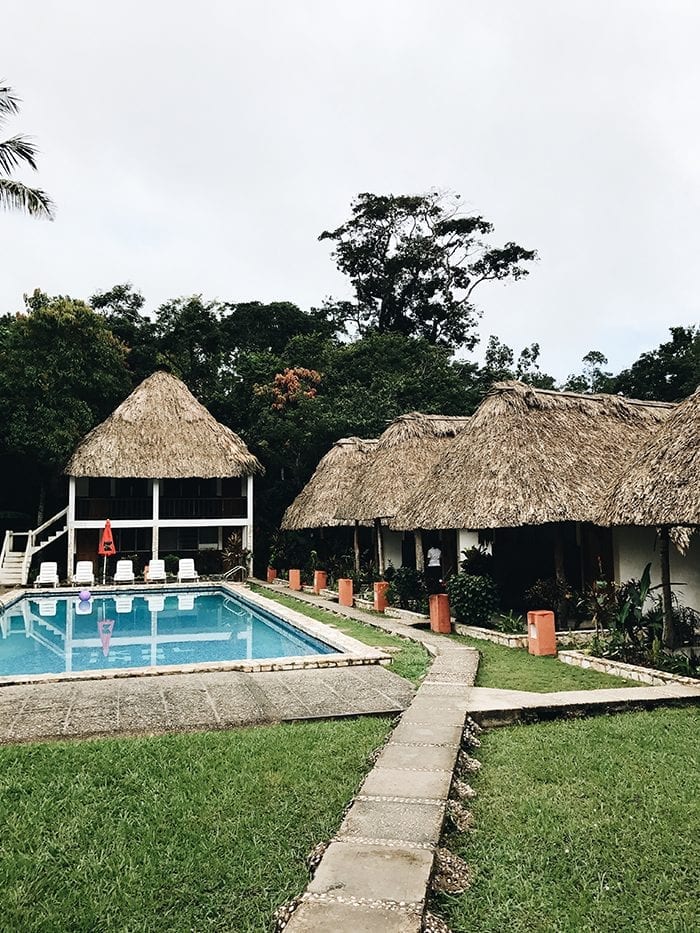 From Tikal, we took a bus back to Flores where we spent the night before our flight back to Guatemala City.
VISITING FLORES, GUATEMALA
Because you have to fly into Flores airport in order to get to Tikal, we ended up having about 24 hours to explore this adorable little city. Truthfully, you don't need more than 24 hours here as it's really small (you can walk across the city in 10 minutes), but it was worth a visit if you're already up north. We also spent New Years here and I was totally impressed by the whole city's stamina. We went to bed just after the fireworks at midnight and when we woke up around 6:00 AM to head back to the airport, people were very much still partying. These guys know how to have fun.


Where we stayed: Hotel Casa Amelia – this place was so cute and the rooftop terrace offered a beautiful view of Flores and the lake. Definitely request one of the top three rooms if you stay here as they offer the best view and easy rooftop access.
Where we ate: I wouldn't say that the food in Flores was anything to write home about. If you do find yourself there we ate dinner at Raices, which is worth visiting for the grilled meat kebabs and San Telmo for the rooftop bar and healthy eats.
From Flores, we flew back to Guatemala City and then took a van from the airport directly to Panajachel, Lake Atitlan, which took about 3 hours. We then hopped on a Lancha (boat) ride directly to our hotel. Don't pay more than 25Q/person to take a lancha on the lake!
VISITING LAKE ATITLAN
Years ago I saw a travel Groupon for a yoga retreat on Lake Atitlan and was completely blown away. I had no idea this place existed in Guatemala, let alone that the lake itself is surrounded by three volcanoes. We got way more than we could have asked for here. There is plenty to do, markets to explore and villages to visit, but after the crazy travel of the first few days, C and I ended up wanting to spend as much time as possible relaxing at our hotel (which was spectacular).
We did walk through the hippie town of San Marcos (think the Ubud, Bali of Lake Atitlan) and did the Indian Nose hike for views of the entire lake and volcanoes. Unfortunately, the views were somewhat obscured by fog, but it was still beautiful. If you do plan to do this hike, I highly recommend hiring a guide in San Pedro and having them drive you to the trail and lead you to the point. Otherwise it's a bit confusing and you're likely to get lost. There is so much to do here and even if your goal is simply to relax and refresh, that is 100% an option too.


Where we stayed: Casa del Mundo – if there's one place that you cannot miss on your trip to Guatemala, it is this place. If you can stay there, do it or at least stop by for a meal.
Where we ate: We ate most of our meals at the hotel as it isn't easy to get around unless you're willing to take a lancha (boat) ride to eat. Plus the food there was really good! We did have yummy falafel at Shanti Shanti in San Pedro and enjoyed a carrot juice at Gypsy's in San Marcos.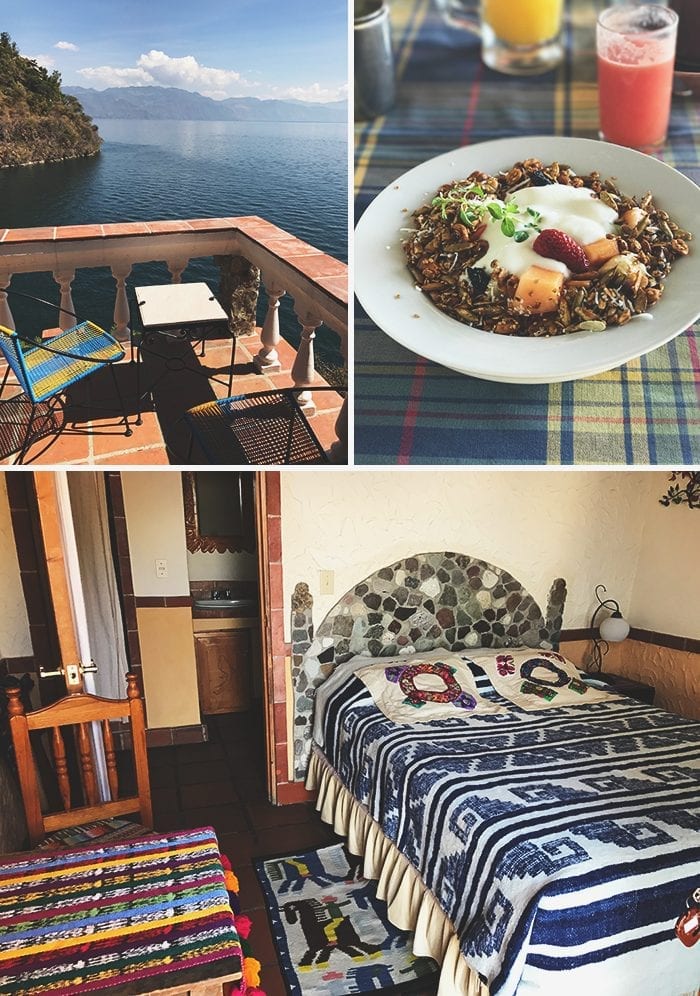 At the end of our 4 day stay, we took the lancha back to Panajachel where we took a van about 2 hours to Antigua.
VISITING ANTIGUA, GUATEMALA
I've heard varying opinions on visiting Antigua, but I absolutely loved this city! After a week off the grid, it was nice to come back to a bit of civilization and explore this world heritage site.
Take a walk around the city and explore La Merced Church and the local markets (we did a ton of apartment shopping at the artists market). Be sure to do the De La Gente Coffee Tour for a completely unique and educational experience or head out of the city for a volcano hike.
We didn't end up doing a volcano hike but the city is surrounded by volcanoes and it was crazy cool to watch Fuego go off. We got some pretty epic views of it up at Cerro San Cristobal.


Where we stayed: Posada San Sebastian – this place was huge and very kitchy but comfortable and the service was lovely. I wouldn't necessarily go back here, but mostly because the collection of dolls totally freaked me out. But I will say that the owner was wonderful and the staff was very sweet and it's certainly a great alternative if you're not picky.
Where we ate: I think the reason I loved Antigua so much was because of the food scene. I felt like I could endlessly explore its restaurants for days. Here were some highlights:
Samsara – a healthy foodie's haven! The smoothies were to-die-for (working on a version you can make at home!) and I loved their amaranth energy balls.
Epicure – Definitely on the fancier/pricier side but so worth it! I tried polenta gnocchi and it was soooo good.
Saberico– another healthy favorite to add to the list. The service is super slow but the environment is awesome and the food was delicious.
Sky Bar – the nachos were awesome and the drinks are decent. It's really the view over Antigua that's worth the visit!
The Refuge Coffee Bar – if you're looking for a casual spot with good wifi and great lattes, this is your place.
Fat Cat Coffee House– loved this place for great guatemalan coffee. A few doors down is a cute bakery with gluten-free options – I forgot the name!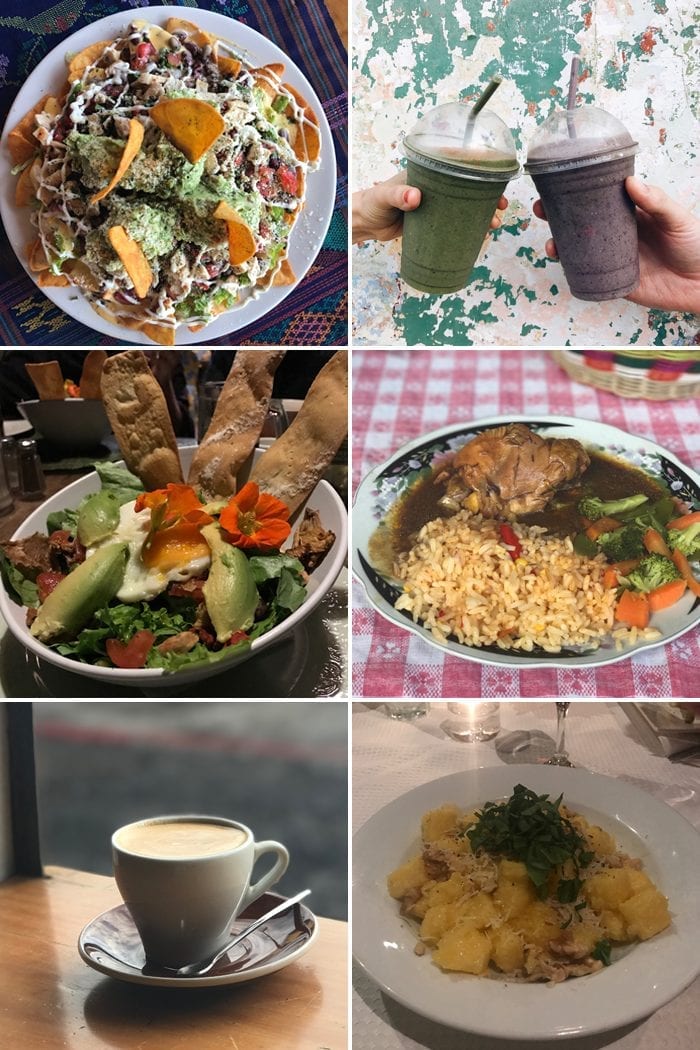 From Antigua, we took a 45 minute van ride back to Guatemala City Airport to fly home!
SOME ADVICE ON VISITING GUATEMALA
1. Bring some warmer clothing – while it certainly isn't Canada in the winter, it definitely gets chillier at night. I somewhat expected it to be more like our Mexico or Costa Rica trips, weather-wise but it was actually much cooler. A jacket and scarf will be perfectly fine for nighttime.
2. The currency in Guatemala is the Quetzal and while credit card is taken some places, it is not the norm. Be sure to either fill up on cash beforehand, or use the ATMs which are reputably quite scarce.
3. When it comes to getting around, most things are negotiable. Because we were a group of 6, we mostly took private vans to get from place-to-place but the chicken buses (school buses) or shared vans are always an option. Most can be negotiated right outside the airport or bus terminals.
4. When it comes to eating vegetables, confirm they've been sanitized before consuming. Food poisoning is very real if you don't…just ask C 😉
What a way to kick off 2017! I'm so excited to continue the adventures tomorrow as I head across the globe to ISRAEL to explore the food scene there with Vibe Israel. Follow along on Instagram and Snapchat so you don't miss the adventure!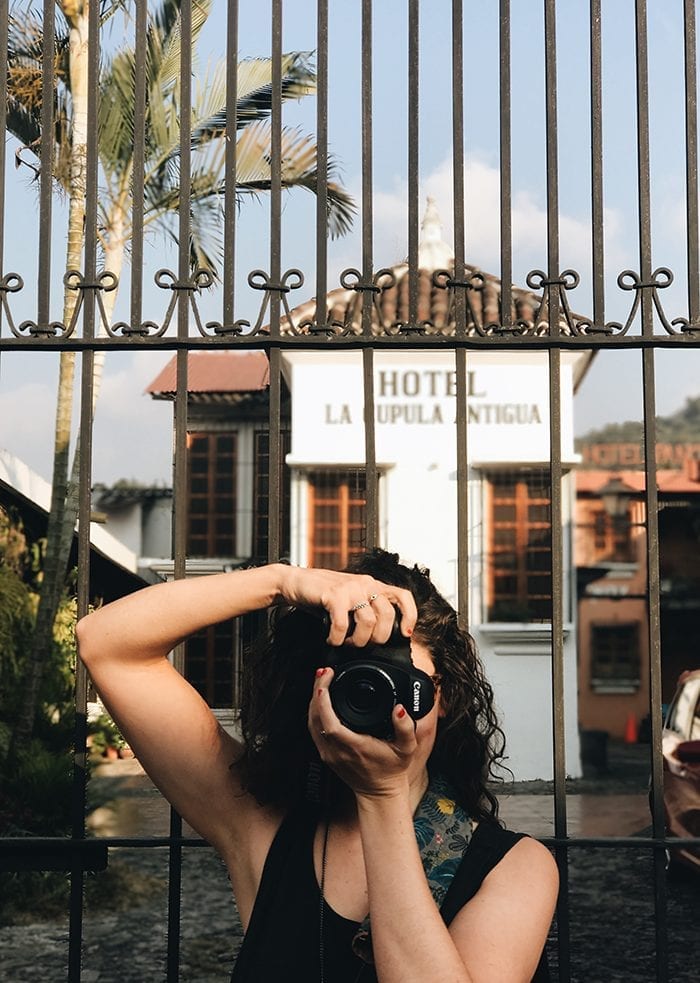 DON'T WANT TO MISS THE NEXT ADVENTURE? Join the THM Community!
Join 10,000+ members of the THM Community to get access to exclusive info about travel, places I've visited and how to stick to your healthy lifestyle on the road.