Welcome to Part #3 of our Epic US Road Trip! When I last left you, we'd totalled our car in South Dakota, drove our rental across Colorado and had finally landed in Moab, Utah after sundown. The next 24 hours were by far my favorite part of the trip and honestly, I'm not sure the video can do it justice. But we droned and I tried so I hope you enjoy!
I mentioned in the last post that we had a sense that we were driving through a beautiful landscape as we entered into Moab, but it was pitch black outside so we couldn't see a thing. But one of the best parts about travelling is arriving at night and not knowing what you're going to wake up to and our view from the Red Cliffs Lodge by far exceeded our expectations.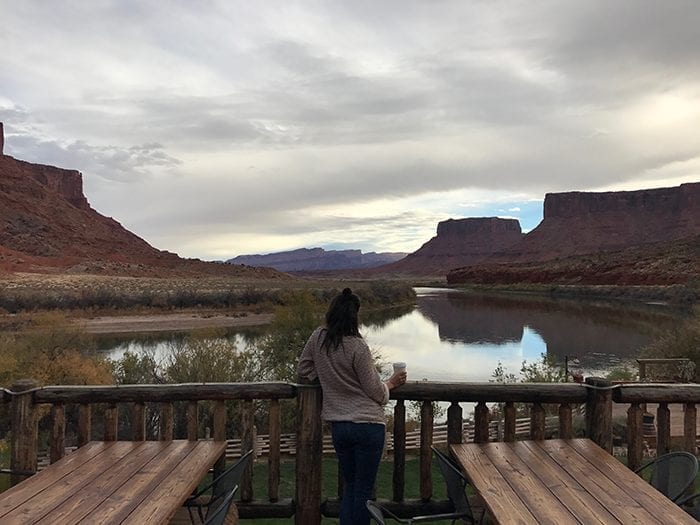 As I was researching dog-friendly hotel/airbnb stays near Arches National Park, there weren't all that many options, but when I found the Red Cliffs Lodge, I completely fell in love. They were out of dog-friendly rooms for the night we were supposed to stay so I gave them a call to see if they could make an exception. In the process, they offered us a free room for the night, which was incredibly kind and gracious but I also wanted to be completely transparent with you. But I will say that this was hands-down one of my favorite hotels I've stayed in in the last few years and I have zero doubts that we'll be returning.
Here are a few pics of the room/property: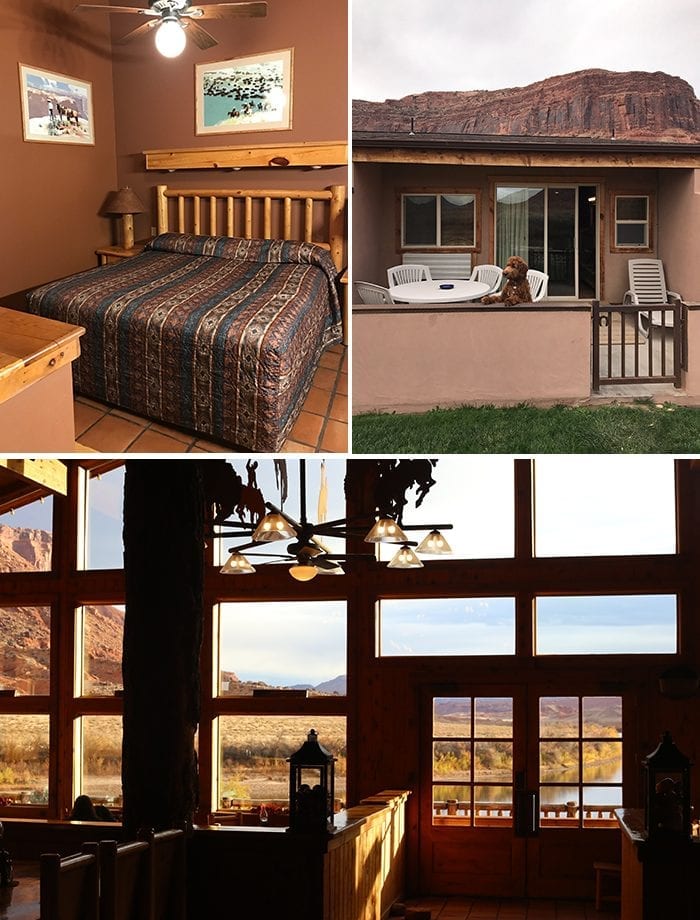 We arrived on Saturday night, which was actually mine and C's 5 year anniversary. We made no plans to celebrate (a week long trip across the US was celebrating enough!) and instead had a casual dinner at the Cowboy Grill, while Bodhi passed out in the room. We then did what we called our nightly "media dump" where we took all the images and videos from our phones, cameras, drone and dumped them on my hard drive and then promptly fell asleep for a solid 10 hours. And then we woke up to this…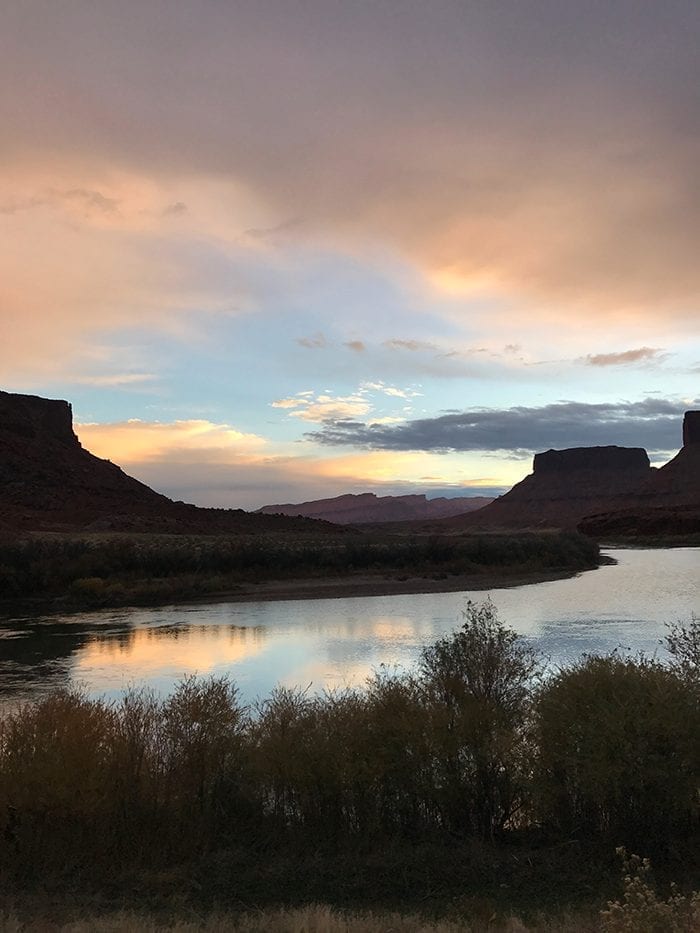 We knew immediately that we had to capture sunrise with the drone so we drove a little ways off of hotel property and got some of the best images of the trip. Seriously, watching the sun rise over the red rocks is a sight I will never forget. Every ounce of me cannot wait to return to Moab to relive this experience again.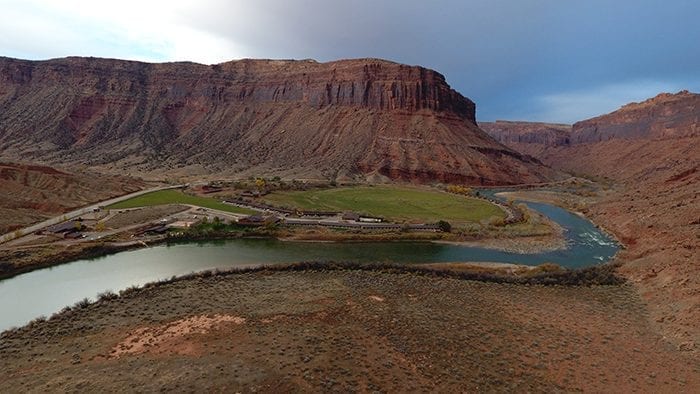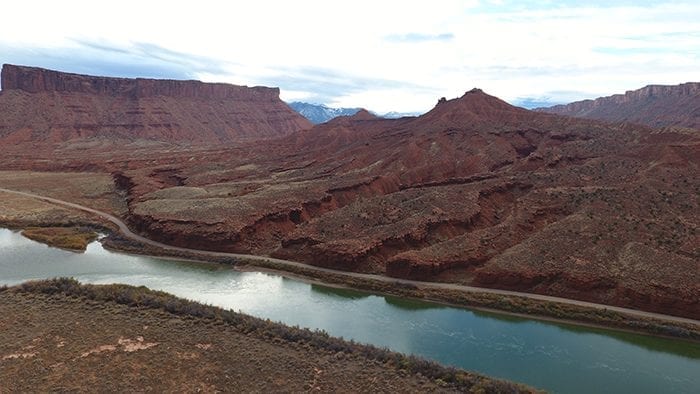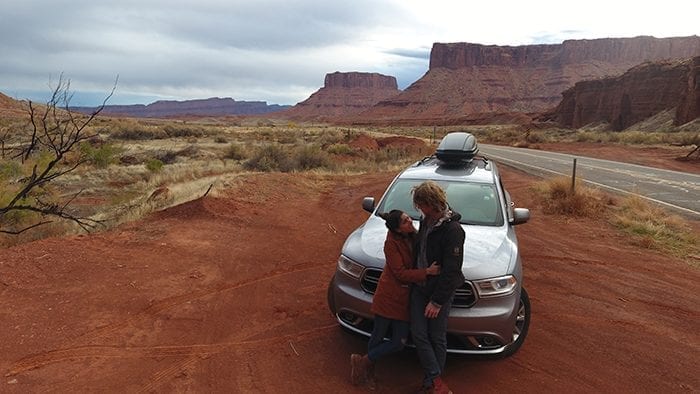 After droning, I got a quick yoga stretching sesh in before we got breakfast at their epic weekend buffet. Literally every possible breakfast food you could imagine in one place. It was overwhelmingly amazing. To everyone at Red Cliffs who made ours and Bodhi's experience in Moab one for the record books, thank you. We will be back!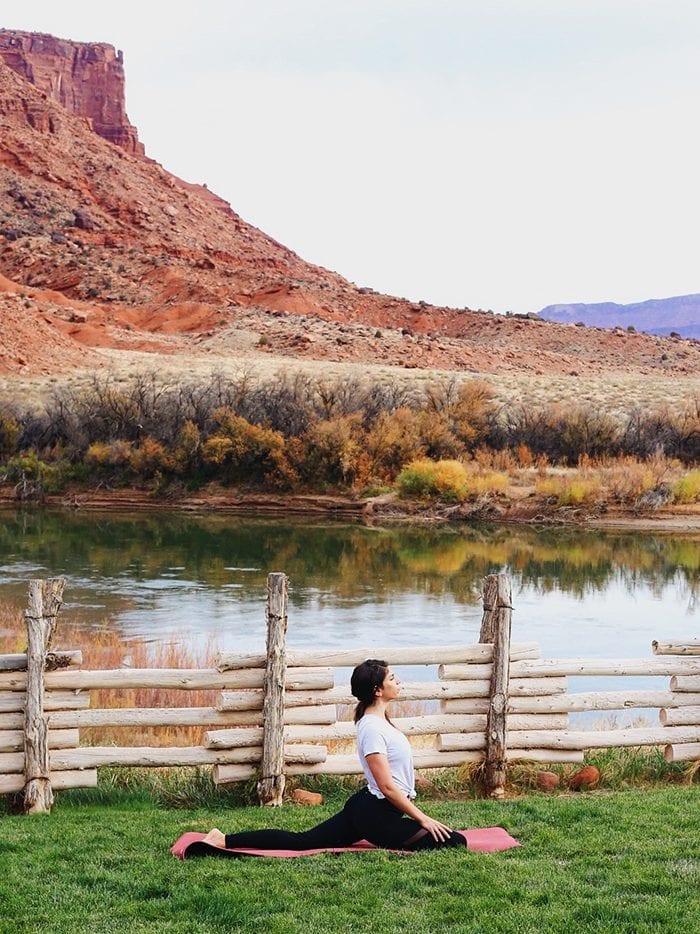 After fuelling up we packed the car and headed to Arches National Park, which was a short (and beautiful!) 20 mins away. This was the first and only of the National Parks where we actually waited in line (or saw anyone else for that matter…). Arches has been at the top of my bucket list for as long as I can remember. It did not disappoint. In fact the only thing disappointing about it was that we couldn't spend longer.
We visited to famous Delicate Arch…sort of. The Hike was 4 miles and we didn't have enough time so we drove to the viewpoint and did a mini hike to get what might arguably be the best view of it anyway. I'll let you decide…
From there we drove to Balanced Rock and stood in awe at how insane nature is. The fact that natural forces created this landscape is insane. It really puts your entire life into perspective and I definitely spent the rest of the day reflecting on this.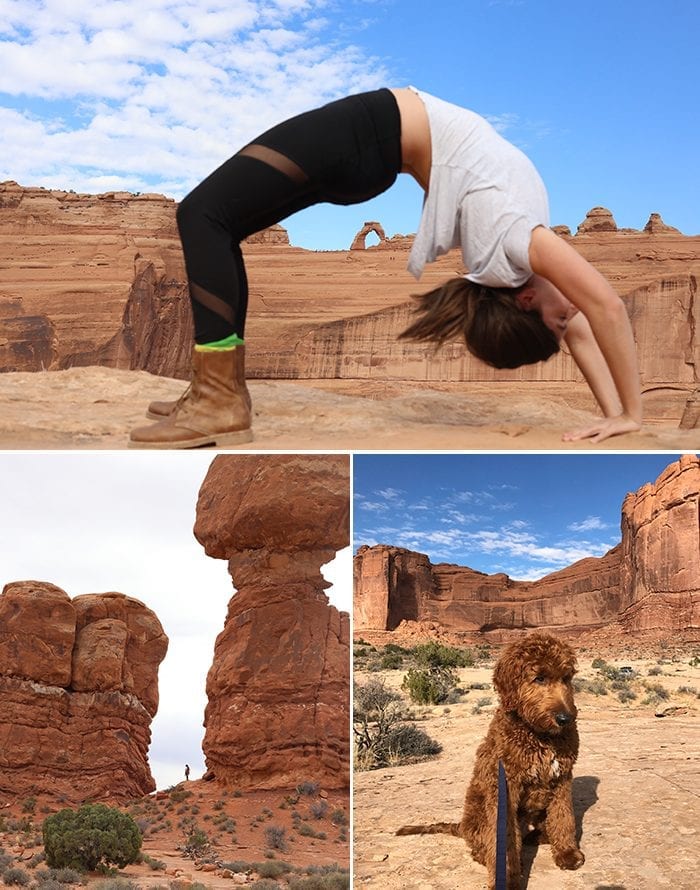 We unwillingly left Arches because we wanted to get to Capitol Reef National Park and then Boulder, Utah before sundown. Initially our plan was to do Canyonlands National Park, which is about 30 mins south of Arches but due to time we had to make the call as to whether we wanted to do Canyonlands or Capitol Reef and in terms of direction, Capitol Reef made more sense. Plus we knew we'd be back to Red Cliffs and we'll hit Canyonlands then.
We had NO regrets heading West to Capitol Reef because the landscape ended up being the most spectacular of the trip. There was no one on the road, insane natural hoodoos and monoliths. Naturally, we pulled over and droned.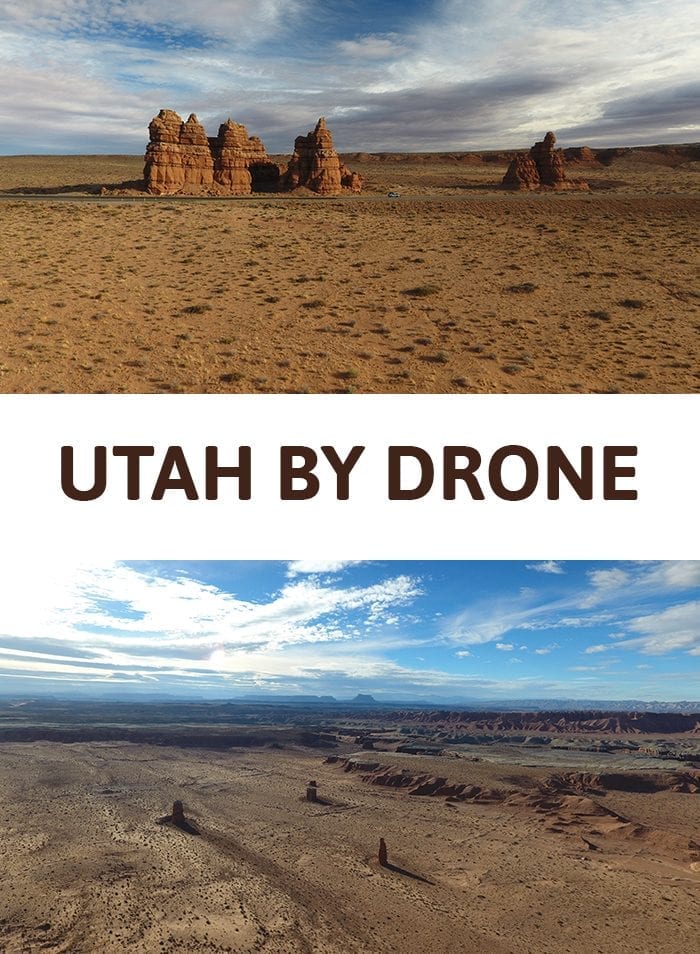 Walking about 10 feet to each structure naturally worked up an appetite, but since we were literally in the middle of nowhere, our options were limited. Feel free to watch the video to catch how I made a lunch at an Arby's in a gas station work for me. Hint: Don't skimp on the curly fries.
From there, Bodhi chose the sketchiest place to go pee, which somehow turned into a weird, futuristic photoshoot for Vogue Mars. Green River, Utah…you're a special kind of place.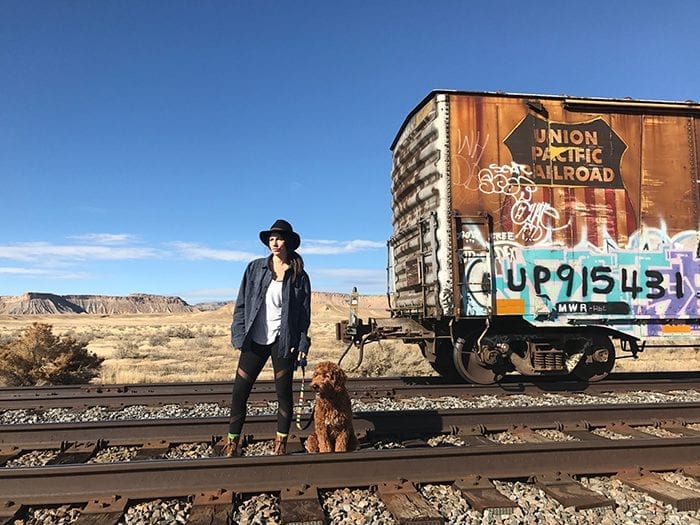 The next stretch of our journey includes Capitol Reef National Park and then Boulder, Utah and beyond. I'm going to cap it here because there's way too much footage to include in one post so stay tuned for Part #4 coming next week and BIG ANNOUNCEMENT in Part #5 that every ounce of me is exploding with excitement to share.
As always, don't forget to watch the video to get my real-time perspective and some of the craziest footage of the trip. Give er' a thumbs-up if you like it too!
JOIN THE THM NEWSLETTER
Join 20,000+ members of the THM Community to get access to exclusive recipes, healthy lifestyle tips and behind-the-scenes news from our team!