If you haven't heard about it Amy at Long Drive Journey has started a new link-up! She is featuring one veggie and one fruit each month and challenging her readers to come up with new recipes using the featured ingredient. I think it's a fab idea and am so excited about joining in on this month's link-up. For August the vegetable is eggplant and the fruit is strawberries. I'll be honest, I was a bit dismayed when I heard the first veggie pick was eggplant. It is probably my least favourite vegetable. I find it can be bland and doesn't always sit well in my tummy. But I vowed to conquer my distaste and give this veggie a second shot! (Plus I love Amy and there was no way I wasn't going to participate). I jumped the gun a bit by posting before the end of the month but patience has never really been my strong-suit.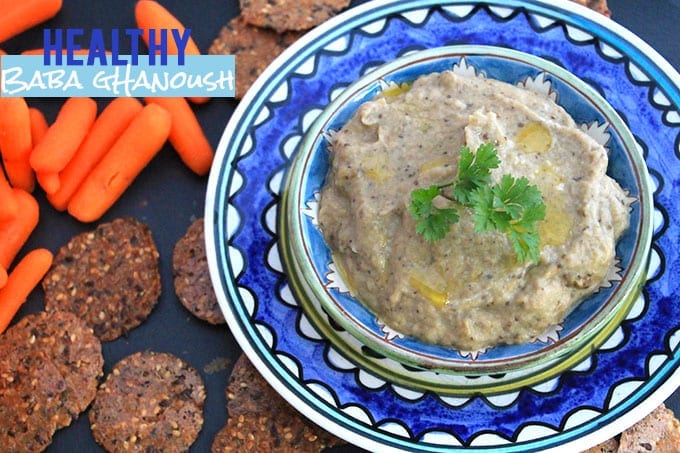 I got to researching different dishes featuring eggplants that I've liked in the past hoping to find one I could healthify. And then I had an AH HA moment. Isn't Baba Ghanoush made from eggplants??? How did I not realize this before? I
love
Baba Ghanoush. I'm a serious sucker for dips. I know, I know that's where the calories creep up on you, but I really can't help myself if they're in front of me. Hummus, salsa, tzaziki, you name it…I'll eat it! But my absolute favourite is by far Baba Ghanoush. I tried it for the first time in Israel, and after that there was no going back.
The problem? Baba Ghanoush can be loaded with fat and calories. Unnecessary fat and calories in my opinion. Now you know I'm not afraid to eat fat (hello nut butter!) but I would prefer to not use up my daily quota in two tablespoons of dip. At the same time I am not willing to sacrifice taste. So I got to work and this is my result. I could not be more pleased! With a side of carrots and Mary's Gone Crackers (my fav!) I ate half of the dip by myself. But here's the thing, this entire recipe is only 230 calories and 5 grams of fat. Regular Baba Ghanoush averages around 363 calories and 30 grams of fat (source). This makes for a perfect snack that you don't have to feel guilty about.
Now it's time to start preparing my strawberry dish…
Print
Healthy Baba Ghanoush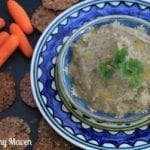 Prep Time:

5 mins

Cook Time:

25 mins

Total Time:

30 mins
Scale
Ingredients
1

large eggplant

1 tsp

olive oil

1

garlic clove, minced

2

T plain 0% greek yogurt

1/4 tsp

dried cumin (optional)
salt & pepper, to taste
Instructions
Preheat oven to 350 degrees F.
Chop eggplant in half and place cut sides down on a baking sheet lined with parchment or a silicone mat.
Roast eggplant for 20-25 mins or until tender.
Remove from oven and let cool.
Once cool scoop out eggplant flesh and place in food processor or high-speed blender.
Add all other ingredients.
Pulse until well combined.
What's your favourite eggplant dish? Are you linking up to Amy's veggie or fruit of the month? The answer to this is yes 😉
JOIN THE THM NEWSLETTER
Join 10,000+ members of the THM Community to get access to exclusive recipes, healthy lifestyle tips and behind-the-scenes news from our team!