Pasta and pasta salads can absolutely be a part of a healthy diet! Know the healthy swaps and add-ins to make, as well as 12 healthy pasta recipes for your next pasta night meal!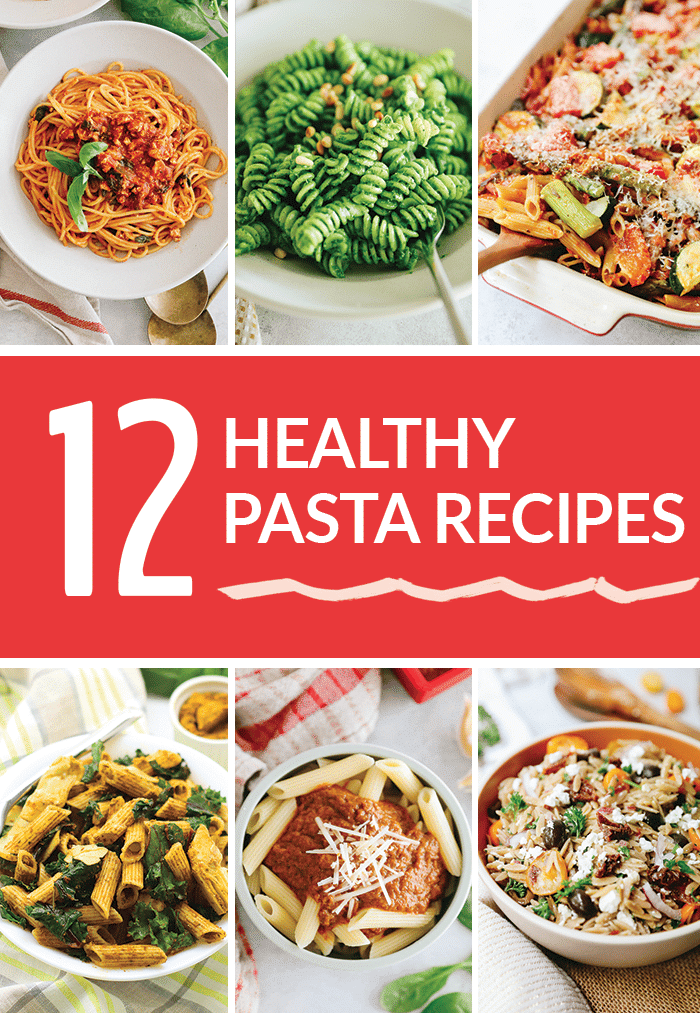 Is Pasta Healthy?
Depends on who you ask, but in my personal opinion, yes pasta is definitely healthy. Picking a pasta dish comes down to three factors: type of pasta, sauce and add-ins (I.e. vegetables and proteins).
Every person is different and their needs and goals are different so of course, pasta may not be for everyone. But most likely if you don't have a particular allergy or illness then pasta can very much be a part of a healthy diet.
Keep in mind, some types of pasta are actually fairly high in protein (whole wheat, lentil, chickpea) and many sauces can be packed full of vitamins and minerals. More on that below.
It's also important to remember that food isn't just about its nutritional value. Comfort food and eating for pleasure are very much a part of a healthy lifestyle.
What is the Healthiest Type of Pasta?
It's less important about what noodles you choose (spaghetti, fusili, penne etc…) than it is about the other ingredients in your pot. If you're looking for your pasta to be a higher source of nutrition then you can opt for something a little higher in protein like whole wheat pasta, red lentil pasta or chickpea pasta.
1 serving of whole wheat pasta contains 7 grams of protein (source)
1 serving of red lentil pasta contains 18 (!!!) grams of protein (source)
1 serving of chickpea pasta contains 11 grams of protein (source)
If you're celiac or gluten intolerant, both red lentil pasta and chickpea pasta are also gluten-free. You can also try brown rice pasta as a gluten-free alternative.
Note: Spiralized zucchini noodles (or zoodles) are also an option though for this post we're sticking to carb-based pasta choices.
What About Sauces?
The sky is the limit when it comes to sauces. From tomato-based to pesto to Alfredo sauce you can top pasta with just about any type of sauce.
Look for sauces that mix flavor with nutrition. Tomatoes are wonderful as are certain types of pesto. Generally keep it light on heavy cream but a little can still be part of a healthy diet. Focus on heart-healthy fats like olive oil. Check out this hidden veggie pasta sauce that tastes like regular tomato sauce but has lots of hidden veggies!
Healthy Pasta Ingredients
In addition to the type of pasta and the sauce, you'll want to look at what other ingredients you're including in your healthy pasta recipes. Mainly, proteins and vegetables.
Proteins: Any protein is a great addition to a healthy pasta recipe. Some ideas include chicken, shrimp, ground beef (meatballs), ground turkey (turkey meatballs) tofu, and chickpeas. Cheese is also a great source of protein. Think about including a tsp of parmesan cheese onto your pasta recipe.
Veggies: Zucchini, Broccoli, Spinach, Red peppers, Corn, Onions and Garlic are all fantastic additions to any healthy pasta recipe. Though technically a fruit, let's not forget about tomatoes! And of course fresh herbs like basil and rosemary.
Note: You don't necessarily need to pack your pasta with every single protein and vegetable. Keep in mind you can make your healthy pasta recipe a side dish rather than a big bowl and pair it with a salad or other veggies and protein source.