This has been the most highly requested post/video of any in the last 4.5 years. I mean, I'm kind of not surprised. There's so many resources out there for healthy eating and fitness, but the green beauty world is lacking. When I first started to transition my makeup bag 3 years ago, I had to go digging for resources. I eventually found some amazing green beauty youtubers and a couple of blogs, but honestly, this niche is still lacking. It required me to invest a lot of time and money doing my own research but I'm proud to say that I now officially have a 100% green beauty makeup bag.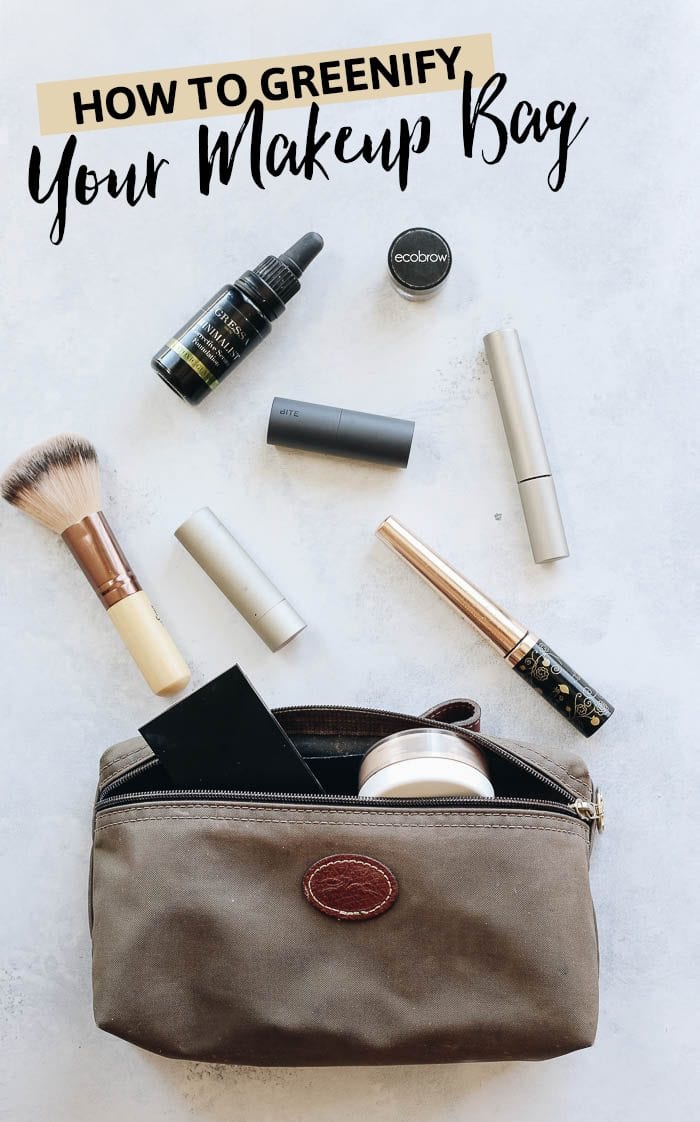 As with anything in life, I'm a firm believer in doing things that feel right to you. For me, it didn't feel great to know I was nourishing my body with good quality food, but putting not-so-great products onto my skin. I have many friends and know many people who use conventional makeup products, and that's totally cool. It just didn't feel right for me.
So if you have questions, are also having these weird, icky feelings or just want to know more about the green beauty world, this post is for you!
Why Switch to Natural Makeup Products?
Your skin is the largest organ in/on your body and everything that you put on it eventually will enter your bloodstream and have to be processed by your liver. The more natural products you use (and fewer chemicals) the easier a time your liver will have "detoxing" your body. To learn more about detoxing your body (and I mean this in the most medical sense, not a juice-cleanse type of detox!), listen to my podcast episode with Amie Valpone.
When your liver is strained, your body can experience inflammation and you may notice problems with your skin, digestion or joint pain. Of course, this is an extreme case, but basically, the less strain you can put on your liver, the better.
Eating good quality, organic foods is one of the best ways to do this, but another option is to replace your makeup and skincare products with more natural varieties.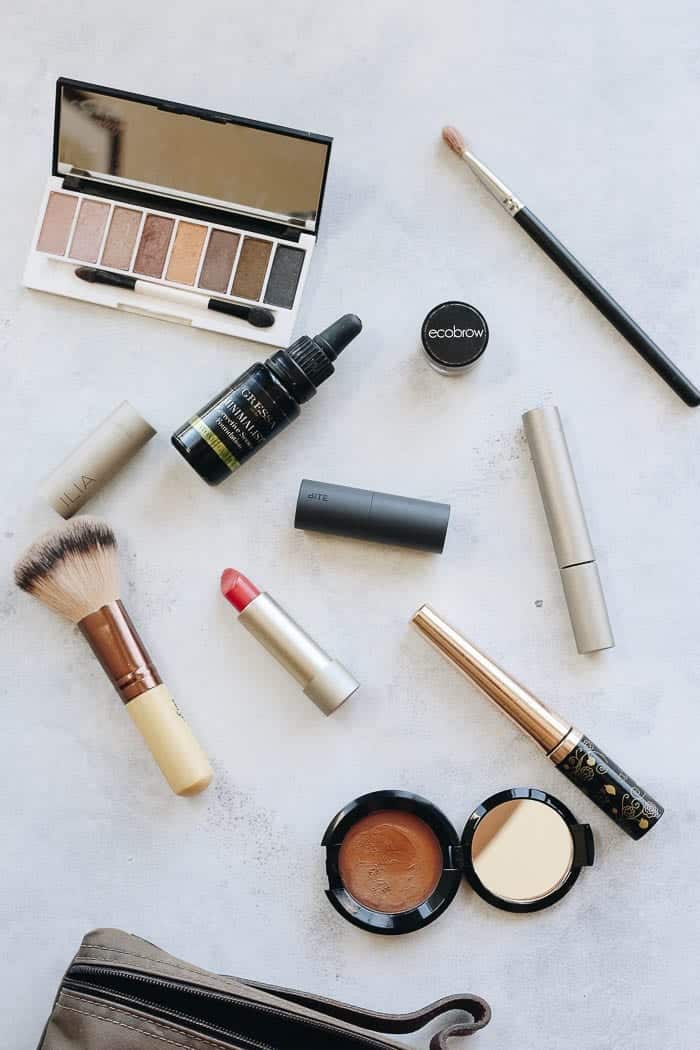 How To Greenify Your Makeup Bag
1. Start SLOW
Don't go replacing everything in your makeup bag overnight. Like I mentioned, it took me 3 years to replace everything in my bag. I waited until I ran out of something before replacing it. Makeup in general is expensive and well, green beauty is not exception. The process will be way more fun and enjoyable if you don't feel like you have to do it all overnight.
2. Replace the products that cover the most surface area first
A good rule is to start by replacing the products that cover the most surface area. Things like primer, foundation, concealer etc… tend to cover more than say a highliter or eyeshadow. So if you're looking where to begin, start by replacing the products that cover more skin.
3. Do your research
There's a lot of brands out there that are "green-washing" their products. Simply because a brand labels their products as "vegan" or "cruelty-free", does not mean it's considered natural. Sure, both of these a great things, but make sure you read the ingredient list. Of course, there's a lot of things that look like chemicals but aren't (have you seen the full names for essential oils?) so a good rule of thumb is to make sure they're free of parabens (it mimics estrogen and disrupts your endocrine system), phthalates (a chemical used to make plastic more malleable, which also can affect your reproductive system), Butylated Compounds (BHT and BHA), Talc and Petroleum (or petrolatum derivatives). There are many others but these are the big dogs to look out for.
4. Remember it's an investment
Makeup products tend to last a long time. Or at least they do for me since I'm not an everyday makeup wearer. My foundation may be $60 but it will last me a year so I found that as I was replacing things, remembering that it was a long-term investment always helped.
5. Get Samples
Some brands will send you samples if you write to them and places like The Detox Market or Credo Beauty also offer samples. You can also go into store and try out a product before you make an investment. I oftentimes would go into Detox Market (and now Credo Beauty because that's what I have access to in SF) and try out the product and then ask for a sample to bring home. I'd give it a couple tries and if I liked it I would go back or order from them online. This allows you to get a feel for the product before making the investment.
Where to Start?
I figured I'd answer this question in video form! So today I'm walking you through my makeup bag and highlighting what I think makes up a great green beauty starter kit. I'm chatting about the products I think are worth the investment, which ones I would skip and green beauty brands that I love. Give it a watch and let me know what you think!
I hope you guys enjoyed this post and video! Let me know if you want to keep hearing about green beauty. I'd love to be a resource for you guys as I know how few resources there are out there!