Intention setting seems to be all the rage lately – and for good reason! It's actually quite an effective and grounding practice. I'm excited to see intention setting becoming more popular and having engaged with it for the last year I can absolutely say that I've seen positive benefits in my own life.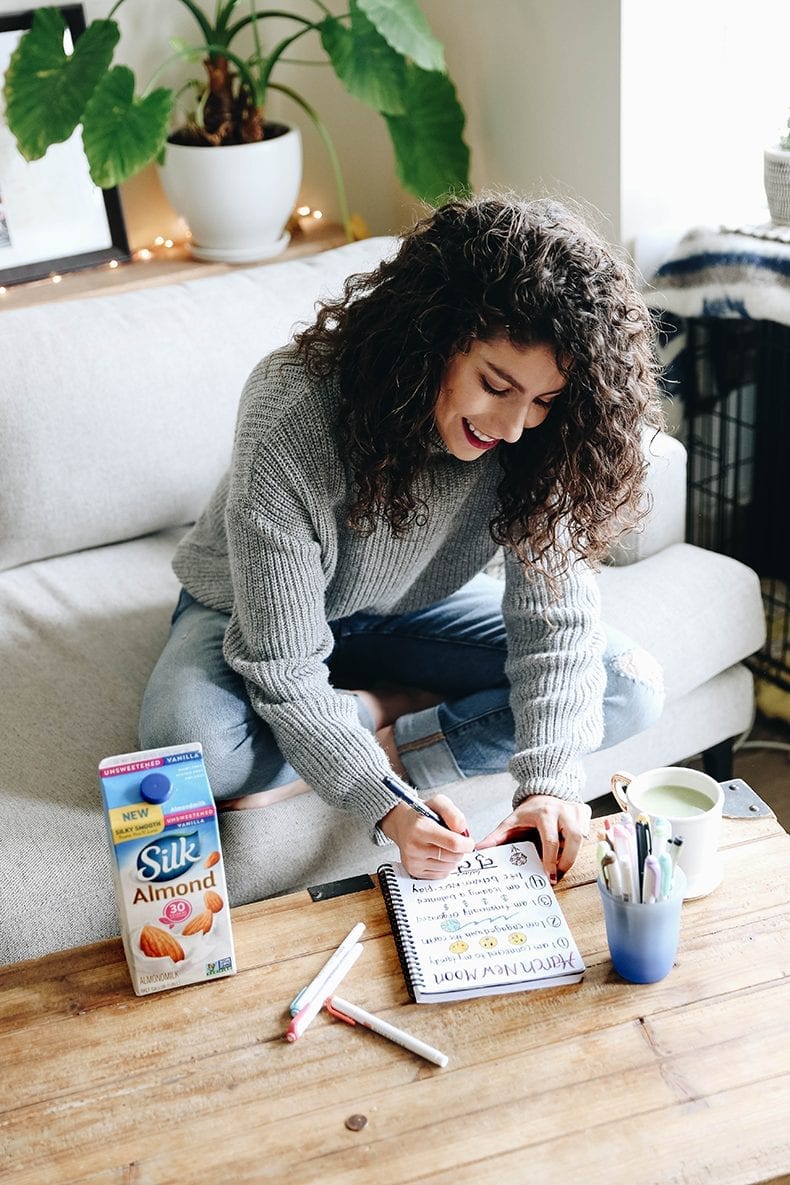 That being said, there is SO much confusion around what an intention setting practice looks like and how to start one. And that's likely because there is no single way to do it. Truly, the only thing that matters is that you set out time to reflect and put those thoughts to paper or keyboard. But I also respect the fact that we could all use a little guidance when it comes to starting something new. Especially something that requires us to dig deep and practice some intense self-reflection.
Over the last year I've really been playing around with what my intention setting practice looks like. If I'm being totally honest, I'm not 100% consistent with it, but that's not the important piece. Progress is perfection, which is why I'm super stoked to be teaming up with one of my favorite brands, Silk for this intention setting guide. They're huge believers in making small changes and building on those small changes to see positive benefits. In the same way that it's not about eating perfectly "clean" all the time, your intention setting practice doesn't have to be every single month or be a beautifully designed vision board for it to be a helpful practice in your life. You just simply need to practice. period.
Today I'm going to run through how to start an intention setting practice and ways in which you can tailor it to your own life. Like I said, the goal is not perfection, just simply trying it out! Progress IS perfection. Let's jump in…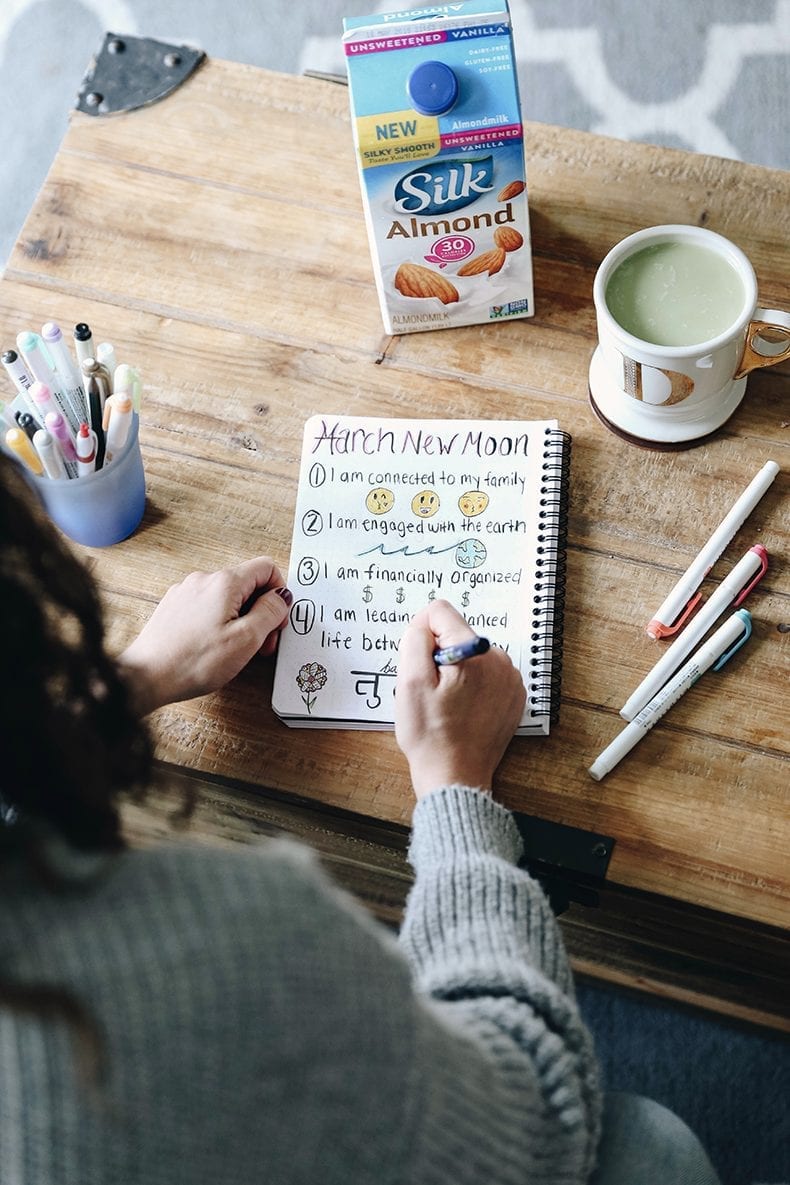 WHAT IS AN INTENTION?
This feels like the most challenging piece of an intention setting practice – truly understanding what makes an intention different from a goal. I'm not against goal-setting, but I find they're an easy trap to fall into because then life becomes about constantly pursuing the next goal without fully enjoying the journey.
To me, intentions are more like values or passions. They're less about the destination and more about helping you to make choices or navigate obstacles as they appear along your journey. They're about who you ARE, not who you want to be. A lot of this has to do with the language and the way in which you vocalize your intentions, but as we all know, words and our use of different words can have massive impacts. Here's an example:
Say someone wants to switch out coffee in the morning because they haven't been feeling well when they drink it.
GOAL: I want to quit coffee
INTENTION: I nourish my body with ingredients that make me feel vibrant
Do you see the difference? The goal has a destination but then what happens once you achieve it? The intention allows you to choose a Silk AlmondMilk Matcha Latte instead of coffee because it's in line with your values. Say you're craving a coffee one day and you have it. The goal will have failed but the intention allows you to make a brand new choice tomorrow without worrying about the past. Your intentions are your roadmap while your goal is like receiving the final destination with no instructions on how to get there. The idea is that your intentions are easily integrated into your lifestyle because they are ingrained with your values. They last until your values change or you develop new passions that take you in a different direction.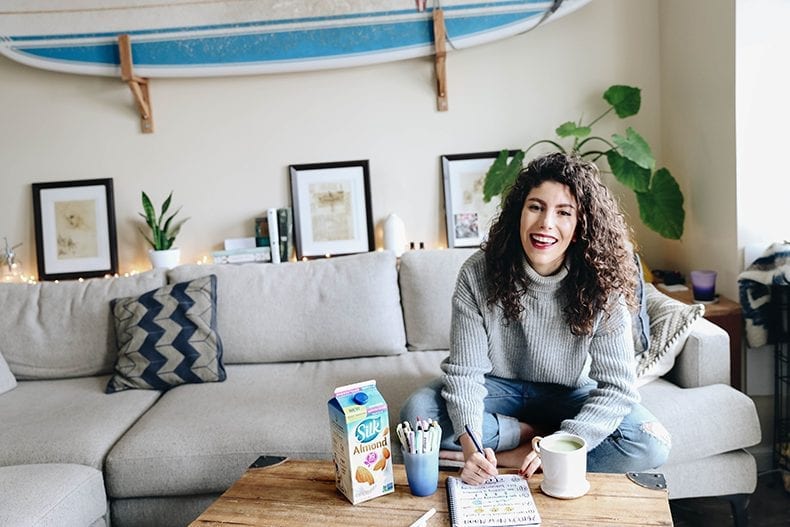 WHAT IS AN INTENTION SETTING PRACTICE?
Everyone will have a different definition of this but in essence, an intention setting practice is setting aside time to evaluate your passions and see where they are or are not in line with your current lifestyle.
Writing down your intentions is a powerful self-reflection tool that ensures that the thoughts you have will result in the reality you want to live. Have you ever had a yoga teacher ask you to set an intention before you begin your yoga practice? The teacher is still going to teach the same yoga practice to everyone in the room, but what you get out of it depends on your intention. Our thoughts create our reality in the same way our intentions create our yoga class. If your intention is to be compassionate with your body, you will get a more compassionate practice. If your intention is to surrender to the practice you may find yourself challenging your body in ways you didn't expect.
The same holds true outside the yoga studio. If your intention is to nourish your body with ingredients that make you feel vibrant, you will likely find yourself reaching for greens and morning smoothies. If that chocolate chip cookie feels like it will make you feel more vibrant, that fits too. The real question is what are those intentions and how can we manifest them into reality? This is an intention setting practice.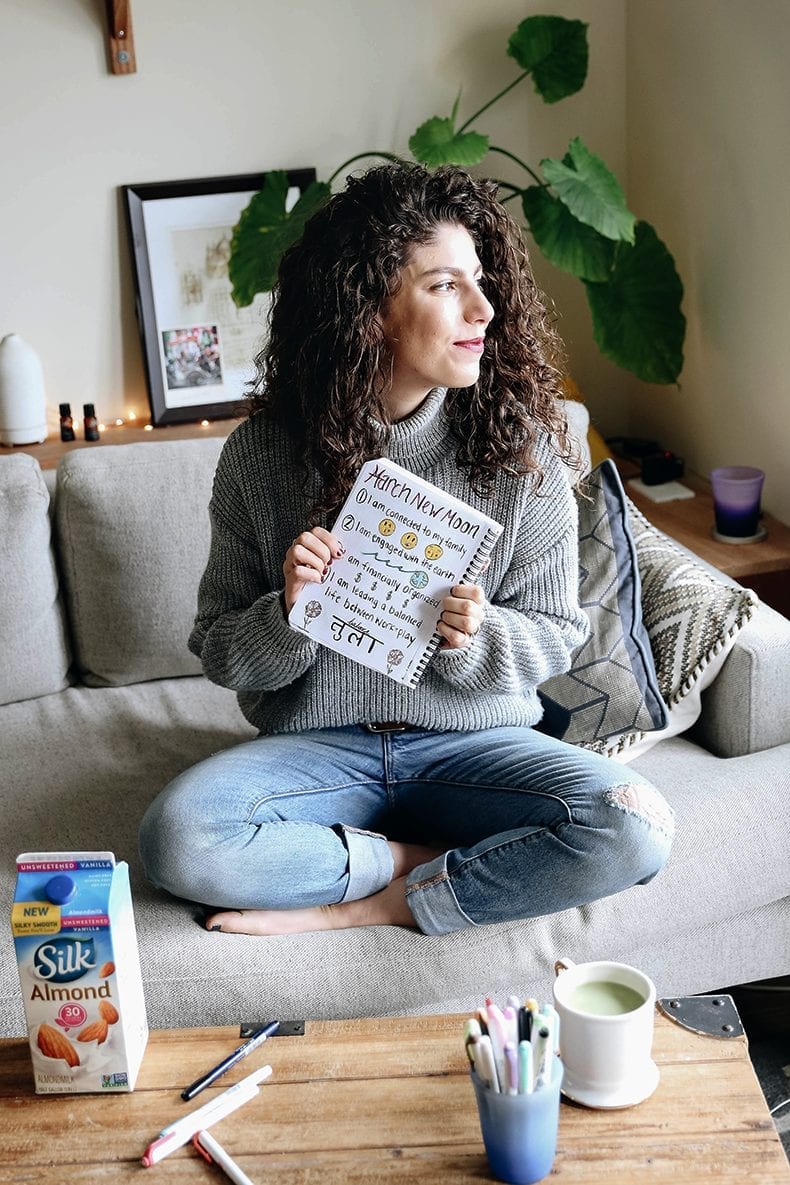 HOW TO START AN INTENTION SETTING PRACTICE
Pick a Timeline
People all have different timelines they suggest sticking to for your intention setting practice, but remember, progress is perfection. I've switched up my timeline a bunch of times. I used to do monthly but after chatting with Ezzie Spencer from Lunar Abundance I've switched to moon cycle intentions.
Some options: The first of the month, the new moon cycle, yearly intention setting, daily intention setting. Pick a timeline that works for you.
Pick your intention(s)
I like to pick 3-4 intentions to work with each month. That's just my personal preference. Some people like working with one because it feels like they can invest more energy into that one. You can also change it up so one month you work with one and another you work with five. You could also set a couple yearly and a new one each month. Totally up to you!
Write in the first person and in the present tense
Write your intentions as follows: I or I am…
I am present
I am creative
I nourish my body with ingredients that make me feel vibrant
Writing in the first person and present tense is a powerful technique to remind you and put out energy of abundance rather than lack. "I want" indicates something you don't already have or a sense of lack within your own identity, you want to manifest what you already have or value from within.
Check in with your intentions
The point is not to set it and forget it. You must work with your intentions and check-in to see where things are at. Maybe it's daily or weekly or monthly for yearly intentions, but set aside time to reflect on your intentions and add some notes on areas of resistance or ease.
Reflect
This is my favorite piece of intention setting! Getting to look back and see how you were able to manifest or work in accordance with your intentions. I think you'll be surprised to see how effective they can be, even just within a single day! Think about how your intentions affect your yoga practice…same idea!
Make it your own
This is essential. If you're super creative and love to draw, draw! If you're a writer and prefer to keep things private, leave all the colorful pens in the drawer. There is no one way to do an intention setting practice. For my whole first year I just wrote out a list in my journal. This year I've been playing around with making it more colorful and drawing more because one of my 2018 intentions is creativity and tapping into my creative spirit. Get rid of all comparison and just embrace what feels natural to you. Don't let perfection hold you back. PROGRESS. Just do it!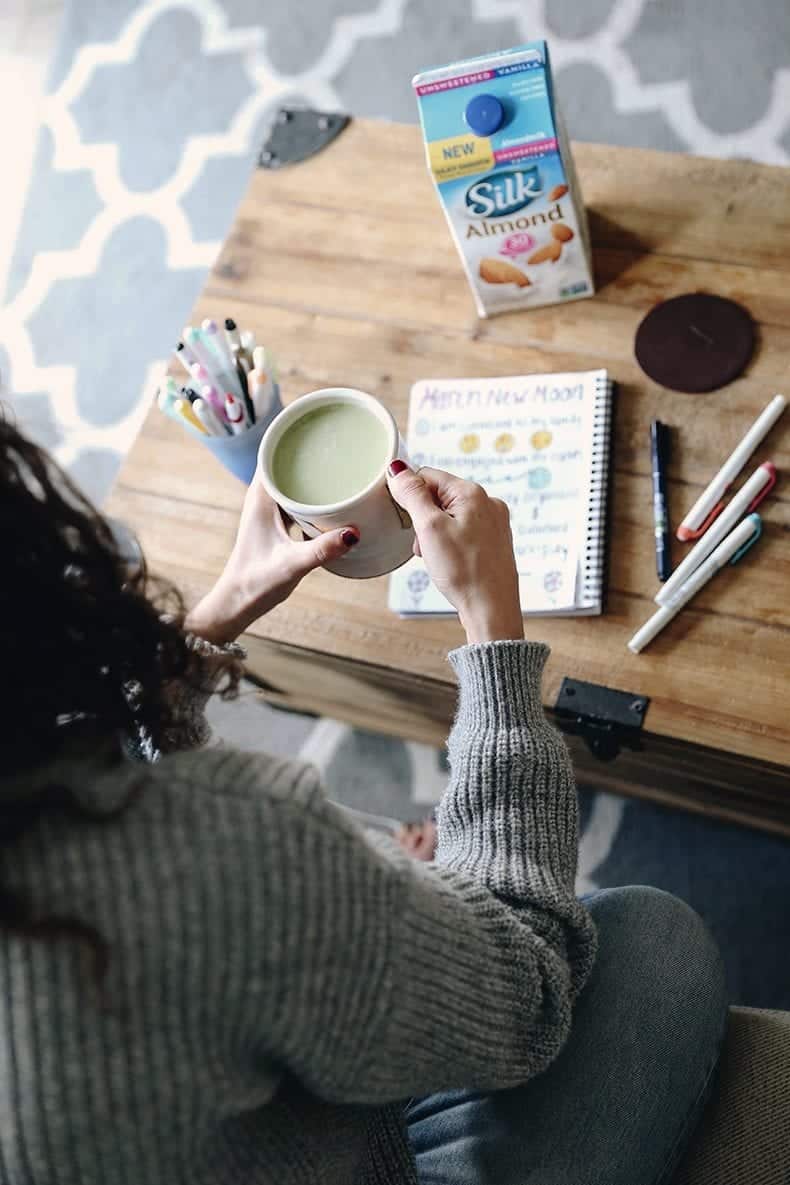 I really like incorporating my intentions into my morning routine. Checking in on where I'm at with my intentions that month after meditating or doing a yoga flow, helps me shift my daily perspective so that my choices and thoughts that day are in line with my values. I'll oftentimes sit with my morning smoothie or oatmeal and read over my monthly intentions and reflect on where I'm at. This honestly only takes a minute or two but it's benefits are powerful.
I want to give a huge thank you to Silk for partnering with me on this post. I love their campaign for Progress is Perfection and it felt like the perfect fit for this post on intention setting, a practice that isn't about perfection but taking small steps to see big results. I hope this post encourages you to start your own intention setting practice and if you do definitely let me know either in the THM Tribe or on Instagram. I'd love to see your intentions, but also know there is ZERO need to share with anyone. It can be a completely private process. Whatever works for you!
This is a sponsored conversation written by me on behalf of Silk. The opinions and text are all mine.
Do you have an intention setting practice? If so, what does it look like?
JOIN THE THM NEWSLETTER
Join 10,000+ members of the THM Community to get access to exclusive recipes, healthy lifestyle tips and behind-the-scenes news from our team!