I'll be honest, when we first moved to San Francisco I thought we'd move into a house that looked like an exact recplica of the Tanner household. Alas my Full House dreams never came to fruition, but what we got instead was better than I could have imagined.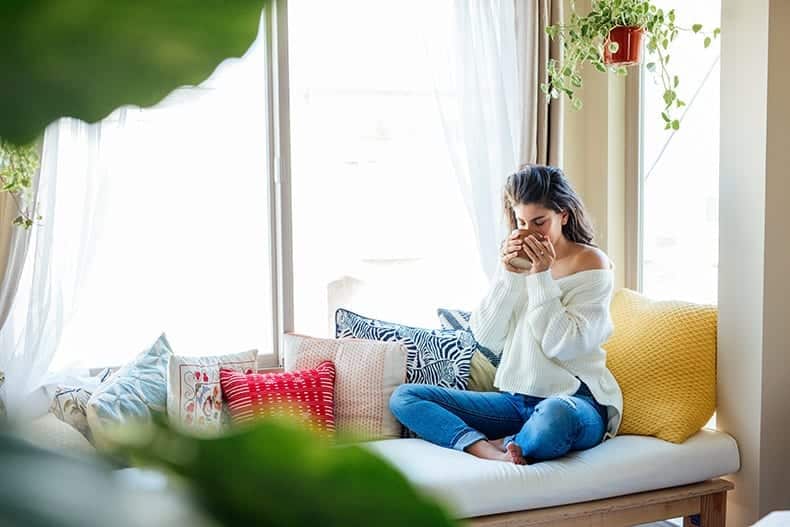 That being said, It has taken me 9 months to get this post to you, so finding, decorating and settling into our new home in San Francisco took much longer than I expected. But we also wanted to get it right. Of course, "right" is a moving target so we went back and forth on a lot of things before we made up our minds…and then changed them again! I'm incredibly lucky to be marrying a guy who actually enjoys interior design and is pretty damn good at it. C is an engineer and comes from a family of architects so he definitely has a good eye. He's also super handy so he ended up building a lot of things in our apartment. Seriously – where did I find this guy?! Minnesota…
Our old apartment in Toronto was a mish-mash of hand-me-downs, cheap ikea furniture and random splurge items. We quickly outgrew our 690 square foot apartment even before we added a dog to the mix, so most of the time it looked like it got hit by a tornado. We were determined to be a lot more intentional about our space when we finally moved-in in January.
C and I both work from home so a second bedroom/office was a must. We also have basically become a hotel for friends and family visiting (which we love!), but needed to find a way to maximize the second bedroom to be both a guest room and office. More on that below…
Overall, our goal was to create a cozy space that wasn't too cluttered that also reflected our new life in California, while showcasing the memories we've built over the last 6 year together. Bringing the outdoors indoors was a huge priority (hello plants!) along with a gallery wall to highlight our travels.
While we still have some finishing touches to complete, I'd say the apartment is 95% there so it was time I finally share it with you.
I'll be showing some rooms and random pieces I love, but for the full San Francisco Apartment Tour, watch the video below.
LIVING ROOM
When we first moved and had none of our stuff (it was being shipped), we basically lived off of our couch for 4 weeks. After experiencing life without an L-couch, we vowed "never again!". We looooove our couch and I spend a lot of time working on it. C built the unit behind it, equipped with outlets and everything. C also came home with a surfboard one day and since I actually liked the design of it, we opted to use it as our centrepiece. It totally adds to the California beach esthetic we were going for. And yes, he really does use it to surf.
Couch | TV Stand | Coffee table (second hand) | Chair (custom) | Behind-couch unit (homemade) | Lamp (similar) | Rug | Surfboard Stand (homemade) | Fairy Lights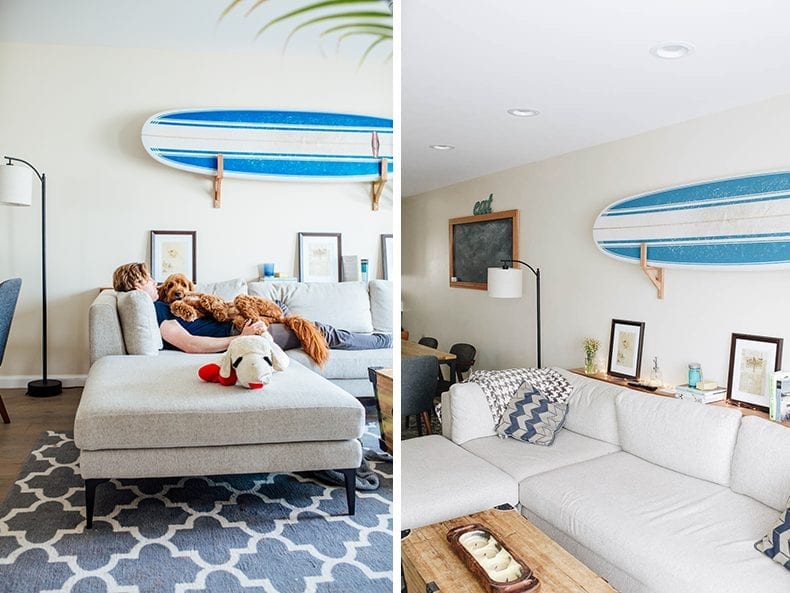 DINING ROOM
I think calling it a dining room might be a bit of a stretch since it clearly isn't its own room, but we made it work! We host pretty frequently so we wanted a decent sized table but not so big it took up the whole space (It fits 6-7). We attempted to create it's own little space with a rug and the blackboard that we in-theory use for writing menus, but in actuality use to share our wifi, write random groceries and currently: our wedding to-do list.
Dining Table | Bench | Blue Chairs | Gray Chairs (no longer sold) | Rug | Blackboard (homemade) | Eat Sign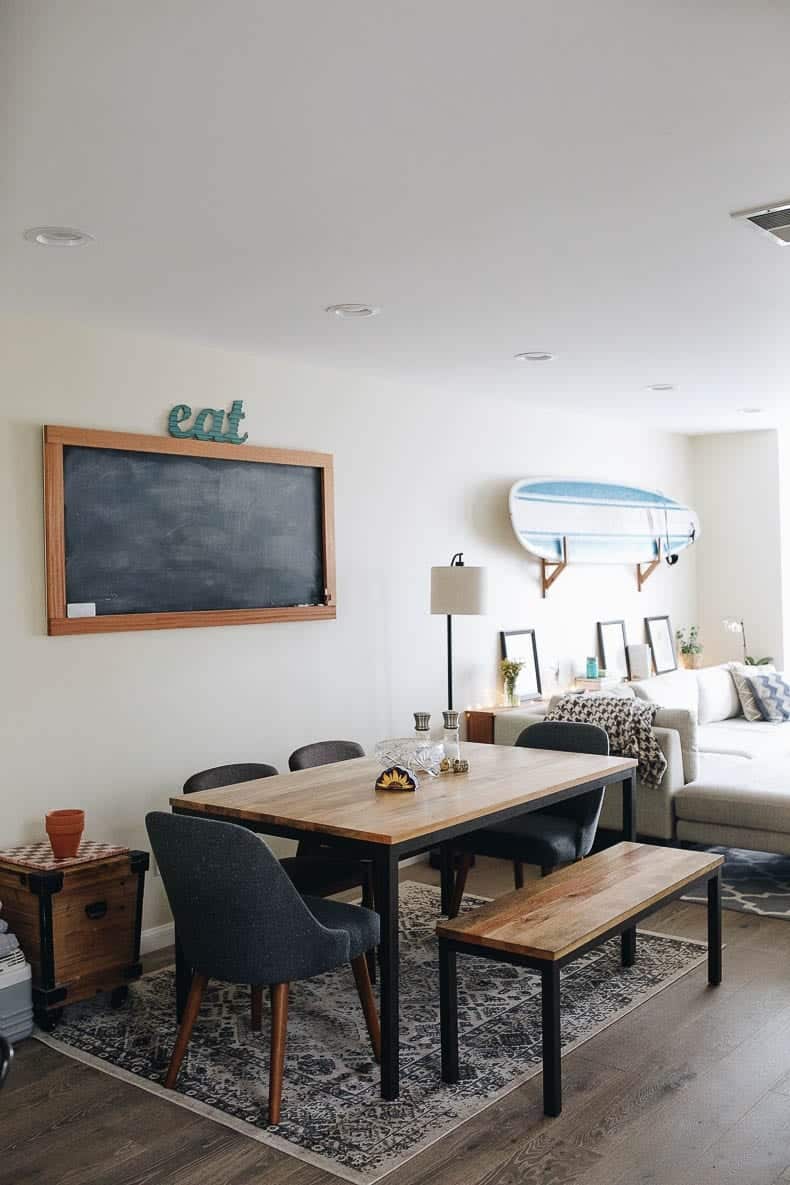 KITCHEN
I obviously spend a lot of time in our kitchen so making sure the space was organized and inspiring was my highest priority. We decided to put our gallery wall in it as a centrepiece to the apartment and try (key word is try) to keep things tidy on the countertops. We decided to ditch the microwave to keep more space on the counters and add a touch of design with a couple of my favorite cookbooks.
Let me know if you guys want to see a post on how we built our gallery wall, or about any other items in our kitchen.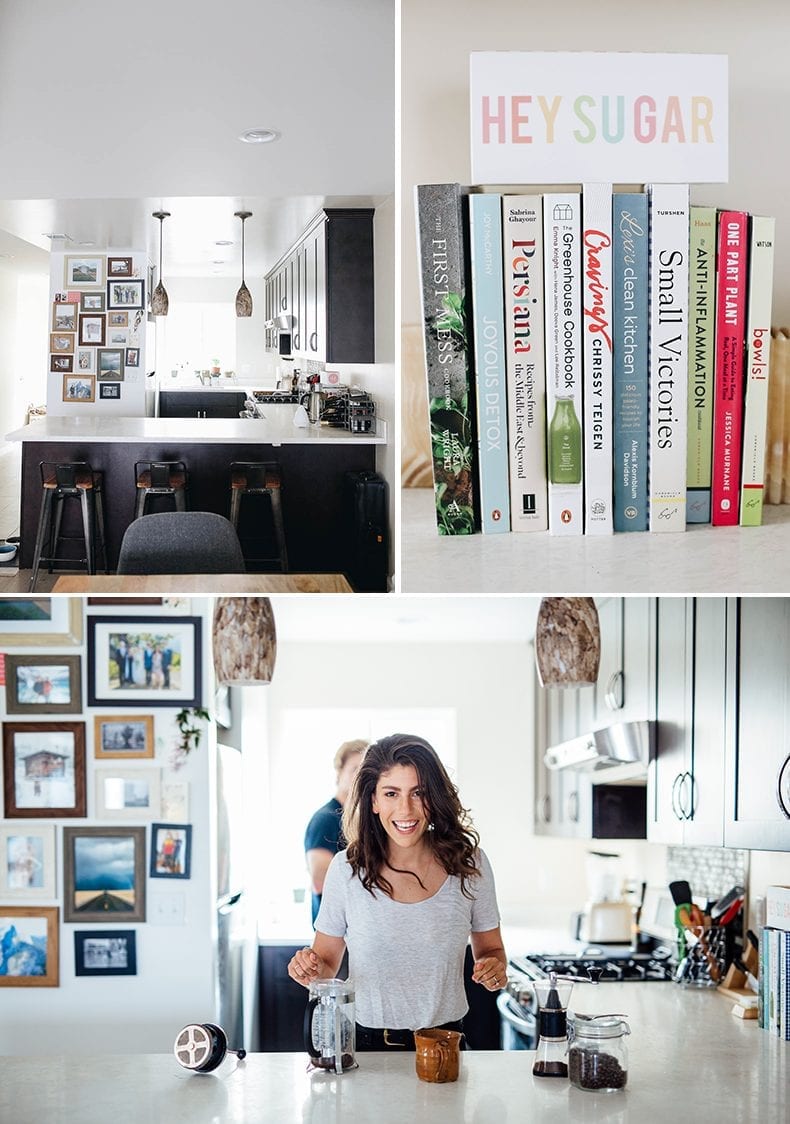 BEDROOM
My favorite room! I had a window seat in my childhood bedroom and I've loved them ever since. When I saw the bay windows I knew we had to have some kind of window seat. C to the rescue! It was one of the first things he built for our apartment, even before our mattress arrived! I love how plant-life is incorporate throughout and it just feels so cozy. You guys might remember seeing parts of it in our engagement pictures, but we're still adding more to it! C jokes that we're sleeping in a jungle, but we both totally love it.
Bed Frame | Side Tables | Dresser | Bench (homemade), Cushions | Saje Diffuser | Newgate Clock | Hudson's Bay Blanket | Fairy Lights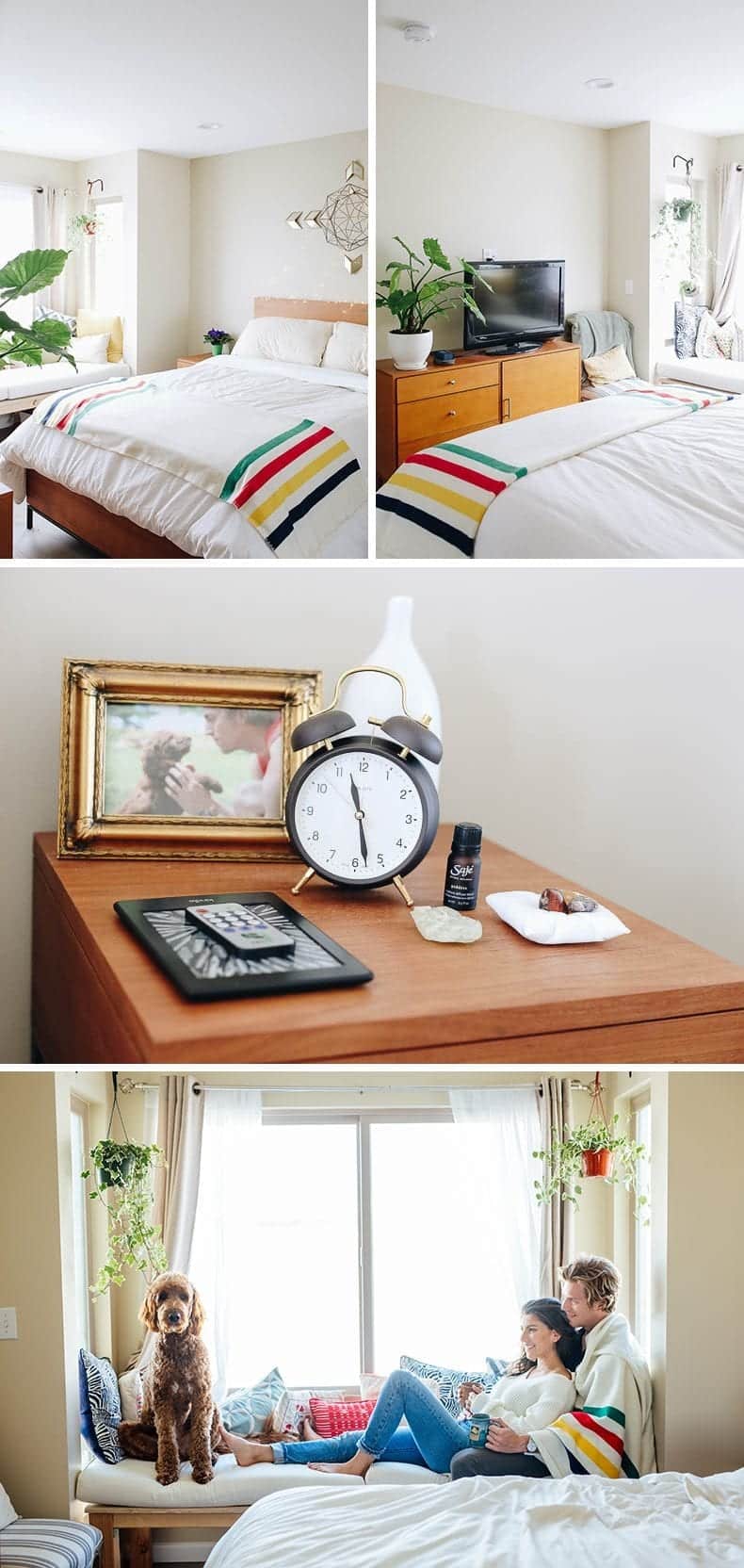 OFFICE/SECOND BEDROOM
As I mentioned above, gaining a second room was super important for us as we both work from home and we tend to host a lot of guests. C spends most of the time in the office, though I do use it for podcast interviews and occasionally video editing. We needed the space to accommodate a desk and office set-up, but also needed a place for guests to sleep. We initially thought we'd get a pull-out couch, but then realized we would probably never use the couch and it wouldn't be a very comfortable bed. So we installed a murphy bed! It looks like it's a storage unit, but there's actually a bed inside. We ordered a lull mattress-in-a-box that is super comfortable and we convert the room when people are sleeping. It's still tight-quarters but it's way better than an air mattress!
Queen Murphy Bed | Side tables | Desk | Office Chair (similar as ours is out of stock) | Shelves (out of stock- sorry!)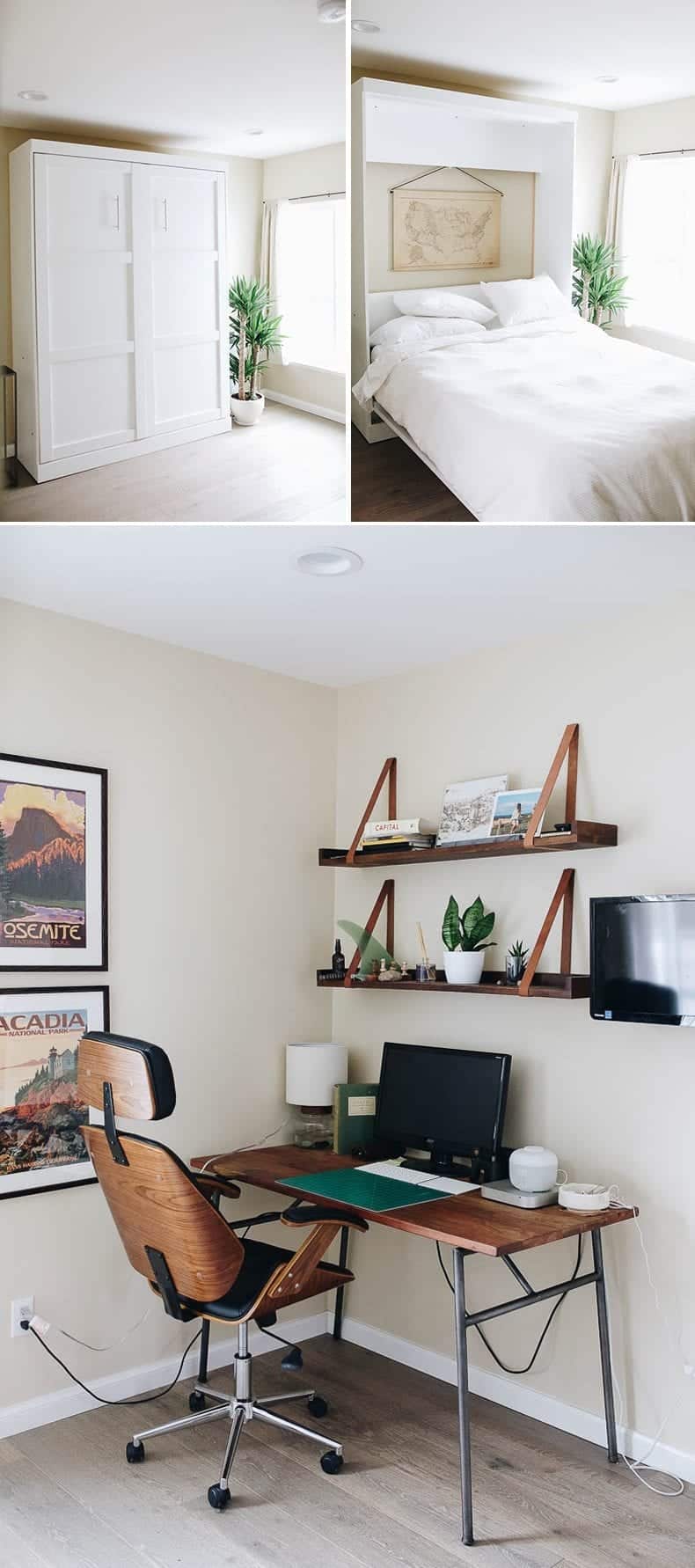 * * * * *
We still have a few more items to buy, namely runners for our bedroom, a rug for the office/second bedroom and a few frames to finalize the gallery wall and for around the rest of the apartment, but mostly, it's done! So happy with how it turned out 🙂
*And since I know you're going to ask, we get most of our plants from either Clement Nursery or Succulence!
All images courtesy of me or Bettina Bogar
Do you have a certain interior design-style? What's your favorite piece in your home?
WANT MORE HEALTHY LIVING TIPS? Join the THM Community!
Join 10,000+ members of the THM Community to get access to exclusive info about healthy living, products I'm loving and tips and tricks on making a healthy lifestyle easier and sustainable.