Ditch the boxed stuffing with this delicious and healthy cornbread stuffing recipe made with homemade cornbread, veggies and spices! Only one pan required and ready in under 30 minutes. It's perfect for your Thanksgiving feast!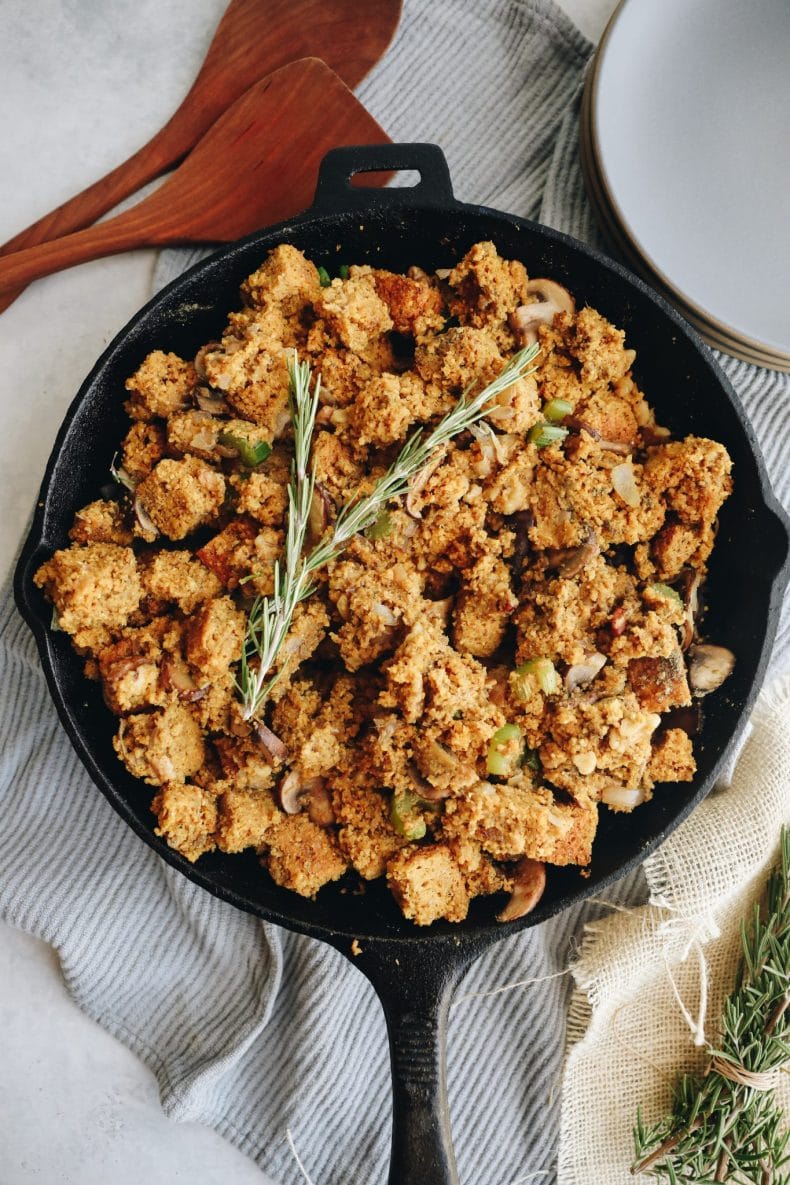 Let's be real, the best part of Thanksgiving is the stuffing! But you want to know what's even better than traditional stuffing? Cornbread stuffing! When I originally shared this recipe all the way back in 2013, I was living in my parents basement in Toronto. C and I were bf and gf and still doing long distance. I was working my 9-to-5 job in psych research while moonlighting as a blogger. I shot the original pictures for this recipe early in the morning before heading to work because that what the only time I had. Clearly life has changed quite a bit since then.
This past weekend I had C's family over for a pseudo-Thanksgiving dinner and as I was planning for the menu I jumped into the THM archives to see if I could find some inspiration. That's when I came across this cornbread stuffing recipe which I knew immediately would be added to the menu. It is one of my favorite Thanksgiving recipes on the blog but if I'm being honest, the pictures kind of looked like dog food lol. I knew it was time for a reshoot just in time to be added to your Thanksgiving menus.
When I was serving the recipe at dinner, C's sister remembered making a cornbread stuffing recipe from the blog years ago. I was excited she remembered it and gleefully exclaimed that this was the same recipe! She also remembered the horrendous photos that I'm pretty sure were shot on an iPhone 4. This, of course, took me down memory lane as I thought about how much life had changed. Rather than living in my parent's basement, I now live in San Francisco. That long-distance boyfriend is now my husband and I've been running THM as a business for almost 6 years. Also clearly my photography skills have improved! Who knew cornbread stuffing could be so sentimental?! Let's make the recipe
How to Make Cornbread Stuffing
This cornbread stuffing recipe is extremely easy to make and doesn't require any oven cooking (let's keep that space free for turkey!) but I thought I would walk you through the process so you can see how simple it truly is.
STEP 1: Make the cornbread
I love this recipe with my pumpkin cornbread. If you want to keep this recipe gluten-free + vegan, I highly recommend!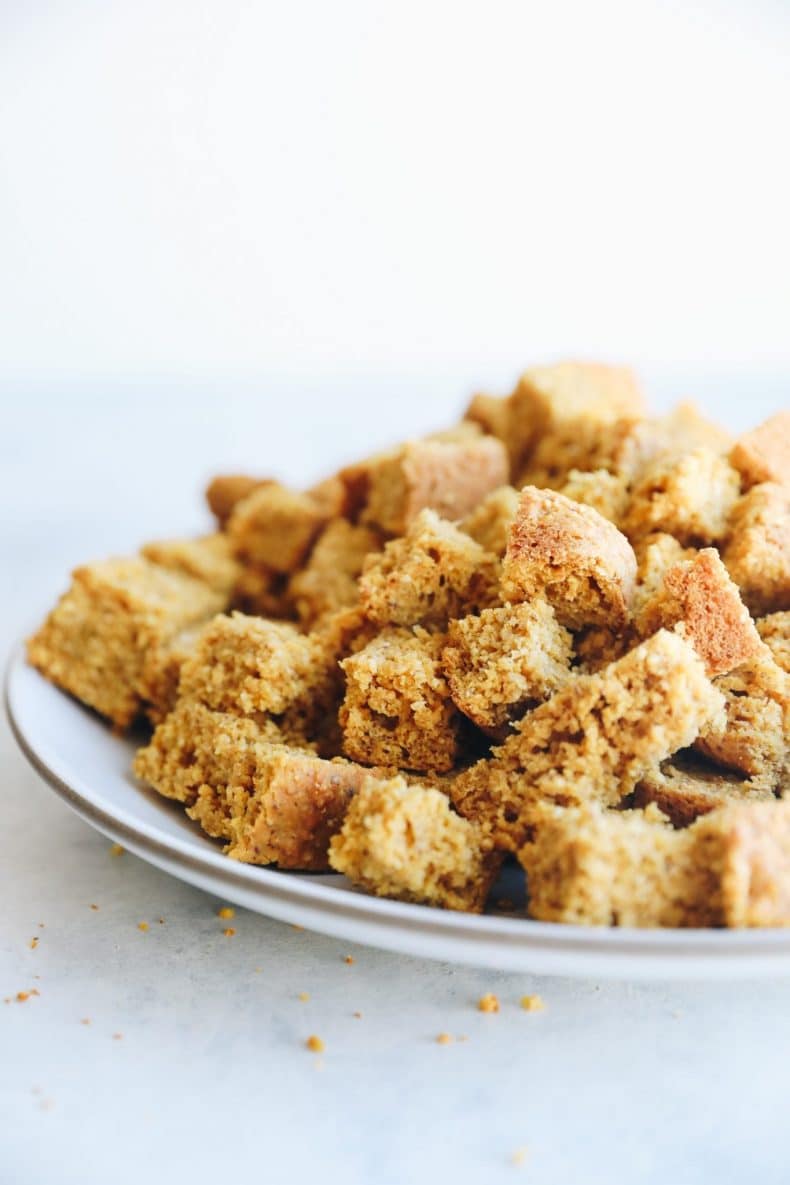 STEP 2: Cook your veggies
For this recipe you'll need onion, celery and mushrooms. I prefer to cook in a cast-iron pan as I find it helps cook everything evenly.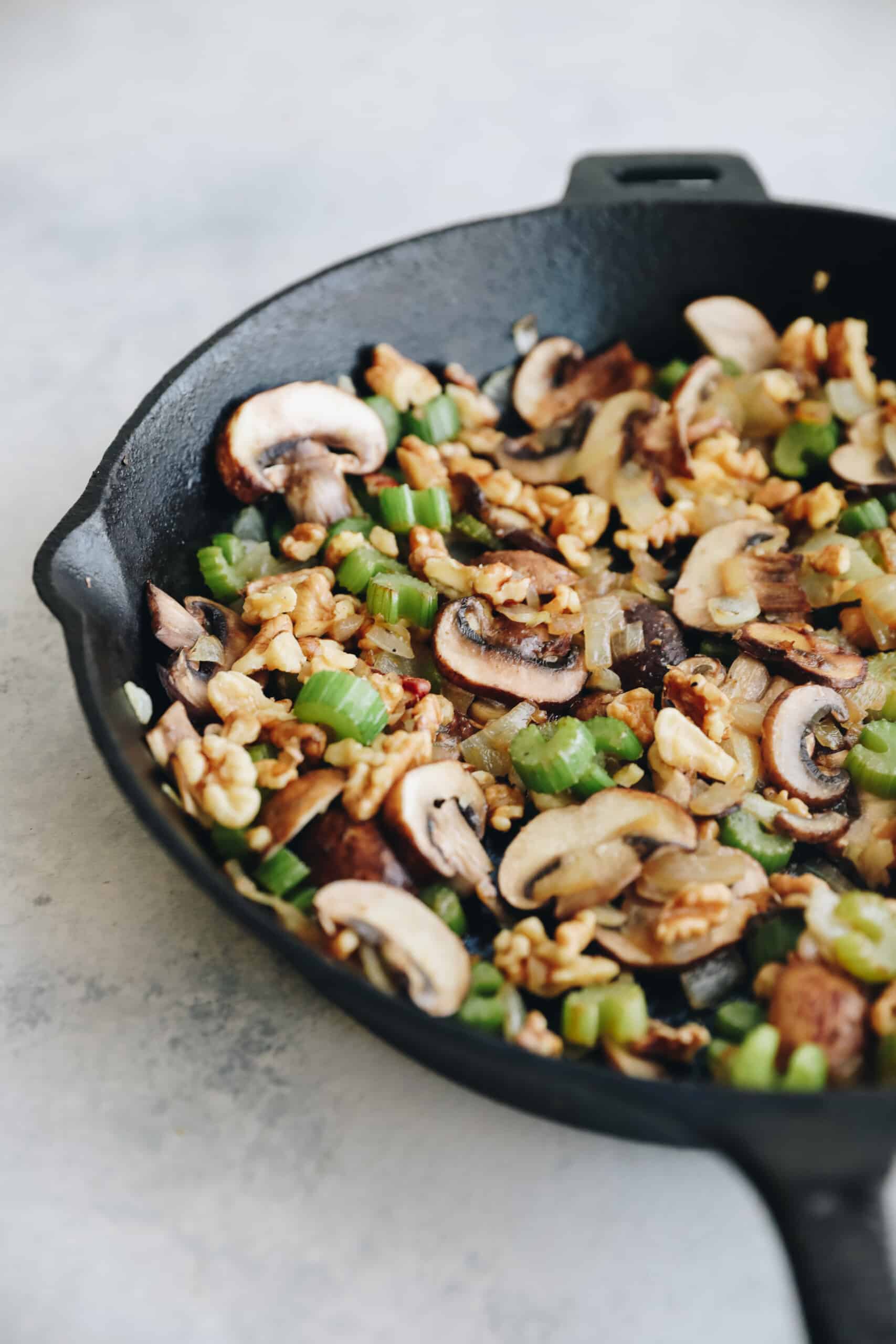 STEP 3: Add the cornbread cubes to the veggies along with the nuts and spices.
Give it a good stir before adding your water. The water helps give the stuffing more of that "I was cooked inside a turkey for hours before eating" taste. I don't know about you but I'm a little freaked out about eating something that was cooked inside a turkey cavity! And just like that, your cornbread stuffing is ready!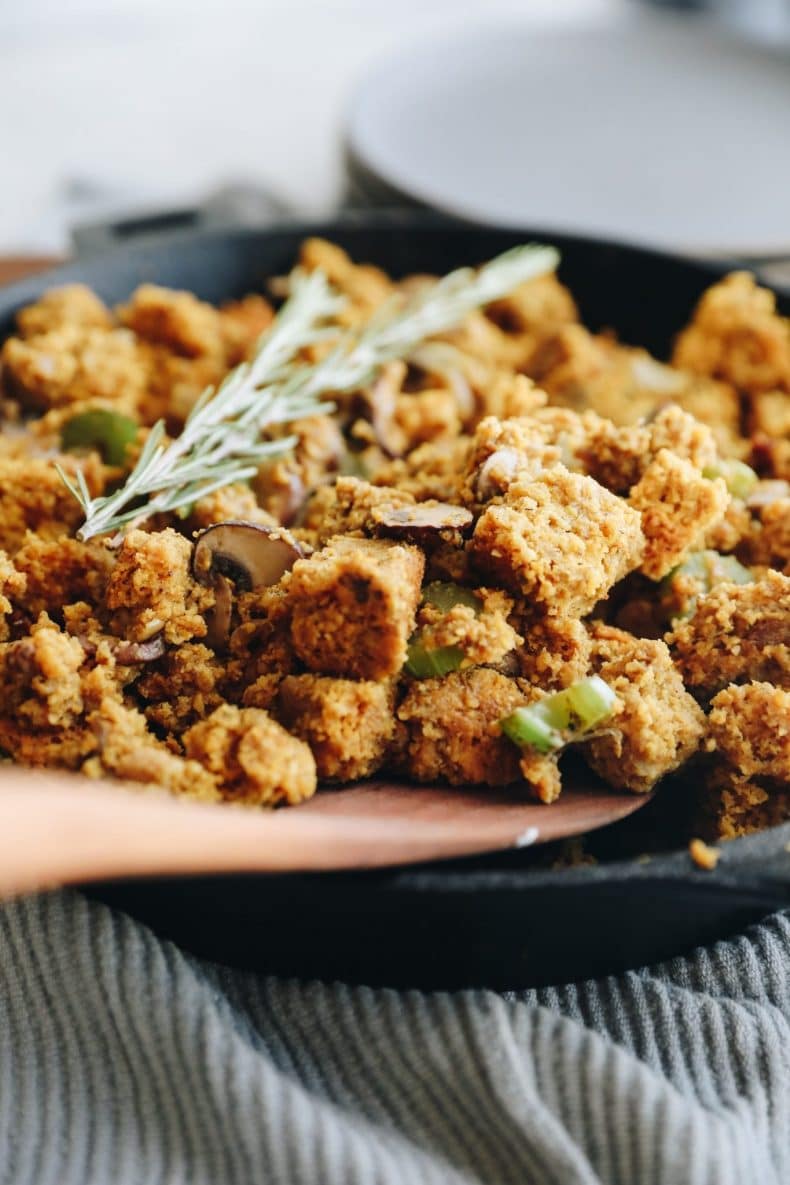 Can you make this cornbread stuffing ahead of time?
Absolutely! Though I do find it tastes best fresh, you can make it ahead of time. If you're tight for time/space on Thanksgiving, I recommend pre-baking the cornbread and chopping it into cubes then pre-cooking the veggies. When you're ready to serve just re-heat the veggies, add the stuffing and spices and then the cornbread and water. This will take under 5 minutes so if you can swing it I recommend doing it this way.
Can you make this with any cornbread recipe?
yup! Though I do recommend this pumpkin cornbread recipe (honestly- it's delish!), you can make this recipe with any type of cornbread. In a pinch I've made it with the Trader Joe's boxed cornbread and it's actually pretty good. I have found that you may need to adjust the amount of water depending on the type of cornbread you use. Don't sweat it…it's just Thanksgiving!
Print
Cornbread Stuffing
Author: Davida Lederle
Prep Time:

5 minutes

Cook Time:

15 minutes

Total Time:

20 minutes

Yield:

6

servings

1

x
1

loaf of pumpkin cornbread, sliced and cut into cubes*

1 tbsp

olive oil

1

large yellow onion, diced

4

stalks of celery, sliced thinly

3 cups

of mushrooms, sliced

1/2 cup

walnuts or pecans, roughly chopped

2 tsp

dried sage

2 tsp

poultry seasoning

1 cup

water
salt and pepper, to taste
Instructions
Bake the cornbread and let cool completely. Once cool cut into cubes.
Add olive oil to a large skillet over medium heat.
Add onions and celery and sauté for 5 mins.
Add mushrooms and continue cooking for an additional 5 mins
Add nuts, cornbread and spices and cook for 1 min.
Add water and let absorb. If it needs more water feel free to add 1 tbsp at a time.
Serve warm or store in refrigerator for up to 5 days.
*you can use any cornbread recipe you like
Like this recipe? Here are a few other Thanksgiving favorites you might enjoy:
JOIN THE THM NEWSLETTER
Join 20,000+ members of the THM Community to get access to exclusive recipes, healthy lifestyle tips and behind-the-scenes news from our team!