Happy New Year, ya fine folk! Hope your hangovers aren't too bad and you haven't completely destroyed all hope of succeeded at your new years resolutions. You've got 364 days ahead of you, so buck up!
Speaking of bucks, when I last left you, we had just totalled our car after hitting a buck just outside Rapid City, South Dakota. If you guys watched our video, you know that we became slightly delirious as we navigated the crazy situation we found ourselves in. But a few glasses of vino helped calm our nerves and by 9:00 AM the next morning we were back on the road, ready to tackle the next segment of our Great American Road Trip.
The next part of our journey brought us down through Wyoming and across Colorado. The video below and continued post covers the course of 3 days so I'm breaking down the post into 3 parts.
SOUTH DAKOTA –> WALDEN, COLORADO
The first segment brought us through Wyoming all the way to Walden, Colorado in North Eastern Colorado on the West side of Medicine Bow National Forest. Honestly, we stayed there because I found the cutest airbnb of all time and was willing to make it work no matter how far our of the way we drove (this coming from a girl who drove approximately .05% of the trip…)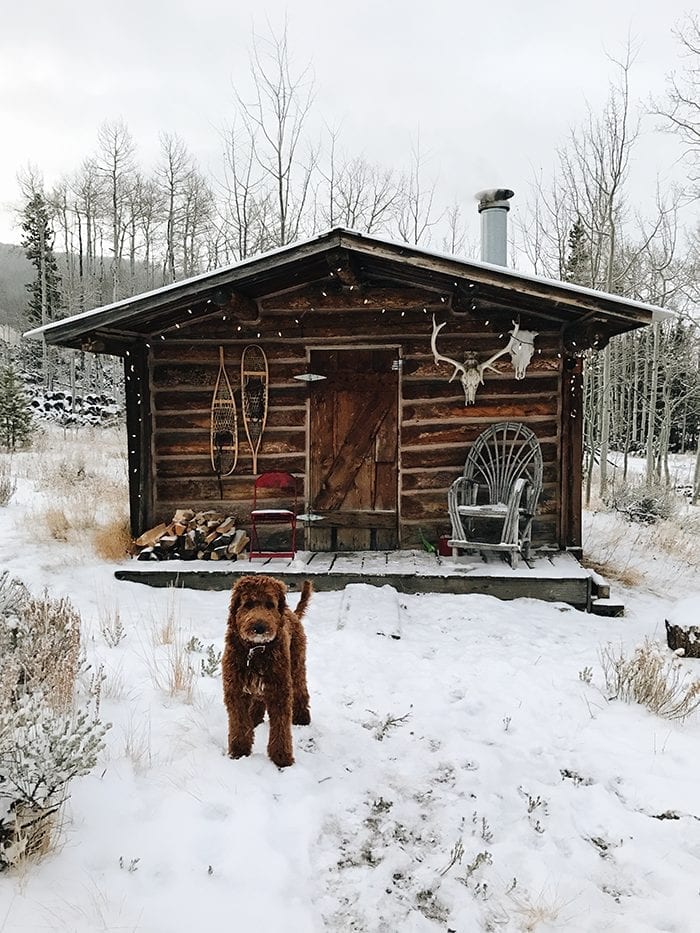 But let's rewind to the drive itself and how we went from picking up our rental car in Rapid City to cozying up by the fire in Walden.
Basically, the entirety of the journey through Wyoming to Walden was a whiteout storm. If the scenery were beautiful, we wouldn't know because we spent most of the day with our eyes peeled to the truck in front of us. Every five minutes my heart skipped a beat as I convinced myself that another deer was crossing the road right in front of our car. It took me a few days to snap out of this habit, but honestly, I'm still kind of jumpy in the car. Weirdly, I'm kind of grateful our car got totalled because there was no way the Prius was making it through that storm, which would turn out to only be the first storm of the trip. We got owned in Utah…
We stopped at the Laramie food coop to pick up some food for dinner and then hauled our beast of an SUV through the dark, snowy mountain to finally arrive at our airbnb. And in case you were wondering, it was as magical as it looked.
After a crazy 24 hours, we spent the night drinking, relaxing and sleeping. We woke up to a winter wonderland and laughed hysterically as Bodhi discovered snow for the first time. Watching him run around in snow made me hate winter a little less…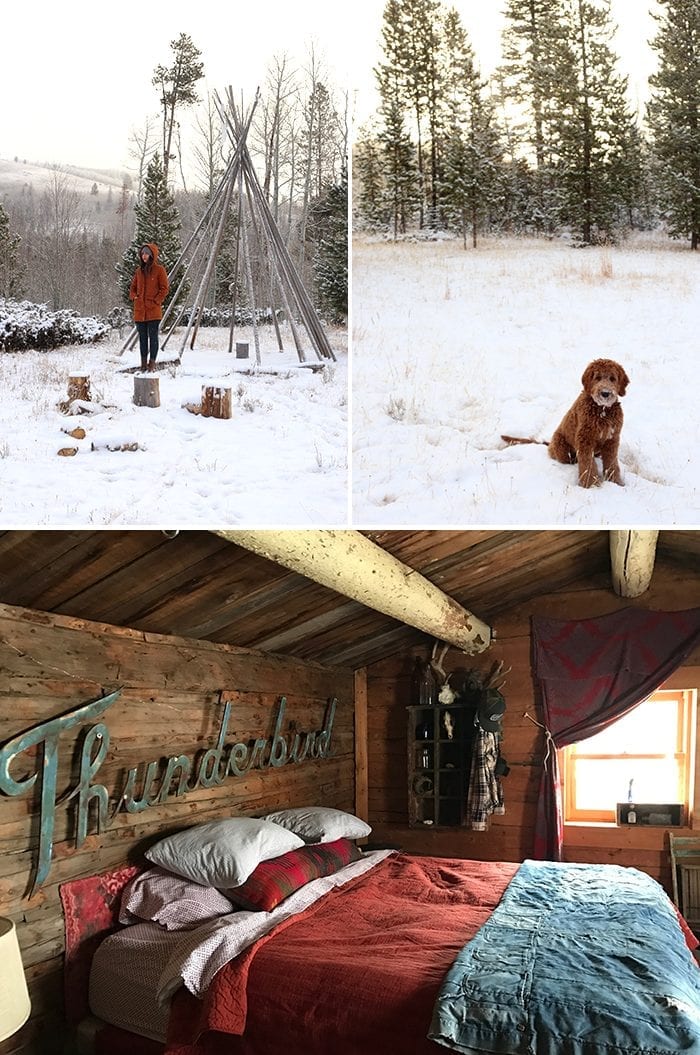 We explored the property but were keen to get back on the road to make it to Fort Collins in time for a Friendsgiving we were invited to by one of C's closest friends. We took highway 14 across the Colorado Rockies and had grand plans of hiking and grabbing lunch from an adorable little restaurant. Of course, all trails were closed due to snow and the restaurant didn't have a patio and we felt bad leaving Bodhi in the car. At this point, I was kind of over nothing going according to plan so I became a bit snarky. If you watch the video please enjoy my serious RBF around 2:30 mins.
But we did take a couple of stops for pictures and relished in that glorious Colorado sun. Seriously Colorado, what do you do to that sun?!
FORT COLLINS, COLORADO
We arrived in Fort Collins in the late afternoon and grabbed a quick lunch at Tasty Harmony, which was awesome! If you like veg food (or even if you don't), go here. So good.
We spent the rest of the afternoon hanging with friends and grocery shopping and cooking for Friendsgiving. I made a version of my Easy Kale Salad (because I'm the girl who brings kale…) before heading up to the party.
Maybe this is a broad generalization, but based off this experience everyone in Colorado is so incredibly kind and welcoming. We walked into a room of 25 strangers and they all made us feel at home. After an insane couple of days, we needed some good people and Colorado gave us more than we deserved. To all of our new friends in Fort Collins, thank you. You fully embraced the spirit of Friendsgiving and you make some bomb ass food. You're forever welcome in our future home!
The next morning we woke up and waited in line for brunch at Snooze. 100% worth the wait. And I got my fix of quinoa which was grossly lacking after spending 3 days in a car.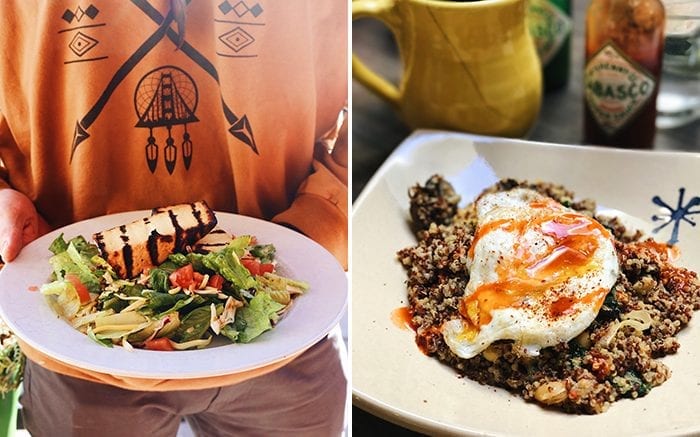 We hugged our friends goodbye and hit the road heading west towards Moab, Utah. We had no idea we were in for one of the most beautiful drives in the US.
FORT COLLINS –> MOAB UTAH (Colorado National Monument)
We headed South from Fort Collins towards Denver and had plans to cut through Rocky Mountain National Park, but going with the theme of "nothing goes according to plan during our road trip", the road into RMNP (highway 34) was closed. At this point it was comical how little of our planned trip we were actually executing, so instead of getting upset, once again, I just laughed, literally screamed YOLO and accepted that this must be part of some greater plan we couldn't see.
While I have every intention of going back to RMNP in the future, I'm kind of happy we just hit the road and took brief stops and mini hikes off of highway I70 across Colorado because we saw sights like these…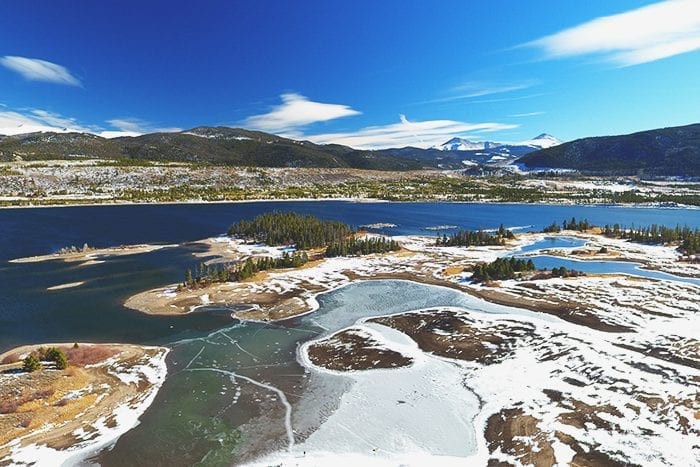 From there, we continued along I70 hoping to get into Moab for sunset. But at the very last minute (I mean literally a 10 second split decision that resulted in us pulling off the highway) we took a detour to Colorado National Monument. We had never planned to stop here but after bypassing Rocky Mountain we were feeling antsy for some National Park Lands.
I'm so happy we made that call and got to watch the sunset over the monument. I think it's an overlooked public land so if you have a chance to stop there, DO IT.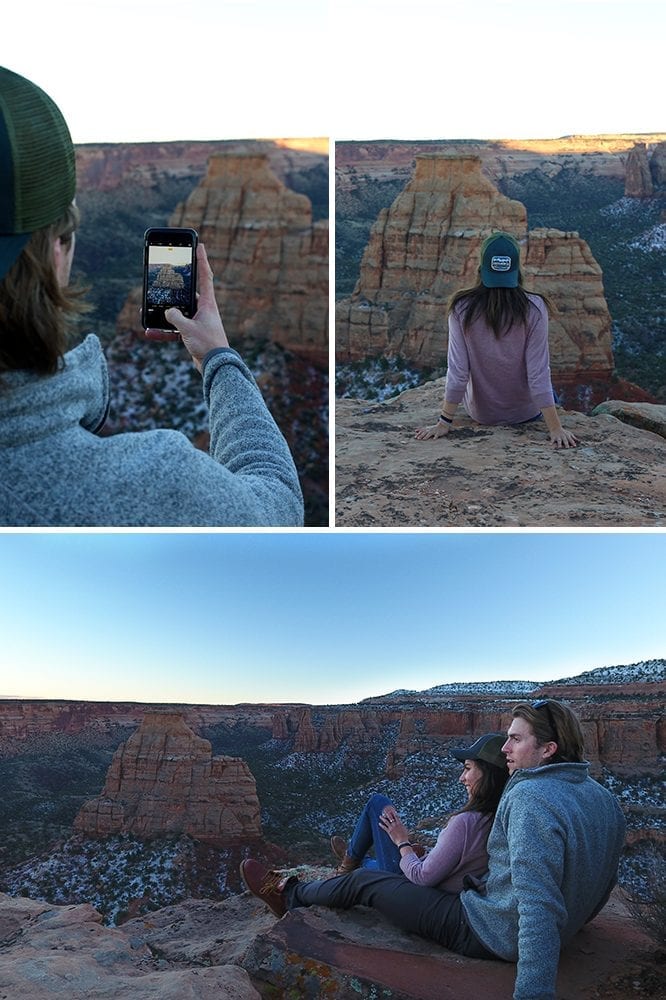 We took the winding road out of the park and bopped onto a small freeway going south to Moab. A part of me wished that we weren't driving it in the dark because I'm quite certain it was a beautiful road, but I have no regrets about stopping at Colorado National Monument. Plus it meant we woke up to discover this outside our door…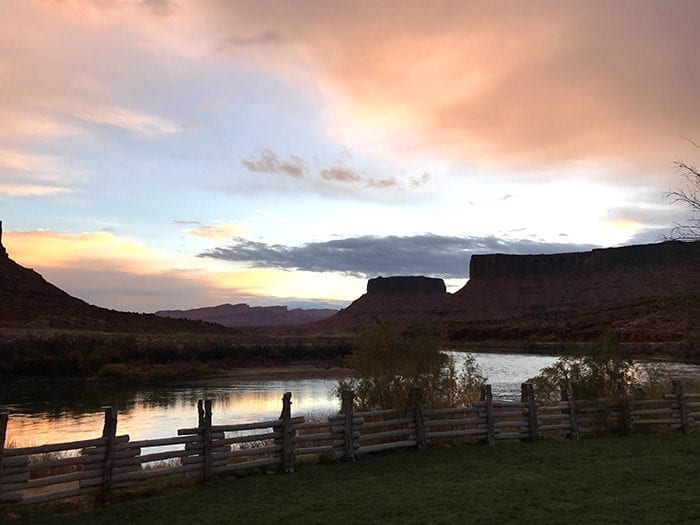 That's it for our road trip through Colorado. There's so much more of Colorado I'd love to explore, but I know I'll be back! Stay tuned for next week's post on our trip to Moab, Utah including stops at Arches National Park and Capitol Reef National Park. And as always, I'd love if you checked out the video and gave it a thumbs up. Sometimes I wonder if I'm the only one watching my travel videos and I'd just love to hear if anyone else out there enjoys them too.
Happy New Year, Friends! Where would you like to road trip to in 2017?
DON'T WANT TO MISS THE NEXT ADVENTURE? Join the THM Community!
Join 10,000+ members of the THM Community to get access to exclusive info about travel, places I've visited and how to stick to your healthy lifestyle on the road.