Looking to hit the road this summer? Follow along on our epic road trip through Maine with Love with Food! From Acadia National Park to Portland, Maine this post will take you through our journey along Maine's beautiful coastline!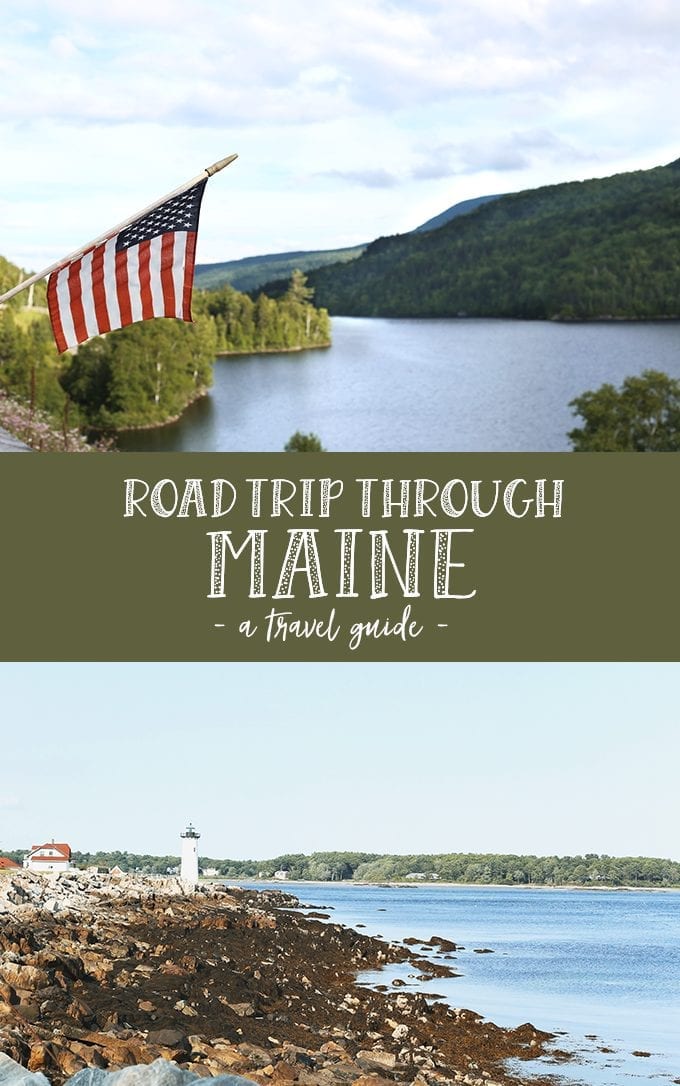 Before I begin, can I just say a HUGE THANK YOU to everyone for their kind words and feedback on Friday's post. Thank you for always being endlessly supportive and spreading all the good vibes. You guys are my everything and are my #1 motivation for showing up everyday. From the bottom of my heart, thank you.
Now onto today's post…
I've always considered myself to be a city girl. I've only ever lived in cities so I suspect that's probably why and despite spending 11 summers in the hills of New Hampshire, I never believed myself to be "outdoorsy". And then something changed…
Either I woke up and had freaky friday'ed with my wilderness woman alter ego or I started dating a boy who lives for the mountains. I'll let you guess the more accurate scenario.
Needless-to-say, 5 years with a man who takes solo-winter camping trips and spends his spare time making leather sheaths for his knife collection (I wish I were kidding – and this is less scary than it seems) eventually rubbed off on me and now I will take any opportunity to get outside.
So when C found out he had a conference in Portland, Maine, I jumped at the opportunity to drive to Acadia National Park and spend a few days road-tripping, camping, climbing mountains and experiencing everything Maine had to offer. And all of this planning happened in under 48 hours. Talk about spontaneous road trip!
To be honest, I was completely ignorant what was on the Maine short-list. I knew about Acadia and Portland, but besides a bunch of summer trips to Ogunquit, I really didn't know what to expect. What unfolded was more than I could have ever asked for.
So C and I packed up our camping gear and began the long drive through Ontario and Quebec all the way into Northern Maine. From there we made our way to Acadia, drove down along Coastal Route 1 all the way to Portland. I'm so excited to share this experience with you. Come along for the ride!
The trip began on Saturday morning with a stop to pick up our rental car. We decided to do a 12 hour drive in a day, which in hindsight was a bit crazy. Also I say "we" liberally as I did approximately .5% of the driving (purely so C could drone while I drove).
The trip was not particularly eventful but flew by thanks to the Startup podcast and plenty o' snacks from Love with Food. And besides the stretch between Toronto and Montreal, which is notoriously boring and we've done about 100 times, the setting was quite beautiful! Especially once we crossed the border into Maine.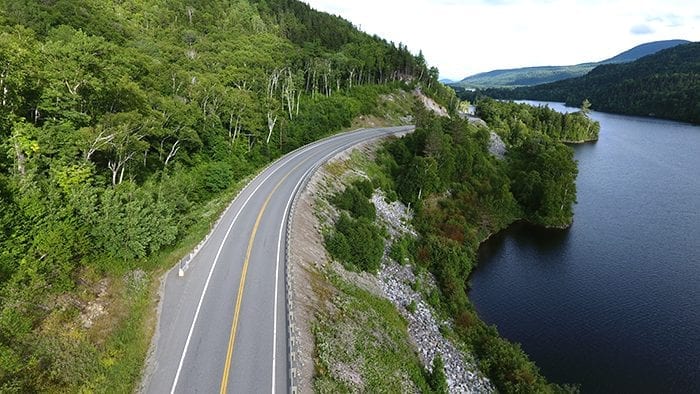 From there we made our way Down East to Acadia National Park where we set-up shop at Mount Desert Campground. We arrived at 10:00 PM, set-up our tent in the dark and immediately lit a fire. Our camping excursions began.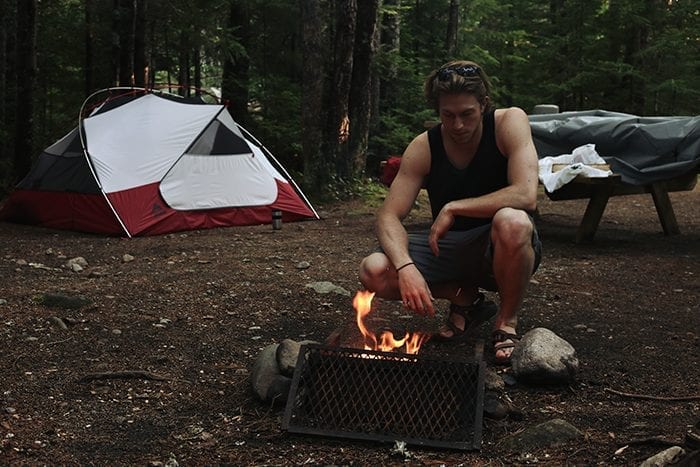 We woke up to pouring rain and instead of pouting about not being able to hike, we bunked up in our tent, read, b"rainstormed" and just embraced the peace and quiet. Eventually the sun came out and it was time to hit the trails.
I asked you guys what we should hike and so many of you said "The Beehive". Now you're lucky I'm not afraid of heights otherwise I'd have been cursing your names the whole way up. What we quickly learned about Acadia was that the hikes were short but steep as hell, and the beehive? It's a straight incline with ladders hanging off a mountain. This is less of a hike and more of a free climb. Crazy but absolutely incredible.
From there we continued along to hop on The Bowl Trail and eventually to the Gorham Mountain summit where we picked blueberries and ate them in the fog. I'd definitely recommend these trails if you're planning to visit Acadia, but avoid The Beehive if you're afraid of heights and/or clumsy and might potentially fall off a mountain.
After hiking, we drove the park loop back to our campsite where we cooked dinner, read by the fire, C worked on his leather sheath (I just can't with him…) and went to bed early for an early-morning wakeup call to watch the sunrise on Cadillac Mountain.
For dinner we had pasta with veggies. Our Love with Food box came with a package of Banza chickpea pasta and paired with a couple of veggies we picked up, it made the perfect dinner.
One of us ended up seriously dehydrated (not me) and the sunrise on Cadillac so did not happen. It's all good though cause we slept in, enjoyed breakfast by the fire and then drove up Cadillac around lunchtime. Stunning views and while it would have been amazing to have either hiked it or gone to the top at sunrise, we were happy we got up there. Then we went back down the park loop to Sand Beach to take in the gorgeous cliffs and landscape.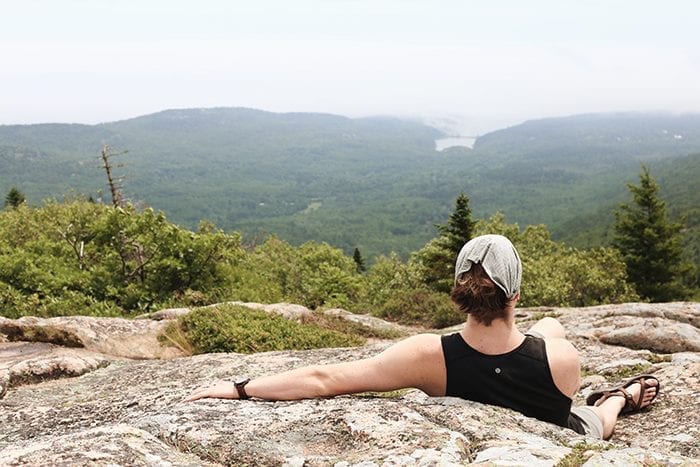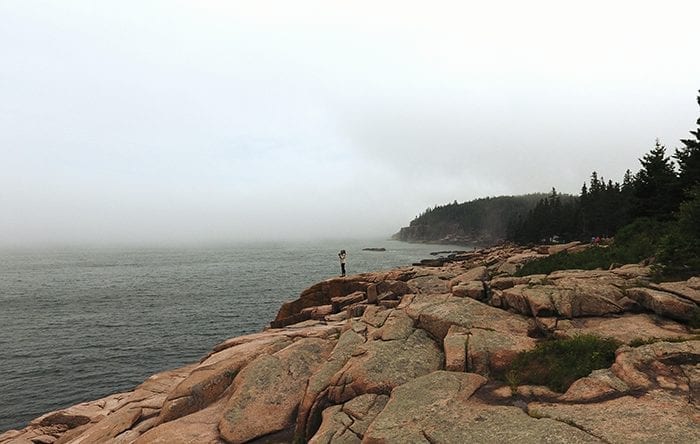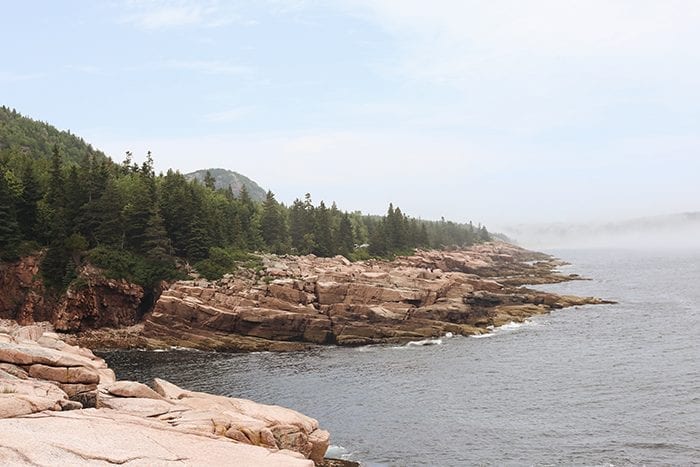 A quick stop in Bar Harbor for lunch and then it was time to take our road trip south to Portland. We opted to take the longer, albeit prettier route along Coastal Route 1. We loved driving through the little towns along the way and stopped in Camden for coffee and a snack and window shopped. If we'd had more time we would have whale watched or visited some lighthouses but we wanted to make it to Portland before dark.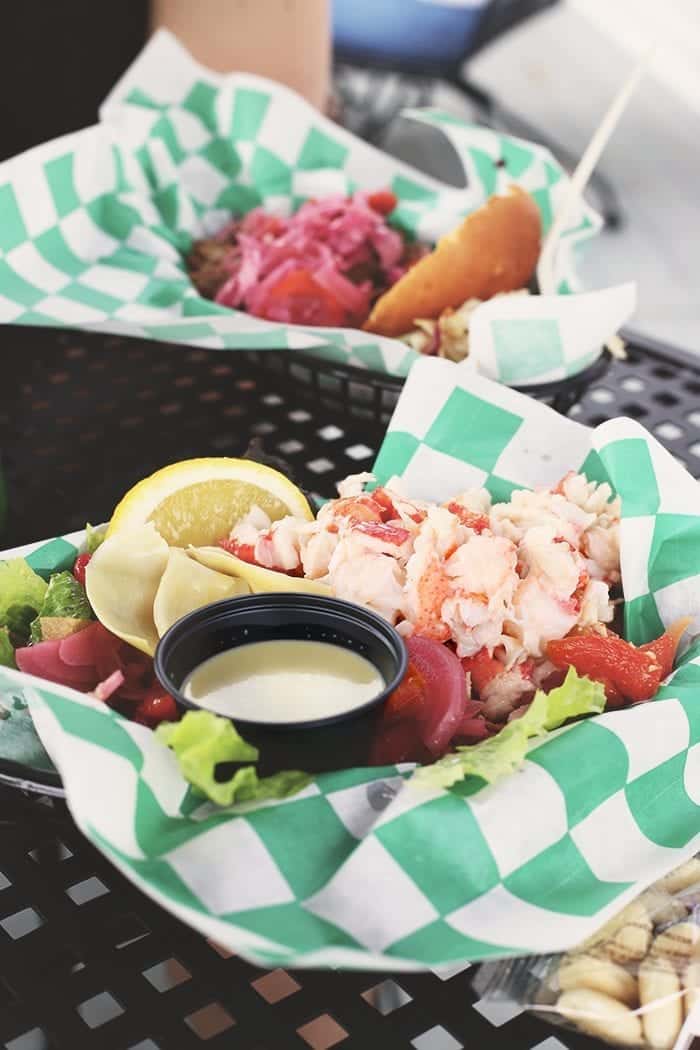 We arrived in Portland, settled in our hotel room (we were staying where C's conference was in South Portland) and then made our way to downtown Portland for dinner. Per your recommendations we ate at Boda and loved it! The Thai Shrimp Skewers were unreal! (forgot to take pictures, sorry!)
The next day, C was at his conference so I explore Portland on my own. I pretty much ate all day. I got coffee at Bard Coffee while getting some work done. Grabbed lunch at Flatbread Company and then ate my face off with donuts from The Holy Donut. GO HERE. Seriously, those donuts were hands down the highlight of our trip. I also swung by Bam Bam Bakery for a gluten-free whoopie pie but they were all out 🙁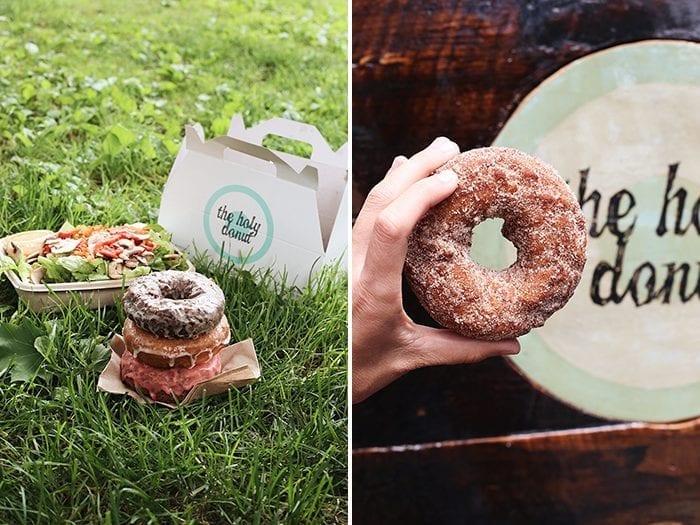 Over the course of two days I took a walk along the Eastern Promenade, got coffee at the Speckled Ax and lunch at Local Sprouts Coop. If we'd had more time I would have loved to have stopped at Eventide Oysters and Duck Fat for duck fat fries. But I guess that just means we'll have to come back!
And then we were off for our long drive home through Massachusetts and New York while James Taylor blasted the whole way home.
A HUGE thanks to Love with Food for making this road trip possible! I can't even begin to explain the convenience of having a pre-packaged snack box with us to ensure we never went hungry. It was also super fun to open it up and choose from all the options. I would 100% recommend subscribing to their service if you're heading out on a road trip. It's great for families who have picky kids with lots of different tastes. Plus they donate 1 meal to a food bank each month you're a member and for each purchase you make.
I also wanted to share that they are launching in Canada! Be sure to sign-up to be one of the first to receive their boxes in Canada (they ship all across the US too) and receive 40% off your first Deluxe Box order! I know you will love them!
I hope you guys enjoyed coming along for this spectacular Maine road trip! I did things a bit different in this post and I hope you enjoyed the layout. It was fun to bring you along for the ride 🙂 And as always, be sure to check out the video to see the behind-the-scenes of the trip along with what we snacked on!
Disclaimer: This trip was made possible by Love with Food. I was compensated for my time. Thank you for supporting THM!
Have you ever been to Maine? Are you a road trip person?
DON'T WANT TO MISS THE NEXT ADVENTURE? Join the THM Community!
Join 10,000+ members of the THM Community to get access to exclusive info about travel, places I've visited and how to stick to your healthy lifestyle on the road.