PART FOUR!!! It's crazy to think that this trip was almost 2 months ago, but I also have like 4 years worth of footage so I'm impressed I've managed to put it all together this far. In case you've missed the last three posts/videos, here's where we've gotten so far on our trip:
Minneapolis –> Badlands National Park
South Dakota –> Through Colorado
Moab, Utah + Arches National Park
We left off in the middle of nowhere Utah on our way from Arches to Capitol Reef National Park. Our plan was to spend the night in Boulder, Utah with some friends before a 10 hour drive to the California border. As I'm going through the footage of this stretch of the trip (all within a 24 hour period) I'm literally mind-blown at how much ground and scenery we covered. We also encountered every possible weather forecast and somehow made it through.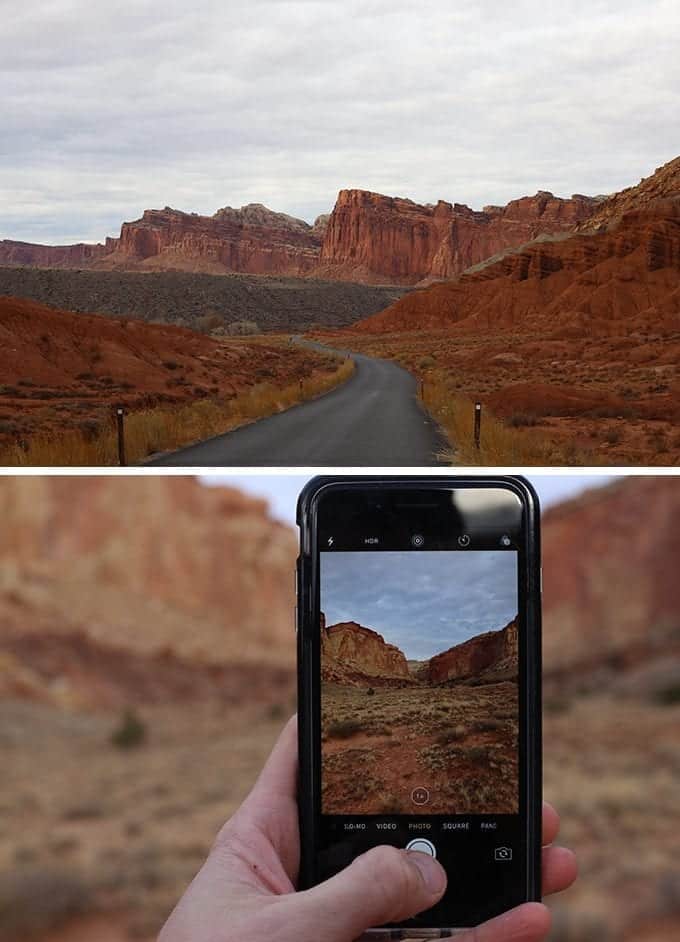 C and I had a dream of visiting as many national parks along the road trip as possible. We made it to Badlands, got road blocked from Rocky Mountain, adventured through Arches, skipped Canyonlands and opted for Capitol Reef instead (logistically it made more sense). I'm sure Canyonlands would have been beautiful, but I'm so happy we did Capitol Reef.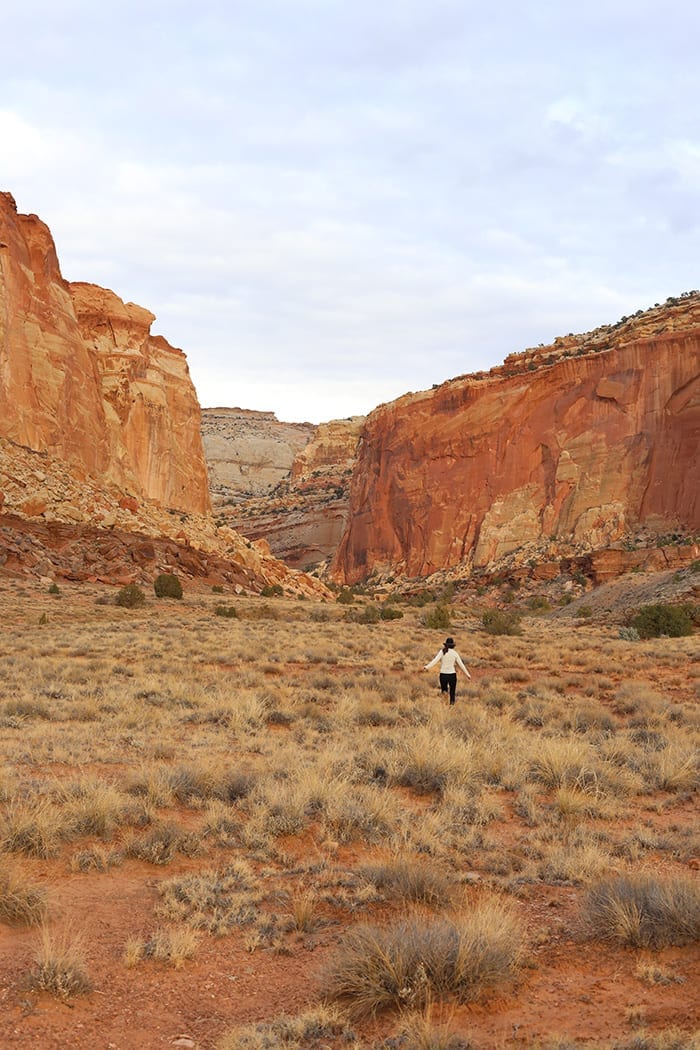 It was the strangest landscape in contrast to the red rocks we had become used to in Moab and Arches. The park was virtually empty (another theme of the trip) and we loved exploring it on our own. We skipped the Hickman Natural Bridge walk due to time, but made it to Grand Wash in time for golden hour. I truly am unsure if I've seen a more beautiful place (besides Banff!) so if you're considering a visit to Capitol Reef, GO.
From there we took the scenic highway 12 to Boulder, Utah to stay with our friends. They manage the farm of an incredible farm-to-table restaurant in Boulder, Utah. I didn't snap any pictures since it was super dark in the restaurant, but the owner graciously gifted me their cookbook and I've already made a few recipes. If you're around highway 12 (or on your way from Capitol Reef to Bryce Canyon), stop at Hell's Backbone.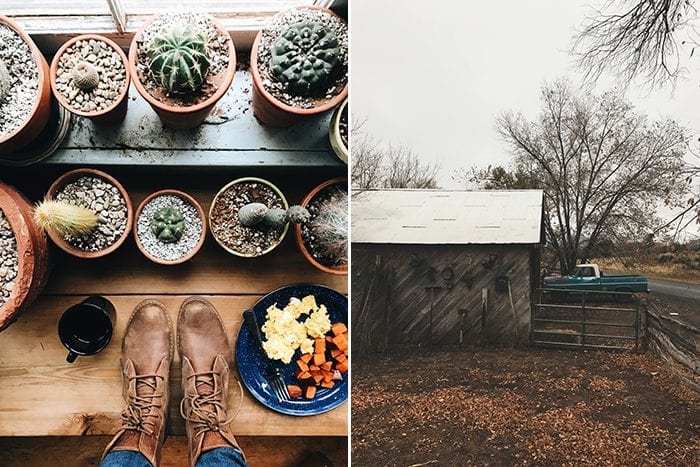 We woke up the next morning ready to hit the road for our 10-hour drive and of course there were snow warnings. After navigating some tricky conditions in Wyoming and Colorado, we felt good about our beast of a rental making it through the snow, but we were in for a wild ride.
Our plan had been to drive from Boulder to Bryce Canyon and spend an hour or two in Bryce before continuing West towards the Nevada border. Of course, Bryce was completely snowed in and we made it about 10 feet into the park before realizing there was no way we were going to see anything.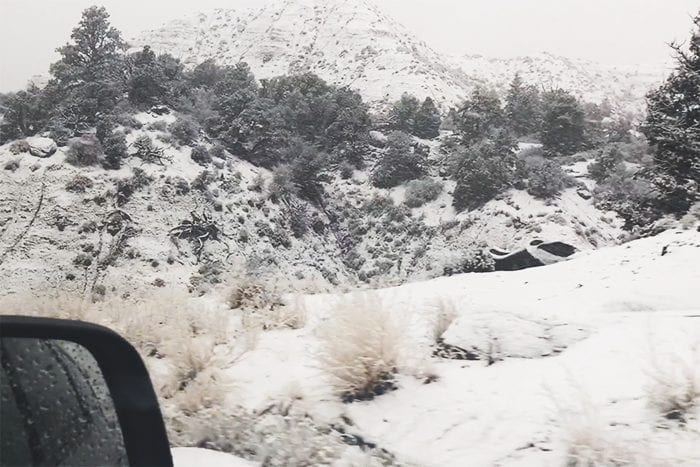 From there, we braved the storm for a few more hours before finally reaching the Nevada border. The snow actually stopped the second we crossed the border, and the following 5 hours we spent in Nevada ended up being some of the strangest, exhilarating, boring and beautiful stretches of the trip.
Just to note, we opted to skip Zion National Park for 2 reasons. 1. We know we want to spend more than a few hours there and 2. If we went that route, we'd end up taking the super-boring trip through central California, rather than through the Sierra Nevadas, so we skipped Zion. We'll be back for you!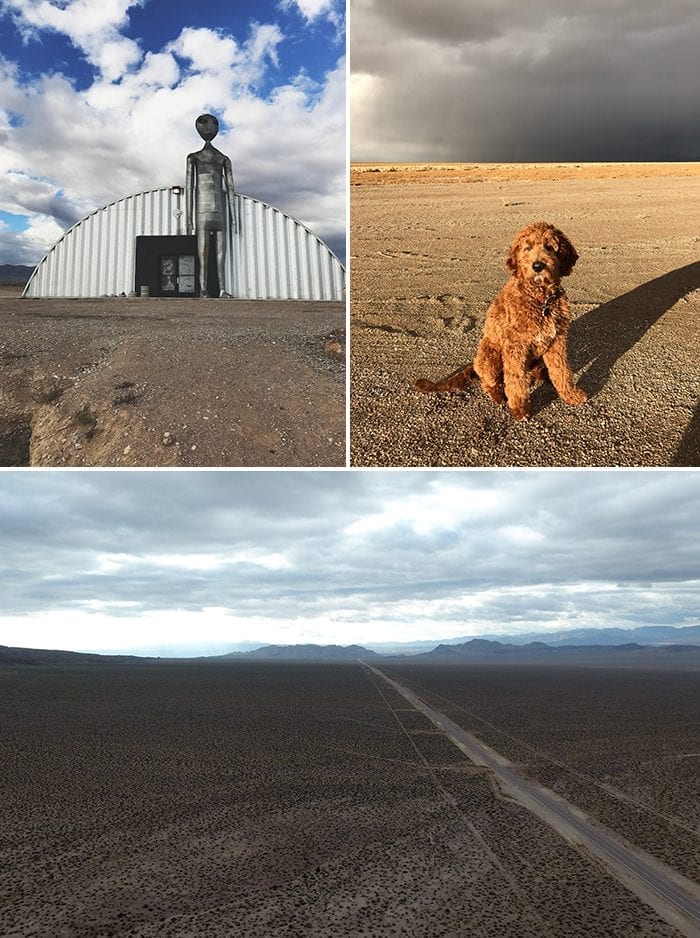 Nevada, as I mentioned, was a wild ride! There were long stretches of pure nothingness and then a crazy alien-focused town would appear like a mirage. In fact, the whole drive felt like a mirage. Then you'd see a huge black ominous cloud and a double rainbow popping out in the distance. We were also the only people on the road.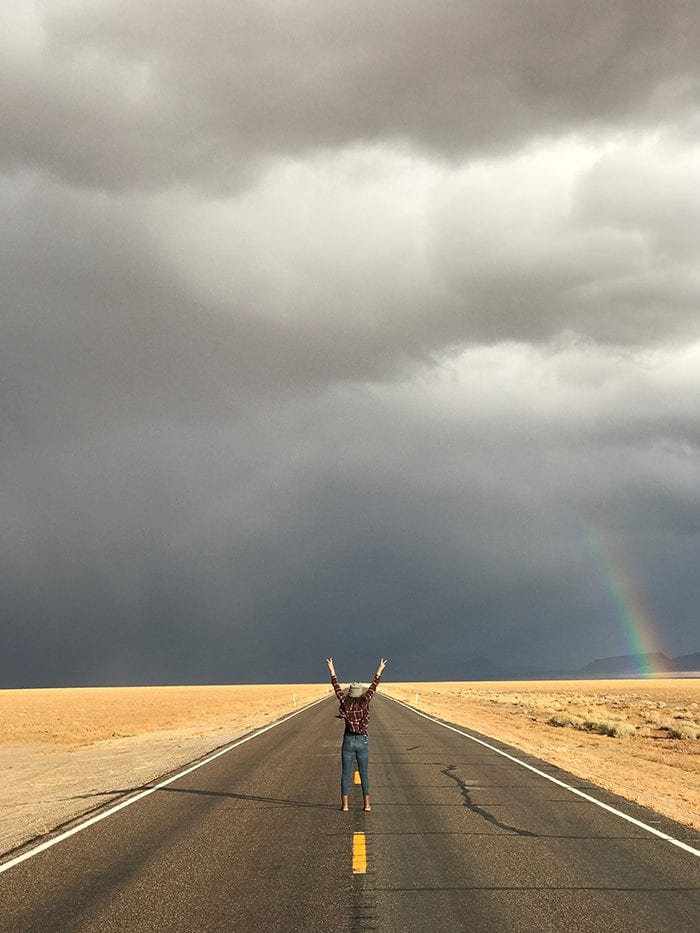 We finally crossed the border into California after exhausting every single California-themed song we knew and could no longer contain our laughter from pure cabin fever. I had the giggles for two hours straight. It was a relief to finally arrive in our final destination of Bishop, California at the foothills of the Sierra Nevadas.
Time for the home-stretch across Northern California!
Have you ever been to Southern, Utah? If you could get in a car and road trip right now, where would you go?
DON'T WANT TO MISS THE NEXT ADVENTURE? Join the THM Community!
Join 10,000+ members of the THM Community to get access to exclusive info about travel, places I've visited and how to stick to your healthy lifestyle on the road.