I've truly never felt like more of an expert than when it comes to what to binge watch on TV. For some reason this surprises people. I'm not at all ashamed to admit that I watch A LOT of TV. It's one of my self-care activities. I've always found TV to be calming and when my therapist reminded me that yes, even TV can be a form a self-care I stopped guilting myself for it. Now, I'd imagine for some of you you may be watching more TV than normal. That's okay. So if you've already finished Tiger King and Love is Blind and are ready for to chill out and get lost in another reality, Tanya and I teamed up to share our favorite Binge-Watch TV shows right now.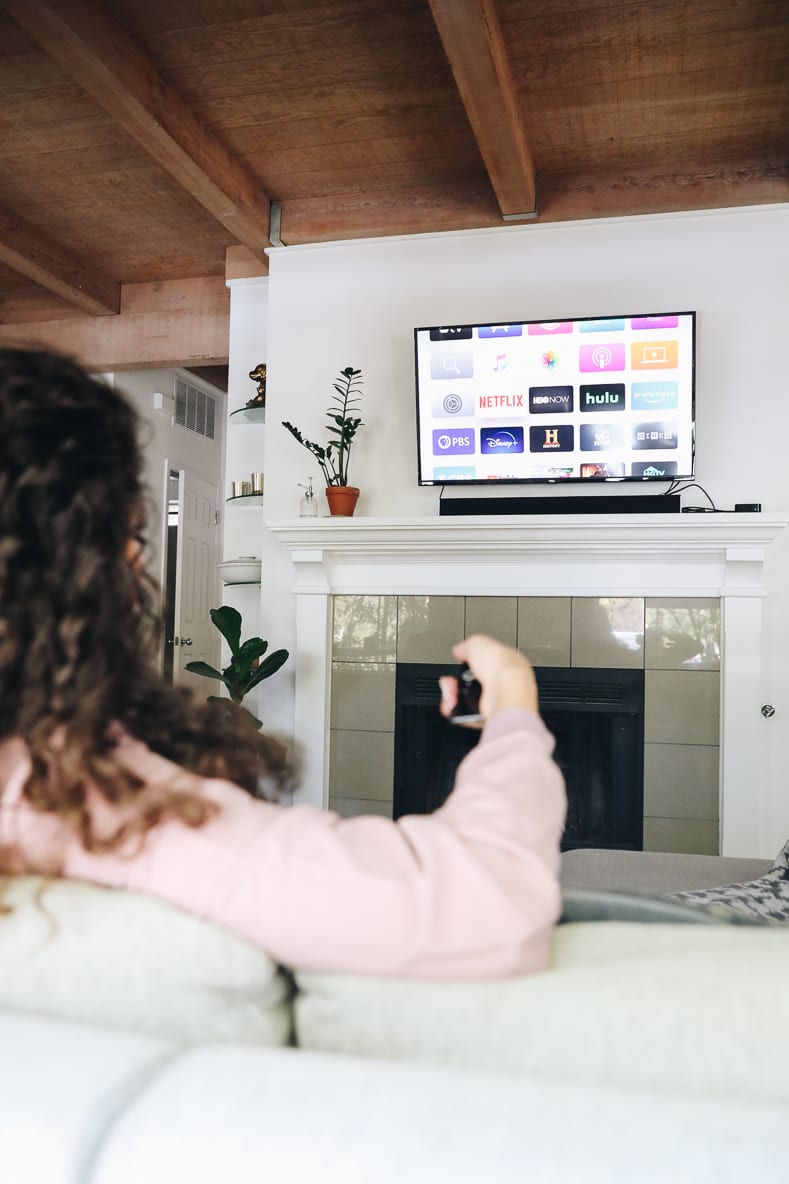 Davida's Binge-Worthy Picks
The Pharmacist (Netflix) – This docuseries is a murder mystery meets the opioid crisis and while it's dark, it's also gripping and fascinating. It's a quick 4-parter so perfect for a lazy afternoon.
The Politician (Netflix) – this one isn't for everyone but if you like Ryan Murphy and have lack of needing to explain why everything needs to break out into song, you will love this one. Ben Platt is incredibly talented which offsets the absurdity of the premise – an overachieving high schooler determined to run for president.
McMillions (HBO + Hulu) – Another docuseries but this time on how the mob infiltrated the McDonald's Monopoly game for years and how no one found out. Pure craziness watching it unfold.
Little Fires Everywhere (Hulu) – read this book a few years ago and loved it so I was thrilled when Reese Witherspoon signed up to produce and star in a made for TV series of it. Episodes are released weekly so wait a bit so you can binge watch all at once.
Queer Eye (Netflix) – Feeling sad? Queer Eye has got you covered. Based off the 90s series, 5 gay men makeover deserving heroes to help them live their best life. If JVN doesn't immediately become your favorite person then you have no soul.
Friends from College (Netflix) – Hilarious comedy about -you guessed it- Friends from College! I love anything with Billy Eichner and Keegan-Michael Key. The dynamics are disastrous and while it's definitely like watching a train wreck, both 2 seasons will keep you laughing out loud.
Other picks: The West Wing (if you've never seen it I envy you! Curt and I are on round 4 of watching our favorite TV show), Mad Men, Big Little Lies, Game of Thrones, Marvelous Mrs. Maisel…and Fixer Upper (the world always needs a little more Chip + Joanna).
Tanya's Binge-Worthy Picks
Sex Education (Netflix) – My favorite show as of late… please release new episodes ASAP! It's a British comedy drama about relationships, sex, family dynamics – allll the things!
Cheer (Netflix) – I'm late to the party here but I finally watched Cheer and it was amazing as everyone said it was! Highly recommend if you need a feel-good show.
Succession (HBO) – There's only two seasons so far but we binged this embarrassingly fast. I don't even know how to sum this show up… international media conglomerate meets family drama?!
Schitt's Creek (Netflix) – I know this isn't that new but the final season just wrapped and it's worth bingeing from the beginning! The cast of bold, hilarious personalities will leave you feeling all the feels.
And just in case you haven't watched these classics, I loved Parenthood from start to finish and never get tired of episodes of The Office – start at the beginning and watch straight through!
Feel free to leave some of your favorite shows to binge watch in the comments below. Always looking for new inspiration!
Like this post? Here are a few others you might enjoy:
JOIN THE THM NEWSLETTER
Join 20,000+ members of the THM Community to get access to exclusive recipes, healthy lifestyle tips and behind-the-scenes news from our team!