The Whole Foods Beauty Sale is back! Last year I stocked up on products during this sale so I could test and recommend my favorites. My review still stands today so be sure to stock up while you can! 
Whole Foods Beauty Week runs from Wednesday March 10th-Tuesday March 16th, 2021 in all Whole Foods Market stores. Get 25% (+ and additional 10% for prime members!) off all beauty products!
A couple months ago I asked you guys what kinds of skincare/clean beauty posts you wanted to see. It was pretty much a resounding request for AFFORDABLE skincare products. That and an alternatives to beautycounter post – but I got that covered already!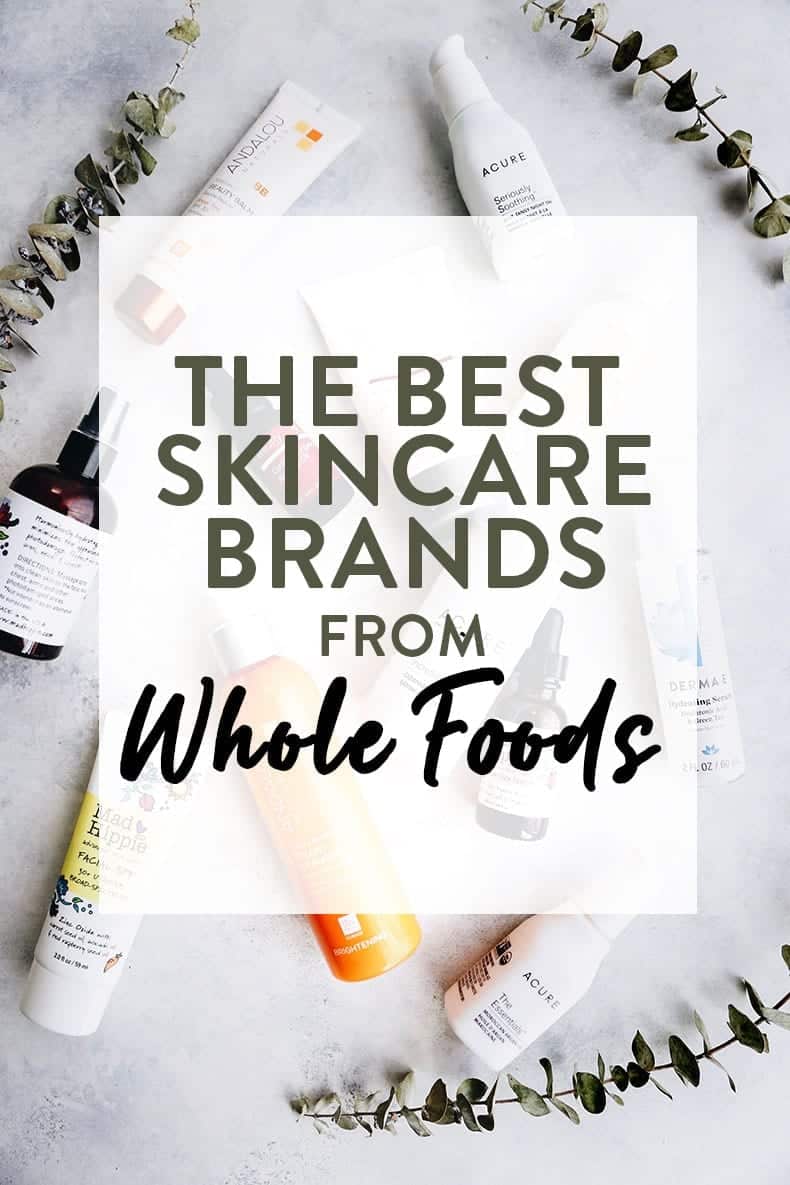 Without question, clean skincare is more expensive than conventional. There are a lot of factors that go into this but generally, the better/cleaner the ingredients, the more expensive they will be. Conventional gets by because they use cheap and accessible fillers in their products that help keep their prices low. Of course, I one day hope to see clean beauty at or around the same range as conventional, but that just isn't realistic at the moment. BUT that doesn't rule out all clean skincare/beauty. As popularity increases, so does demand for places like Whole Foods, Target and even Walmart to carry cleaner skincare brands. This accessibility is huge but it's also difficult to navigate. How can you tell what's actually good quality compared to green washing brands out there that pretend to be? I can't say I have all the answers, but my hope is that posts like this one can help inform you to make better decisions for your body.
So let's chat Skincare Brands from Whole Foods. Like most of the food products from Whole Foods, the skincare and beauty products are free of harmful chemicals including parabens and phthalates. This is definitely a plus and it's awesome knowing you can buy your products from Whole Foods trusting their safety. That being said, just because they're "clean" does not mean they are free of synthetics. I've said it before but I'll say it again: synthetics are not inherently a bad thing, but I prefer my products to be more naturally-derived than synthetic (sometimes!). Because of this you will find a lot of alcohols and silicones in certain brands, two ingredients I still try to avoid even if they technically are not harmful. Shopping at Whole Foods still requires being label conscious so hopefully this post can be helpful to you.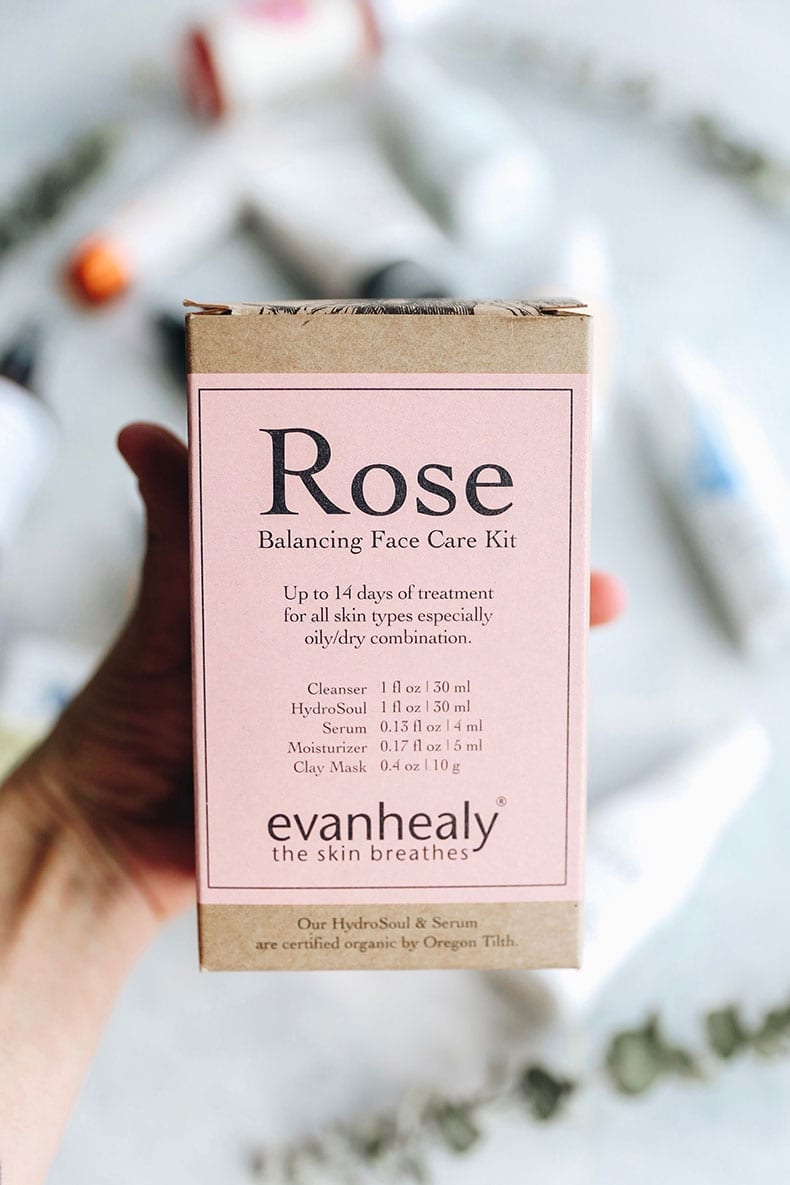 The Best Skincare Products from Whole Foods
1. Evan Healy
In my opinion Evan Healy is by far the best bang for your buck at Whole Foods. The products are stellar quality and while the prices aren't cheap, you get much more than what you pay for. What I love about Evan Healy is that they offer different trial kits for about $35 that allow you to try out a bunch of products before purchasing a full size. This is one of the hardest parts about clean beauty because no one wants to purchase something that doesn't work or will make them break out. Big big fan of Evan Healy for this reason.
Products to try: Hydrosoul Toner + Rose Cleansing Milk
2. Acure Skincare
If I got a nickel for every DM I get about Acure, I'd be rich. Here's what I have to say about Acure: they're okay in terms of ingredients but the price is probably the very best you're gonna get! Some of their products are better than others when it comes to the natural vs. synthetic ratios. Look out for alcohol in a lot of their products but my suggestion is to keep it simple. Their single-origin oils are one of the most affordable available on the market and are a great place to start when it comes to switching to more natural products.
Products to try: Moroccan Argan Oil + Rosehip Seed Oil
3. Cocokind Skincare
I lied, I probably get more DMs about Cocokind than I do about Acure – likely because Cocokind has a pretty dedicated cult following. When it comes to simplicity of ingredients and organic options available, Cocokind is king. I so badly want to like this brand for my skin, but as someone whose skin is sensitive to coconut oil (even the fractionated kind), having it as the first ingredient in some of their products is a big no-no for me. I simply cannot moisturize with coconut oil (I can still cleanse and wipe off!). I think they offer way more variety of products on their website but their Whole Foods availability was limited and I found that I couldn't use or didn't like a lot of the products they had. BUT they do have some really great products in there and if your skin isn't sensitive I highly recommend!
Products to try: Rosewater Facial Toner + Chlorophyll Mask
4. Juice Beauty
Juice Beauty is definitely a more high-end line available at Whole Foods. I am generally a fan of their products though like some of the others, you do need to read the ingredient list to see if you're okay with everything. In general though, I like that you're getting some extra doses of plant benefits and not just a single oil or ingredient. If you're looking for the feel of fancier skincare but without the price tag (it still isn't cheap though!) then Juice Beauty is a good bet.
Products to try: Organic Treatment Oil + Cleansing Milk
5. Trilogy Skincare
I consider Trilogy to be a solid mid-range choice. Like Juice Beauty you still need to ingredient read but you can generally feel good about the products and know you're getting some good, skin-supporting ingredients. Also they have some of the cheapest organic rosehip seed oil available! Some of my go-to products are from Trilogy so while not every product is my favorite I definitely depend on them for good quality, moderately more affordable skincare.
Products to try: Cleaning Balm + Rosehip Seed Oil
6. Mad Hippie Skincare
Another solid mid-range choice. Not the cheapest but definitely cheaper than some of the fancier brands carried at Credo Beauty. If you're looking for a high quality serum that won't break the bank but isn't so cheap it's full of fillers, Mad Hippie will quickly become your go-to. I think I may be obsessed with the exfoliating serum!
Products to try: Exfoliating Serum + Vitamin C Serum
For a full review of my Whole Foods Skincare Haul check out this video:
* * * * *
So there you have it! I hope this post provided you with some good skincare items to purchase from Whole Foods. I know not everyone has a Whole Foods near them, but if you do and are looking to switch to cleaner skincare, it's a great place to start. As always if you have a product you want to see reviewed or a holy grail product you love, feel free to drop it in the comments below. Next up… a Target skincare Haul!
Note: this post was originally published in March 2019 and some products and comments have been edited to be more up-to-date.
JOIN THE THM NEWSLETTER
Join 20,000+ members of the THM Community to get access to exclusive recipes, healthy lifestyle tips and behind-the-scenes news from our team!