FYI: This post was shot and written before everything changed (you know what I mean!). Target continues to offer clean beauty online so I'm sharing this post even if we may not be able to visit the store right now. Hope you find it helpful!
I loooveeee that clean beauty is becoming more of a mainstream topic and as a result is becoming more widely available. Places like Whole Foods, Target and even Trader Joe's (!) have affordable options for natural skincare and sometimes even makeup.
I've said it before and I'll say it again: clean beauty doesn't have to be crazy expensive or involve a million products. You can use ingredients found in your kitchen, stock up on a few key products from Target or go all out and get top of the line products. Every body's budgets, passions and access are different. You gotta do what works for you.
Now there is an important conversation that I feel like I've had a million times but I'll remind you: There are different levels of clean beauty. There's "safer" beauty but still with a lot of synthetics and there's clean beauty that's 100% plant-based. There's also everything in between. I'm not here to tell you what's better. You get to make those calls, but the reality of some of these more affordable clean beauty products is they tend to be more synthetic. That's not inherently bad, it's just hard to create 100% pure plant-based products for an affordable price. So I encourage you to experiment (within your budget) and decide what works for you.
That being said, in the last few years Target has really stepped up their clean beauty game and is offering some great quality products at an affordable price. I thought I would highlight some of these brands for the next time you go to Target to buy toilet paper and walk out with a list of products you didn't even know you needed…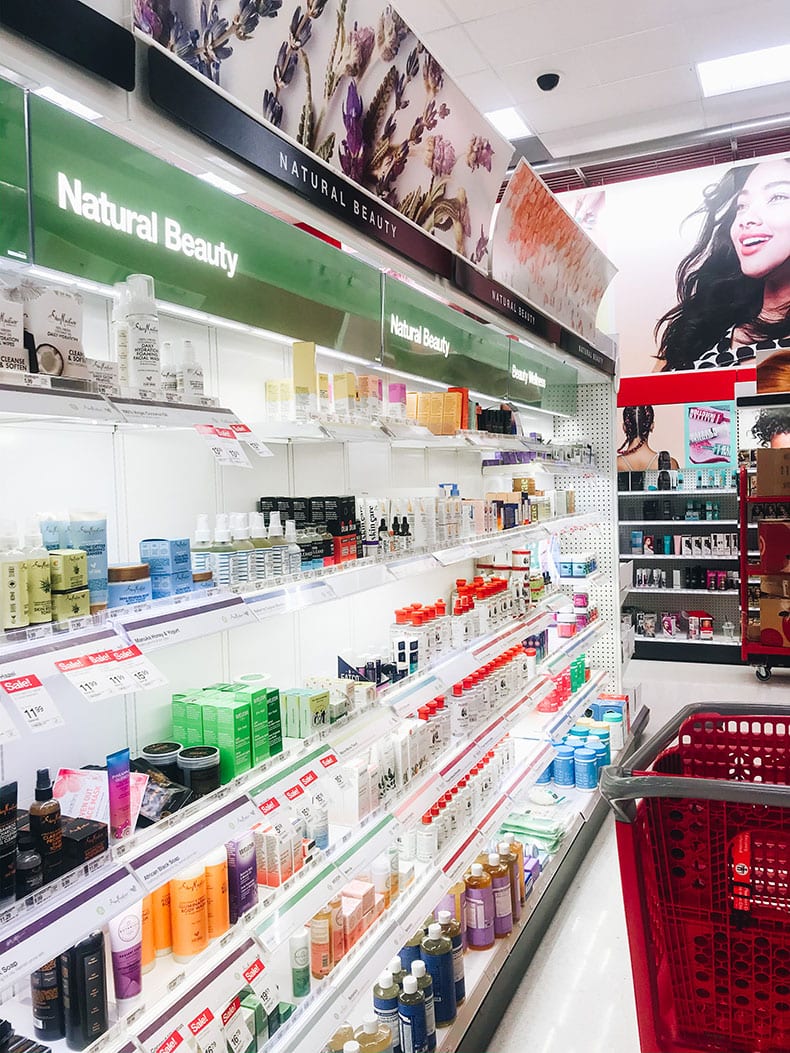 The Best Clean Beauty Brands at Target
SW Basics
If you are going to pick-up any clean skincare brand from Target I encourage you to stick to this brand. Their ingredients are simple and very, very natural. Their prices are astonishingly good for the quality so if you want to switch to cleaner beauty but stick to your budget be sure to check out SW Basics.
[show_boutique_widget id="923135″]
CocoKind
I find Cocokind very hit or miss with their products but if you don't have sensitive skin you'll do great with their line. Some of their products are awesome like their rosewater and serums but I find some of their oils to be heavy with avocado oil and coconut oil which clogs my pores. Just patch-test if you have sensitive skin!
[show_boutique_widget id="923136″]
Native Deodorant
If you read my natural deodorant review you know that Native Deodorant made the list. While not my favorite, it is still a great and affordable option if switching to natural deodorant. They have a ton of scents and baking soda-free versions for those who might be sensitive.
[show_boutique_widget id="923137″]
W3ll People
Love me some W3ll People makeup! I'm obsessed with their Bio Correct Concealer (though still waiting on an expanded shade range) and find their products to be long-lasting and effective. Definitely a great option for more affordable clean beauty makeup.
[show_boutique_widget id="923133″]
PYT Beauty
I just discovered that PYT is now available at Target! They have awesome lip products and a super affordable eyeshadow palette with a great shade range. Their product selection is limited but still encouraging to see them available at Target.
[show_boutique_widget id="923211″]
Honest Beauty
This is an interesting brand for me. They sell skincare, makeup and body care products. Are they the cleanest on the market? No. But they're better than conventional, which is a great start. To be honest, I haven't dabbled much in their product like (though I'd like to) so I can't make specific product recommendations but people seem to love a lot of their products.
[show_boutique_widget id="923138″]
Acure 
If you read my Whole Foods Skincare Haul you know that I have a love-hate relationship with this brand. Their products are a great option for anyone on a budget but are oftentimes full of alcohol and other synthetics I don't love. Your best-bet is to go for some of their single-source oils but in a pinch their products are much better than conventional so a good option to have.
[show_boutique_widget id="923139″]
Shea Moisture
My go-to curly hair products. They have a huge product range for all types of hair though coarse or curly hair tends to be their specialty. They also have body care products which I've yet to try but if they're anywhere near as good as their haircare, I'm sure they're awesome. It's so nice to know I can pick up my shampoo and conditioner on a trip to target (I use the Coconut and Hibiscus Curl & Shine Shampoo and Conditioner).
[show_boutique_widget id="923144″]
Range Beauty
I just absolutely adore this clean beauty foundation range and hope they come out with more products! Their ingredients are great, their shade range is stellar and they're super affordable as far as clean beauty goes. Love seeing Target carry this clean beauty brand!
[show_shopthepost_widget id="4367232″]
Target is increasingly coming out with new brands and products to expand their clean beauty range. They're even indicating in store and online which products have their green seal of approval. I still encourage you to do your research (not all clean beauty is made alike) but it's encouraging to see them jumping on this train! I hope you guys are able to find products and brands that you love without breaking the bank. Stay tuned as I have a Trader Joe's clean beauty list coming soon.
Like this post? Here are some others you might enjoy:
JOIN THE THM NEWSLETTER
Join 20,000+ members of the THM Community to get access to exclusive recipes, healthy lifestyle tips and behind-the-scenes news from our team!