Ohhhhhh Glossier. Never have I seen a cosmetics brand come out with such a force. I guess it helps when you're founded by one of the biggest voices in the blogging space. If you didn't know, Glossier was launched in 2010 by Into the Gloss founder Emily Weiss. For a new direct to consumer brand, Glossier has done incredibly well for itself and has truly changed the game when it comes to skincare and makeup. They've proven that smaller, e-commerce brands can compete with the L'Oreals of the world. Even if I may not be approving of all of their products I can't help but be impressed by the enormity of the brand they've created. Nevertheless you know I'm always searching for clean beauty alternatives and these Glossier Dupes are no exception!
To their credit, Glossier has actually taken steps in the right direction to use safer ingredients in their products. But by most definitions of the word, Glossier is greenwashing and despite what people may believe their products are not clean beauty. So just like I've done in the past with Beautycounter (P.S. My clean dupes for Beautycounter's Countertime is coming soon!), I wanted to share some natural alternatives and clean dupes for Glossier products.
Glossier's product line is pretty extensive so I narrowed it down to their most popular makeup products. If you are looking for a cleaner alternatives or dupes to any of their other products drop them in the comments below and I'll do some research for you. Also I should add, clean beauty tends to be more expensive so I absolutely acknowledge and understand the price barrier – just wanted you to be more aware. Buckle up! Let's get into the Glossier dupes
The Best Clean Beauty Glossier Dupes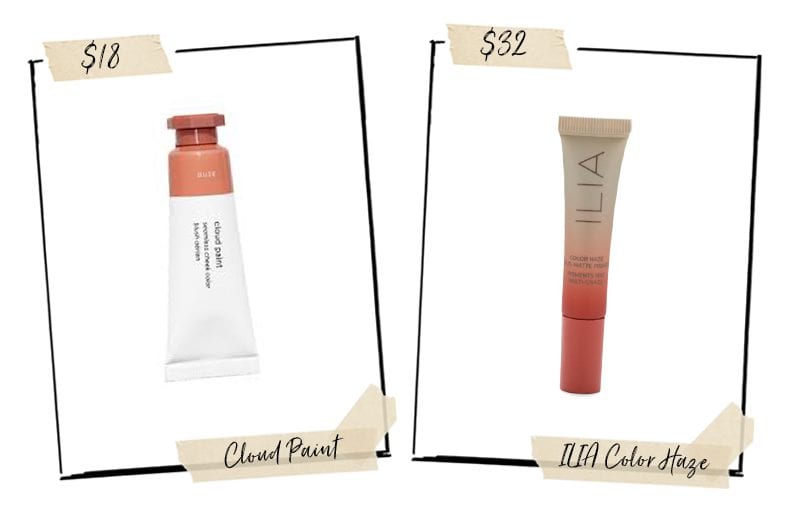 This is such a unique product and there aren't many others out there that are similar, but ILIA's color haze product comes pretty close. I'm not going to lie, ILIA's products aren't necessarily the cleanest (TBH no makeup products are) but it's much better than Glossier's cloud paint collection. Even if the Color Haze products aren't perfect, they at least have some skincare benefits that Glossier's Cloud Paint doesn't have. To see the color haze in action check out my natural blush product review HERE.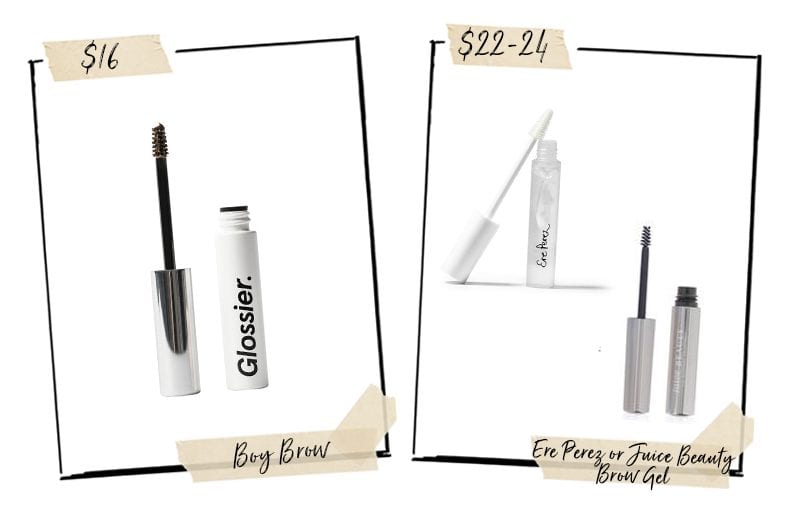 Two options here! If you're looking for a color brow tint, I recommend Juice Beauty's Brow Gel but for a clear brow gel my ride or die is Ere Perez's version. Both are fantastic and full of great ingredients. Check out my brow products review HERE.
Glossier's products are known for their "no-makeup makeup looks". They're meant to appear as if you're not wearing any makeup at all (even though you are!). Their mascara is on the more natural, feathery side. For a similar look I'd recommend the Lily Lolo Mascara which achieves a more natural, feathery mascara. To see the Lily Lolo Mascara in action, check out my mascara review HERE.
If wearing concealer that doesn't provide a ton of coverage is your thing, you'll love the RMS "un"coverup. I only use this product if I'm having a great skin day. It provides a very light layer of coverage which also makes it feel like you're barely wearing anything (cause you aren't!). Glossier is big on only using concealer without foundation aka the woman with flawless skin so if you happen to be one of those women, I both envy you and hate you. You'll also love the "un"coverup. Check out my favorite clean beauty concealers HERE.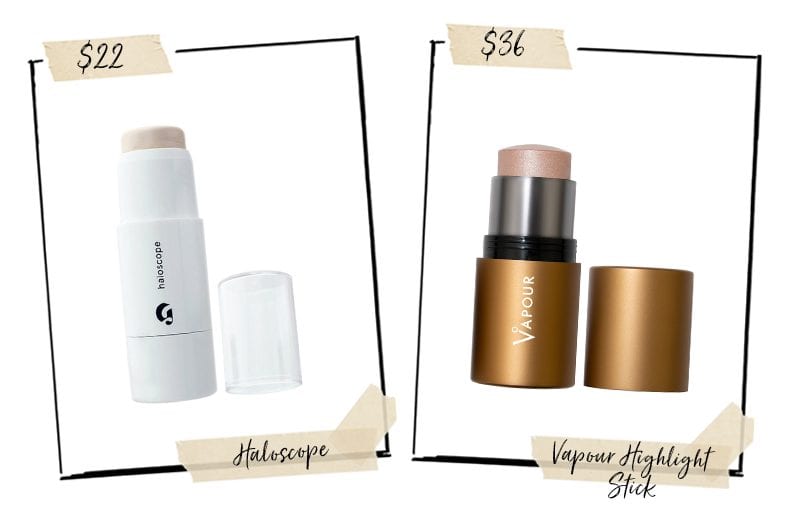 Glossier is all about the natural glow. Highlighter is a girl's best friend and no Glossier look is complete without out. Luckily the clean beauty space has caught up to this trend and has delivered in terms of cream highlighters. My personal favorites are the Vapour Highlight Stick which offers several different shade ranges that similarly match to Glossier's Haloscope colors. You also can't go wrong with any RMS luminizers. To see both in action check out my natural highlighter review HERE.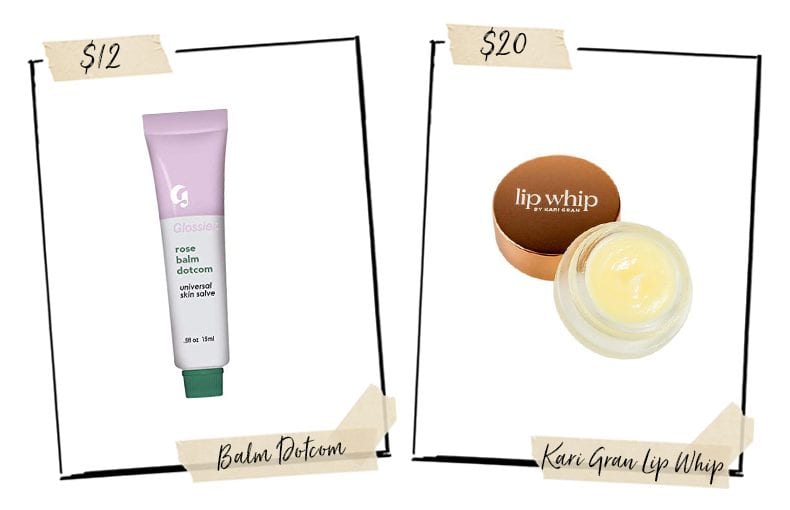 So this is not a perfect swap in terms of packaging, but honestly the Kari Gran Lip Whip is one of the best lip balms I've tried! Like the Balm Dotcom this clean beauty dupe also comes in multiple colors/tints so you can get the feeling of lip balm with a little splash of color on top. If you want an equally moisturizing lip product but is more of a lipstick I recommend the Juice Beauty Lip Crayons. Either way, you can't go wrong. For more info on the best clean beauty lip products click HERE.
I want to add a little disclaimer here. It is not my goal to freak you out about all of your makeup products and make you feel like you have to replace everything. I simply like to offer alternatives if you're interested but think there's zero pressure to have to replace everything. If you use conventional makeup, it's totally fine! I do think that when you run out of something, it's a nice opportunity to replace it with something safer for your body but we all have priorities and are entitled to live our lives in line with them. Not to mention, when it comes to makeup there's still a lot of safer synthetics in them but it's far from "natural". Also your skincare/makeup should not be stressing you out. So take deep breaths – it's gonna be okay!
Like this post? Here are a few others you might enjoy: