This post came to me after I received an email a few weeks ago. This person was wondering why a particular organic product wasn't on my recommendation list and I realized there are so many terms floating around the beauty industry that aren't well defined.
I asked her to clarify what she meant by "organic" and it quickly become clear she was using the term as synonymous with "clean" or "green" beauty. While almost all organic products fit into the "natural" category, there is actually a distinct difference.
That being said, most of the terms we use to describe this sector of the beauty industry are pretty arbitrary and occasionally redundant. There is no governing body over the beauty industry (clean or not) so at the end of the day whether something is considered natural is really up to you. So today, I wanted to break down the difference between these terms and what they mean to us at The Healthy Maven.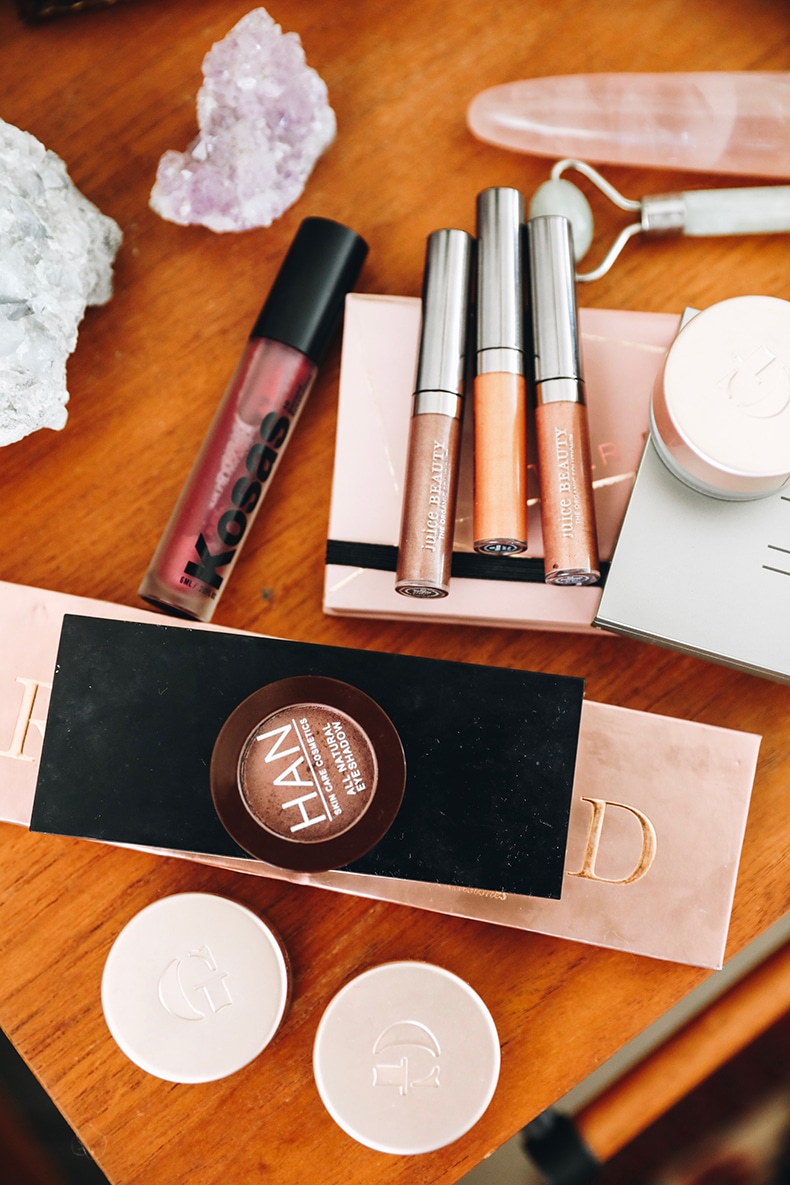 "Clean" Beauty Term Definitions
Natural – In theory, natural products are good! The term "natural" technically means that the ingredients can be found in nature (like essential oils). The problem with using "natural" is there isn't any regulation. Companies can call any product natural which is greenwashing and obviously not okay. So just because something is labelled "natural" doesn't mean it is and unfortunately shouldn't mean a whole lot to you either.
Organic – When we use the term "organic" we mean USDA Certified Organic. This certification has a national stamp (USDA) and occasionally a state stamp as well. Something is considered organic if it follows a very specific set of rules as governed by the USDA. You can learn more about organic here. Like I mentioned earlier, not all organic products are "natural" but most are given the requirements of organic certification. However, I do not use 100% organic products because sadly they're more challenging to come by and don't always leave room for safe synthetics, which is something I am personally okay with.
Cruelty-Free – This term is also a little ambiguous just because cruelty-free means different things to different people. Some think using bee products is cruel while others don't. To us, cruelty-free means that products are not tested on animals and any companies that use animal products in their products are transparent with their treatment of the animals. This label crosses both clean and conventional beauty. HOWEVER, cruelty-free doesn't always mean something is sourced or produced ethically. But not testing on animals is obviously very important.
Clean/Green – We use the terms clean and green to encompass all of the products we recommend. There is no official definition but to us, clean products are safe, sourced responsibly and come from ethical and transparent brands. Again, the term is arbitrary but it gives us a language to use to communicate "safer" and "healthier" body, skincare and makeup products.
Resources
I personally don't rely on any specific resources before buying something because I've spent years learning about specific ingredients and have my own set of values about what I will or will not buy. To learn more about what I avoid you can check out this post, but if you're just getting started these are some good resources for you.
EWG Skin Deep – If you've never checked out this database, get ready to have your mind blown. This is where my clean beauty journey started! You can look up basically any product in your beauty cabinet and they will give it a rating. The rating is based on how many cancerous, allergic and reproductive concerns each ingredient has. It's fascinating and terrifying all at once!
Think Dirty App – This app is similar to the Skin Deep Database but more convenient! Scan the barcodes on your favorite products and see what ranking they get. The app breaks  down which ingredients are harmful and even suggests cleaner alternatives for you. 
Credo Beauty Clean Beauty Standard – Credo's beauty standard aligns most closely to our own beauty standards. Credo looks at five pillars for all of the products that they sell: brand transparency, safety, ethics, sourcing and sustainability. 
An Important Note
I say this with pretty much all of my posts on clean beauty, but I'll reiterate this again: YOU get to decide your values. I know people who will only use 100% plant-based beauty, while others (like myself) choose to use safe synthetics. I'm also on board with people switching over some or none of their beauty products. If you have a conventional mascara that you love, you absolutely do not need to give it up. If switching your beauty products is not your thing then by all means, you do you.
Sadly, the beauty space is incredibly confusing and difficult to navigate whether it's conventional or clean beauty and at the end of the day requires you to educate yourself. I try to be a resource but know that it's okay to be a little confused and ask for help. Eventually you'll find your way and your holy grail products too! Just keep this in mind as you decide whether or not to make the switch.
Like this post? Here are others you might enjoy:
JOIN THE THM NEWSLETTER
Join 20,000+ members of the THM Community to get access to exclusive recipes, healthy lifestyle tips and behind-the-scenes news from our team!